Sep 02, 2021
Poetry reminding me to Appreciate Every Day.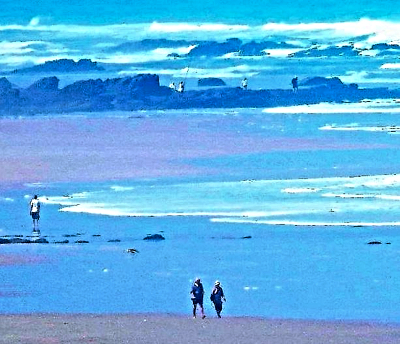 When rocks look like islands and waves look like clouds – a photo that looks like a surreal beach walk.
It is so good to be able to walk freely on the beach again after it had been abruptly closed to everyone just before Christmas.
This covid pandemic reminds me constantly to be thankful for seemingly simple pleasures I normally take for granted. Sometimes it feels wrong to be happy and contented when I know many people are suffering and struggling to survive, living on the brink of desperation. I wish I had a magic wand that could put the world right.
I'm now so much more aware of many things to be grateful for daily – hot water, a warm bed, food to eat, people who share my life and care about me, a little adopted cat whose antics make me laugh and a home to call my own in this little town of Sedgefield.
Surrounded by unrivalled beauty. It bolsters my spirit and is food for the soul.
My poetry page reminds me of good times, ​that they will return and how, in difficult times, I have always found comfort and solace in nature.