Garden Route Festivals
We have a surprising number of diverse and fun Garden Route Festivals on the go through-out the year so visitors in both winter and summer months have opportunity to attend at least one if not more festival depending on the length of their stay in the area.
All these festivals give people an occasion to explore their particular genre of  entertainment and a reason to enjoy a day out doing something different.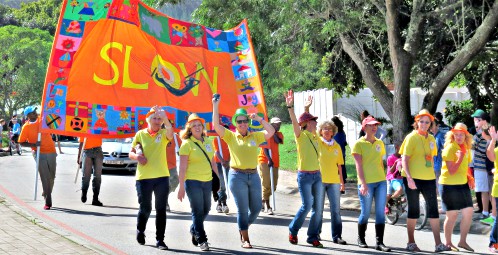 The Slow Festival 

- 27 -29 March 2020 - Sedgefield  Good family fun the whole weekend long. Because of the Covid19 restrictions this festival has been put on hold until further notice.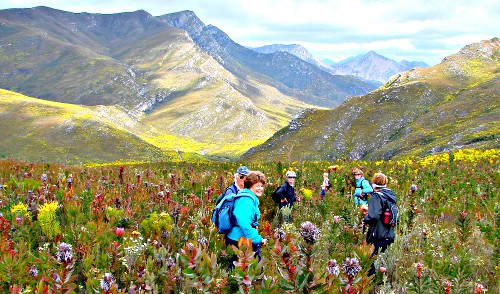 Garden Route Walking Festival - 10-13 Apr 2020, Easter weekend - all areas of Garden Route - a few talks and all kinds of walks from easy to strenuous. Posphoned until further notice.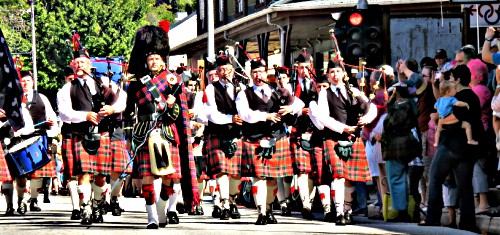 Knysna Celtic Festival

 15-16 February 2019 - Knysna. A musical extravaganza featuring top bagpipe bands, Celtic singers, musicians, and Highland & Irish dancers from all over South Africa as well as Highland Games, Archery and Tug-of-War tournaments.

(no festival planned currently for 2020)
Knysna Literary Festival

  6 - 8 March 2020 - Knysna.  Now into its 11th year! An amazing array of events allow locals a chance to meet and listen to  discussions with authors and the books they have written and to get their book purchases personally signed! Ticket sales open 4 February, 7:30am.

Knysna Timber Festival - 13-15 Mar 2020. Celebrating our indigenous forests and Knysna's Timber Heritage at Timber Village with some fine exhibitions and excellent talks.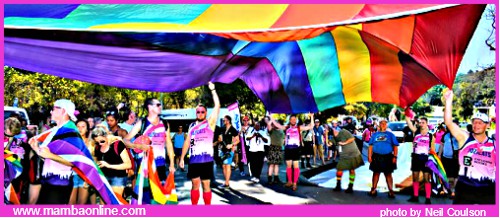 The Pink Lourie Mardi Gras & Arts Festival 

- 12 Jun to 16 Jun 2020 - Knysna. A  spectacle of pageantry, theatre, creativity, music, design, multi-media, and other forms of artistic expression for the LGBTQ community and everyone to enjoy.

Knysna Oyster Festival

 26 Jun - 5 Jul 2020 - Knysna.  A premium sport and lifestyle festival offering a programme of unique events for sport lovers, families and adventurers, with more than 100 activities spread over ten days. 
Garden Route International Film Festival (GRIFF) will run from 21 Sep - 11 Oct. This year it will be a virtual online festival using webinars to share information as well as the old fun-time way of watching movies at drive-in designated venues in Sedgefield and Knysna to allow people to attend while maintaining safe distancing. For the 2020 festival, you must book your tickets on-line here. 
Eden Kite Festival

 - 14 Dec 2019 -  George Sasol -near Kaaimans 15-16 Dec 2019 Knysna High School fields. Additionally, an outdoor evening "Tribute to ABBA" at the Scarab Outdoor Market, next to the Engen Garage, Sedgefield.  A day of family fun flying kites, some truly spectacular ones and a chance to enter some kite flying competitions and battles, geared for all ages. Also enjoyable for spectators!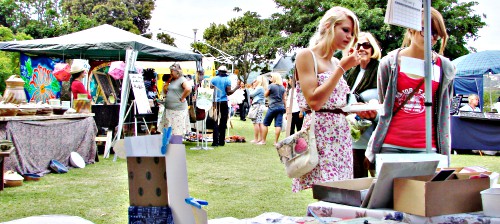 Leisure Isle Festival - 9 -10 November 2019 - Knysna.  An outdoor Spring Flea Market for the whole family to enjoy. It's a great source for unique and original Christmas and birthday presents.
Knysna Splash Festival  -  Normally held in December - hosted by Knysna Rotary Club is held annually. Due to Covid 19 restrictions this event has been postponed to Easter weekend 2021. There is the Lagoon Mile for adults and a Junior Swim for 10 year old's and younger.

Then there's a fun event called the Quack Attack Duck Race. All the details for the day can be found on the linked Facebook page.
Support Garden Route Festivals
Festival organisers are to be commended for the great deal of hard work they put into creating these events which in all instances raises funds for local charities thereby benefiting their communities which is surely good reason to support them.

These Garden Route Festivals are within reach of all the towns  along the Garden Route and, dare I say, most convenient for Sedgefield residents or visitors who are probably half-way between them all. So, no matter where they are, a great outing is no more than an hour or two away at the most.

---