Garden Route Festivals
We have a surprising number of diverse and fun Garden Route Festivals on the go through-out the year so visitors in both winter and summer months have opportunity to attend at least one if not more festival depending on the length of their stay in the area.
All these festivals give people an occasion to explore their particular genre of  entertainment and a reason to enjoy a day out doing something different.
---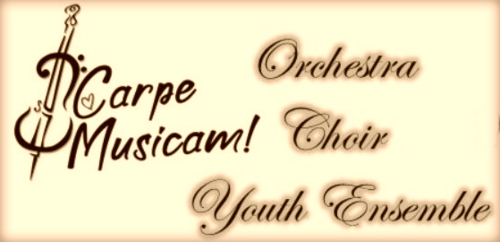 Carpe Musicam  consisting of orchestra, choir and youth ensemble present a variety of shows along the Garden Route throughout the year, by locals and for locals (and visitors) - a delicious mixture of all kinds of music and song to delight music lovers of all ages. Visit their website to stay up to date with their  current program.
---

The Knysna Peacock Festival 

- made its' debut in March 2022 It will be back 17-20 March 2023. A full on spectacle of pageantry, theatre, creativity, music, design, multi-media, and other forms of artistic expression for the LGBTQ community and everyone to enjoy.
---
---

Knysna Art Project - As a result of the Covid 19 pandemic, Knysna Art Society has transformed it's presence in Knysna from an annual art festival to a more enduring form they have called the Knysna Art Project. 
Their initial vision grew exponentially resulting in them working together with communities, in a meaningful way, to uplift and beautify their areas so that visitors and locals will be able to enjoy these projects, visible around the town and greater Knysna areas, all year round.
---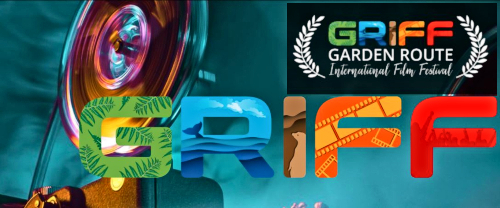 ---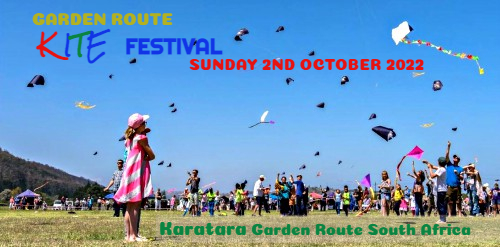 Garden Route Kite Festival - 8 October 2023 - A day of family fun flying kites, some truly spectacular ones and a chance to enter some kite flying competitions and battles, geared for all ages. Also enjoyable for spectators! (The name has changed from Eden Kite Festival to Garden Route Kite Festival.)
---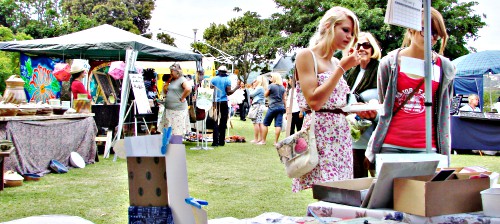 Leisure Isle Festival  4-5 November 2023 - Knysna.  An outdoor Spring Flea Market for the whole family to enjoy. It's a great source for unique and original Christmas and birthday presents.
---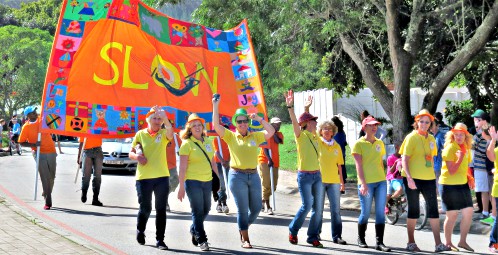 The Slow Festival 

- Sedgefield  Good family fun the whole weekend long.

Because of the Covid19 restrictions this festival was put on hold but it is hoped that it will be revived in 2024.
---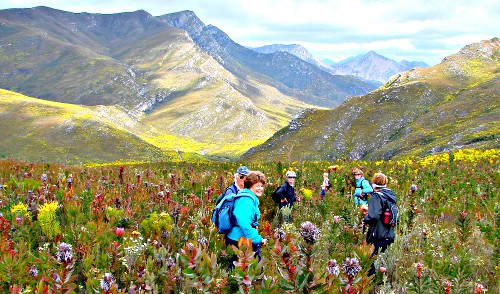 ---
Knysna Literary Festival

 has been put on hold

 until further notice.  It was on the Knysna calendar for 11 years until silenced by the Covid 19 pandemic. An amazing array of events allowed locals a chance to meet and listen to  discussions with authors and the books they had written and to get their book purchases personally signed by their authors!
---

---
Support Garden Route Festivals
Festival organisers are to be commended for the great deal of hard work they put into creating these events which in all instances raises funds for local charities thereby benefiting their communities which is surely good reason to support them.

These Garden Route Festivals are within reach of all the towns  along the Garden Route and, dare I say, most convenient for Sedgefield residents or visitors who are probably half-way between them all. So, no matter where they are, a great outing is no more than an hour or two away at the most.

---