Healing Journeys
I have experienced and witnessed many healing journeys in the course of my 67 years provoking some challenges and many wonderful opportunities.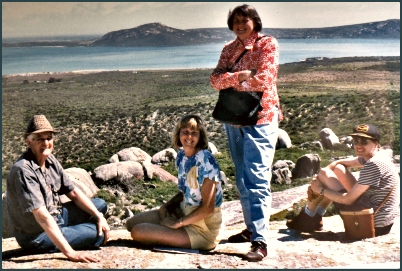 Happy Times - Dad, me, Mom and Elizabeth at Langebaan 1976
Some which have turned my life inside-out and made me question time and again things I formerly firmly believed in.
My personal healing journeys have encompassed physical, emotional and spiritual healing and put me on a path of discovery that has broadened and deepened beyond what I could have imagined. I hope to share some of those discoveries here on this website.
To start at the beginning…
Dad's Healing Journey
My Dad was a source of strength and reliability for his family. The eldest of 9 children, he grew up in South Africa and could speak and write 3 languages fluently, English, Afrikaans and German. He loved reading and classical music and would have loved to have gone to university if his parents could have afforded it. Instead, after he matriculated, he started work in the ticket office of the South African Railways in Durban. After some years, he had graduated to an office job and successfully applied for a transfer to the Rhodesian Railways as he'd always wanted to visit/live in Rhodesia. 
Dad and Mom's Wedding Day 21 April 1952.
My Mom was resilient, compassionate and nurturing. The 2nd eldest of 4 children, she grew up in Southern Rhodesia. It so happened that her father was Dad's boss in Salisbury, the capital of Rhodesia. He met his wife-to-be because he used to fetch library books for her father and deliver them to his home, where he got to meet the boss's daughter. He was 31 and Mom was 21 when they got married in April 1952.  Dad was then transferred to Broken Hill for a few years as it was considered inappropriate for him to work for his father-in-law so the newly-weds began their life together Northern Rhodesia. 
In 1955, Dad was transferred to the Railways' Head Office in Bulawayo. His position was office accountant reporting to the Chief Accountant. For a few years he rented a house in Rowena. Dad was always a whiz at math. He used to take short-cuts when helping me with my homework and when my teacher would ask how I'd got to my answer, I'd have to tell her my Dad had helped me! This also happened with my Afrikaans homework if I had to write a story because Dad would fix my grammar and use far better language than I was capable of. 
I remember him creating formulas for all kinds of uses. One such formula was to estimate how long it would take you to pay back a house mortgage over different periods of time. He showed us kids with his formula how the longer it took, the more interest one paid and how much money you save by  paying a bit extra every month and shortening the repayment period. (this was long before computers and programs like Lotus 1-2-3 and Excel) It made a big impact on us and all 3 of us scored by paying off our mortgages and being able to be bond free ahead of time.
He also had one car all his life although he rescued a good few from the scrap heap and made them serviceable again. It was a hobby of his. A vehicle, he told us, was nothing but a depreciating asset.  He maintained these vehicles himself and created his own tools to do whatever job he needed to do if he couldn't buy one. He was an inventive and strong-minded person.
40 Kentmere Road, Morningside, Bulawayo.
In 1960, when a new area opened up called Morningside, Dad and Mom went to have a look at the options. They ended up buying a house a builder had built for himself, but then decided to sell. It was a new-build on 1/3 of an acre and the garden had to be created from scratch. We moved into our own home in Morningside, Bulawayo in January 1961.
I was 7 at the time and unaware that my Dad was struggling with a health issue. He had not been feeling well for some time.  Mom knew of course and was very concerned about it. He had days of high temperatures, diarrhea, and then days of muscular and joint aches and pains, as well as intermittent abdominal pain.  He was then in his late 30's. He was busy at work and busy at home and didn't go to the doctor for a while and when he did, it took some time to get a diagnosis. He meanwhile had all his teeth removed thinking they were somehow poisoning his body. It necessitated him wearing false teeth for the rest of his life. I was too young to know what logic prompted that measure to be taken and it certainly would not be done today. Eventually, he was diagnosed with bilharzia. It had caused so much scar tissue in his urinary tract, complex surgical procedures were recommended involving replacing his urinary tract with plastic tubes, the successful outcome of which, was somewhat uncertain.
When he told his parents in South Africa, they urged him to come down to them to go see a well-known Homeopath, Dr. Gertjies in Pretoria before submitting to the surgery. The man was highly recommended and booked up for 6 months in advance. However, he told my Dad in a telephone conversation, to come anyway because of his circumstances, be prepared to sit in his waiting room, and he would see him when he could. Dad walked into the doctor's rooms the morning he arrived and sat there all day getting to see the doctor after 9pm that evening. It turned out, the doctor regularly worked these long hours.
After consulting with Dr. Gertjies, my father was given 6 month's supply of homeopathic medication he had to take 3 times a day. He was also put on a diet of mainly fish and vegetables. When Dad said there wasn't a lot of choice of fish in Zimbabwe, mainly Hake, the doc said that would be perfectly alright. Dad's healing journey started but the treatment was no quick fix. None-the-less, compared to the years he had already suffered not knowing the cause of his ailment, he determined to finish the treatment. To begin with the pain got worse. 
Dad stoically endured the pain and just after 2 months into the treatment he cautiously admitted he was starting to feel better – he felt his healing journey was progressing. When he returned to see Dr. Gertjies at the end of the 6 months, he was declared healed but he was advised to keep taking some medication for a while longer.
A few months after that, Dad went back to the specialist in Bulawayo. The necessary tests and examinations confirmed he was better. He was told "You can forget you ever had bilharzia, there's not a trace of scar tissue." From then on my father drilled into us not to swim or paddle in African rivers insisting they all were unsafe and infested with bilharzia and it was not worth the risk of getting the disease. He believed he had contracted bilharzia from swimming in rivers like the Zambezi, Limpopo and others when he had spent many of his bachelor days on fishing weekends with his friends. 
The Bilharzia (Shistomiasis) Cycle
The trematode worm that causes the tissue and organ damaging disease of bilharzia now more commonly known as Schistomiasis has a complex life style. It requires two hosts to parasitize to complete its life cycle.

Schistosoma eggs are eliminated through urine or feces.




Liberated from the egg, they begin life as Miracidia. In this stage they don't eat but they are pluripotent, meaning they have the ability to self-renew by dividing.




They swim and penetrate specific snail hosts.




Here they enter a sporocyst stage that produces two generation of sporocysts eventually resulting in free-living cercariae.

In this form they swim off in search of human hosts.

Penetrating the skin of human hosts

, t

hey shed their forked tails in the process.

The head of the cercariae transform into an endoparasitic larvae, called the schistosomulae.

The schistosomulae pass several days in the skin then migrate via the venous circulation to the lungs (generally within 5 to 7 days of penetration).  

They then travel through the circulatory system to the heptoportal circulation(main vein after fifteen days) into the

 l

iver where they mature into adult worms.

Male and female adult worms copulate and reside in the mesenteric venules, the location of which varies by species.

Depending on the species, in this case, haematobium, the schistosomulae migrate to their final infection site inhabiting the vesicular and pelvic venous plexus of the bladder and urethra, where the females begin egg production. These eggs, attached to the walls of these blood vessels is where they cause so much scar tissue damage until they are expelled from the body in the feces or urine. 
Reference and diagram  - https://www.cdc.gov/dpdx/index.html
My Brother's Healing Journey
My parents experienced another difficult healing journey with my brother, Steven who was born in 1956 at 8 months, a blue baby because the umbilical cord got wrapped around his neck in the birthing process. 

Dad and Steve on Durban Beach 1959
Once he started going to school, he began getting colds. He didn't like school so to some extent, Mom thought he was acting up when complained about not feeling well. He continually made up excuses not to go to school. Standard 2 and 3 were not good years for Steve. If he caught a cold it would go to his chest and he would end up with bronchitis. He started missing weeks of school.
Mom would rub his chest with Vicks and sit up nights giving him steam inhalers but inevitably Steve would end up on a course of antibiotics. This happened so frequently, one day, chunks of flesh started coming off his hands because his immune system couldn't cope with the continual dosing of antibiotics.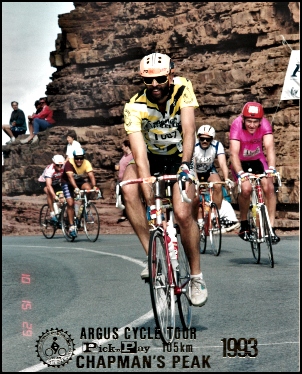 Dad was then motivated to take him to Dr. Gertjies to see if he could help his son. Dad got him an appointment in the April school holidays and the family got in the car to go and stay with Dad's parents in Standerton, so my brother could see the doctor. Steven was given a bag full of homeopathic medication to last  for 6 months and, he recalls, a diet that let him eat all the things he loved! The pleasure of that eased the healing journey involving all the medication he had to take twice a day.
Dad took him back to Dr. Gertjies in October for his opinion on how Steve was progressing. He had not had bronchitis since he started the treatment so the doctor was satisfied he was producing  the desired results. When Steve went into Standard 4 in January 1966, the bronchitis attacks were history – they just stopped! He never had bronchitis again! 

Eating Healthly and living an Outdoor Life
My mother started researching alternative remedies to antibiotics and our family's healing journey then included using homeopathic remedies, Bach Flower Remedies (mainly Rescue) and Schuesshler's Tissue Salts for common complaints like colds, exam nerves, nausea, travel sickness, minor injuries and headaches.
Home grown vegetables were an integral part of our upbringing. Although Dad was a busy accountant and worked long hours at times, he also had green fingers and worked extremely hard in his garden.
Our new home was on a rocky outcrop with lots of stones in the soil. He dug up the rocks, sifted the stony ground to get soil to put in flower-beds and then carved out a y-shaped driveway with a strong rock base that graduated up to the smallest stones on top. That drive-way was a work of art and it was still a great driveway 26 years later when he retired and moved to South Africa where my sister ('n laat lammetjie') started high school.
Dad built up lawns around the house and fringed them with flower-beds and rockeries and planted a number of trees for shade. The back yard was tiered and beyond the lawn, he nurtured a flourishing vegetable garden of pumpkins, cabbages, cauliflower, spinach, tomatoes, beans etc. In the front yard on one side of the driveway was an orchard where he planted peach, apricot, fig, plum, pawpaw and avocado-pear trees surrounded by a protective hibiscus hedge. He dug a big hole in the middle and all the lawn cuttings, vegetable peelings and pruned tree cuttings would get thrown in there. It was a perennial compost pit supplying all the compost needed for the garden. That garden was hard work maintained mostly by both Mom and Dad. They were assisted by our house/garden boy, Tinus, a strong Ndebele man who resided on our property in a kia which had electricity and its own shower and toilet. This was common in Zimbabwe.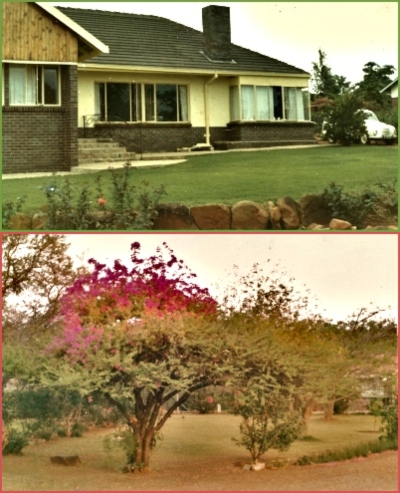 Bottom left-hand side of the driveway and lower front Garden.
My Mom meanwhile, used to go to Bulawayo market about every six weeks where one had to bid for rows (peas, beans etc.) or sacks of vegetables like onions, potatoes, carrots, etc. She, carrying bags, and Tinus, with bags of veggies on his head and shoulders, would both catch the bus home (Mom never learned to drive) and carry all the vegetables about 1 km from the bus stop up the hill to our house. When she got home and after dinner, we all had to muck in and shuck peas or peel carrots to help her prepare the vegetables that were going into the freezer.
Fizzy colddrinks were a Christmas treat (Hubbly Bubbly – I remember and home-made ginger-beer!) Eating home-grown veggies, lots of salad and fruit definitely put the whole family on a positive healing journey. We enjoyed a healthy lifestyle with not nearly as many processed food options as there are today. We didn't have TV and many summer evenings would find us outside lying on the front lawn identifying stars in the night sky and looking for moving stars, sputniks we used to call them. As children we were involved in sports, and I did ballet. Apart from classes and homework, we spent more of the day outside than inside, riding our bikes and playing in the garden.
So our family faced two major health issues while I while a child at home in Bulawayo where these healing journeys opened me to alternative methods of healing besides the conventional ones.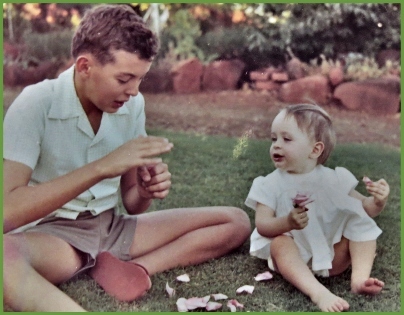 Steve (13) playing in the garden with Elizabeth (6 months) in 1969
I was 15 and my brother, 12 when at 37, my mother unexpectedly fell pregnant again in 1968. She was concerned because she had had difficult births with both her children and now she was considerably older. She decided to use the herbal, Raspberry Leaf Tea to help her have a better pregnancy and hopefully, an easier birthing process. It worked on all counts because it was her easiest and shortest birth and both our mother and our baby sister, Elizabeth, returned home in good health. I badly wanted Mom to have a girl so I was delighted when she brought home a baby sister.

Wayne's Healing Journey
Once I was married, I experienced another healing journey – this time it was my husband, Wayne's. We had got married in Rhodesia in March 1974. In 1976 we came on a touring holiday of South Africa travelling through the Eastern Transvaal and down to the Garden Route.
We found a place to stay for a week  in one of the self-catering cottages at Far Hills Guest Farm just outside George. We took a day and went to Oudtshoorn first stopping at Highgate Ostrich Farm where Wayne decided to ride an ostrich before driving on to go through Cango Caves. We went right to the end through the "post box", the point at which the guide stopped and didn't go with us, just instructing us to follow the route. It was a tight squeeze and we had to do a lot of wriggling and twisting to get past some tight places.
The next day Wayne woke up and found his back had gone into spasm. For the rest of the week he could hardly move. That was the beginning of sporadic back spasms caused by a latent back injury that happened when he fell badly doing a gymnastics  flik-flak  at high school.
In 1981 we sold up in Redcliff, Zimbabwe where we had been living and went travelling overseas for a year. It was something we had both wanted to do as single people but couldn't, since Rhodesia had declared UDI (Unilateral Independence) from the UK on 11 November 1965.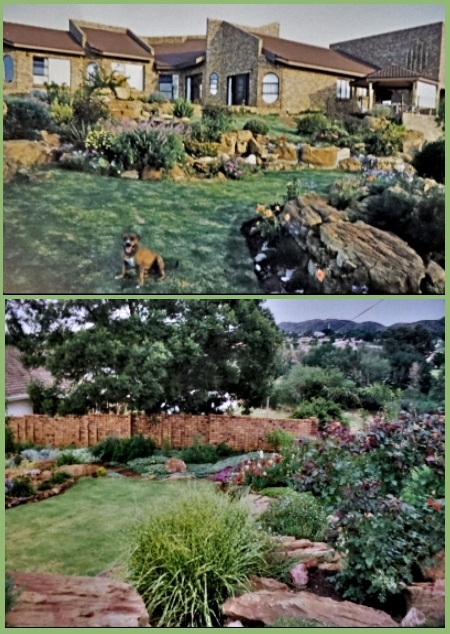 29 Von Geusau Drive, Heildeberg
On our return in March 1982, we moved to South Africa ending up living in Heidelberg, (on the N2 to Durban, I always used to say, because there was also a Heidelberg in the Cape!) Wayne started having more problems with his back. It looked like he might have to consider surgery which could entail a procedure of fusing discs in his spine which he was not keen to do.
Fortuitously, one day, he struck up a conversation with a truck driver delivering sand and stone (in 1986, we had bought some land and built a house and in 1990 wanted to replace a neighbouring fence with a wall) who spoke to him about reflexology and told him how his face was so scrunched up with back pain when he stepped down from his truck at the end of the day, his children would run from him. He told Wayne how reflexology had totally healed his back problem. Wayne made an appointment to see the same reflexologist in Joburg.
This therapy involved pressing acupuncture points on the feet, in this instance, one's that related to the spine. If you rest your one foot on the opposite knee and look at the profile of your foot sideways the profile looks like the profile of your back. This reflexologist used a tool with a rounded end to press along the profile of the foot several times. It hurt like crazy. He showed Wayne how to do it for himself and he had to do the procedure twice on each foot every night and once a week visit the therapist for him to do his own routine. After 4 weeks it didn't hurt anymore to do this procedure and Wayne's back was pain-free.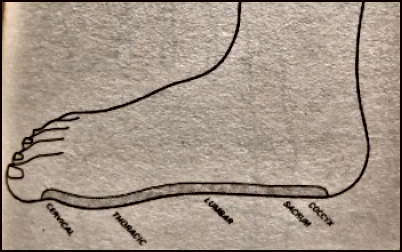 Treating the Spine along the Foot
From time to time, occasionally over the years, he'd get a twinge because of something he had done during the day but once he treated his feet that evening as he had been shown, he would be fine again. Happily this healing journey didn't require medication or surgery either and it was a great relief to both of us that he didn't have to undergo a spinal operation. 

Mom's Healing Journey
When we arrived back from overseas, it coincided with my parents' move to South Africa. They moved into a house in Pretoria Dad had bought and then rented out many years before. He had retired at 60 from the Railways as Elizabeth was about to start high school. She completed her secondary education at Clapham High School in Queenswood, Pretoria and then went off to do her tertiary education at Rhodes University in Grahamstown She worked 2 jobs while getting her 2nd and 3rd degrees and returned to Pretoria in 1992 with a Masters' degree in Biochemistry. 
She always loved being home as her and Mom were very close. She loved Dad too, but Mom and Elizabeth had a special intuitive relationship, I would say they were soulmates.  
Mom on campus with Elizabeth at Grahamstown University
A painful healing journey began for Mom in 2005. She went to see her GP after enduring pain in her one hip for quite some time. Nothing she thought of to do relieved the intense pain. She was referred to a specialist and upon having an MIR scan, it was detected that she had an advanced state of myeloma (bone cancer). The first Oncologist she saw after that, gave her two weeks to live but with consultation she was moved to the oncology ward of another hospital.
The nursing staff thinking she was dying dosed her with morphine whenever she asked for it to control her excruciating pain. Unwitting, she was given an overdose.  A patient in the bed next her got worried about her and rang the bell for assistance.  When the nurse arrived, she realized immediately something was not right and a bunch of medical people swarmed around the bed and were able to give Mom something to reverse the effect.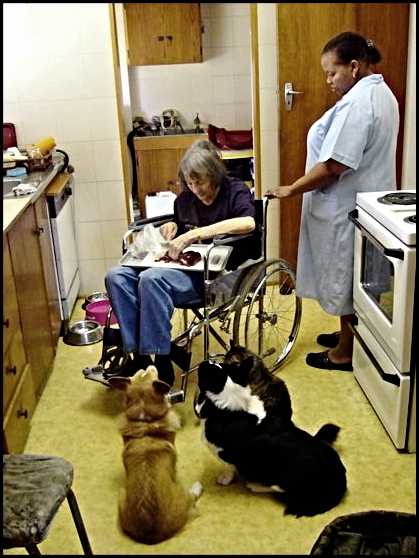 Mom in the kitchen with Molly and pets Feb 2006
Elizabeth found out later, it was touch and go for her to have survived. Mom had experienced herself going down a long tunnel towards the light and heard Elizabeth calling her back. Simultaneously, at home, my sister could not accept letting Mom go in a matter of weeks and had fallen to her knees asking God to give her 2 more years. Elizabeth arrived at the hospital that day, in the middle of the activity.  When she found out what had happened she asked one of the specialists if there weren't any other options for pain relief and she replied, there were many.
By the time Mom was put on an oral chemotherapy regimen and allowed to go home, she had also been given a Fentanyl pain patch to wear that had to be replaced every 3 days. This turned out to be a satisfactory solution for the pain. The chemotherapy however, caused her stomach lining to bleed on occasion so that she vomited up so much blood that twice she had to be hospitalized to receive blood transfusions.
Elizabeth had battled to find work after completing her degree. She had wanted to go into research but in the New South Africa there were no positions available for white post-grad students. She was about to go back to university to do her doctorate when she got a job in the laboratory of a small family run Homeopathic company called Natura owned and managed by Dr Michael Levien, his wife and her sister. 
One day at Natura Elizabeth met a wonderful Ukrainian Homeopath, Dr. Katya Tsyvetkova. The wife of the Ukrainian Ambassador, she spent 5 years in the country while her husband was serving in South Africa.  While Dr. Katya was learning English she was happy to practice and improve her communicative skills on our mother who was willing to be her first patient.  She became so loved and appreciated for her incredible homeopathic skills, she built a very loyal and devoted patient base. Dr. Katya made up her mind to continue to return to SA at frequent intervals for follow ups with her patients even after her husband was transferred abroad.
Dr. Katya was able to prescribe medication to help Mom cope with the many side-effects the chemo had on her body. Nonetheless, her appetite was severely compromised and it was extremely difficult to get her to eat.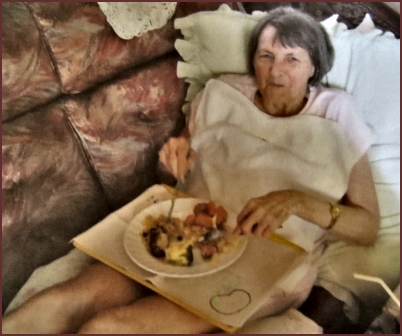 Mom having lunch on the couch in the lounge (she's laughing cos she knows I'm checking out how much she's eating!)
Elizabeth would endlessly and lovingly put together small tasty meals to tempt her to eat, often in vain. Fortunately my sister's boss agreed to let her work from home 3 days a week and so she went into the office on Tuesdays and Thursdays and for any other specific events requiring it.  She was able to employ a care-giver, Molly who could help Mom, keep an eye on Dad, because he was devastated by the news and didn't take it well, and to assist with household chores. Molly was a treasure! She loved her job. She became Mom's friend, devotedly looking after her and surreptitiously, Dad as well, during the day. 
Dad and Mom at Pine Lake Marina 2006
Sadly, the cancer won in the end which was almost inevitable but those two years would have undoubtedly, been reduced to weeks without the homeopathic remedies offsetting the ruinous effects of the harsh drugs. The family, (Dad, Steven, Elizabeth, Wayne and I) were able to be together and bring her on a holiday to her favourite spot, the Garden Route, staying at Pine Lake Marina for one last time.
This healing journey was a physical, emotional and spiritual one for our family. The two years we were granted, gave us a chance to rally around Mom and look after her, (she had always been the one taking care of us). We were able to support her in our individual ways, right to the end, the night 1 July 2007, when as Elizabeth and I slept beside her, she quietly slipped out of her earthly body, a small smile on her face, as she was relieved of all its painful restrictions.

---