Fred Hampson

 Veteran of Delville Wood
After spending 42 years of his life in Sedgefield, Fred Hampson may be considered one of Sedgefield's "golden oldies"!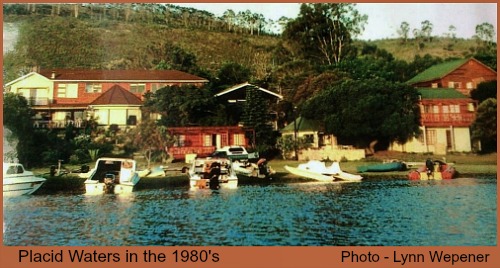 Joyce Hampson his surviving daughter relates, "Placid Waters was a few little cottages with a central ablution block owned by John Klaasens who had resigned from the air force and used his gratuity to buy Placid Waters. When the Hampson family stayed there on their first visit to Sedgefield in 1956, they loved the place so much that they bought 2 adjacent plots from Germaine Rouliard. Fred built their garage which they lived in first. In 1958 Willem Klein built their house."
The Hampsons  collected rainwater for house use until Fred put in a spike. Joyce told Wynne Humphries that the water was so pure and sweet she had never tasted nicer water.
This is how the house came to be called "Little Oak"! One day in Cape Town, Joyce's mother, Eileen went off to an auction to purchase a cupboard for their maid and came back with 20 pot plants.
In the one pot were two acorns. She carefully planted them and transferred them to larger pots as they grew.
Eventually when the house on Flamingo Road was built, (a little beyond where the library is now on the opposite side of Flamingo) Eileen brought one to Sedgefield.
She planted it next to the gate of their house. Now over 50 years old, the wide spread branches of the tree casts shade over a vast area of the back garden.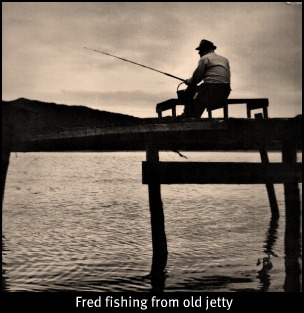 Fred was a serious nature lover and avid fisherman. With the Swartvlei right on his doorstep fishing was a passion he pursued almost every day.
Joyce recalls she grew up knowing how to fillet and prepare all types of fish including shark which she says, is delicious pickled, if you know how to do it. 

Wynne Humphries remembered Fred Hampson as a tall upright gentleman who, until his late 90's, walked to the shop daily to buy his newspaper. 

He told her how on occasion, before the road which is now Kingfisher Drive was built, he had to take his boat from Heron Walk and row across to the few houses near the beach taking them milk and food.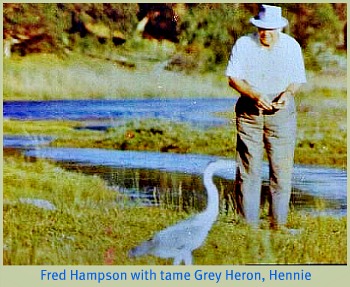 The regular route to the village was inaccessible due to abnormally high water levels in the estuary.
Fred observed the local bird life with keen interest.
Over a period of time, being outdoors so much, developed an astonishing rapport with a Grey Heron he called Hennie.
Reedon Rodney saw him demonstrate this when Fred called the bird as it hovered up in the air near him so that it swooped gently down to land gracefully nearby.

Fred Hampson -Infantryman
Fred Hampson was born in Kloof Road Cape Town on 13 October 1896. His father came from South Port, England. After leaving the Observatory Boys' School, Fred had various jobs until in 1913, he was accepted as an apprentice technician by the Department of Posts and Telegraphs. He was also a keen naval cadet and claimed to be a member of the original Woodstock sea cadet corps.
At the outbreak of war in 1914, the Post Office refused Fred's request to be allowed to join up. The British War Cabinet however, accepted his offer when the South African government agreed to send a contingent of troops to fight in France. Fred Hampson applied to join the newly formed 1st South African Infantry Brigade and this time permission was granted.
The S.A.I. Brigade was trained for a spell at Bordon Camp in Hampshire. It was equipped by the British Army and subject to its rates of pay. It was then deployed to reinforce British troops encountering difficulties with thousands of militant Senussi tribesmen that had been incited by the Turks. They were presenting a threat to Egypt, then a British Protectorate, and consequently, a danger to the vital Suez Canal. The South Africans were chosen because they were familiar with high temperatures and many were seasoned troops that had served in South West Africa.
After some casualties resulting from skirmishes with the Senussi, the S.A.I. Brigade captured the Senussi commander, dampening their opposition. The Brigade was recalled to France arriving on 19 April 1916. Little did Fred know that he was about to engage in one of the bloodiest battles of World War 1 – Delville Wood in which he served as a platoon sergeant! He had not yet seen his twentieth birthday!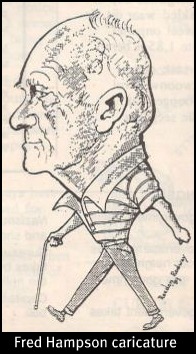 On 14 July 1916, the 1st South African Infantry Brigade consisted of 121 officers and 3052 men in other ranks. When the brigade was relieved 6 days later, only 2 wounded officers and 140 men were able to march out! The South African battalion had obeyed an order to take and hold the wood, which they did, at appalling cost. It earned them an undying reputation for courage and tenacity in a holocaust of machine-gun fire and shellfire that reduced Delville Wood to a burned and shredded wasteland.
Fred's gift for evocation and talent for anecdotes coupled with a remarkable memory made him a favourite target for writers and radio program producers. On one occasion he was heard on the senior citizens' radio program "Sixty Plus" hosted by Dewar McCormack.
He made no pretence of being an expert on military strategy, nor was he critical of it. His story is about an ordinary soldier, a front line infantryman who was there witnessing and experiencing the sounds of a world at war on a day where 19000 allied soldiers were either killed or died of their wounds. The British lost 54 000 men in all, the heaviest loss by any army on a single day in WW1.
Back in South Africa
Fred Hampson returned to Cape Town and continued to work for the Post Office. He married and had two daughters. One worked for AECI, the other, Joyce became a nurse working in a children's hospital and tutoring paediatrics for 20 years.
Fred spent most of his retirement years in the peaceful village of Sedgefield communing with nature in its magnificent outdoors. Both his daughters retired to Little Oak staying with Fred after his wife and their mother, passed away in 1985.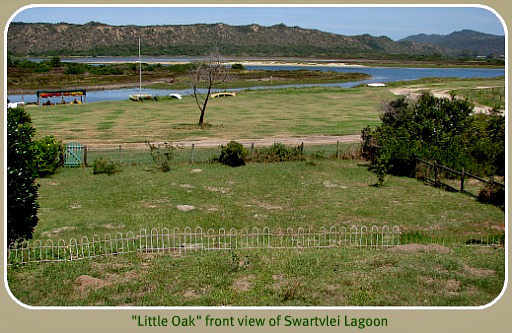 In 1995 Fred Hampson went fishing in forever. Joyce continues to live at Little Oaks. Over the years she has been involved in various aspects of the local community such as Hospice and the Animal Welfare Society. She is a keen artist and enjoys painting.
Although a private and self-effacing lady, I persuaded Joyce to part with a few anecdotes and snippets of information for my pages – some still need to be written. After some 50 years in the village, the Hampson family are indelibly part of Sedgefield's history.
References 
Article and caricature by C.G. Reedon Rodway in Sedge News Jan/Feb 1989
Joyce Hampson
Wynne Humphries

Links to Related Sites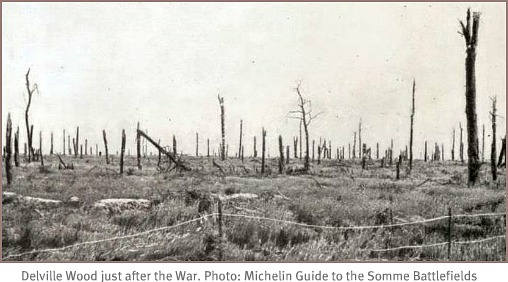 This is an informative site of World War One Battlefields and this link is to Delville Wood in particular containing some good pictures of the memorial plus interesting information.
---