Elaine Watney - Queen of Sedgefield
Elaine Watney as she was known in Sedgefield was born Florence Elaine Wallis on 2 April 1900 in Kent, England. An opportune meeting at the "Universal Aunts" a London social event when she was a young well-bred music teacher changed the course of her life.

Elaine comes to Africa
That evening she met a young British couple that were in the process of moving to South Africa. They wanted someone to care for and be governess to their three young boys. Adventurous Elaine accepted the post.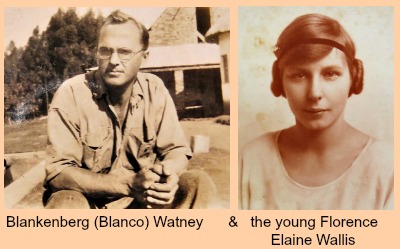 For two years Elaine easily fitted in to Agatha community near Tzaneen until the boys went to boarding school. At the local tennis club she had met an attractive, innovative pioneer in local farming methods, Blankenberg Watney, who it turned out, had the "Midas" touch! He successfully farmed granadillas initiating a process to make a delicious fruit juice squash from them.
It wasn't long before"Blanco" and Elaine were married. Elaine moved into a big house on one of Blanco's farms and over the next several years they had three children, John, Paul and Jane.
The Watneys come to the Garden Route
The boys were at boarding school when, in 1948, Blanco decided to move to the Southern Cape. Daughter Jane recalls that she was 2 years old when the family moved to George and 9 years old when her father died. 
After Blanco's attempt at farming in George failed he bought the dormant township of Sedgefield from Charlie Thesen. 
The new coastal road between George and Knysna had been completed in 1947 encompassing the bridge over the Swartvlei.
This made Sedgefield far more accessible than was previously possible on its donkey-cart track. 
The Watneys decided to build their own house "The Bluff" on top of the dune now known as Cloud 9. 

They lived in a cottage at the base of the hill while planning and building their house at the top. 
A road had to be constructed first for which a span of oxen and a handheld scraper were used.
The house had panoramic views over the lakes and surrounding area but was isolated and the gravel road to reach it was a rutted and fearsome obstacle course. Blanco also originally built the dirt road that traverses the top of the dune to this day. 

Sadly, in 1952, Blanco died of a brain tumor only three years after the family had moved in. They had not long before that, bought on impulse, a large old house called "Aqua Vista" on the lagoon edge when it had come up for auction. It had been built in the early 1920's by Jacob John William Muller, a magistrate, who had retired to Sedgefield and then spent some years teaching at a local farm school.

It was a speculative investment but after Blanco's death, the isolation of "The Bluff" persuaded Elaine to move into the house in town.  She changed its name to Sandgate.
Many years were to pass before a Limpopo Province tobacco farmer, Boet Smuts from Potgietersrus bought her place on the Cloud 9 dune. By then the house was derelict and he had to repair and renovate the structure extensively. Mr Smuts also got involved in local affairs and served for a time as one of Sedgefield's mayors. Smutsville was later named after him.

Elaine Watney - Solo in Sedgefield
Elaine took control of the township administration and later was an inaugural member of the Village Management Board.  She sold the Island that was part of the township Blanco had originally bought, to the dapper little Rhodesian dresser and entrepreneur, Ferdie Van Niekerk.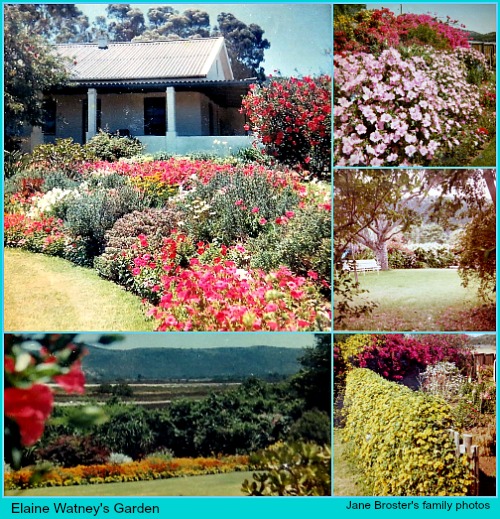 He decided to sell it off as residential stands and at the time there was no proper building control.  However, it was a flood plain, and with hindsight, the Island should never have been built upon.  Willem Klein who owned a small general dealer's store, built a few of the Island houses. He had only one plan so they all looked the same!
At Sandgate, Elaine patiently developed a magnificent garden and enjoyed gardening so much that she planted and tended flowerbeds in front of the older shops for many years.
She also planted many of the trees along the avenues and gave the streets their bird names. 

From a young age, she loved animals and had many pets throughout her life. Getting married to a farmer in South Africa suited her perfectly. Later on, in her Sedgefield village days, it was acceptable that she had a well known dairy cow called Sally at Sandgate that someone wrote a poem about.
The Many Contributions of Elaine Watney
to the Sedgefield Community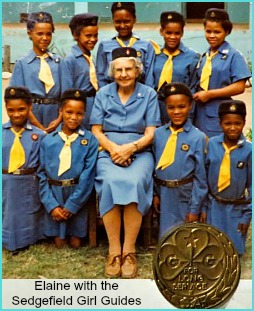 Elaine Watney had a strong social conscience reflected in her consistent contribution to village life and involvement with community affairs. 
Through her Ladies Work Group, she ran a feeding scheme for school children. She also established the local Girl Guides and Brownie Pack.
Elaine Watney was on the committee of the local library that had gradually grown over a number of years in the 50's helped in no small way by the enthusiastic support of self-appointed and dedicated librarian, Miss Germaine Rauilland.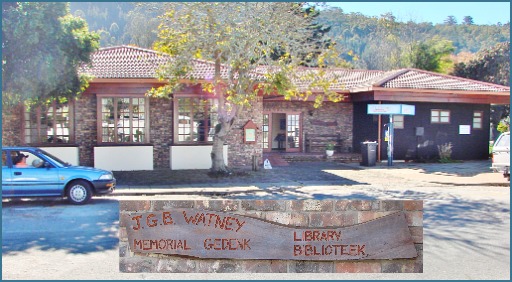 The library was cast from shop to garage to orphanage until a piece of land was supplied and a small wooden building erected became its home.
In 1962, Elaine assisted with a sizable donation to establish its present abode in the adjacent brick building.
She requested that it be named the "JGB Watney Memorial Library" in remembrance of her husband.

She was a vital member as a trustee for some 25 years besides being the organist and choir trainer for special occasions.
In 1967 Elaine Watney assisted with a loan so that Sedgefield's first Christian Community Church, (St Francis United Church in Swallow Street ) could be built to provide a place of worship for English and Afrikaans Christians of all denominations.
The first wedding held in the church just happened to be that of Elaine Watney's daughter.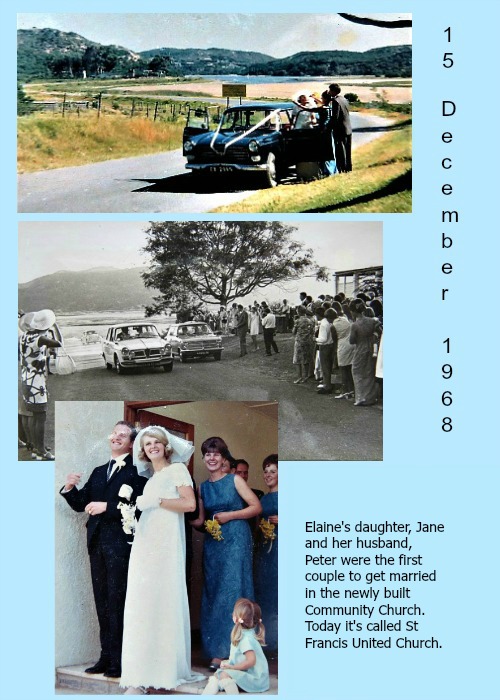 In 1970, a   builder, Mr Keyser built a hall as a cinema. He offered it to the Village Management board for between GBP 2000-3000 but they turned it down. Boet Smuts ended up buying it and then the hall was used for church services twice a month and Elaine Watney donated the piano which still survives today although it is neglected and badly in need of a tune-up!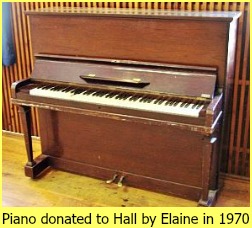 She started dancing classes and organised a number of shows. Joyce Hampsen's mother, Eileen would be the pianist for the dance classes and the shows.
Wynne Humphries recalled how much Elaine enjoyed theatre and participating in it too - singing, dancing and acting. 
Always a good sport, she organised a number of hilarious evenings to raise funds for different local causes.
She would join in the entertainment which was laid on for the locals. Many a time she landed in bed on the stage and had everyone laughing at her antics.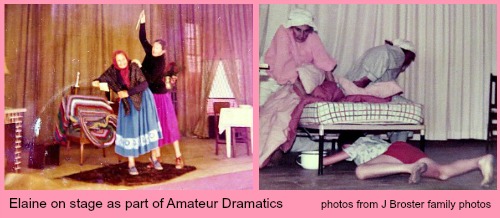 On one occasion a show was taken through to Knysna to give the elderly folk there a good laugh.  A church hall was used for the  play.
Wynne was asked to assist Elaine who was allotted a tiny room to change her costume between acts.
During a curtain break she asked Wynne "Do you think the old folk are enjoying it?"
Elaine was about 80 years old at the time so said Wynne,"You can tell what a great lady she was, always thinking of others!"
Every year Elaine's birthday was celebrated in style at Sandgate. Or she would sit in the Village Hall with all her friends around her.
Never the eldest in her mind, she was forever young at heart. 
Full of fun and enthusiasm, even at 82, she devised a riotous impromptu three-act play at her friend, Eppie Hooper's 90th birthday party that took place in the town hall.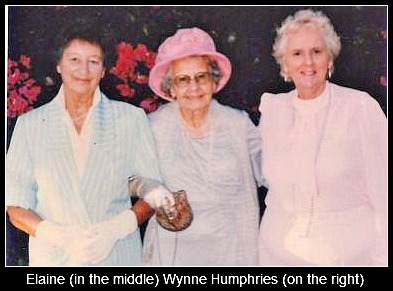 She continued to be involved in fundraising events like one held at Lake Pleasant "Élan – an afternoon of Elegance" where at 87, she was acclaimed the best dressed lady present in pink and dove-grey.
In the 80's Elaine Watney gifted Sandgate to Sedgefield as a retirement home for a token compensation and it became Sedgemeer Park Retirement Home. 

Elaine remained at Sedgemeer Park as a resident until her death in 1996.
Situated in an ideal spot in central Sedgefield for pensioners. Up until  2018 it remained Sedgefield's only retirement home.
Although a new retirement facility has been built on the north side of the N2, Sedgemeer Park is perhaps one of her most precious and enduring legacies.
Elaine left a portion of land, reaching from the Swartvlei behind Outward Bound to the top of Cloud 9, with a cottage on it, to her daughter Jane. The family still own it today (2017).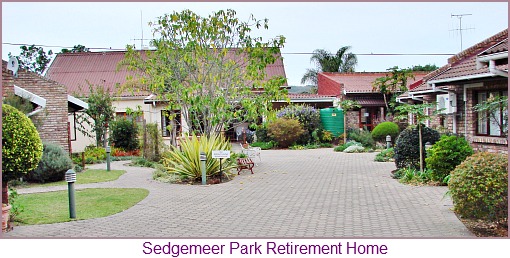 Blanco had built the rondavels near the Jolly Springer (where the Pick 'n Pay complex is now) and Elaine rented them out as holiday accommodation for many years after his death.
After she sold the property, the new owner incorporated the cottages into a caravan park. 
Elaine left residential properties in Sedgefield to each of her sons, John and Paul. However, later the boys both married and went to live in America selling their land here.
A whimsical piece of information is that Barry Du Plessis, was a retiree at Sedgemeer Park. from 2011 to 2014.
It turns out that he was the grandson of the Jacob Muller who originally built the house on the edge of the Swartvlei Lagoon.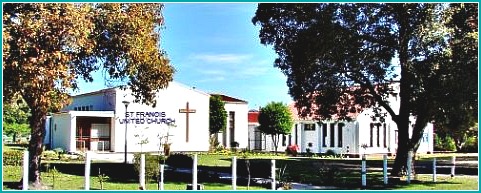 It was then named Aqua Vista but Elaine changed its name to Sandgate.
Blanco and Elaine Watney will forever be part of Sedgefield as they lie side by side in the quiet carefully tended graveyard next to St Francis United Church.
It is another building that came about from her vision and dedication to the community and that she continued to contribute to for very many years.
Acknowledgements and grateful thanks to the following:
Sedge News Special Edition - July 1993
The Sedgefield Saga - Louis Bischoff
Wynne Humphries
Joyce Hampson
Gerry & Kathy Stavros for use of "Sandgate" painting by Reedon Rodway 
Info from her daughter, Jane Broster & photos from her Family Albums
---