The Story –
from Sydney, Australia to Sedgefield, South Africa
by Martin Dellagiacoma -June 2012
This is how the story began!
In 1983 I responded to an advertisement in the Sydney Morning Herald that was going to have far-reaching consequences for the rest of my life. In the immediate future it was going to thrust me into an adventure I could never have anticipated and one I would never forget - or regret.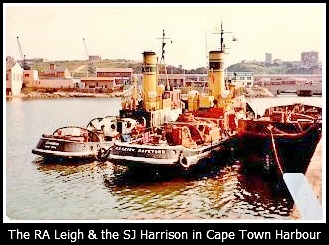 I joined a last ditch effort by a group of Australians to save two old South African steam-driven pilot tugs from an ignominious end by preserving them as working museum pieces – prime examples of the by-gone age of steamships. This however, would necessitate a voyage across 10,000 kilometres of open ocean to get them to Australia.
I signed on as 2nd Engineer and was one of fifteen individuals who participated in the exercise. All of us were promised on the job training in all the skills required for seamanship, not to mention an adventure.
The story got underway in June 1983 when a dozen of us flew from Sydney into Johannesburg Jan Smuts Airport and boarded a (steam!) train for Cape Town.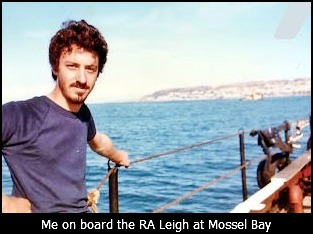 There we were joined by a septuagenarian Californian looking for adventure, a farm boy from Iowa, a journalist from Cape Town who'd abandoned the idea of going "Cape-to-Cairo" to join us instead, and a crazy old man who said he had a pocket full of illicit diamonds and had to leave the country but couldn't do so "officially" and so tried to hitch a lift with us.
We boarded the steam tug "RA Leigh" in Cape Town Harbour, which we'd bought from the South African Railways and Harbours for a Rand over the scrap merchants' bid – R5001.00. 

Half a dozen of us went up to Luderitz in Namibia to fetch the other tug, the "SJ Harrison", similarly purchased. After some weeks in Cape Town sorting out paperwork, we departed on board the two tugs with much fanfare, and were soon rolling and plunging in the notorious high swells off the Cape coast of Africa.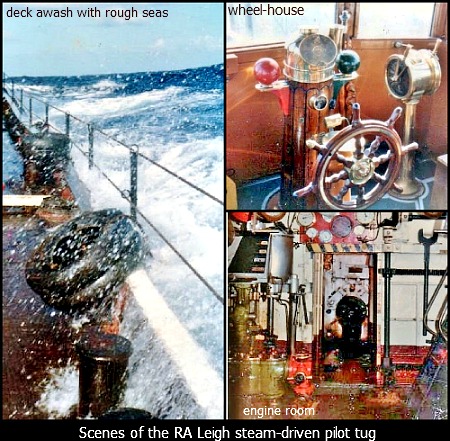 The journey took us along the Garden Route – stopping at Mossel Bay to collect our third vessel, the "Alwyn Vintcent", a sister-ship to the "SJ Harrison" - and on up the east coast of South Africa until we literally limped into Port Elizabeth harbour – low on coal, stoking the boilers with furniture from the captain's cabin to try and maintain some steam pressure, and all very tired and fully aware of just what a mammoth task we'd taken on. It had nearly been the end of the story, my story!
The passage of just a few days at sea saw a good deal of the on board equipment fail and made us realise just how inadequate were our plans for a long-distance voyage to Australia.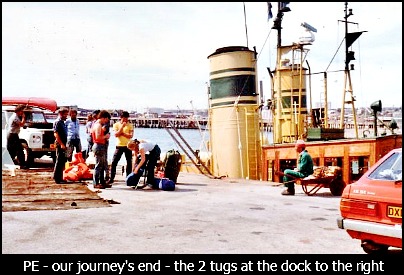 After a few nerve-racking events it became clear that it would be not only dangerous but foolhardy in the extreme to sail a trio of antiquated steam-driven tugs designed solely for calm water harbour work across the wild seas of the world's southern oceans. The whole salvage effort had to be abandoned and the story for the tugs was over - I thought!
There is more to read about the events of 1983 and how they were the catalyst for the still ongoing efforts to save the last remaining Steam-powered vessel in South Africa, the tug "Alwyn Vintcent".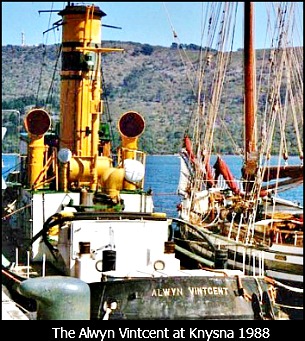 After a few weeks of living on board the tugs in Port Elizabeth Harbour, I returned to Cape Town spending time with friends I'd made there and not long after that I flew back to Australia.
The story continues....
Hankering after South Africa, I returned to Johannesburg in the autumn of 1984 and found work in Braamfontein. Fourteen months later I took a holiday down to Cape Town stopping over in Port Elizabeth. I found the old tugs pretty much where we'd left them at the PE quayside - rusting, sad and neglected.
The story takes an unexpected turn......
Single and footloose, I travelled back and forth between Australia and South Africa. It was on a flight from Heathrow to Cape Town that I found myself sitting next to a very attractive girl. She turned out to be Briony Lidstone – she was sitting in the wrong seat but it turned out to be the best mistake she had ever made!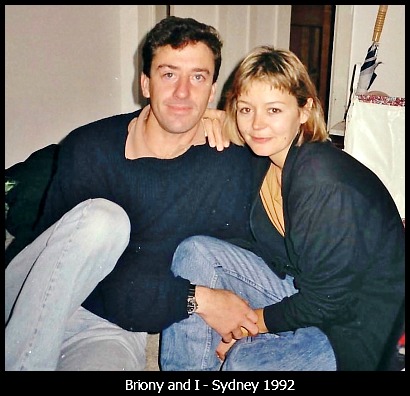 The irony of this was that in 1985, Briony and I had almost crossed paths before - we were within the same 10km radius. I was working in Braamfontein and she was studying at Wits University!
I even drove through Sedgefield back in 1984 and yes, the only thing I can say that I can remember with any certainty from that time is "THAT Horse Fence"! (Sorry Briony!)
We would eventually meet 5 years later, in the spring of 1990 on that flight from the UK to South Africa. On Valentine's Day of '91 I tore up my return ticket to Sydney (Briony says it was the most romantic gesture a girl could ask for!)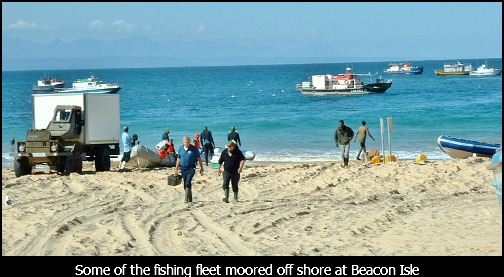 The story moves to Sedgefield…....

We moved from Cape Town to Sedgefield (Briony's home town) in the late spring of '93 and have been here ever since. I have always retained a love of the sea and have spent many years working in the marine industry in Sydney, Cape Town and Plettenberg Bay.
In the heyday of the hand line Hake export industry on the Garden Route, 1996 to 2006, I was the official Volvo Penta Dealer, looking after the fishing fleet mainly in Plettenberg Bay comprising over two dozen vessels, as well as vessels in St Francis, Mossel Bay and Knysna. The Hake caught by the fishermen on these boats was highly sought after by many European countries, especially Spain.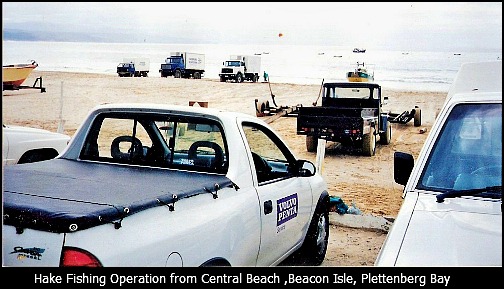 The Plettenberg fleet was moored off Beacon Isle at Central Beach. In a cowboy-like affair, the only way to reach the boats was by rubber duck launched from the beach. Supplies for the crew, bait, fuel, spares and some times even engines - everything went to and from the vessels via rubber duck though the Central Beach surf break.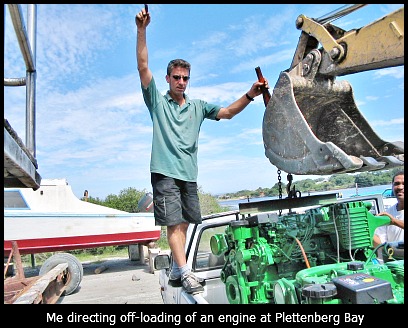 This was a hazardous affair as one had to time surf-launching to perfection, otherwise one would be drenched and possibly overturned by a rogue wave..... I always kept a change of dry clothes in my bakkie (that I had to use on quite a few occasions!).
Emma, our Dalmation/ Border Collie, grew up on that beach and was quite accustomed to riding the surf with me. The fishermen loved her and would always make room for her in the rubber duck!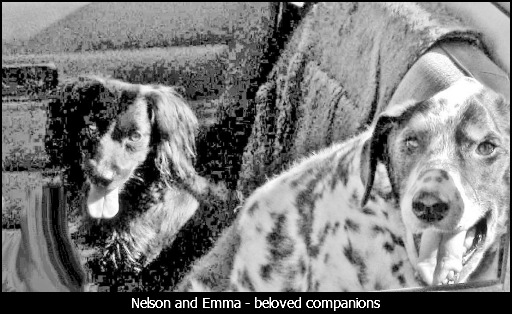 These days I still take my dog to the beach – different dog (Nelson), different beach (Myoli) – but we both still enjoy the sea as much and remember Emma who loved it so much too.
The Story Continues...
On 4th September 2010, Briony and I were married in Sedgefield by the Reverend Angie Pickard of the St Francis United Church. It was 20 years to the day of our meeting on the aeroplane (as Briony says, "it was a long engagement!)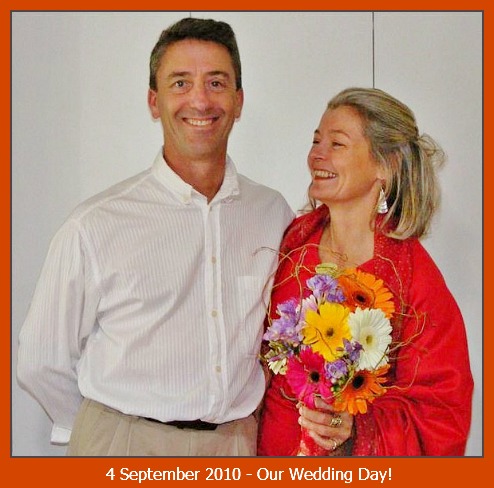 A tale of people, one very special person, dogs, ships and the sea. That's my Sedgefield Story. Next year I will have lived here for twenty years. I have enjoyed every one of them.
A happy ending to the story.....the one that began it all!
After nearly 20 years, I'm so glad to discover that at least the "Alwyn Vintcent", a small but tough little tug who'd spent her days working in Mossel Bay and was the last steam vessel to be on the South African Shipping Register - and remains the last coal-fired steam ship in this country - is to be saved. (see the link below)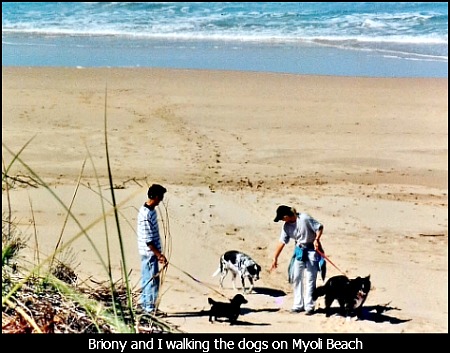 Related Links


Until 2011 ST Alwyn Vintcent belonged to an Australian businessman, but after efforts to locate him proved fruitless, she has been rescued from an ignominious end by "a bunch of crazy farmers", the Villiersdorp Branch of the West Cape Tractor & Engine club, assisted by a vast array of other interested parties.
Massive efforts were undertaken on many fronts from fund-raising to raising the tug out of the water, cutting and dismantling it for an epic road trip to Villiersdorp - no part of this journey was for the faint-hearted. 
The heroic efforts to save this piece of South Africa's marine history is worth the read.......
---