Sedgefield Coffee Shops


Although we are a small village, the plethora of Sedgefield Coffee Shops means we are spoiled for choice when it comes to eating out because we have a number of good ones.
Sedgefield coffee shops are mostly day time eateries, but there are a few exceptions. Check the times so you won't be disappointed!

---
Café Vienna run by Paul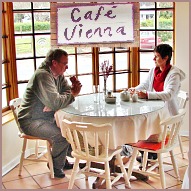 1 Sandpiper Centre, Main Road (South side N2)

I

ndoor/outdoor seating




Open: Mon to Fri 8am-4:30pm (Winter) 8am-5pm (Summer) Sat: 8am-1pm

Tel: 044 343 1234 email: paulherd@live.co.za

Café has a liquor licence.




Breakfasts and Lunches - Quiches, lamb and beef curries popular menu items.

Teas, coffees, milkshakes - Carrot cake, chocolate cake, scones and more.
---
 Steam Whistle Stop run by Joe and Louisa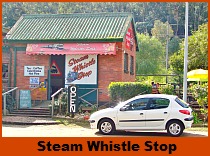 Sedgefield Station, Uil Street (North side N2) 

Outdoor/indoor seating




Takeaways




Open Mon to Fri 8am-3pm. 

Saturday find them at  the Mosaic Market.

Tel: 044 343 1052 email: jklm.groen@gmail.co

Teas, coffee, milkshakes, Toasted sandwiches

Breakfasts and lunches. Shop specialities Pies - sweet & savoury.

Wed lunch special - Roast meat with potato, rice and 3 vegetables. Can be eaten on the premises or ordered as takeaway. Book the day before and bring your own plate for takeaway.




Last Sunday of the month open 8am-2pm Breakfasts and Lunch - roast dinner on the menu.

Shop has a liquor licence.

Catering offered for special occasions up to 20 people.



---
 The Village Deli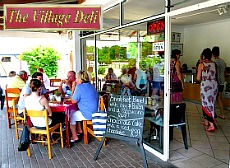 1 Kingfisher Bldg, Main Road (North side N2)

Indoor/ outdoor seating
Open Mon to Fri 8am-4:00pm 
Cell:076 191 6103 email: shaunberriman@gmail.com

Breakfasts & lunches - Specialities are quiches e.g. a)pork belly with roasted veggies, b)bacon, roasted veggies, balsamic onions & feta cheese, bagels, biltong and other take-aways
Fairtrade coffee, teas, milkshakes. chocolate mud pies, blueberry & custard danishes, hot apple, cinnamon & strawberry pies and more.
---
Deo Gratia Coffee & Book Lounge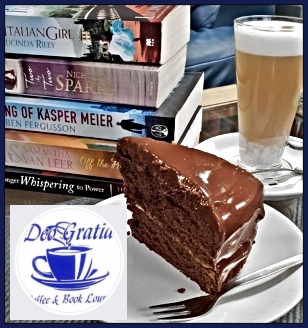 Shop 4, Pick 'n Pay Centre
Open Monday to Friday 8:30-17:00, Saturday 8:30-13:00
Best Lavazza Coffee
Chai Latte
Milkshakes
Chocolate cake, Carrot cake, Cup cakes, Cheese cake, Croissants and others.
New and second-hand books
Relax and while away a few hours - browse the bookshelves, read and enjoy a delicious snack.
---
Mac Butners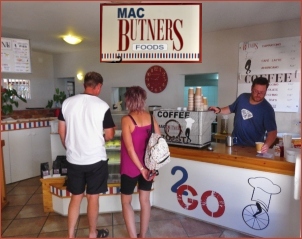 26 Waterstone Junction, Main Road south side.
Indoor/outdoor seating
7am-4pm weekdays,  7am-2pm Saturday 
Speciality Coffee
Speciality pies - Basagna Pie, Beef & Blond Pie and the regulars.
Quiches and krokettes
Hot chips 
Takeaways
---
Nibbles Cafe & Bistro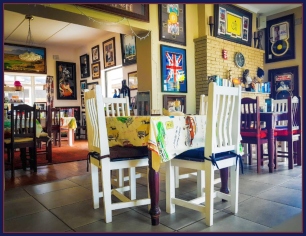 At the Mosaic Village on the right hand side of the Engen Garage just outside of Sedgefield (on the George side).
Open 7 days a week 9am-5pm
Wide range of light meals and exotic cakes e.g. Mozart Gateau
Famous for Swiss Rostis
Frozen dessert - Fudge Picasso
Delicious coffee
Hot Chocolate made with chocolate squares and milk. 
Fascinating Memorabilia
---
Venus Ear Tea Garden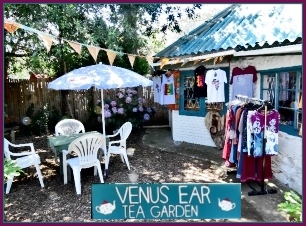 Little historic Cottage, Forest Lodge, north side of N2 (includes items of historic interest)
Open Monday to Friday 9am - 4pm
Indoor/outdoor seating, quirky decor
herb teas & health coffee,

Poppy seed cake 

Banana chocolate Fudge
Health Breakfasts, Fruit and Veggie Smoothies
Rice Paper Wraps or Tortillas, Quiches and Bagels

Humus, veg & seed bread, Banana bread, Apple & Blueberry Pie
Health breakfasts can be custom-made 

Oxygen Clothing & sundry items for sale
---