Scarab Village
The large red roofs of Scarab Village that can be seen on the right-hand side of the N2 act as a landmark as one approaches Sedgefield from the George side.
This exhuberant and diverse centre showcases local talent and skills in a wide variety of art and craft forms. 


Whether it be original artwork, beautiful glassware, mosaic mirrors, flour sack clothing, hand painted tablecloths, beautiful beaded jewelry, bags, woven hats, hand carved wooden bowls, decorative animals woven from wire, a macadamia nut store, an indigenous nursery, a children's playground – there's something for everyone....
To adorn yourself, your home or your garden, be it useful or decorative, gifts for friends or family, the choice is staggering.

Scarab Village Contact Details   
email: market@scarabvillage.co.za    Landine: 044 343 2455    Cell: 082 737 2655
And should you require some refreshments, there's plenty available from light tasty snacks to delicious lunches, while you take some respite to reflect on your purchases and perhaps consider another gift for an upcoming occasion on your calendar. 

The Owl House at Scarab Village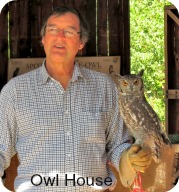 Because the Island is a conservancy it is appropriate that at one of the stalls called the Owl House you'll find Andy with one or another of his rescued raptors.
When situations arise which mean a bird cannot be rehabilitated enough to set free, he uses it to educate people about the many dangers these incredible raptors face because of human ignorance or thoughtlessness.
There is also an indigenous nursery in the vicinity of the Scarab Village that specialises in succulents but has many other plants as well including all the garden materials needed for planting a garden.
SAM (Sedgefield Animals Matters) also has a presence at the market on a Saturday where visitors can find some 2nd hand goods for sale and where people can walk and socialise their doggies.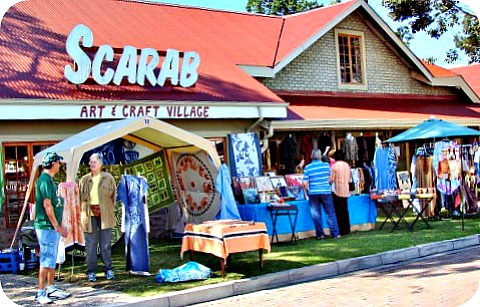 Behind them is the outdoor stage set in Masithandane's wonderful mosaic 'Octopus Garden under the Sea' where many successful outdoor events are held to raise funds for all the many local causes this fantastic NGO is involved with.
Besides the multitude of arts and crafts stalls visitors can enjoy on a Saturday, the main building at the entrance to Scarab Village houses a number of shops that are open during the week.
At one end of the building is  Sedgefield's own family-run Craft Brewery. 
The Sedgefield Craft Brewery
A little gem of a craft brewery has found a home at the Scarab market... It has received much acclaim on Trip Advisor so come and try it. On offer are 5 delicious traditional ales available in Draught and in bottles that can be enjoyed in a rustic beer-garden. Food platters are available on a Saturday morning. The Brewery also offers free mini-tours and beer tastings.

Hours 8am-4pm Monday to Saturday.
For more information email Tony Hunter at sedgebrew@gmail.com  or Cell: 082 901 4268.
---