Discover Sedgefield South Africa
Have you found it yet, this secret gem of the Garden Route, Sedgefield South Africa? By venturing in a mere 200 metres from the N2 highway, you will discover the relaxed way this village leans against the bends of the Swartvlei Estuary as it follows a course around ancient sand dunes to the Indian Ocean.
If you look beyond the unprepossessing buildings bordering both sides of the main road that cuts through the central business district, you will be surprised to find many facets to this understated jewel. Sedgefield naturally fulfills many stipulations of the Italian Citta Slow "Slow Town" tenets and is why the Tortoise is our emblem.
You will learn it takes time to discover Sedgefield's multiple treasures hidden in plain sight. It requires you to be an astute observer, have a genuine love for nature and a keen sense of adventure. 
Canoeing and cycling are two ways to slow down in Sedgefield.
If you come to live here, know that you are privileged and understand nature is fragile. Tread lightly to maintain the delicate balance between human interaction and the natural environment for the benefit of both. Only take from the sea what you need. Do your part to keep the ocean, rivers and beaches free of plastic waste and discarded fishing gear. Go out of your way to preserve the endangered indigenous vegetation.

Fynbos is the most threatened and diverse biome in the world and 69% of its species are found nowhere else on earth. It is home and a retreat for many endemic birds, insects, small wildlife and our resident guineafowl and tortoises. Trees too are important as more and more are being lost to urban sprawl. Be considerate and compassionate towards all sentient beings. They are also entitled to their space on our planet and humans would have no quality of life without the biodiversity of nature.

Discover Sedgefield and immerse yourself in Nature
The invitation is to take your foot off the accelerator and slow down to the speed of nature, ease up on your busy life and daily work load, your regular chores and responsibilities. Take a breather and revitalize yourself with soothing sounds of the sea and the tangy taste of salt air.
Unwind in nature's playground. Realise you are far more than your physical body. Let peace and contentment flood your soul until it oozes out your pores. Appreciate that only unspoiled nature can offer you this timeless all-encompassing restoration of body, mind and spirit, and only its pristine preservation will allow it to continually provide this ineffable service to humanity.
Perfect Photographic Scene at the Kingfisher Drive boat-launch site on the Swartvlei Estuary.
Breathe in fresh unpolluted air as you engage in any number of enjoyable outdoor activities...



Picnic next to the lagoon. 

Laze under an umbrella on any one of 5 beaches. 

Swim in the invigorating water.

Kite-surf along the length of Myoli and Cola beaches. 

Throw a fishing line from the rocks. 

Surf the waves on Swartvlei beach.

Canoe the rivers.


Snorkel in the amazing tidal pools at Gerickes.

Surge on the incoming tide at the Swartvlei Rivermouth.

Enjoy some lazy stand-up paddling on the peaceful lagoon.

Hike the nature trails of Goukamma Nature Reserve.

Cycle wherever your fancy takes you.

Take a paragliding lesson or enjoy an exhilarating tandem experience from Cloud 9. 

Explore the back roads.

Familiarise yourself with our village by simply walking its streets.

Browse our famous three outdoor Saturday markets.

Experience life in the inter-tidal zone on a Moonlight Meander with Judy Dixon.

Hike a guided trail of beach, river and forest with experienced local guide, Mark Dixon. 

Do an art workshop with a known South Africa artist hosted by Zanne Small.
If you are visiting my site for the first time, go to the task-bar below the header photo and click on the sitemap. There you will find nearly 200 pages about this area under specific categories. It is an easy way to orient yourself on how to find what you're looking for on my website. 

Photographers - don't go anywhere without your cameras! And birdwatchers, you can enjoy all of the above while adding to your lists! Or...you can do nothing at all! Just sit and let the peace of the place soak in!
All types of holiday accommodation are available from timeshare and self-catering to B&B's and caravan parks but expect no multi-storie hotels or bright city lights here.
There is little organised entertainment, no huge shopping mall, no cinemas but fabulous Saturday markets can easily provide an enjoyable outing for the whole family. Near-by, the delightful outdoor mosaic 'Octopus Garden under the Sea' holds regular events through-out the year to raise funds for Masithandane, a multi-branched local charity.
Wonderful Wild Oats Saturday Farmers' Market
And, the outdoors constantly beckons with unforgettable vistas whichever way you look. You may be halted in your tracks by the shining stillness of the morning that reflects off the lagoon.
Breath-taking sunsets can amaze - the colours get richer as evening darkens to night.
Sandy beaches stretch for kilometers beckoning you to lengthen your stride and explore the shoreline finding caves and rocky pools and sheltered coves to while away the hours.
Up on the dune cliffs, you can whale watch or spot dolphins leaping effortlessly through the surf.
Winter Sunset shining in the Swartvlei lagoon and silhouetting the Outeniqua Mountains
 Experience profound Connections
Sedgefield is an ongoing parade of special moments found when we slow down to appreciate the most fundamental things. Things that matter deeply but are not monetary.
To appreciate the intrinsic value of our relationships with each other and the natural world around us, we need to take the opportunity to find soul space.
This allows us to rest our overworked minds, rejuvenate our stressed bodies and relax into a sense of well-being and harmony.
This is the kind of place that reminds something deep within us of how life ought to be lived - more simply and serenely. It's about finding quality not in things but in experiences, and perhaps most of all, by connecting with nature!
Somehow this helps us connect better with each other too and why Sedgefield is recognised as a village with generous-hearted people who care about each other and have a strong sense of community!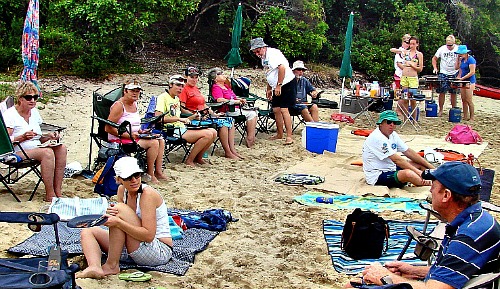 Outdoor cameraderie with family and friends on New Year's day
"Conservation without Boundaries"
Sedgefield falls within the Garden Route National Park (declared the Garden Route Biosphere Reserve in 2018!) which has evolved from a new concept of "conservation without boundaries".
This offers the potential to protect the whole Garden Route region from damaging exploitation by establishing innovative mechanisms for allowing people with all their associated complex human activities to sustainably interact with this fragile and beautiful nature-oriented environment.
Many people from all walks of life are actively and deeply invested in materialising this unique area into the Garden Route Biosphere.
This will not only incorporate precious indigenous forests, fynbos and mountains and all the creatures this environment is home to, but also the magnificent yet vulnerable coastal landscape which merges two Marine Protected Areas and two Hope Spots.

Last but by no means least, in comparatively recent times, exciting discoveries of ancient track-ways of thousands of animals have been identified along our coastline including Sedgefield beaches. They reveal bygone ages when this region transitioned from desert to grass plains before it became the coastal topography we know it as today. Other geological findings indicate the area is awash with imprints of human species at the very dawn of their existence.
Our planet as it exists today is really just a singular snapshot of time. Events and creatures that have participated in its 6.4 billion-year journey have interpreted it by means of a global map of their ancestry catalogued and encoded in their DNA.

Preservation of information of such antiquity can only increase our appreciation of what it has taken for all of the multiple species that clothe and walk upon this planet, to have evolved and survived to be here, in their current form at this present time of Earth's history-in-the-making.
Most Visited Pages
---