Zannes Small Art Studio
Like many inimitable creations, Zannes Small Art Studio has been a lifetime in the making. It was inconceivable to Zanne that she would come from the middle of Africa and end up one day living on the edge of the continent's southern shores in a little village on the Garden Route.
However, all her life long, her preference has been for the community experiences of small town life. The frenetic bustle of the big cities had no appeal for her and she felt that she couldn't thrive in the midst of their constant commotion. For her the saying resonates, "It takes a village to raise a child."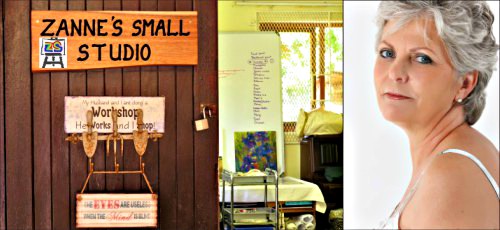 Her own childhood years were spent growing up in the small town of Gwelo, Rhodesia. From a very young age, Zanne enjoyed drawing – and being a visual learner, at school she readily drew maps in geography, the flowers and insects in biology, and in time would do the same for her children, signing her name in their homework. She was driven to paint and draw so predictably, she studied art and music at UCT, choosing eventually to major in Fine Art.
Her first years of married life took her to Redcliff, a little town that grew up solely to provide housing and services to RISCO – the lron and Steel Company of Rhodesia - where her husband worked. There Zanne finished her music degree, had her first two children, taught music privately from home and played the piano in her church.
In 1981 the young family moved to Tzaneen initially and then on to Piet Retief where a third child was born. They first lived in town and then moved onto a small-holding, they called "Beside the Wood", a pun on their Bezuidenhoudt surname.  Wherever Zanne went she indulged in her love of gardening, which through good times and bad, provided her with soul space – solace, personal satisfaction and endless pleasure.
Her labours of love interspersed with copious cups of tea –"Everything looks better after a cup of tea!" she says, - have established many wonderful gardens both large (as in hectares on plots) and small (right down to successful container gardens) in all the diverse places she has lived at different times of her life. In Piet Retief Zanne contracted to a local florist supplying her with high quality cut flowers from her bounteous garden.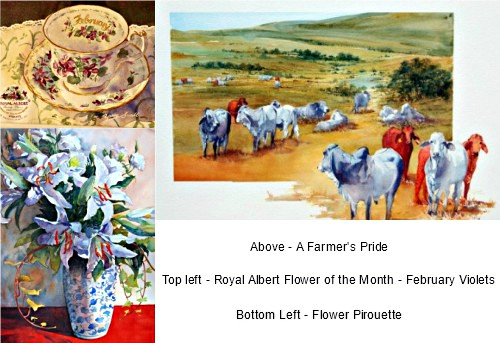 Some of Zanne's Watercolour Paintings
After a sizable period when Zanne's life was dominated by mostly practical family matters her husband encouraged her to start making time for painting again. Zannes Small Art Studio was in its embryo stage.
Her most loved medium for artwork is watercolour. It is demanding and unforgiving but rewarding. One has to learn the rules to know how to break them. The colour white is the colour of the canvas.  White is never painted in so one has to know from the outset where it will appear in the composition. She paints with oils and does pastel work but returns over and over again, to watercolour.
In 2000, when circumstances required a move to Gauteng, Zanne used the opportunity to join the Water Colour Society of South Africa.  Shortly after that, Zanne's husband passed away suddenly. Her children were virtually all grown up and living their own lives, so it was up to Zanne to create a new life for herself.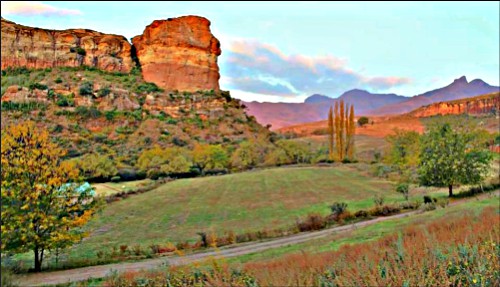 Sunnyside Farm View - Clarens
A well-known artist friend, Sue Kemp did Zanne the greatest favour by encouraging her to take her place in Richard Rennie's Art Week at Sunnyside Guest Farm at Clarens in the Free State, which Sue had booked but was unable to attend.  Since 2002 Zanne has never missed a year and since 2012 has become the facilitator of the group which is now called Zanne's Art Colony.
Many famous artists have a history with Sunnyside Guest Farm. For instance, Pierneef used to set up his easel under a tree and paint the very scenery art groups still paint today.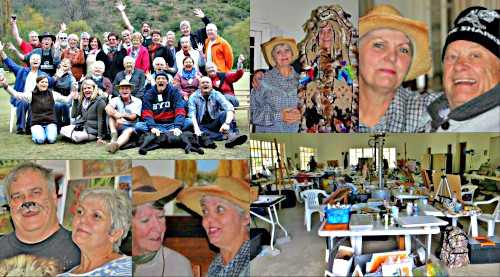 Zanne's Art Colony - Clarens
Zanne then took up the offer to become curator of the South Africa Watercolour Society's Manor Gallery in the Norscot Gardens in Four Ways, Johannesburg. She became actively involved in the "Black like Us" Art Project begun in 2003 by Watercolourist Maureen Dixon in conjunction with the "Black Like Me" hair product Entrepreneur, Dr Herman Mashaba also an established and successful businessman and currently Mayor of Jonhannesburg.  The project was designed to help promising young artists to improve their talent, and develop business skills so that they could market themselves in a professional manner and sell their work in upmarket galleries.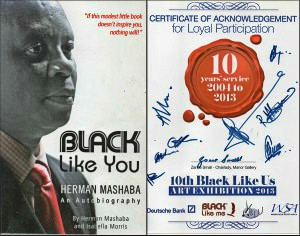 Zanne encouraged Soweto-born Abe Mathabe to pursue his art in the form of distinctive and unique miniaturist drawings. He has become an internationally acclaimed artist. Another artist to achieve international acclaim is Edward Selematsela who was co-founder with Dulcie Robinson of "Little Artists' School" in January 1996.
The school began in an orphanage where Dulcie taught art two afternoons a week to provide an activity for the children after school. It was a great hit and reached out further to local street children and other disadvantaged children from the age of 6 upwards. Dulcie's husband, Peter Robinson was Chairman of Goldfields so they sponsored and gave huge support to the project. Over time, Edward Selematsela got more and more involved taking over Dulcie's responsibilities and becoming a mentor and role model as he taught these keen young people.
From 2004 onwards Deutsche Bank came forward to support the Little Artists School that has grown in statue and produced many notable artists. The next rung of the ladder has led "graduates" to get involved with "Black Like Us" to learn business skills.  Artists such as Elias Sewape, Ramartha Makoba, Andrew Ramarutha Makoba, Lazarus Ramontseng, Hines Mashoba, Mind Shana, Bheki Mthethwa and Boderick Soman have subsequently been able to exhibit their work successfully all over the world.  
Zanne has worked with many of the sponsors, organisers and artists involved with these two projects and for her efforts was granted the title of Higher Associate of the SA Watercolour Society. Between 2007 and 2013 she was Chairperson, Curator and Judge for the Society managing the gallery, liaising with sponsors, running many successful exhibitions and overseeing all their ongoing projects.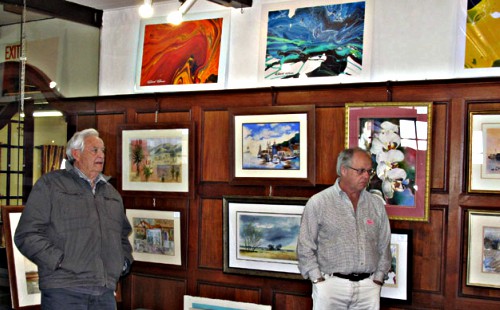 Norscot Manor Gallery
Zannes Small Art Studio takes Shape
Teaching has been a rewarding occupation for Zanne from the beginning when she first taught children at "M" Level in Rhodesia and then again at Maranatha Private School in Piet Retief. 
After meeting and marrying David Small in 2012, Zanne needed to adjust her responsibilities and reduce her workload and so she retired from her position at the Watercolour Society.
She really wanted to focus on teaching adult art classes. She says she is one teacher but can learn from 12 pupils; that it is inspirational to be with like-minded people; that students feed off each other's energy and enthusiasm. Furthermore, getting involved with a group locks one in to set aside time to paint. This commitment becomes a good habit that allows everyone to develop their skills and fine tune them. By meeting regularly, class members bond together learning a lot from each other and about one another.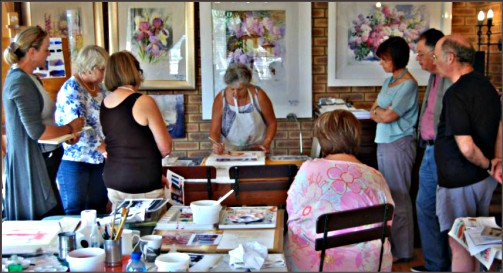 Zanne demonstrating during an Adult Workshop
Zanne then began to host workshops from her new home in Roodekrans that has a bird's eye view of the Walter Sisulu Botanical Gardens and the Verreaux's Eagles that live there. A play on her new name and the size of the home studio gave rise to the name of Zannes Small Art Studio.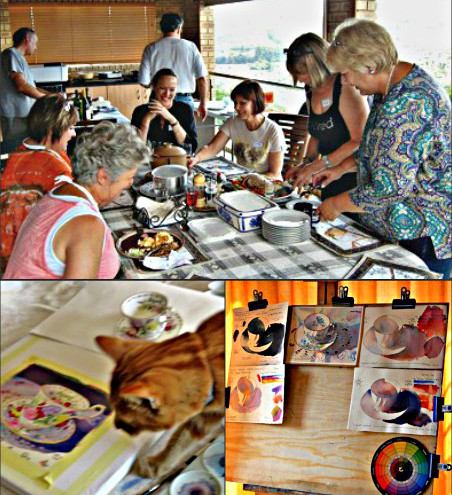 Lunch with a View & cat, Mr Hobbes - he always shows interest in what Zanne is doing.
Husband David now assists with admin and advertising taking over the least favourite part of her artistic endeavours. Well-known local and international artists such as Alma Vorster, Angela Eidelman, Sue Orpen, Sue Kemp, Willie Jacobs, Nasser Zadeh, David Johnson, Tony Durrheim, Derric Van Rensburg, and Bob McKenzie are invited to present workshops in their own specialised medium, be it  pastel, acrylic, oil or watercolour. Their subject matter includes landscapes, wildlife, portraits, still life or abstracts. For the students these workshops give insight on technique, improve their skills exponentially and turbo-boost their enthusiasm.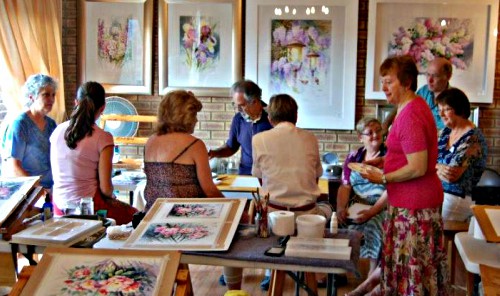 Nasseh Zadek Workshop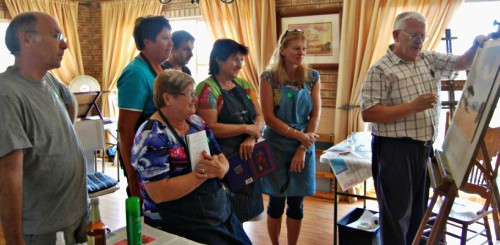 David Johnson Workshop
Zannes Small Art Studio comes to Sedgefield
Having visited friends on the Garden Route a few times, Zanne was again drawn towards small town living and determined to actively visualise retiring here. By 2016, David and Zanne had found their own piece of Garden Route heaven overlooking the Village Green. They transported their city life (including garden plants she has lovingly collected and nurtured) to Sedgefield, in stages, over the last 18 months until they finally moved into their home in October 2017.
Zanne's 2nd love is her garden
2018/19 have been busy years for Zanne. She has held workshops virtually every month in Sedgefield and held several art exhibitions. She has also become chairperson of the Sedgefield Art Society.
Following the success of her first workshops through  2018, Zanne has continued to host workshops through 2019 with 2 new names added to the list. They were Allana Deall and Sue Kemp. She also started teaching again in 2019. This entails a Beginners Class in Watercolour that has been one-day classes each month with the same group helping them to grasp this difficult form of painting.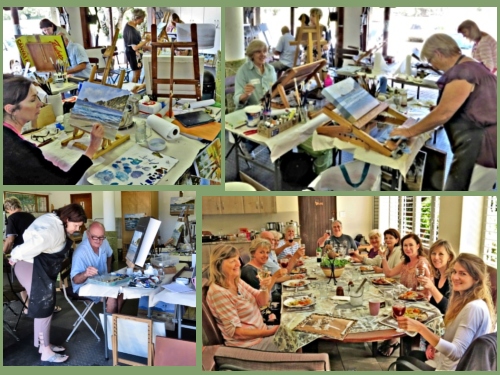 First Sedgefield Workshop 2018
Zanne is planning on doing more painting herself in 2020 so the number of workshops may be reduced in this year. The 2020 list of the workshops will be published in the right-hand column of this page when they have been finalised..  If you are interested in attending workshops at Zannes Small Art Studio, she can be contacted using the form below. You will be put on her mailing list and receive all the information needed to attend each workshop. NB. Unfortunately she really has a small studio so spaces are limited.