Sedgefield History
When investigating Sedgefield history one finds that the area was first part of a larger farm called Ruigtevlei. It belonged to Johanna Sophia Meeding after the death of her husband, Johannes Jacobus Meeding. He was one of nine children of Johann Fredrich Meeding and his wife, Maria Martha Meeding (nee Terblanche). JF Meeding came to the Cape as a soldier serving under the Dutch and then the English. He became one of the first Conservators of the forests between 1778-1811. He died from Asthma at Plettenberg Bay in 1813.
One of his sons, Johannes is shown in the George records (see Sedgefield History tree) as owning Groenvlei and Ruigtevlei Farms. He died in 1861, 4 years before his wife, Johanna. More than a decade after her death, Ruigtevlei was divided into 9 lots in 1878 and immediately transferred to their respective owners. Lots A and B would in time become, the town of Sedgefield, only then does Sedgefield history really begin.
Lots A and B

Records of Sedgefield history show that Lot A was bought by Stephanus Barnard (1847-1944) and Lot B by PH Hildebrand. (see the Sedgefield History tree  for clarity.)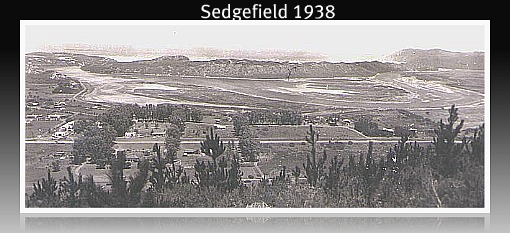 One of Stephanus Barnard's sons, Stephanus (Bvekenya) Cecil Rutgert Barnard (1886-1962) born in Knysna, was a man of many talents but notorious for his ivory poaching in the region of South Africa's border with Mozambique and Southern Rhodesia where he continuously managed to evade the law.

Phillip Marnitz subsequently bought Lot A and B but didn't own them for long either. In 1894 John Barrington bought the properties and named them Sedgefield in honour of his father's birthplace in England, a village in the coalmining County of Durham. 
July 2013 - A resident of the English Sedgefield has reliably informed me that his Sedgefield was never a mining town because miners couldn't get to the coal beneath a fault that ran on its northern side. However, the ugly evidence of the county's coal mining past such as the pit heaps are no more and the people are proud of the mining heritage.
John's grandfather, George Barrington was 5th Viscount and Rector of the English village.
Sedgefield history did not evolve smoothly. In 1901, after John's death, his sister Katherine Caroline Maurice (nee Barrington) inherited his property. She sold it to Salmon Terblans in 1911 for £2500. In 1926 Salmon gave Thomas Dunbar Moodie an option to purchase but while Moodie was laying out the plans for Sedgefield township, Terblans defaulted on a bond. The Thesens being the main bond holders recovered Moodie's unsecured land in the reclamation process in 1928. Charlie Thesen however, held Moodie in high regard and rewarded him for his work. They became life-long friends.
In 1948 the Thesens sold the long dormant township to entrepreneur, Blanckenberg (Blanco) Watney who together with his wife, Elaine had come from Tzaneen some time earlier. The land area comprised, from the bridge in the west to the dune overlooking Groenvlei in the east, from the sea in the south to the dune (and including it) now known as Cloud 9 in the north. They built their own house, "The Bluff" on top of the west end of Cloud 9. It had panoramic views over the lakes and surrounding area but was isolated and the road to reach it was awful. Blanco was to call his company, Sedgefield Investments (Pty) Ltd and when he died only a few years later in 1952, Elaine Watney took control of the township administration.
On advice from a "useless" lawyer she sold the 'unprofitable farmland' namely the Island to the dapper little Rhodesian dresser, Ferdie Van Niekerk, and bought "Aqua Vista" the home of schoolteacher, Jacob Muller (cnr Flamingo Road and Kingfisher Drive) enabling her to move into town. Elaine changed the name to Sandgate.

Lot C
Lot C was also to be part of Sedgefield history. Catherine Doreathea Meeding was married to Henry Hooper and inherited Lot C from her parents, Johannes and Johanna. Catherine and Henry's son, Johannes Jacobus, known as James, married Lulu Charteris. In 1876 James, while searching for stones to feed his ostriches,found a gold nugget in the Karatara River. His find was confirmed by Mr Osbourne, who at the time, was Thomas Bains' Inspector of Roads.  The incident was to  spark the Millwood gold rush that reached its height in 1886. It was relatively short-lived as the reefs never delivered the expected results and the goldfield proclamation was officially revoked in 1924.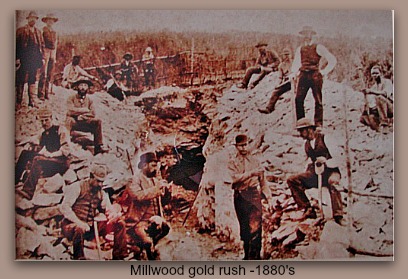 Lot C was later split between James and Lulu's two sons - Charteris and Humphrey.
Charteris took ownership of the property that became known as Milkwood Downs and Dixon's Green. He built a lodge on Dixon's Green for hunting and fishing that he called Hunter's Home.
In 1909, Charteris became the first person on record to complete the swim from Robben Island to the old Cape Town harbour. It took him 6hrs 55min to swim the distance of almost 11 kms.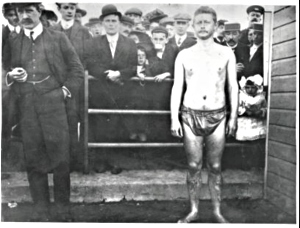 Henry Charteris Hooper after his Robben Island swim in 1909. Courtesy Cape Archives (Thank you Stuart Lidstone)
He was quite at home, weekly swimming the length of Groenvlei and back before breakfast and was noted to have swum the distance between Platbank and Gericke's Point also!

Charteris sold his Sedgefield properties to Edmund Butler a house-painter from Oudtshoorn who sold them on to Percy Bredall in 1944.
Percy divided the land into 5-10 ha plots known as Lake Pleasant Estates. Hunters Home was subsequently upgraded to become Lake Pleasant Hotel.
It was leased out to Maj Puller and then the Parkers but Percy sold the hotel to Stanley and Bobby Vadas in 1962.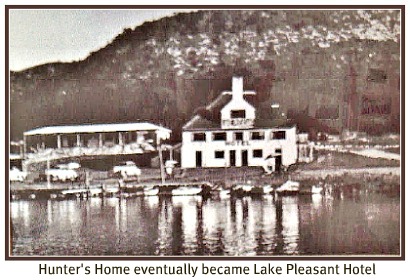 They upgraded it to a 2-star establishment that was well known the length of the Garden Route. Their son Peter and his wife, Vivienne assisted them for a while and then bought the hotel from them.
When Percy was killed in a car accident on his way home from Sedgefield village, a local Attorney, E.W Grunow with some experience of deceased estates, was in the right place at the right time to buy the shares/properties of Lake Pleasant Estates in May 1972.
Sedgefield history records that in July 1982 the name of the farm was changed from Ruigtevlei to the Remainder of Ruygte Valley No. 205 Knysna. It was subdivided into 45 smallholdings and one large section of 94,338 ha.
Although 20 of the 45 small-holdings had effectively been sold by Percy, the late E.W. Grunow was the major shareholder and had a controlling say in how the stands were developed. He reached the ripe old age of 90 and lived in Bloemfontein from where he  controlled and managed all his personal business affairs.
In September 1992, Lake Pleasant Hotel was sold by the Vadas (juniors) to a Rhodesian family, the Clintons. Paul Clinton kept 95% of the 20 staff members who had worked under the Vedas and determined to bring the 17 roomed hotel up to 3-star status by also introducing conference facilities.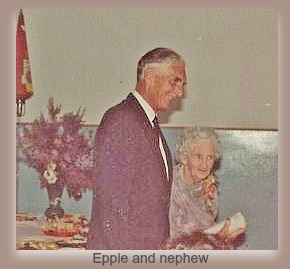 Adrian Gardener (of Shamwari) bought the hotel from the Clintons in 2000, formed the Mantis Group and upgraded it to 5-star status. It's name was changed to Lake Pleasant Living. Unfortunately the hotel closed its doors in May 2016 and subsequently the self-catering units were made available for sale and as holiday rentals. Although the restaurant is no longer operational, all the other facilities are being maintained and run by a body corporate. As an example see, The Flamingo Suite.
Humphrey Hooper inherited the other portion of Lot C, Greenmere. He ran a successful Estate Agency business in Cape Town and has been described as "eccentric, in the nicest way"! He retired to Greenmere in the 1950's where he died in 1961. His widow Ethel (Eppie) loved gardening and nurtured a magnificent rose garden.
They lived in a quaint little house with a lean-to kitchen built on by Humphrey and ran a small caravan park nearby. After Humphrey's death, Eppie sold the property to Rory (Pat) Hennessey in 1962 (but lived on in her house) and opened up Sedgefield's first Estate Agency in the village. A generous hearted well-loved character, Eppie passed away in 1984 at 92 years of age.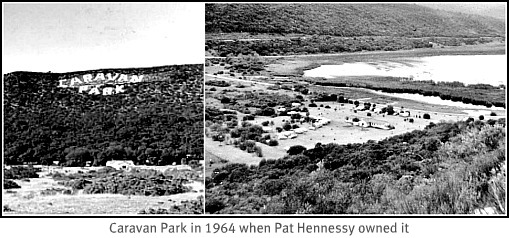 Pat Hennessey cleverly advertised the caravan park for all to see from the top of the dune above his Greenmere property. In December 1968, Roger Lidstone arrived off the Windsor Castle in Cape Town with his wife, Allannah and 3 children under 5 years of age. He bought a 50% share from his father-in-law, Pat who ran the accommodation side while Roger set up Sedgefield's first supermarket for his own account, at Greenmere.
In 1973, Pat suffered a stroke and Roger bought the other 50% of Greenmere from him a short while after that. Pat passed away in 1977. The property was placed into the name of the Lidstone Family Trust in 1996. Roger passed away in Sep 2011 and his son, Stuart is the 3rd generation to run the popular chalet and campsite resort at Lake Pleasant.
The Railway Line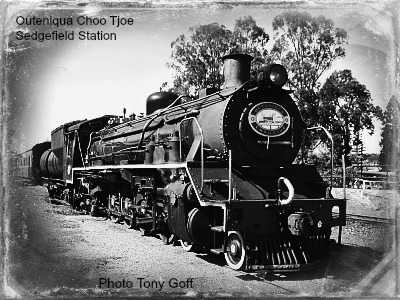 In 1922 a railway line was surveyed by Mr Dempster, the resident engineer in George, which was the largest settlement in the Garden Route region then. The 76km line was completed in 1928 and in the same year Terblans sold his property to Thesen's. The Thesens were a Norwegian Family already well established in Knysna with their sawmills and wagon and ship building businesses. They had built a primary school in the area in 1921.
The railway line was to make a noticeable contribution to Sedgefield history as it encouraged the gradual development and growth of the village by enabling people to get to the place more easily. Meanwhile farmers in the surrounding hinterland, had used it for over a century as an ideal spot for summer vacations.
The Roads
Before the railway line, a camping site had long been established dating back to the early 1800's when people had traveled by ox wagon on rough gravel roads from inland and up country to spend some summer weeks enjoying sand, sun, friend and family time on Swartvlei Beach on the shores of the estuary.
All they needed travelled with them. The loose mole infested sand was hard work for the oxen that also had to contend with swimming across the Swartvlei to get the wagons to the campsite.
Nel Eatwell recalls (nee Barnard) memories of being just a little girl in the 1930's, travelling a day's journey by ox wagon from their farm inland at Elandskraal to Sedgefield where they would camp with other families. There was a natural spring by the river mouth where they could collect brackish water that was palatable enough for drinking. In those days, the oxen were allowed to roam free opposite them on the island – now a popular residential area.
Once, sometimes twice a year, they would make this journey sleeping under the wagon for one night along the way, staying for one or two weeks. It was a relaxing time for the hard-working farmers. They enjoyed the abundant fish catches in the lagoon and sea. Time was spent too, socialising with friends and family. The trip was always a great adventure for the children and they reveled in carefree days playing together in the sand and sea and swimming in the lagoon. Although life was hard, they all savoured to the full, its simple pleasures.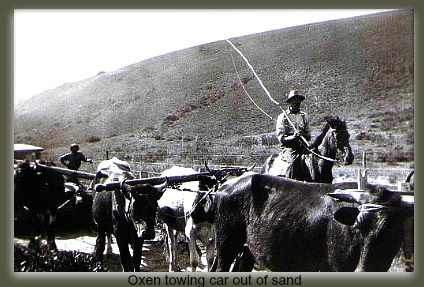 Sedgefield history indicates that even when the 7 Passes (dirt) road was built and people could come by car, many times a team of oxen was called upon to pull out a vehicle stuck in deep sand. In those days there was no shop in Sedgefield only Jan Sak's Cafe at the Karatara T-Junction. It also doubled as a butchery and Post office agency. There was no bridge over the estuary and all goods came via Ruigetvlei or Karatara. Indeed it was early days of Sedgefield history.

The N2 tarred road that linked George and Port Elizabeth was completed in 1952 and upgraded by LTA in 1985.
Sedgefield History -Town Proclamation
In 1929 Sedgefield was proclaimed a town and managed by the Divisional Council of George. A Village Management Board was created in  1956.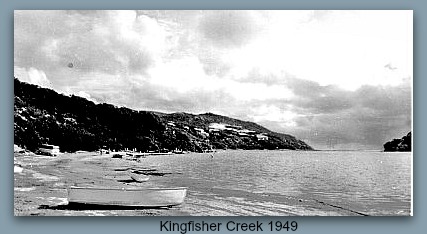 Locals invited friends who told friends who told family who started coming for holidays, pitching tents or buying small plots and building modest holiday cottages, happy to rough it for the pleasure of enjoying the spectacular scenery, beaches and the glorious fishing to be had in the sea, river estuary and surrounding lake.
The village was still in its infancy consisting of a garage, a shop or two, the caravan and camping site owned by Alf Widman and a small number of simple residences. As there was no "main road" then the few residences faced the railway station with entrances facing George.
Sedgefield history reflects that to many, Sedgefield was at that moment in time, a mole and mosquito-infested vlei that suffered very cold and wet winters. It was acceptable for short stretches as a summer vacation spot but it didn't have much to commend it as a permanent residential address! 
Below is an aerial view of geographical Sedgefield history - in 1956 from above the Gerickes Point dune, the western side of Sedgefield, facing east.One can see that the island has very few houses on it. There is virtually nothing on Myoli Beach and a vast piece of sand dune just off the beach is bare of any vegetation whatsoever. 

Below is an aerial view of geographical Sedgefield history - in 1956 from Groenvlei, the eastern side, facing west. Clearly seen is the completely different shape of the Cola/Myoli area which today is considerably better covered with dune vegetation (result of human intervention) which has reduced the movement of sand that constantly altered the shape of unprotected dunes. What a difference 50 years makes. One can see also a dirt road running at the foot of the dune alongside Groenvlei Lake. That now is an area of Milkwood Forest and the whole dune area has far more vegetation cover than in these two photographs.

Sedgefield history indicates that conditions remained primitive for many years. Wells supplied water. Oil lamps and candles supplied light. Wood-stoves were the cookers. Then small generators were introduced and water pumps could be used to draw up borehole water.
The village sits on a large deep underground river that runs out to sea and an aquifer that's closer to the surface, the extent of which, is still not mapped or fully known today. 
Sedgefield finally got on the National electricity grid in 1979.
The local shopkeeper also ran the village's postal service. The post was delivered by train and sorted into cupboard drawers in the shop.
Meat was delivered in similar fashion. It was ordered from George by phone and delivered by the train.
The train driver would blow his whistle to warn everyone the train was arriving shortly so people had time to get to the station to pick up their orders.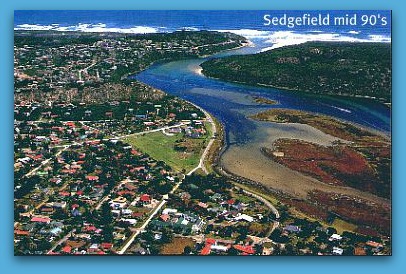 One thing I've noticed since living here, there are a good many folks living to a ripe old age of 90 and a few even reach their centuries! There's something about Sedgefield that encourages longevity!
Gradually the village's infrastructure grew to support the residents and in 1974, the town attained municipal status. Today, due to the merging strategies of the ANC government, Sedgefield has lost its autonomy and falls under Knysna Municipality.
In 2010 Sedgefield history records this laid back village was just 80 years old. However, it still retains the essential character of its early humble beginnings.
Acknowledgements and my grateful thanks to the following:
Stuart Lidstone for a wealth of information
Bewaardes van ons erfenis Distrik George Deel 8 (In Sedgefield Library)by JG le Roux, J.J. Niemandt, Mariana Olivier - 2003
The Sedgefield Saga - Louis Bischoff
The Knysna and Tsitsikamma Forests - Chief Directory Forestry
The Late Wynne Humphries
Knysna Tourism I Course
Joyce Hampson
Nel Eatwell
Gerry Stavros

---