SedgeNews 

A Nostalgic trip down Memory Lane
Amazingly and purely by chance, I have the first and the last copies of SedgeNews, (and a few in between) of the small local bilingual rag, that came into being in Oct 1988. It was birthed as a social service to the small Sedgefield community,  and a sideline of Ben Meyer, aka "Sedgehog", and his wife, Fiona's SEDGE PRINT business. Some articles and adverts were written in Afrikaans and some in English.  
To give it some perspective, a UCT Environmental Report written in 1992 noted that Sedgefield was established in 1928 with a total of 429 erven but because of difficult access to the town, developed slowly. By the early 1960s there were only 79 permanent residents. It gained municipal status in 1974 and by 1983, just a few years earlier than the SedgeNews publication, the permanent population had increased to 1061 and there were approximately 1550 erven.

By 1992, there were 3150 residents of whom approximately 50%, owned holiday homes and were seasonal visitors. Sedgefield developed much slower than George and Knysna but the increasing population put tremendous pressure on the Garden Route environment. This resulted from an influx of approximately 25000 seasonal holidaymakers attracted to the recreational activities the local waterbodies offered.

Central Sedgefield in 1950 (the bottom bit of gum trees and road omitted) otherwise as it appeared in the first edition of SedgeNews - October 1988
The first edition of SedgeNews in October 1988 was just two pages the size of a regular newspaper with print on all 4 sides but the 2nd side was a blow-up photo of Sedgefield Central in 1950, showing the old places that now only a handful of old-timers remember and maybe a few "younger" others that had the good fortune, in my mind anyway, to grow up here. (I have added some landmark names to the photo.)
Photos and paintings of old Sedgefield Buildings.
Advised by an email from Louis Bischoff, author of "The Sedgefield Saga" that he had left a whole lot of Sedgefield history-related documents  at the library in some boxes, I wasted no time in going to inquire but could only recover one box that had 10 copies of the old newspaper, SedgeNews that included a few special editions along with some newspaper cuttings from The Knysna George Herald.

---
To introduce you to the SedgeNews Team......... 
The SedgeNews A -Team -Caricatures done by Rheedon Rodway                (Aug 1989)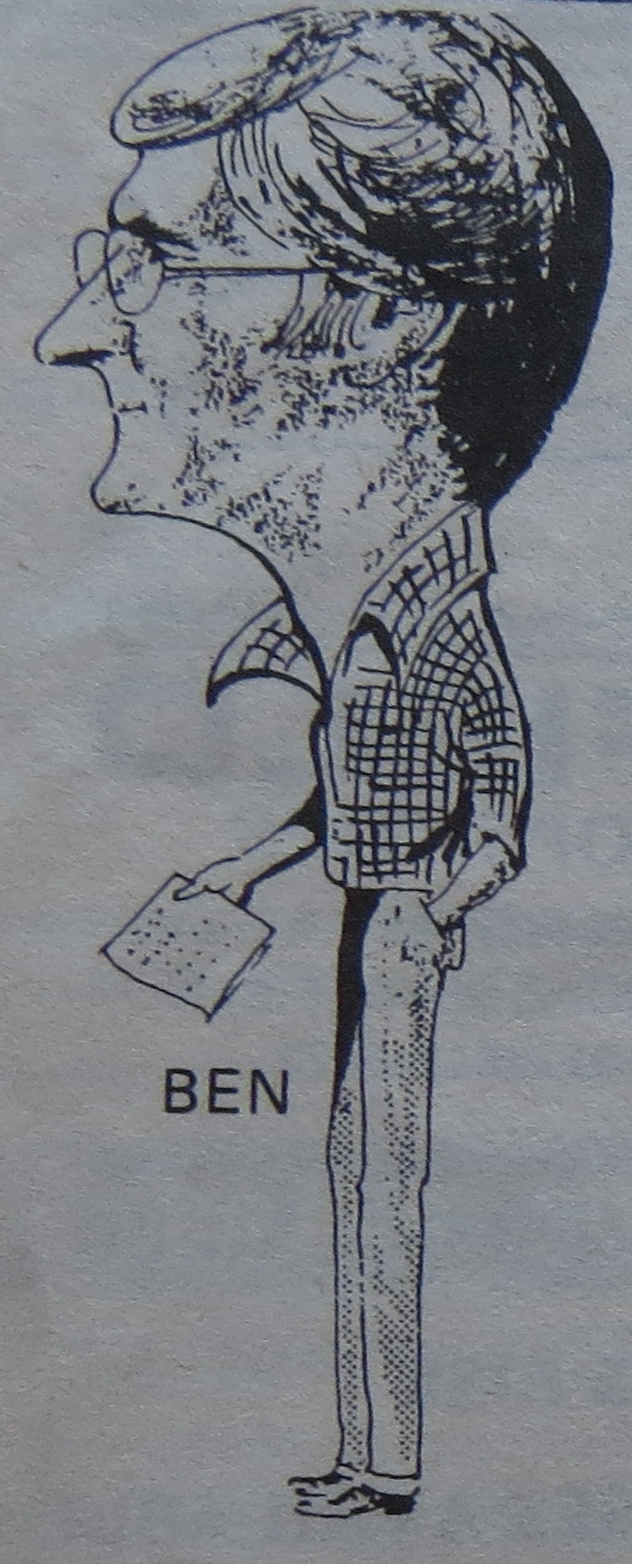 Ben's the brain and inspiration
Striving less for cents than sense
To serve the town, his obligation
Friendship is his recompense.
Hier-kiep-kiep, daar kiep kiep, woerts in a bakkie,
Soek adverteerders; vul elke vakkie.
Net advertensies kan a blad laat betaal
en met Elsje se ywer kan ons die paal haal.
Nona is a wordy ms
Copy writing is her biz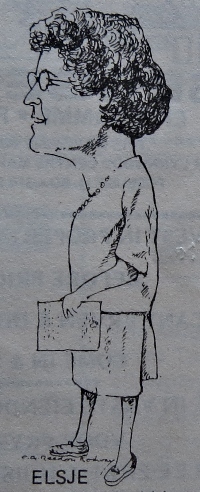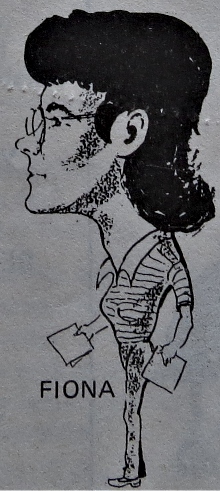 What we need is a go-getter
That goes and gets the job well done,
Artist, typist, letter-setter,
Can Sedgefield offer such a one?
Wait until you meet Fiona,
Friendly, quiet, on the run
And her expert supervision
Makes the printing seem like fun.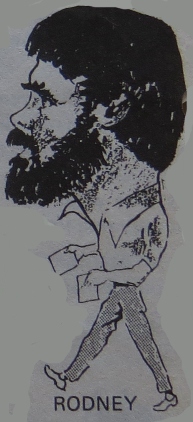 Rodney is the constant smiler,
Not a writer or compiler
But a fellow with a mission
To be the very best technician.
---
        Tortoise fatalities increased in tourist season back then too.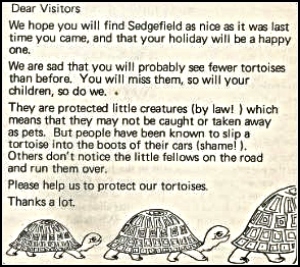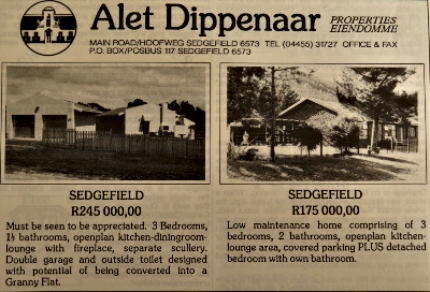 Prices we will never see again unless there's a world catastrophe and a few people survive in Sedgefield to start over again!!! Of course that might mean just a mud hut, a grass wigwam, an igloo or even an underground bunker!
---
A light-hearted insert...a poem                                     (SedgeNews - Jun 1989)
The Monkey's Side of the Story 

Three monkeys sat in a coconut tree
Discussing, as they are said to be,
Said one to the others, "Now listen you two,
There's a certain rumour that can't be true.
That man descended from our noble race,
The very idea is a disgrace!
No monkey ever deserted his wife
Starved her babies and ruined her life.
And you've never known a mother monk,
Leave her babies with others to bunk
Or pass them on from one to another,
Till they scarcely know who is their mother. 
And another thing you'll never see -
A monk build a fence round a coconut tree.
Forbidding all the others to have a taste,
Surely that is such a waste.
Why if I put a fence around a tree,
Starvation would make you steal from me.
One more thing a monk won't do
Go out at night and get into a stew,
Or use a gun or club or knife,
To take some other monkey's life.
Yes, man descended, the ordinary cuss,
But Brother! he didn't descend FROM US!        
---
What Granny called..... GOOD, CLEAN FUN    SedgeNews Nov/Dec 1988
Cherie Gillot, whose riding centre is situated on the western boundary of Sedgefield, arrived in Sedgefield five years ago with two small children - and one horse! Today her riding school provides healthy fun for many.
Neighbouring children soon took to Cherie, she gave them "treat" rides and an idea was born. She bought an additional pony from Mr Sparrie Barnard and took on one pupil every afternoon after school. Occasionally, owners brought horses to be trained, but the "hobby" horse riding centre really took off during the first Christmas season.
Although adults are welcome and family outings are becoming increasingly popular, Cherie really aims to turn out competent child riders, riding for fun - in the country, on the beach, through the forest, out of doors! A great many children come to the centre season after holiday season, but it is essential that times are booked. (telephone 575)
Some things don't change!                       (SedgeNews Jan/Feb '89)
FENCES CUT AGAIN 
Once again, vandals have cut fences on Jan Van Riebeeck Street, which runs along the Western boundary of Sedgefied. This property houses Cherie's Riding Centre and on Tuesday night 24 January, Cherie Gillot had to herd fifteen frightened horses off the national road in the face of oncoming traffic.
It would appear that the major culprits are people who regard this large piece of ground as a convenient dumping site, as well as picnickers and fishermen who have damaged the fence along Van Nierkerk Street in order to gain access to the waterfront.
One wonders just where the blame would be placed if the next incident results in a fatal accident on the national freeway. No doubt, the inconsiderate culprits responsible for this thoughtless behavior, will have no qualms of conscience whatsoever.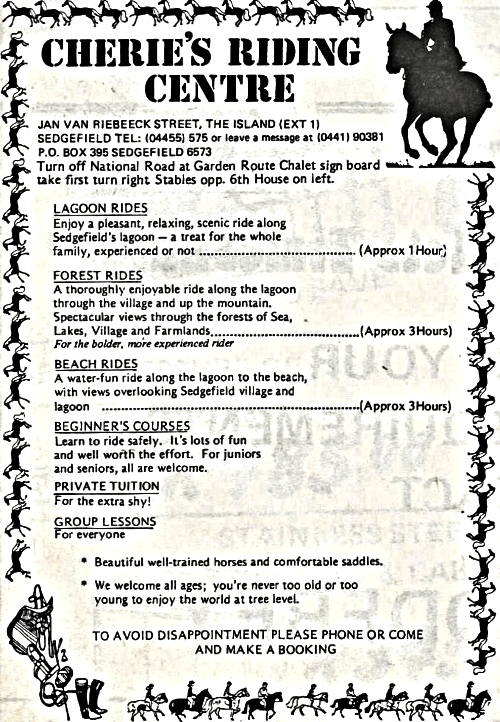 ---
SWARTVLEI  SWARTVLEI  SWARTVLEI  SWARTVLEI  SWARTVLEI  SWARTVLEI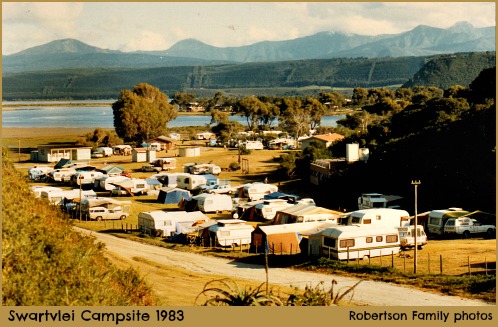 Interestingly, SedgeNews Jan/Feb 1989 edition also has a two page succinct summary of the whole Swartvlei Court Case. Thanks to Mr Sydney Press putting up the money to engage top legal counsel in Cape Town to fight the move to develop a township on the Swartvlei Peninsula, Sedgefield Ratepayers Association won the court case with assistance of the Chairman of the Swartvlei Campers, Guy Trevor Robertson who did a great deal of research and found important paperwork to support the objection. 103 Objections altogether were lodged with Provincial Administration.

---
THINK ON THESE THINGS                             (SedgeNews Jan/Feb 1989) 

Socialism: You have two cows, the government takes one, and gives it to your neighbor.
Fabianism: You have two cows, the government makes you milk both and gives the milk to your neighbour.
Communism: You have two cows, the government takes both and gives you some milk.
Fascism: You have two cows, the government takes both and sells the milk.
Nazism: You have two cows, the government takes both and shoots you.
Bureaucracy: You have two cows, the government takes both, shoots the one, milks the other and then spills the milk.
Capitalism: You have two cows, you sell one and buy a bull.  
---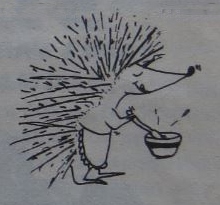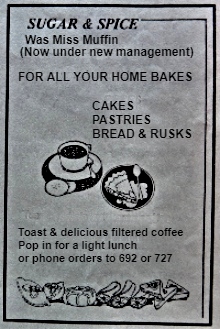 SEDGEHOG HEALTH SCONES
250mls (1 cup) of flour                                   pinch of salt
250mls (1 cup) of Nutty Wheat                   125g butter
4 teaspoons baking powder                       1 egg in cup, fill cup with
                                                                          buttermilk
1. Add baking powder and salt to flour and Nutty Wheat.
2. Mix in the margarine with fingertips until the mixture resembles fine crumbs.
3. Beat the egg and buttermilk and add slowly to the dry mixture folding in with a wooden spoon. When the dough has a soft moist consistency, turn onto a floured board.
4. Pat the dough lightly until it is about 3cms thick then cut out rounds with a scone cutter.
5. Bake in a pre-heated oven (400°F, 200°C, Gas mark 6) for 12-15 minutes.
Note: Scone dough should be moist – use a little bit of extra flour if the dough is too messy to handle.
Handle the dough as lightly as possible. Do not over-mix with the spoon and never knead-pat into shape.

---
PROGRESS IS PROGRESS IS…                                   (SedgeNews - Mar 1989)
Great building activity is going on, on the "robot" corner where Kingfisher Drive meets Main Road. Hidden behind the high metal hoardings things are happening at the hands of Ceres Master Builders. The present owners (the De Freitas Family) are embarked on an ambitious extension that makes Sedgefield oldies think back with a measure of amusement, of "the corner" as it was at the time of our photo SedgeNews No.1, October 1988. (top of the page)
In a great emptiness stood the shop; a general dealer's belonging to Mr. Noel Parrot. He and his wife, Pauline, ran a chummy little family business, selling anything and everything: foodstuffs, enamel basins, Vicks and Grand-pa powders etc. This was a great social gathering place where news (births, deaths, relationships…) and views (political and ethical) were exchanged.
Noel Parrot also had the Sedgefield Postal Agency and Postal Services rented a small section at the side of his store for our first Post Office. It was separated from the main shop by a thin plywood so that conversation across the counter was easily audible to the folk waiting at the counter to be served by the sole Post Office attendant (known to officialdom as Sub-postmistress) the young Miss Kenna Terblanche.
She had to cope with telegrams (phoned to Knysna for further dispatch), messages to and from other locals, stamps, parcels, the telephone switchboard, as well as fetching and collecting post bags from the station – and over the counter chit chat. Counter space was minimal and with rain the roof leaked so that space had to be sacrificed for buckets to catch the drips (never in the same place twice!)
But shop and post office business thrived and when Kenna was later transferred, Miss Juliana van der Westhuizen became the new Sub-postmistress. The fact that her qualifications were higher than those of her immediate superior's posed quite a problem in establishing her rank and salary.
By now there were no fewer than 50 P.O. boxes and at least 25 telephones (still Nommer Asseblief!) and an assistant, Miss Meyer, was appointed, later also a messenger who delivered telegrams and fetched and delivered post bags, etc. When he did not arrive for work, the Postmistress herself had to fetch and carry. No mean task as the Station Mistress (official Railway Agent) Miss Hart, was on duty at the station at the train times, and further only by very special arrangement.
Business at the corner shop continued to improve. Fresh bread could be bought daily, having come by train (later by lorry), from Knysna. And in 1955 the "new" road to Knysna, along the present route, was opened so that Sedgefield was even more on the map. It became necessary to extend the store at the back.
Two telephone boxes were installed on the eastern side of the building, and behind them,almost hidden from view, a red G.P.O. posting box.
The Parrots sold to Hilton Naude who later sold the shop to the Smalls. It has remained essentially a friendly family business. The Post Office had meanwhile moved to its present position in 1973. But progress is progress! And the shop-on-the corner is going bigger and bigger.
We wish the owners good luck and we are watching the new building with interest.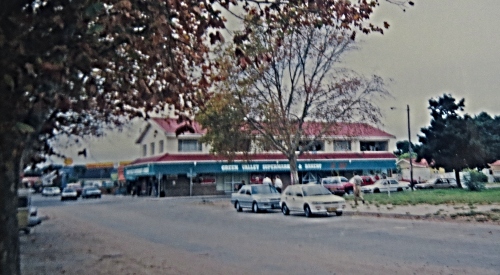 Green Valley Supermarket and Bakery May -1999
I walked into Green Valley shortly before Christmas 2019 to find out if the De Freitas family still owned the shop to be told that they sold the business two months ago to foreigners.
I asked if I could speak to the new owner who was in the office but was told he didn't speak any English. (so maybe not so friendly anymore or at least until he can speak a local language!)
---
This article could be current news....            (SedgeNews - June 1989)
During the past month the media accent has been on the destruction – or preservation - of the environment. June 1989 was appointed internationally as Environment Month.
Topics like "acid rain", the "greenhouse" threat to the earth, the "population explosion" and the "starving environment" are growing concerns.
For us, in Sedgefield, to act complacently, blaming major industry (the recent Dusi debacle), on the metropolitan areas (petroleum gases, smog, plastic waste) is to resort to ostrich politics and is all so counter-productive.
While we in Sedgefield continue to scour our building plots of all natural vegetation, we remain part of the problem and not of the solution. While we lay out our gardens with fine lawns, flowerbeds and paved patios and we are not planting TREES, we are adding to the devastation of our world. Every tangle of fishing line carelessly left on the beach endangers bird and marine life. Discarded items of plastic waste pose a very real problem for the domestic user, as the proverbial hole-in-the-ground is no longer regarded as a suitable method of disposal.
Since single plastic bags proliferate in our kitchens, it may be suggested that local and South Cape suppliers require customers to bring their own containers when shopping at, for instance, cash-and-carry supermarkets. Failing this, carrier bags could be purchased at nominal cost. Such a policy already operates in many overseas countries, and benefits both supplier and consumer.
Some South African municipalities are already encouraging their citizens to sort as much of their refuse as possible into separate receptacles, eg. Degradable refuse, glass, plastic, paper and cardboard;. Much of this is then collected by firms engaged in recycling waste – by all accounts a profitable industry.
A phone call to the George Town Clerk's office elicited the information that such an enterprise already exists in George. A subsequent call made contact with the owners of Southern Cape Recycling Co. and Southern Cape Plastics. These firms already run bi-weekly collection services to certain Knysna supermarkets to collect, respectively, waste paper and cardboard, and plastic. They would welcome the opportunity to extend their operation to other centres.
Perhaps here again, Sedgefield can lead the field.
Some years ago Jane Froman sang a remarkable song from which two lines come to mind:
"If everyone lit just one little candle, what a bright light there would be."
---
Can we replace Fireworks with an Old Sedgefield Tradition?  (SedgeNews Jan-Feb 1989)
NEW YEAR - and those pipes
Since almost  forever, it would seem to the older Sedgefielders, the Old Year has gone out and the New Year has been piped in to the sound of bagpipes coming over the water. For many it has been part of the magic of Sedgefield, a little tradition to be expected, but not to be questioned.
But some have wondered - especially as newer residents have asked: is it true that....? Then who.....?
It all started in 1953, the year in which Nellie Stephens (affectionately known as Dr Nellie or Dr Nellie Downes) came to settle permanently in Sedgefield. And it started with a party to see the New Year in, Sedgefield style!
At the time there were about 12 "dune" residents and with family and friends, the party numbered some thirty-six. Dr Keith Allen had just started on the building of their cottage, but Margaret still had to follow. He was living in a tent on the plot, so a note was left there inviting him to join the rest.

It was a beautiful moonlight night and quite a noisy party by the time Keith arrived - carrying his bagpipes! The game was on. With the piper in the lead, youngsters and adults started a follow-my-leader all over the dunes. "It became a most memorable occasion", recalls Nellie.
From then on the New Year has been piped in regularly. Nowadays though, Keith rows out on to the water and pipes either from the boat or from "the other side". We have learned to listen for it. Revellers pause for a few minutes until the clear notes come across the water. Another New Year.
---
Nog 'n grappie.....                                         SedgeNews Jan-Feb 1989)
Shaw was the earliest anti-smoking campaigner. Those who resist nicotine pollution still quote his exchange with an ostentatiously liberated Edwardian woman one day on the Great Western Railway.
"I hope you won't mind if I smoke," the woman said brightly
"Certainly not," Shaw answered. "And I hope you won't mind if I'm sick."
The woman bridled angrily. "I'll have you know," she said "that I'm one of the directors' wives."

"Madam," Shaw said, "If you were the director's only wife I should still be sick."
---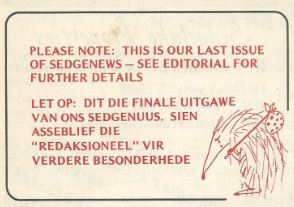 Sadly, just over 18 months after SedgeNews started, it had to be 'canned' because it required more effort than was anticipated and took too much time away from SEDGE PRINT'S "bread and butter" lifeline.
However, it seems they continued to do special editions from time to time because I have a "Special" issue dated July 1993.
---