I Love Solo Build It
If you like my website, know that I did it all with Solo Build It!
One day, some months into retirement, I was browsing the internet in search of ideas for something fun to do that might also result in earning me some money. I came across Solo Build It.


Ken Evoy is the founder of the company. His passion for his business was evident and everything he said, rang true. I decided it was worth a shot as the price was very reasonable for what was offered.

Ken promised it was a total package providing everything I needed to know, that I didn't need to go anywhere else or buy anything extra to make my website work. He was right! 

I would say I'm fairly computer literate - its very subjective of course – but I go back a long way to when computers were mainframe and one just entered information on a form and a data-capture clerk punched it into a computer - which dates me somewhat doesn't it? Times have changed! The digital age has transformed not only the business world but our private lives as well.
It's no longer necessary to have a big air-conditioned room to house a monster electronic machine, to being able to hold a neat little gadget in the palm of your hand! And all the time computers have gotten more and more user friendly so that now even Granny can talk on Skype and send emails. The worldwide web has also provided us with a giant encyclopedia that has made every kind of information instantly accessible.
With either a desktop computer, laptop, tablet or cell phone and an internet connection, we have the freedom to buy books, music, clothing, antiques, toys, games, you name it…….from anywhere in the world and have them delivered to our door or in relevant instances downloaded straight on to one's personal device.

We can book air-travel and accommodation to wherever we want to go and pay for it on-line without having to put a foot in the bank. During Covid-19 lockdown "Zoom" meetings have come into their own, enabling families to stay connected and businesses to continue with discussions and conferences/consultations from their home base.  Such is the miracle of modern technology.

However, although millions are putting information into the worldwide web, for millions of us it is still a mystery as to how to do it and when we want to create an on-line business it becomes even more challenging. We can see the value of it because of how we constantly use it ourselves but to be the creator of the information and not the end-user of it, is a whole different ballgame!
It is estimated there are 1.83 billion active websites and over half a million new ones are being created daily. So clearly it's not that difficult to create a website but it's a whole different story to get one's business on the first page of google! That is where SBI is invaluable!
Why I love Solo Build It

Please be clear about this – Solo Build It is definitely not a "get rich quick scheme" but from the day I built my first page in May 2010 until now and over 200 web pages later I can certainly say that for me, it's has been a very rewarding journey.
The articles at the Tips and Techniques Head Quarters are extensive and well arranged. I know I could never have figured out all necessary steps by myself.

At the friendly discussion forums I found like-minded people passionate, hardworking and willing to share the expertise they've gained from their own experiences. I was never alone!
There's still plenty of scope to develop my ideas but I can do it gradually as time allows, which makes it so enjoyable. No pressure!
Pretty much like writing a book, it has developed a mind of its own and is evolving in a way I hadn't anticipated from the beginning. However, because of what my research has uncovered I'm finding it a deeply satisfying experience.
I'm more than delighted that I found Solo Build It. They really helped me through the maze and mystery of web hosting and enabled me to establish my own presence on the worldwide web!
Solo Build It Success Stories
"Instead of planning your next vacation, set up a life there's no need to escape from."
In time, you'll discover thousands of SBI'ers that have given up their day jobs and receive their income from their websites like B who fell in love with the Australian Outback and has created a highly successful website and business about it.

Many have more than one successful website. They are independent and free from the restrictions and frustrations of regular employment. You can find them on the forums!
For many, what started as a hobby has become full time self-employment with great rewards such as being able to work at a time that suits them, being able to work from home, being able to work from anywhere in the world, being able to earn passive income i.e. their website works for them even whilst they're on holiday.
So if you really want a website and even more, a successful on-line business, SBI provides several ways to get one and you can decide what suits you the best. You actually can't lose with SBI! If you would like to do it yourself you can take the program for a test drive with a 100% money back guarantee if you're not satisfied – so its risk free!
AND TO GET AN EXCELLENT OVERVIEW OF SBI AND SEE HOW MANY SBI'ers HAVE BUILT SUCCESSFUL BUSINESSES WATCH THIS HALF HOUR VIDEO TOUR. YOU WON'T BE SORRY!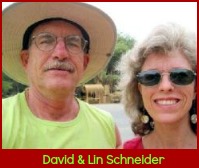 And here is just one of many success stories. This couple is justly proud of what they have achieved with Solo Build It. They love what they do and they have been making a living from their website for several years now. Even better they are living where they have always wanted to - in other words they are living their DREAM LIFE!
Beware of False Reviews
I have to say at this point, BEWARE OF PEOPLE WHO ARE PAID to make FALSE REVIEWS. It happens just like instances of  "False News" making inroads, into what used to be considered, reliable media.
I'm even more pleased now that I found Solo Build It just over 12 years ago than I was then! They are fantastic at keeping up-to-date with all the nitty gritty technical nuances of website hosting so I can concentrate on building my business. They have kept all their promises.
I have browsed other offerings of website hosting and haven't found anything that begins to compare with Solo Build It. Furthermore, Ken Evoy gives you a chance to test drive it for 3 months free, so there's no reason not to give it a try.
There is an Alternative

If you feel you don't have the time to develop a website this way you can choose to have it done for you by a Solo Build it Specialist. They are called Sitesell Services.
If you have any unanswered questions let the experts, the enthusiastic and helpful Sitesell Team answer them for you directly here!

A link to another great Solo Build It Website

Motorhome Hobos -is here to help you no matter what stage you're at on your van life journey whether you are a beginner or experienced. Living or travelling in a motorhome, campervan or RV – either full or part time – is about freedom, bringing dreams to life  and nourishing your soul in some way!
---