Buffelsbaai

Safe for Families, Superb for Surfing!
Almost midway between Knysna and Sedgefield, Buffelsbaai as it is best known, is considered one of the safest and best beaches on the Garden Route for all the normal popular beach activities that people enjoy.

The enchanting Curve of Buffalo Bay
The huge curving sweep of the bay offers reasonable protection for swimmers and surfers from the strong currents and rip tides that most of the Garden Route beaches are prone to.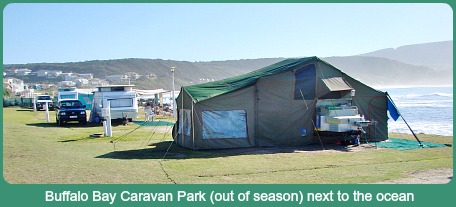 Buffelsbaai, also known as Buffalo Bay is primarily a holiday destination. There are a few permanent residents but the quiet seaside resort swells to maximum capacity when absentee landlords arrive at their holiday homes and tourists come to stay at self-catering chalets and B&B's for the school holidays. Christmas time is the busiest!
There is a popular caravan park on the promontory next to the ocean and another on the vegetated dune high above the bay before the town is reached that has magnificent panoramic views over the area, Goukamma River and out to sea. Both campsites are choc-a-bloc over the December holidays.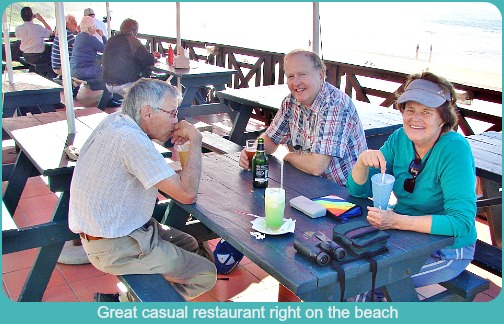 A centrally situated restaurant and shop right at the carpark overlooking the swimming beach in Buffalo Bay provides a decent menu and all the basic provisions for the locals and visitors.

Knysna town is a short and scenic 15 km drive away if more serious retail therapy becomes necessary!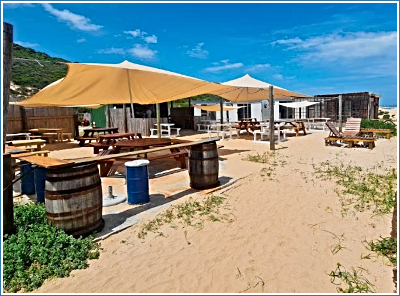 Wildside Restaurant
There is another rustic 'Wildside" Restaurant overlooking the ocean just before you get to the town which provides some variation for holiday makers and is in  comfortable walking distance from the village. It offers a delectable menu and is certainly worth visiting.
An extended line of grassy picnic sites right next to the sea and close to the beach is an attractive offering for day visitors. The area has been uniquely beautified with numerous mosaicked built-in braais and benches with backs of painted surf boards. Together with the indigenous gardens and lawned area, a cheerful and welcoming space has been created for a good number of families to find a place of their own to braai and picnic.
The over-all demeanor of Buffelsbaai is laid-back, uncomplicated and restful. This is exactly what draws world weary, work frazzled holidaymakers  to the place.
Upgraded and beautified Buffelsbaai Picnic site
Buffelsbaai Activities
People can wander around everywhere bare-foot and in bathing-costumes from sunrise to sunset - living and eating outdoors - enjoying the sea and sunshine and falling asleep with only campfire talk and the sound of the ocean in their ears. 


Through-out the year locals come for the day and out-of-season visitors knowing its' secrets, find many ways to enjoy this quiet retreat.

It's a popular spot for fishermen who while away happy hours fishing from the many rocky outcrops.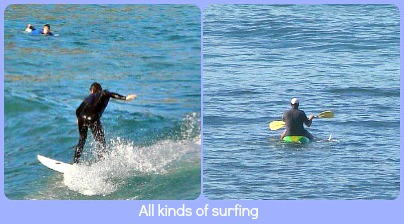 There is a boat launching site near the caravan park for power boats and canoes that would like to venture out to sea.
Make sure you are in possession of the necessary permits and that you are aware of the restrictions that apply to the adjacent Marine Protected Area of Goukamma.
Body boarders, kite-surfers and regular surfers can surf the waves to their hearts' content. A well-attended annual surfing competition is held at Buffalo Bay.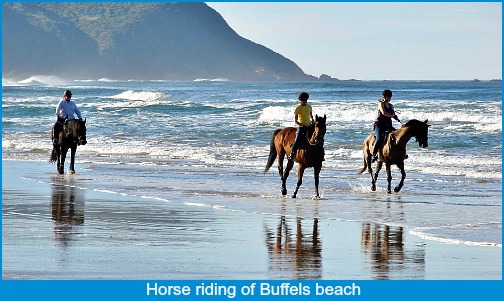 For those who love horse-riding it is possible to organise a ride along the shoreline at low tide. 
It is also very pleasant to cycle along the firm sand of the beach at that time.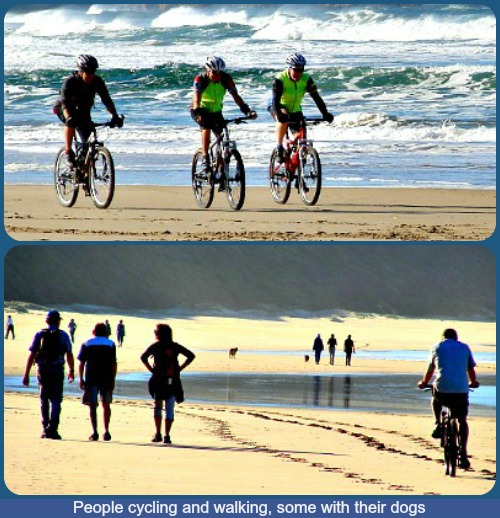 Many walkers enjoy strolling along the beach at low tide from Buffelsbaai to Brenton-on-Sea and back, a round-trip of +/- 8kms. Dogs frequently accompany their owners on such occasions.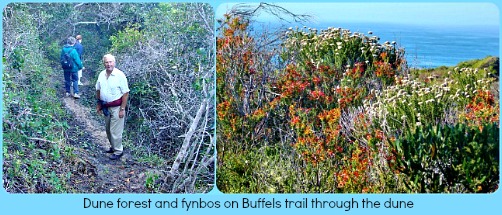 There is an interesting hiking trail of about 4 kilometers through the dune behind the beach that can be incorporated into a beach walk.
It gives you wonderful views of the ocean and the coastal resort itself, taking you through some dune forest and fynbos that is absolutely stunning when in flower.
The bay also offers great whale (May to November), dolphin and bird watching opportunities.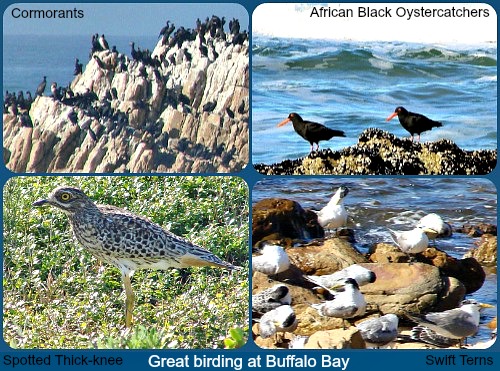 For outdoor lovers and loafers, action addicts and photography fanatics - there really is something for everyone.
Off the beaten track, that is 9 kms off the N2, you may never discover Buffalo Bay unless you explore the byways when you're travelling or you already know about it.
Buffalo Bay may seem out of the way, but it might surprise you and tempt you to stay!
The adjacent Goukamma Nature Reserve is close-by and offers its own outdoor activities and accommodation that can be investigated whilst at Buffalo Bay or to extend your stay in the area. More information and contact details can be found on that page so is not repeated here.

Link to Related Sites 


Goukamma Nature Reserve and Marine Protected Area is situated on the Garden Route between Sedgefield and Knysna just east of Buffelsbaai.
It has a diverse array of fascinating habitats and an abundance of smaller wildlife, birds and fish. The reserve covers 2 500 hectares of dense coastal forest, including milkwood, yellowwood and candlewood trees. It protects the charming vervet monkey, bushbuck and bushpig, as well as porcupine, mongoose, honey badger and grysbok. This is a popular choice for keen birders, as the Goukamma River and estuary and the Groenvlei Lake provide a welcoming habitat for more than 220 bird species..... 
---
Perilous Sea Adventures along the Garden Route Coastline