Boating on the Swartvlei

and other Waterways
Boating on the Swartvlei is a thoroughly enjoyable and popular pastime. Paddle-boats, rubber-ducks, yachts, catamarans, motor-boats and canoes are allowed on the water.
They all require permits. You need them because they also inform you of various regulations including where you are allowed to go and about the need to  wear life-jackets.
Boat Launch from Kingfisher Drive
One can launch canoes, and small boats from the boat launch at the bottom of the hill on Kingfisher Drive. There is space to park your vehicle most of the time (except maybe in high season) and there are also ablution blocks there.
However, please remember SAFETY should always be taken seriously when you're out on the water.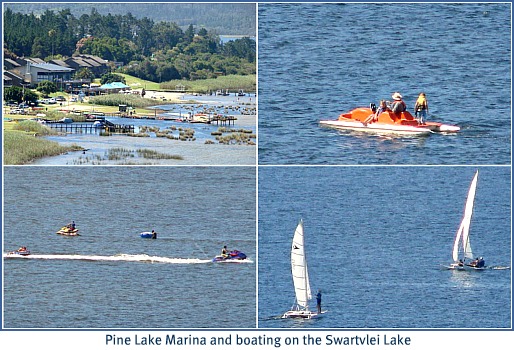 You may set out across the lake and it's a calm day. In no time at all you can be in the midst of a howling gale and struggling to return to your starting point.

I know it can happen because we got into trouble one year while on holiday at Pine Lake Marina. We went out into the Swartvlei Lake on a catamaran.
A strong wind came up and we couldn't control the cat. I jumped off on a bit of island near the N2 road bridge to try and steer the vessel round to where we came from and before I could get on again, it moved off without me. Wayne couldn't bring it back, and I was stranded.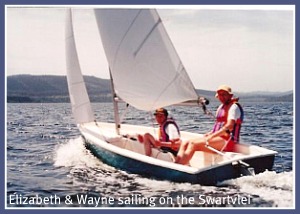 I had to be rescued by our Timeshare watch-guards. Wayne fast disappearing into the distance across to the far end of the Swartvlei, had to be rescued too after he had overturned the cat and couldn't get it the right way up again on his own!
It had suddenly turned freezing cold and by the time we got back to land, we were both soaked and shivering. It took a long hot shower to warm us up.
Back at the jetty, the timeshare had hoisted a red flag. This advised all boats to return to the harbour as bad weather was approaching but as our navigation skills were hopeless we couldn't respond. If we had been by ourselves in our own boat, trying to learn the ropes, we could have been in serious trouble. 
Swartvlei Lake on the far side of the main road from the ocean is deep, up to 16m deep and it's a big piece of water. Without life-jackets and in choppy water we both could  have drowned. I can tell you people have!
So, never take chances. All children must be safely harnessed in to a life jacket. But really every adult should have a life jacket on too (even if you think you're a good swimmer!)
It's difficult to get back in a boat when you've fallen out in deep water.
If you have young children with you they probably would be helpless without you and its terribly easy to fall overboard from any kind of vessel when the water gets rough!  No holiday should be given the opportunity to become a disaster.
However if you have a motor-boat, water-skiing on the vast Swartvlei Lake on a calm summer's day, is exhilarating. Unlike the lagoon, there's plenty of room to manoeuvre.
You may have to launch at Pine Lake Marina (and there is a fee to be paid) if the river mouth is open because then the water-level is generally too low for the boat to go under the N2 road bridge from the public launching spot at Fish Eagle Green on the Island.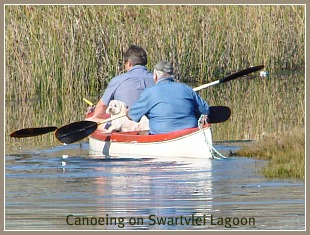 Apart from at the timeshares, there are currently no boats of any kind to hire on the Swartvlei. (That could be a gap for some enterprising person!)
A good many private individuals like us have canoes they loan to their visitors.
Many folks have holiday homes here and either have boats they leave here, or ones they bring with them so I'm not sure how great a demand there is for "boats to hire".
You can however, enjoy a guided cruise around Swartvlei Lake with Captain Saney aboard the "Loose Goose" that leaves at regular intervals from Pine Lake Marina daily.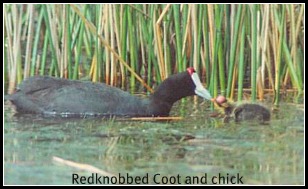 Swartvlei estuary, the area between the river mouth, around the island and up to the N2 road bridge is a nice paddle.
For birders there are many opportunities to view and photograph water-birds because they are habituated to humans and if you approach them quietly you'll be well rewarded with some intimate moments.
Our local senior group the Paddle Pals, are an energetic bunch that go far and wide exploring our waterways.

A day trip launching from the island and heading over the lake and up the Karatara river gives them a round trip of 32 kilometers.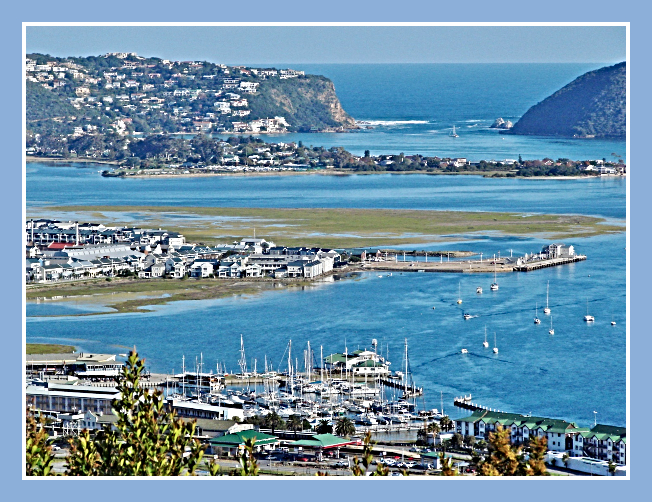 Beautiful Knysna Lagoon
They have also gone out our river mouth and paddled along the coastline and in at Knysna Heads. Know you have to have the right equipment to do this and they have proper sea-going kayaks.
The long summer evenings of the Christmas holidays invite one to make the most of the outdoors.
After a good part of the day spent having fun in the water, a lazy cruise on the water is a magical way to absorb the peace and beauty of our lakes and rivers in the cooler part of the day. Although boats have to be off the water by sunset, in December the sun only sets after 7pm.

Boats enjoying the Swartvlei Lagoon at Sunset
Goukamma River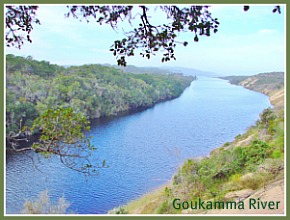 Canoes and pedal-boats can be hired at Goukamma Nature Reserve on the way to Buffalo Bay.
For nature lovers it's a pleasant trip up the Goukamma River through the nature reserve, between farmlands and past a country hotel where you can stop for lunch or afternoon tea.
You're sure to enjoy some good bird sightings too.
You can also hire canoes and river bicycles from Riverdeck Restaurant on the way to Buffalo Bay. You can't miss the sign on the right-hand side of the road just after passing under the railway bridge.
Kaaimans River
In the holiday season you can also hire canoes at Kaaimans River slipway on the road between Wilderness and George. You can go round the Map of Africa for as far as the water allows.
You might have to portage in some places if there hasn't been much rain! 
If you have the confidence you can also paddle towards the sea and in the right vessel have some fun surfing the waves at the river mouth! Or instead of heading seawards you can head up to the waterfall which is a delightful secret surprise that is hidden from the road and cannot be discovered any other way.
Touw River

Wilderness Ebb and Flow National Park is a very pleasant spot to canoe from and there is an extensive body of water to explore going up the river into the forest or down towards the sea.
Motorboats are required to have permits the cost being determined by the size of the motor.
All permits can be obtained from Wilderness Ebb and Flow National Park or from SANParks on Thesen Island in Knysna. 
Boating on Knysna Lagoon
As Sedgefield falls under Knynsa Municipality, if you get your permit from Thesen Island it also gives you access to the Knysna Lagoon, a very large body of water with every kind of boating activity from fishing to paddle boat cruises and ocean-going catamarans.
The Heads are a treacherous entrance to Knysna Lagoon so it is wise to have an experienced person with you the first time you try it unless you really know what you're doing.
Island Lake
The George Lakes Yacht Club was founded in Oct 1954 and the first clubhouse was erected on the banks of the Swartvlei (where Pine Lake Marina is now.) By 1956 there were 108 members.
When the membership numbers dwindled it was decided to find a better and more convenient venue closer to George on a smaller body of water. A site was chosen on the Touw River opposite the Fairy Knowe Hotel. This also proved unsatisfactory.
Finally in 1961, a suitable location was identified at the southern end of Island Lake and the funds were speedily approved for the building of modest club facilities.
The club has managed to maintain ongoing hardworking and dedicated leadership that has enabled an active sailing school for adults and children. It hosts many successful inter-club and inter-school regattas with a fair number of trophies being won on all levels by its members.
For the most part, canoes and kayaks are the most popular vessels on the water generally but a large number of motorboats appear in the peak holiday season when people from the big cities hit town.
Water-skiing and fishing are favoured among holiday makers and hang-gliding too. With so much water all around us and generally good weather, water lovers have a lot of rivers and lakes to explore.
Out on the Ocean

-

adventurous Surfski Paddling

It was an ideal day when for the first time (Feb 2011) Sedgefield organised the Southern Cape Surfski Championships. 16 surfski paddlers in 14 surfski boats participated in the event. The main sponsor was John Cave Optometrists who presented the winners with sunglasses.
The race started at 11am from Buffalo Bay and finished at Myoli Beach between 12:40am and 2pm. NSRI was present to support the rowers along their race and a fair number of spectators encouraged the tired paddlers as they struggled to shore through the rough surf.

The Pili Pili Beach Bar and Restaurant at Myoli Beach hosted the prize-giving and provided delicious snacks. This adventure sport competition is expected to be an annual event and will no doubt grow in popularity in the years to come. The proceeds from the race this year were donated to NSRI.

Perilous Sea Adventures along the Garden Route Coastline
---