Whiskey Creek Canoe Trail

for a fun weekend with friends
Whiskey Creek Canoe Trail is the perfect way to set aside a hectic schedule, unwind and slow down to the speed of nature. It leads to a simple wooden cabin at the end of as far as you can presently paddle by canoe up the Keurbooms River near Plettenberg Bay.
Whiskey Creek cabin sleeps 10 people in a dormitory of 8 bunk beds and 2 single beds. An outdoor undercover kitchen is equipped with a 2-plate gas hob, a gas freezer box, crockery, cutlery and washing-up facility.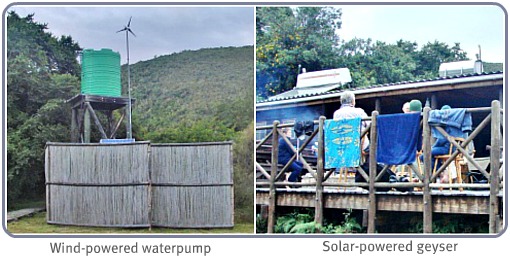 An adjacent washroom with shower, toilet and basin means there's no need to go bushwhacking down a dark lonely path in the middle of the night!
Water is supplied by rain-tanks, pumped by windmill to a solar heated geyser.
The practical stone fireplace is a central feature on the spacious deck whilst wooden tables and benches provide eating facilities. Casual canvas chairs can be placed around the fire.
The facilities are more than adequate to provide adventurers with an enjoyable wilderness experience.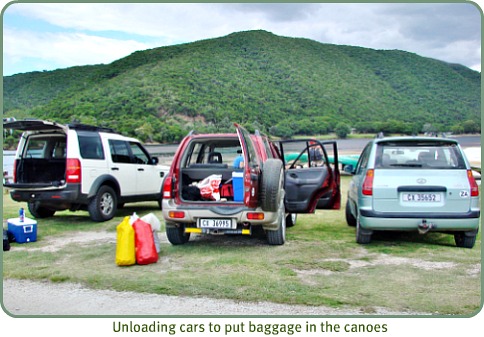 Good friends of ours, the Archers, booked the cabin many months in advance and invited four other couples to share the adventure.
We were at the Keurbooms Nature Reserve entrance next to the Bridge on the N2 crossing the river by 14:00 for departure no later than 15:30.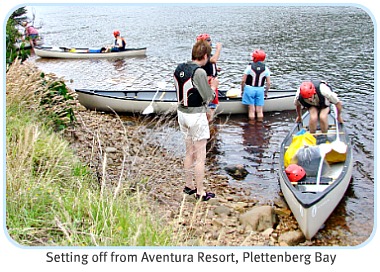 Once we had signed the Indemnity forms, received our hard hats, life jackets and paddles we just had to load our canoes with our provisions and personal belongings and we were off! It was going towards high tide as we launched our boats and were gently eased up the river.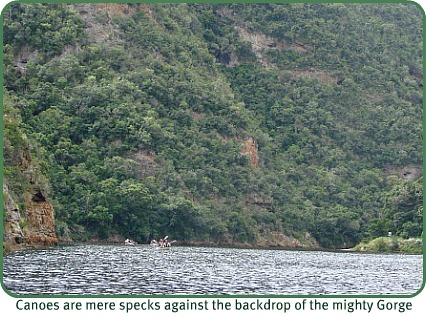 We had 7kms to paddle and each canoe travelled at its own pace. We gathered together every so often at small riverside beaches along the way and enjoyed some snacks at the last stop before we arrived at Whiskey Creek.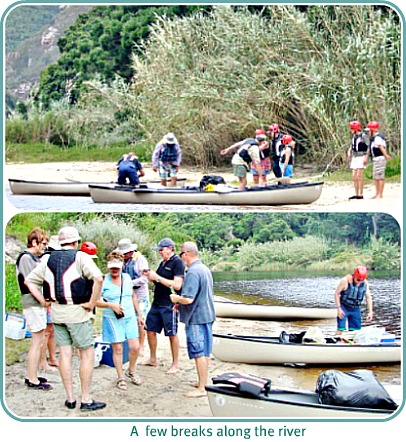 It got really awesome once we had passed the powerboat zone where skiing and tubing was allowed.
there was nothing but the soothing sounds of paddles slicing the water, occasional bird calls and deepening silence as afternoon shadows darkened a high gorge softened by swathes of timeless indigenous forest. Whiskey Creek cabin seemed to arrive in no time. 

Once the canoes had been properly beached above the high water line, everybody shared the task of lugging wood, provisions and belongings 300 metres on foot to the cabin.

Floods in recent times have changed the river flow because previously it was a much shorter walk to the overnight hut.
It didn't take long to get everything stashed away and then it was time for a swim in the river and evening sundowners. Many hands made light work of preparing the evening meal.
 Everyone mucked in and helped with the chores.
It was either by getting the fire going, braai-ing the meat, preparing salad, scrubbing and seasoning potatoes before wrapping them in tin foil to be baked in the coals, laying the table, washing up afterwards or making coffee.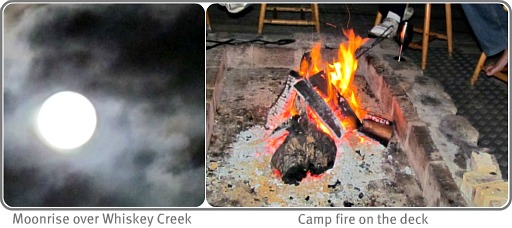 Photos - by John Archer
After the day's activities it wasn't long before all heads touched their pillows.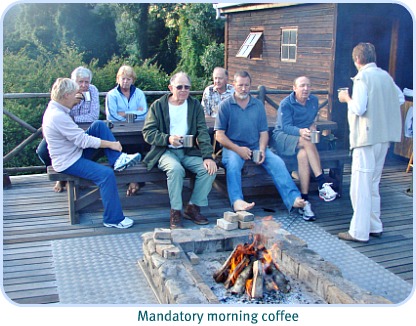 The next morning, everybody rose in their own good time and pretty soon all ten of us were assembled sleepily on deck for mandatory morning coffee.
The fire had already been lit and our brilliant chefs soon had breakfast underway.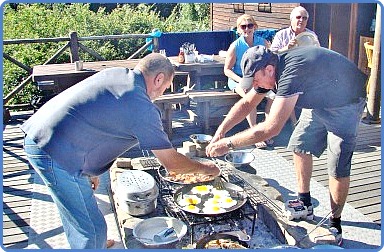 They got busy with two flat-bottomed shallow pans, frying one after the other, sausages, bacon, mushrooms, tomatoes, bananas and a "Boris special" - pancakes.
Finally the eggs were cooked and everything was ready to be eaten. What a feast!!
We munched away in good company and magnificent surroundings. What more could a person ask for???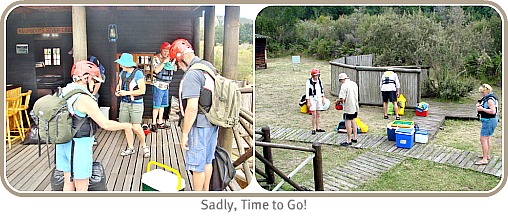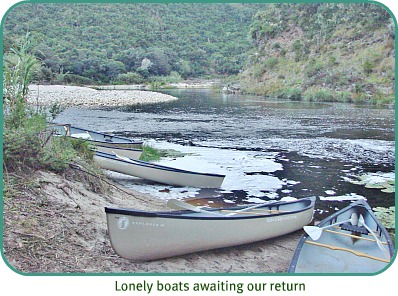 Then it was time to wash up, clear up, put away and pack up for departure.
The wood was all gone and pretty much all the food, so we carried very much lighter packs back to the canoes.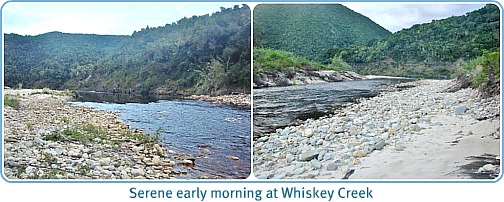 The serene river was as smooth as glass as we set off from Whiskey Creek.
Melodic intermittent birdsong punctured the peace interrupted briefly by the strident call of a single Giant Kingfisher as it flew like an arrow, past us to its perch! 
Almost languidly we paddled downstream back to Aventura Resort where we had parked our vehicles.
Then quite suddenly, the wind whipped up, the water surface roughened and rain threatened as we approached the final leg of our journey.
We had to paddle determinedly to make headway and were grateful it hadn't been like that from the start!
It was a tiny bit of excitement to end our trip but good reason to be wearing the safety gear that had been supplied.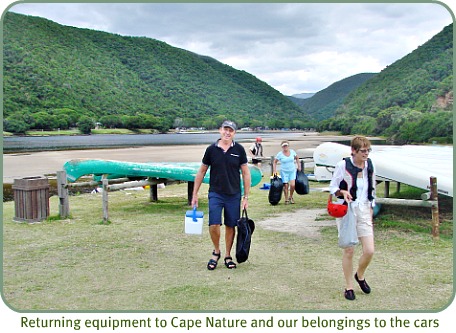 All too soon we reached our destination and returned the equipment to Cape Nature.
We loaded our cars, said our goodbyes and headed for home. We traveled through intermittent rain and met up for a final stop for coffee and cheesecake en route.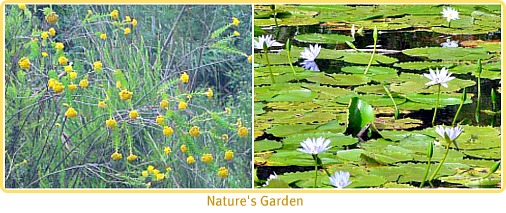 It was a memorable outing and certainly a trip I would recommend.
We are not all experienced canoeists but we all coped quite reasonably with the challenge.
It was fun being with a great group of friends sharing the magical outdoor experience of a night at the Whiskey Creek  cabin.
I highly recommend this for a group outing. Getting a bunch of like-minded friends together who like some physical outdoor activity will make it a thoroughly enjoyable the experience!
Booking the Whiskey Creek Canoe Trail 
Book early for the dates you want. The cabin is in fairly high demand throughout the year.
Reservations Cape Nature: 0861 227 362
Keurbooms River Nature Resort: 044-533 2125

The cabin is accessible by canoe to one group at a time.
It sleeps a maximum of 10 people but you only pay for the number in your group.
Cape Nature supplies beds and pillows. You bring bed linen/sleeping bags and towels.
Cape Nature supplies the canoes, hard hats, lifejackets and paddles.
Water-shoes are compulsory and regular takkies should be taken as well.
Remember WOOD, matches, torch, mosquito repellent, hat, sunglasses, binoculars and camera.
Cape Nature provides 2 x 30 litre dry bags per canoe
Bring the minimum – everything must go in the canoe.
Slow down and let yourself enjoy the whole outdoor experience. There is so much to miss if you don't!
For this and other canoing adventures you can investigate,   http://www.gardenrouteadventureguide.com/canoeing.html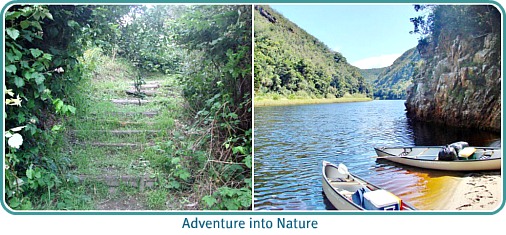 ---