Over-night in Die Hel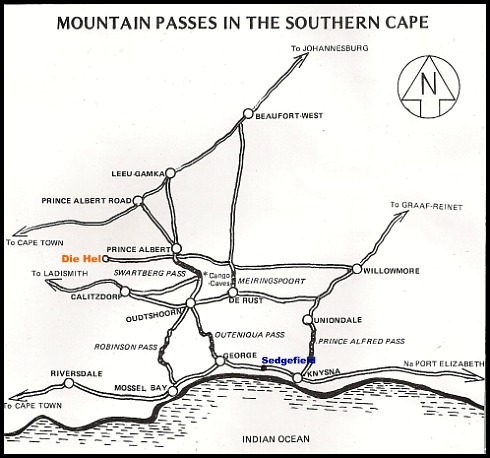 Consider a visit to Die Hel if you're staying a while in Sedgefield. On a rainy day when the beach doesn't beckon, the weather will most likely improve if you take a drive inland through the Little Karoo and back in time to a spectacular forgotten spot among the majestic Cape Fold Mountains.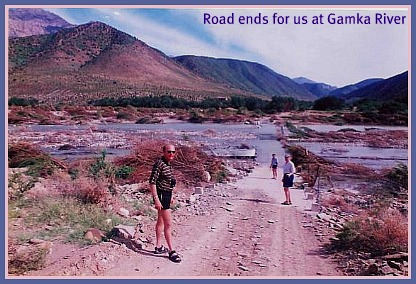 People who would enjoy Die Hel trip are those who have a sense of adventure or a deep affinity for nature, delight in soaking up silence with no civilised sounds encroaching.
Those who will be enthralled by the brilliance of a star-laden night sky because it's an ideal opportunity to lie face up on a blanket and search the galaxies for signs of life!!!.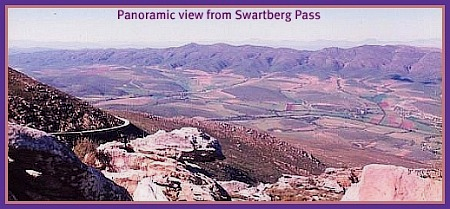 When we were on holiday at our timeshare in Wilderness we left at 7:30am one morning and did the trip to Die Hel and back in one day arriving home in Wilderness around 6pm in the evening.
We've done it again since living in Sedgefield and this time took overseas friends and stayed the night – it was much nicer and we then travelled back via Prince Albert and on through Meiringspoort the next day.
The Road to Hell and Back
Die Hel round trip is in the region of 412kms and I would recommend a reasonably high ground clearance vehicle like a bakkie or 4x4 for the journey. On the passes you need to drive carefully as overtaking is virtually impossible in some places. It is advisable to start with a full tank of fuel as there is no fuel station at Die Hel.
Starting from Sedgefield you travel over the magnificent Outeniqua Pass to Oudtshoon and choosing the signpost to Cango Caves, over the Swartberg Pass to Die Hel. On the return trip, once you reach the main Swartberg Pass again, you turn left to Prince Albert where you can enjoy a tasty Karoo lunch and then refreshed, be ready to experience the final leg of the journey via magnificent Meiringspoort.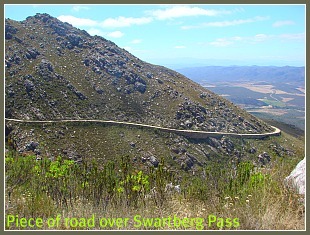 The Swartberg Pass
This pass, designed by the legendary road builder Thomas Bains, was his last engineering masterpiece. It was officially opened in 1888. Just to see the incredible dry wall construction that has stood the test of time makes the journey worth it. In 1988, a century later it was declared a National monument and now is part of a World Heritage site. 

The 27km century-old gravel road tenaciously hugs the rugged curves of the Swartberg Table Mountain Quartzite. You will enjoy great views of the fruitful farming areas around Carlitzdorp but be careful about taking your eyes off the road if you're driving.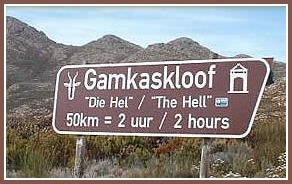 Rather take a flask of coffee and some sandwiches with you and stop at a view site to stretch your legs.
A coffee break allows you to take in the panorama of the valley spread out below you. Then carry on until near the summit you'll see a signpost indicating "Gamkaskloof - Die Hel"

Die Hel
Die Hel diversion takes you on a convoluted and often badly corrugated gravel road eroded and criss-crossed many times by small streams. This remote valley, the Gamkaskloof (Khoisan word for lion although the mountain lion was hunted to extinction in these parts by 1860) is 20 kms long and 600m wide.

There was no road into it until the 1960's and even now the necessarily protracted journey makes the destination at the end of it still a far-away place, a Shangri-la, isolated, mysterious and wildly beautiful.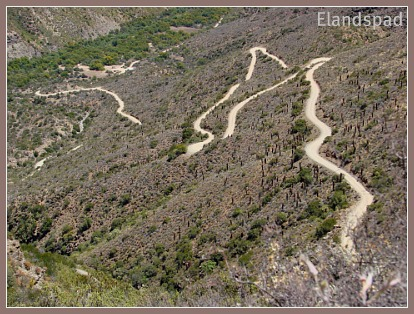 The tortuous zigzag route drops almost 1000 meters to the valley floor and the last 10 kms called Elandspad is the worst. You cannot speed along this route nor should you want to! The 57 kms will take you between 2-3 hours.
In the 1800's before tar roads and easy travel, there was much to still be discovered in Southern Africa – the hard way! A farmer searching for stray livestock came across the valley by accident. He recognised the opportunity the fertile valley offered. The Gamka River traversed a valley that also received water from springs arising around its rim and flowing down into it. In 1830, the farmer, Petrus Swanepoel settled there.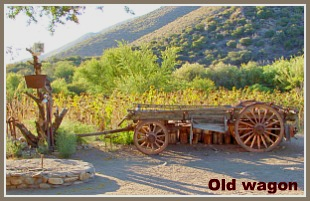 Gradually, other pioneering families found their way to the Gamkaskloof such as the Cordiers, Mosterts, Marais, Nels, Snymans and Jouberts. In 1941 Ouplaas, the first farm was registered and the population slowly grew to around 120 people.
Among them was Lenie Marais who built her house with her own hands. As the local midwife and stand-in doctor, she had a vast knowledge of herbs and traditional Dutch remedies. In an emergency a qualified doctor had to ride into Die Hel on horseback. Only in the 1970's was a landing strip constructed that enabled a doctor to fly in, in a Tiger moth plane to attend to a needy patient.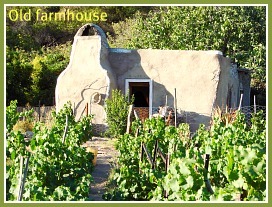 In Die Hel the people built their own houses from local materials. They used stone for the foundations and unbaked bricks for the walls. Rafters were cut from wild olive and poplar trees. Rye straw was used for roof thatch and ceilings were made from local reeds.

Mud was placed on top of the reeds to form a fire blanket protecting the house if the thatch caught fire. The attics were used as storerooms. Compacted earth sealed with cattle dung and sweet-thorn resin became the floors. Exterior doors were split in half horizontally – known as stable doors. The windows lacked glass panes but were closed with wooden shutters. Inside, curtains in doorways created privacy between rooms.
The first school in Die Hel to accommodate the growing numbers of children was built in 1915 and a secondary school followed in 1923.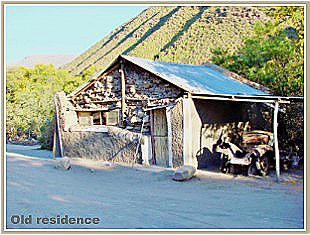 For virtually all its food the valley was completely self-sufficient. Nut trees, fruit trees, vegetables, livestock all flourished and honey was harvested. Goats provided milk and butter. 

Donkeys were the mode of transport and the tractors for ploughing. Animals had to be protected at night as leopard and lynx roamed the valley.

Other wild life such as baboons, klipspringer, rhebuck, duiker, grysbok, honeybadgers, porcupines, and dassies also inhabited the area. Bird life was prolific. Every so often the farmers used a donkey train to climb a laborious 10 km river trail through a gorge to Prince Albert. Their dried fruit, oranges, raisins and pressed figs were exchanged for coffee, salt, tools and fabrics.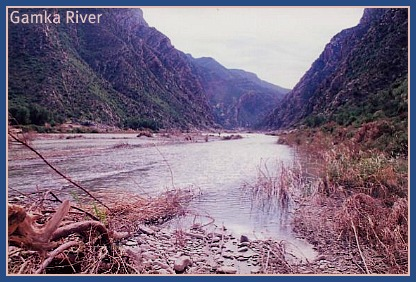 Piet Botha, the stock inspector gave the valley its alternative name "Die Hel". The locals did not take kindly to this epithet. However, every 2 months Piet had to travel the "ladder route" down into the valley to inspect the farmers' livestock and for him it was a "helluva trek" – a journey to hell and back!
Without radio and far from any form of outside news, the farming community of Die Hel missed the Boer War and both World Wars…..except for a minor incident when some Boer Scouts stumbled into the valley intent on avoiding a contingency of English troops during the Boer War.

They were silently observed by a young boy who unnoticed, hotfooted it home to tell his family about the soldiers he had seen. Fortunately they were all on the same side so there was no conflict when the scouts briefly rested and restocked themselves at the Gamkaskloof settlement.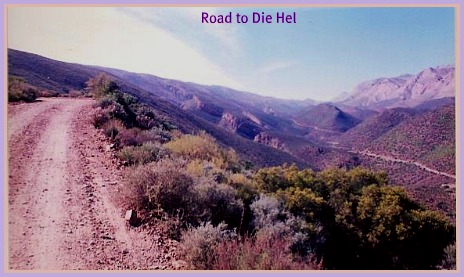 For over 100 years the community in Die Hel remained cut off from the outside world. It just was not worth the effort of hiking over the mountains through difficult terrain and trying weather conditions to get there. For most, remote places did not have the same attraction as they do today to some of our over-crowded, grid locked, crime stressed city dwellers.

The people who had chosen to live there were close-knit, resilient and independent minded. Living simply, they worked hard, finding satisfaction in being able to supply all their own basic needs. They enjoyed a healthy, peaceful life suffering little interference from government authorities.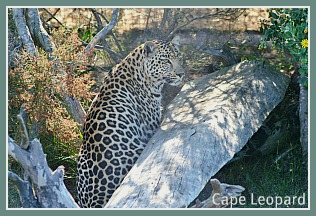 The Gamkaskloofers were eventually given admission to the 20th century in 1962 when a gravel road was completed (that had been constructed at their request) into Die Hel. They didn't realise that it would sign the death warrant for life as they knew it. Once they had bought cars, access to the outside world was much easier. 

Children went to boarding schools, on to university and then found employment in the towns and cities. The older folk gradually moved to family in town or to retirement homes abandoning their farms. By 1980, just 2 decades later, only 3 families remained and the school was closed. In 1991 the last farmer sold his farm to Nature Conservation and left. Die Hel was deserted and left for nature to claim it back.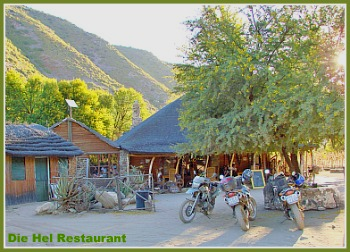 Many folk gradually sold their farms to Cape Nature but in 1998 Annetjie Joubert returned to her ancestral farm, Fonteinplaas and began to work it again in the traditional way. 

As time went by, 2 of the family's historic farmhouses were restored where visitors can now stay on a self-catering or dinner, bed and breakfast basis. There are also a few shaded campsites.
Annetjie opened a small kiosk where visitors could purchase her homemade jams, dried fruit, fresh baked bread, koeksusters, and cold drinks and the homebrewed witblitz and mampoer.
Since then her son, Piet has completed his studies at Agricultural College, married and returned, equipped to contribute to the family farm. He and his wife now manage the day to day running of it and Annetjie splits her time between the farm and a home in Mossel Bay. A restaurant has been opened where you can eat a traditional meal of the day – booking is required.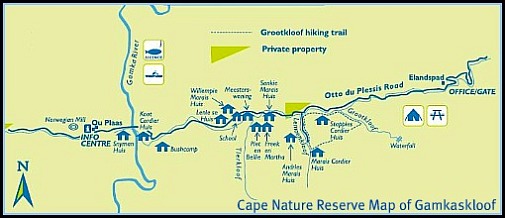 In 1997 Die Hel was declared a World Heritage Site which resulted in the formation of the Gamkaskloof Advisory Committee that together with Cape Nature assisted with the restoration of several of the original houses (one of them being that of Lenie Marais) where nowadays one can overnight in unpretentious accommodation similar to those of the original owners.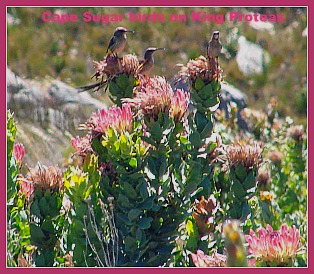 Some places are solar powered but there is no electricity or generator. Nothing interferes with the natural night sounds. You need to bring all your food with you or make arrangements to eat at the restaurant.
Cape Nature has a campsite at the entrance to the Gamkaskloof Nature Reserve. If you are comfortable with your own company, don't need laid on entertainment, enjoy walking in the wilderness or mountain biking you could even spend longer there.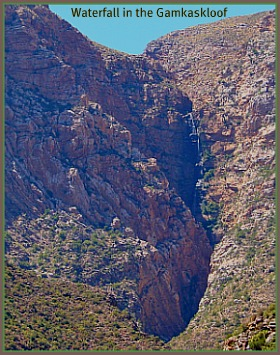 It is with a sense of reluctance one leaves this unspoilt valley of Die Hel to continue the journey to Prince Albert.
The descent down to the historical Karoo town should not be rushed for there is an abundance of natural beauty to capture your interest along the way.
You could see Cape Sugar birds feasting on colourful proteas, a tortoise lumbering across the road, Verraux Eagles soaring in the sky, a klipspringer attentive to sound standing motionless amongst the fynbos, waterfalls cascading over sheer drops of mountainside......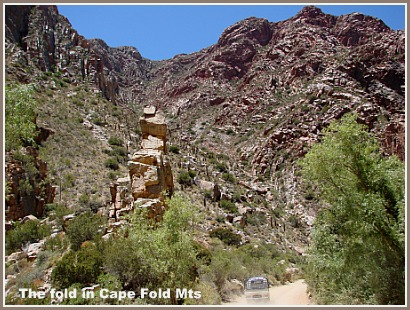 At the bottom of the pass as you get to the outskirts of Prince Albert there is a picnic site with a cooling stream next to the road. As you look up at the imposing edifices towering above you, it is clear why this chain of mountains is geologically defined as the Cape Fold Mountains. 

Over millennia, molten magma at the core of the earth caused the earth's crust, (the floating jigsaw-like tectonic plates above it) to collide.
In this instance, when two plates forcefully connected, the sandstone strata on the plates rose up and crumpled, folding back on itself. 

Mountain ranges of impressive grandeur and complexity were created along the Eastern escarpment of southern Africa. More evidence is visible when you travel through Meiringspoort.

Prince Albert
Prince Albert is an ideal place to stop for lunch. This quaint Karoo town has several distinguishing features. Many buildings reflect its early architecture, a mixture of pedimented gabling with Victorian style embellishments that are unique to the town. 

A short rectangular walk up Chuch Street, in the direction of the Swartberg Pass, turning left at Pastorie and left again at De Beer and finally left again at Leeb to get back to the start, will show you the best of it.

The town also hosts an Olive Festival at the end of April each year. Over two days one can sample the best of Karoo cuisine and enjoy several interesting events such as a Ghost walk Tour, bird and botanical outings, an historical walk, special star gazing evenings, some special film shows, a half marathon and 10km run. 

Prince Albert also boasts the oldest Angora stud in South Africa and 60% of the world's production of mohair comes from this part of the world. The Bijlia cana discovered in 1930 by Deborah van der Bijl is a beautiful wild flower found only within a 5km radius of the town.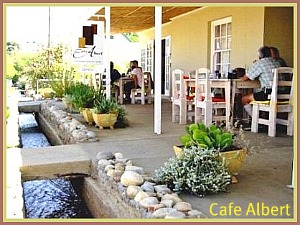 Café Albert – 43 Church Street (closed Mondays) Unlicensed but you may take your own alcohol Open 9:00 – 14:30. Sundays to 12:30 023-541 1175

Coffee Shop & Deli at the Swartberg Hotel – 77 Church Street Open 7:00 – 17:30 023-541 1332

Lah-di-dah - 6a Church Street (Closed Tuesdays) Monday- Friday 8:00 –16:00 Saturday & Sunday 8:00 – 15:00 023-541 1846

Mix- Coffee, Cake & Everything Else – 93 Church Street 8:00 – 14:00 083-270 6003 

The final leg of the journey continues as you leave the town on the tar road and 55km east of Prince Albert at Klaarstrom you enter the impressive gorge known as Meiringspoort.
Meiringspoort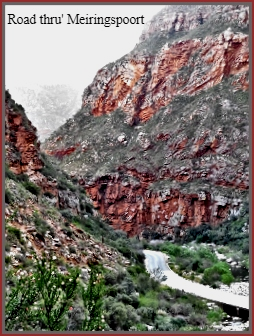 Travellers can experience the true magnificence of Meiringspoort from the comfort of their motor vehicles.
Death defying huge slabs of rock overhang the road in many places and impressive rock faces tower high above you bringing home how insignificant and vulnerable you are in the light of this overpowering grandeur.
You will finally travel through the small town of De Rust, then drive on the outskirts of Oudtshoorn before you repeat the first part of your trip now in reverse, so back over the Outeniqua Pass, through George and home to Sedgefield.
I only hope you enjoy it as much as we did! 

Links to Related Sites

---

The Historic Route to Die Hel through the Swartberg Nature Reserve 
Hans and Erika Calitz, the present owners of the portion of the farm Groenfontein, now known as Living Waters, have designed a walking tour following the original trail to Die Hel that revitalizes this culturally historic route. They have entered into an agreement with Cape Nature to jointly open, manage and operate this route as a formal guided tour for tourists and hikers who wish to visit the area.
To emphasize the local flavour, stories and history, the Calitzs have combined a donkey rescue project with members of a local previously disadvantaged community that have been trained as guides and donkey handlers in order to accompany all the groups along this trail.
As the hike takes 3 nights and 4 days, visitors will experience a whole Klein Karoo cultural and scenic wonder including Ostrich farms, Groenfontein Valley, Calitzdorp Port, Swartberg Nature Reserve with a night in the veld (as in the days of old), Gamkaskloof, and a return drive over the Swartberg Mountain Pass.
---