Marine Protected Areas
MPA's or Marine Protected Areas are the game parks of the sea, the nature conservation areas of the oceans and therefore the guardians of its biodiversity. They offer protection for every vital link in the chain of marine organisms from the smallest to the largest ensuring that the ocean can be regenerated and restocked with its diverse species.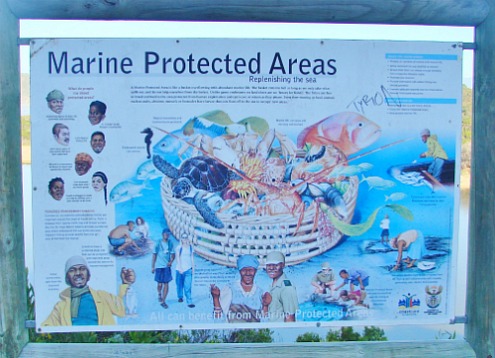 Unlike game reserves however, they cannot be fenced in, they aren't obvious in that most people can't see them and their importance is largely underestimated by the average Joe Citizen.
They cannot protect themselves either and so are vulnerable to disasters such as oil spills like the one caused by the MS Oliva that went aground on March 16,2011 at Nightingale Island, Tristan da Cunha, threatening thousands of endangered Rockhopper Penguins.
Therefore the more Marine Protected Areas the better to try and counteract the imbalances that man has created in nature by his excesses. Now more than ever the creation of MPA's is critical for the preservation of life in our oceans upon which more than 70 million people depend and many millions more benefit from.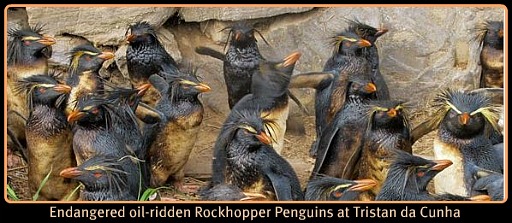 Our oceans have been reduced to a critical state due to environmental devastation. They are shipping highways used by every continent and just like travelers throw unwanted stuff out their vehicles along the road, trash is dumped by cargo ships and ocean liners, recreational crafts and fishing vessels. Just about no-one considers what they're doing to the sea!

South Africans contributed an all-out effort to save their penguins though when, on June 23, 2000, the MV Treasure sank with its cargo and 1,300 tons of oil, in 50m of water, 12km northwest of Melkbosstrand, Cape Town. The scope of this rescue makes for an amazing and heart warming story!
THE BIGGEST AND MOST SUCCESSFUL RESCUE IN THE WORLD
A Marathon Swim for 19500 healthy penguins to prevent oiling.
Thousands of healthy penguins were airlifted from islands near Cape Town and trucked 800 kms to Port Elizabeth where they were released at Cape Recife and instinctively swam home – arriving just as the salvage divers pumped the last oil from the sunken ship. Pete, Pam and Percy were fitted with tracking devices to monitor their progress by satellite.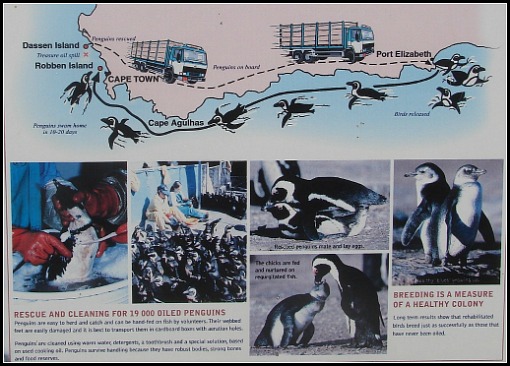 Severely-oiled birds were treated at SANCCOB's two stations in Salt River and Rietvlei. This organisation treated some 20 223 adult penguins, of which 13 797 heavily-oiled birds needed cleaning.

Hundreds of chicks younger than three weeks old were also evacuated and cared for by this organisation and the Sea Point Aquarium. High fat reserves in chicks of this age gave them the best chances of surviving the removal.

Cleaning penguins is time-consuming - two volunteers can wash only one penguin per hour. In this way the 39 614 volunteers amassed an astonishing 554 596 man-hours, or 63,31 years of volunteers' time at an average of 14 hours per day.
Other pollution results from mineral, gas and oil extraction, dumping of nuclear waste, plastic waste, industrial waste, human effluent, coastal development, degradation of rivers through agricultural residues and deforestation along water-ways.

Furthermore, over-fishing and indiscriminate fishing is now a global concern and virtually all commercial fish stocks are projected to collapse within the next twenty years. Marine Protected Areas may be the only mechanism able to prevent the desolation of our seas.
In this important TED talk, Sylvia Earle, doyenne of Ocean Rescue Initiatives talks about the crises and solutions for ocean  and marine species protection.
Governments world-wide have realized the need to institute programs and legislation to manage what is fast becoming a catastrophe of dire proportions. The oceans have suffered the most far reaching negative effects from man's presence on this planet. They cover over 70% of its surface and are the heartbeat and the life blood of all that live on it. As the inter-relationship of all creatures is more clearly understood, the knock on effect of losing links in the chain of life is also being appreciated. Reckless uncontrolled plundering of our planet's marine life and the desolation of its environment has serious consequences for all of us.
It has become imperative to find tools to reverse the damage done before it becomes irreparable. Life on earth depends on it. MPA's or Marine Protected Areas as they've been named, are the essential mechanisms that have been put in place to counter the over-exploitation and collapse of many fish species and the degradation of their habitats.
In the end we will conserve only what we love, we will love only what we understand, we will understand only what we are taught - Senegalese philosopher, Bab Dioum
South Africa is part and party to many international agreements relating to the care of our oceans. We currently have 22 MPA's along our coastline including the "Aliwal Shoal" that is 5kms off the Kwazulu-Natal coast. This means that almost 20% of South Africa's territorial waters are protected to some extent whereas the world average overall is a mere 6%. That is a pretty good effort for a country on the African continent!
Marine Protected Areas are primarily chosen and created in a locality where the importance of preserving the habitat for specific reasons has been identified. These places are of necessity in shallow seas and adjacent to continents (on continental shelves) where the great majority of marine life lives, in sunlight and relative warmth, and where a great many species spend some part of their formative life.
3 Garden Route Marine Protected Areas
Three Marine Protected Areas exist along the Garden Route. However, there are different zones allocated to MPA's that dictate the level of protection they are entitled to.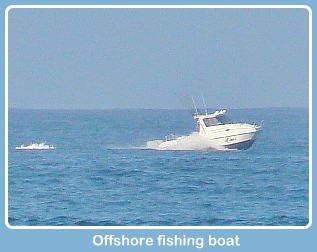 Marine activities are divided into two categories for these areas.

1) Consumptive use which includes shoreline fishing, boat-based fishing, spear fishing, bait collection, small scale commercial fishing and large-scale commercial fishing.
2)Non - consumptive use which includes activities like jet-skiing, boat-based whale watching, boat-based dolphin watching, boat based seal watching, motorized boating, sailing, mooring, diving, paddling, surfing and swimming.
I've seen the damage caused by fishing-line to sea-life when it gets tangled up in it, so I can't get my head around that recreational anglers are allowed to fish in protected areas. I've found great balls of gut that would sound the death knell for any dolphin, fish, whale or bird that got entangled with it.
I would think that fishing most of all, should be prohibited in MPA's. At different times I have seen an oystercatcher, heron, cormorant and seal entangled in fishing line. I have seen small sharks and rays abandoned on the beach when hooked by fishermen who don't know any better.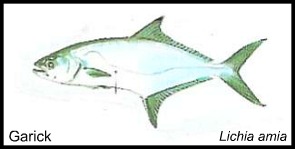 I was pleased to see that in July 2011, easily understandable Information Boards have been placed at strategic places showing fishermen how much of each species they can take out the water per day. This is a step in the right direction.
For example - Garrick also known as Leervis, is a popular anglers' fish. Fishermen are allowed 2 per person per day and the minimum size they're allowed to keep is 70cms. Garrick can grow to 1.8m weighing in at 32kgs. However, it only matures at 85cms which takes 4 years so excessive fishing can prevent this fish reaching breeding age.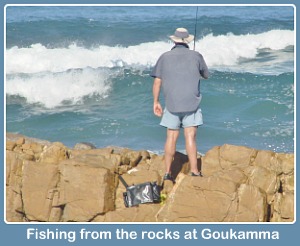 It is an aggressive predator and highly rated game fish that can live for up to 10 years. It migrates to Kwa-Zulu Natal following the winter sardine run and spawns in those waters in Spring. The juveniles occur in Cape estuaries and are vulnerable to estuarine degradation and illegal gill netting.
I believe that fishermen in particular ought to have to pass a relevant marine educational examination (it doesn't have to be written) and thereafter carry an access card of sorts around with them in order to be allowed to fish in Marine Protected Areas.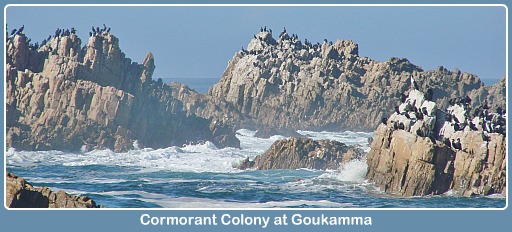 I know that there are conflicts of interests when it comes to rights at traditional fishing grounds and traditional fishermen may not be the culprits, but if respect for the environment which provides a person's livelihood or recreational pleasure is missing, then regulatory measures have to supercede the individual for the greater good of the planet.

Some fishermen are totally irresponsible. They leave their litter (plastic bags, bottles, polystyrene containers and fishing paraphernalia of all kinds) behind them where they've been fishing and as someone who participates in beach walks regularly, we see evidence of this all the time.
"What is man without the beasts?If all the beasts were gone, man would die from a great loneliness of spirit. For whatever happens to the beasts, soon happens to man. ALL things are connected." Chief Seattle (1964)
The department, Marine and Coastal Management (MCM) that falls under the Department of Environmental Affairs (DEA) has entered into agreements with bodies like SANParks and Cape Nature to monitor and regulate the activities within the Marine Protected Areas in our part of the world. 

Along the Garden Route the MPA's are adjacent to nature conservation areas on land and it is considered important that there is an integrated approach to their management.
There are for example, regulations pertaining to the use of vehicles in such coastal zones and proceedings for deemed "illegal activities" carried out in protected areas.

Tsitsikamma MPA
The Tsitsikamma MPA is adjacent to the Tsitsikamma Nature Reserve. It is South Africa's longest existing MPA having been established in 1964. It is also one of the largest, extending 57 km along the coastline between Groot River at Oubos to Die Punt at Nature's Valley and 3 nautical miles out to sea from the high-water mark. This section is entirely a "no-take" zone.
Only traversing the area by yachts and boats is allowed. (Latest recommendations are that this be prohibited to secure better protection of the area.) Diving, paddling and swimming is regulated and permitted in restricted areas only.
It is a significant MPA for fish conservation as it protects large populations of commercially exploited species and it supports a rich diversity of fish (202 species from 84 families), some of them are Red Data species in South Africa. It is an important nursery area for many kinds of reef fish and central in the distribution range of several endemic species.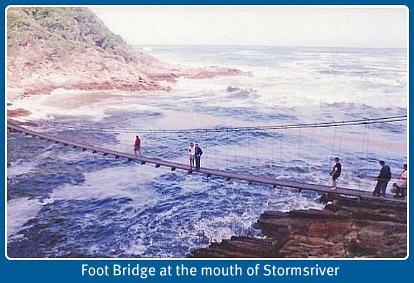 Furthermore, there is evidence that several species have a high degree of residency, which combined with slow growth rates, makes them vulnerable to over-exploitation. In addition to this, the MPA protects approximately 11% of the Warm Temperate South Coast rocky shoreline. The offshore marine living resources in the MPA are in near pristine condition. The inshore resources however, are exposed to illegal extraction.
The MPA is an important ecotourism attraction drawing in excess of 150 000 local and international visitors annually. Recreational activities in the MPA include boat rides, snorkeling and diving, and the renowned Otter Trail and Dolphin Trail which run adjacent to the MPA.
Cultural and heritage resources in and related to the MPA include a wreck, an old harbour and strandloper shell middens in caves along the shore. Furthermore, there has been a significant amount of research and several educational programmes relating to this MPA.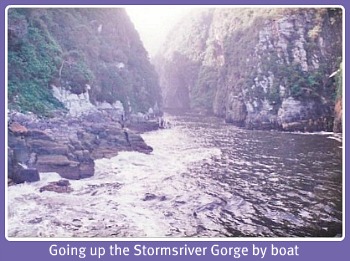 There is a long history of resource use in the area. In 2001 the whole MPA was declared a "no take" area under the MLRA (Marine Living Resources Act). A number of communities, dependant on access to marine living resources for their livelihoods, actively campaigned to regain access to the area but were denied in 2007. This has come to be a major source of conflict and tension in the area and has resulted in some locals resorting to illegal fishing in the MPA. SANParks staff allege that there are approximately 30 persistent illegal fishers in the area.
It is worrying that Government is repeatedly being petitioned (and at times surreptitiously) to lessen these restrictions by parties with personal and selfish interests.
A smaller area and extension to the MPA to create a buffer zone is a controlled zone where all types of consumptive use is allowed and only jet-skiing and mooring of the non-consumptive activities is not allowed.
Robberg MPA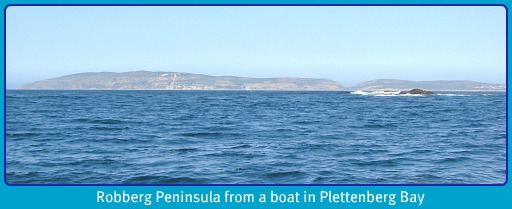 The Robberg Peninsula east of Plettenberg Bay is a nature reserve and national monument. The Robberg Marine Protected area surrounds the peninsula. The length of the shoreline in the MPA is approximately 9.5km and it consists mainly of rocky shores with two sandy beaches making up 1km of the shoreline.
The MPA extends one nautical mile offshore around Robberg and includes subtidal reefs and sandy benthos. The area supports exploited reef fish species, a Cape Fur seal colony and oystercatchers.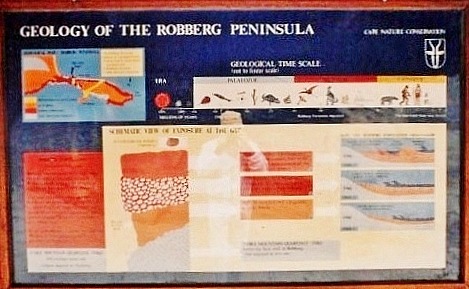 No fishing is allowed off shore in the rectangular area of the MPA but shore angling is allowed. The peninsula is a great place to whale spot in the season, watch dolphins and see seals. It has only one access point which assists with control.
Commercial operators are allowed in to the MPA for the afore-mentioned purposes too. Boats and yachts may traverse the area and moor there. Its been suggested that a no-take zone be considered and I hope this will materialise.
Goukamma MPA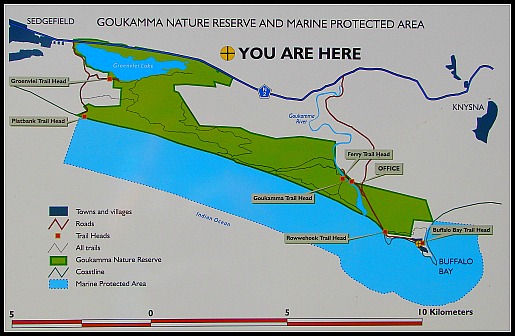 Goukamma Marine Protected area is adjacent to Goukamma Nature Reserve and it is overseen by Cape Nature. Shore angling only is allowed between Portion 1 of the farm Walker's Point at Buffels Bay and the western boundary of the Goukamma Nature Reserve. The Reserve is 14kms long and extends two nautical miles seawards from the high-water mark.
Threats to this MPA have been identified as over-exploitation by shore anglers and boat fishermen at the off-shore reefs which are on the border of the MPA, water extraction from the Goukamma River that negatively effects its flow, bait collecting, birds being disturbed by dogs on the beaches and beach wall development.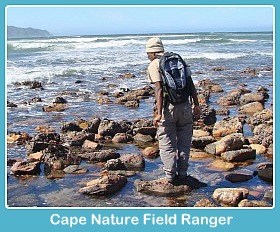 Although its good that they exist, written reports indicate that all our Marine Protected Areas have very variable degrees of management afforded them. Tsitsikamma is the best, Robberg second and Goukamma needs the most attention to improve and function effectively. They are vulnerable and dependent on their management and to be the resource they are required to be for the exploited ocean it is imperative they are well governed.
Dedicated staff with the necessary skills and training are regularly issues especially with regard to marine management expertise and the fundamentals of marine ecology. Financial constraints are always a concern and the prioritisation of Marine Protected Areas' needs in the conservation arena.
To address many of these issues WWF and Honda, in 2008, partnered to initiate a Marine Parks Programme to assist in addressing the challenges of Marine Protected Areas management.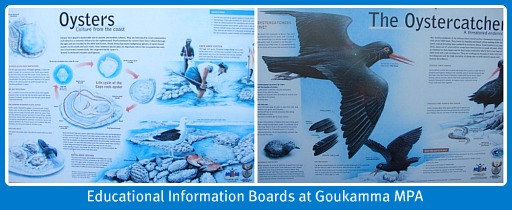 The Marine Parks Programme

The objectives of the WWF-Honda Marine Parks Programme are to:
Build public awareness and support for Marine Protected Areas.
This has been done by developing an MPA website giving background to each South African MPA.
Putting related stories into local and national newspapers, magazines and television.
Entering MPA articles in an eco-tourism magazine and fishing magazine.
Provide equipment to MPA staff to enable them to perform their duties.
9 patrol boats have been issued to Marine Protected Areas to date.
Falcon Inflatables and Garmin have been influenced to support Marine Protected Areas
Develop MPA management plans
Management plans for 9 Marine Protected Areas have been completed with the support of WWF and MCM.
A planning process in underway for Pondoland
Strengthen the capacity and skills of the MPA management teams.
A Certificate in MPA management has been developed through a partnership between MCM, WWF and Rhodes University.
The Marine Protected Areas Management Training Course was designed to address the MPA management staffs' low levels of understanding of marine issues and legislation, and competence to address marine issues and ensure compliance. The course was piloted in 2006 and since then over 100 personnel involved in MPA management have taken part in the course. This course, which is conducted over six to nine months with monthly contact sessions of three-four days, is comprised of the following eight modules:
Understanding MPAs and MPA Legislation
Management Planning for MPAs
Marine Ecology
Natural Resources Management
Engaging with Stakeholders
Management of Human Resources
Assessing Management Effectiveness
Financial Planning and Management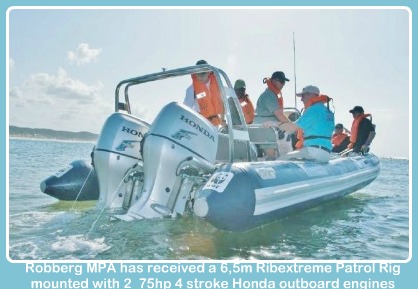 Ongoing partnership with private institutions and volunteer organizations is proving infinitely valuable to the successful running of these vital MPA's that need sufficient know how, equipment, finance, research, communication, education and awareness programmes and enforcement procedures to function effectively.
A Marine Working Group has also been established within SANParks. The Marine Working Group is attended biannually by park managers and conservation managers (Parks division) and is chaired by the Marine co-ordinator (Conservation services).SANParks receives additional support through a World Bank funded program focused on the expansion and the consolidation of Addo Elephant National Park and the Garden Route.

Parks Forums have been established to build understanding and support for biodiversity conservation by improving community access to national parks for cultural, spiritual and recreational purposes and the creation of environmental educational programs with specific focus on schools in rural and poor communities to involve them in camping and day out activities.
(Parts of the above page are derived from the 2009 State of Management of South Africa's Marine Protected Areas Report)
The 2009 report has revealed strengths and uncovered weaknesses amongst all the South African Marine Protected Areas. The strengths are being built upon and the weaknesses are being addressed.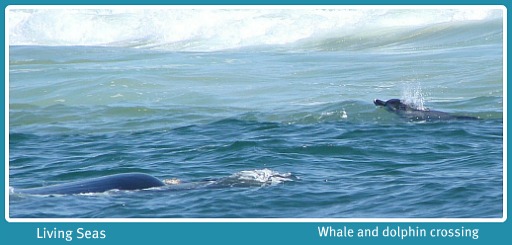 Recommendations have been put forward by the respective managers to right matters e.g. Protected areas cannot protect themselves and a number of Marine Protected Areas are inadequately sized to fully protect the biodiversity within and around them so legislation needs to be passed that officially adjusts the demarcation boundaries of the those MPA's.
There is hope because the will and the means is available to make all South African Marine Protected Areas the success stories they need to be for future generations and the health of our oceans because their destinies are connected.

Links to Related Sites



Never before has the health of the oceans been more fragile, and more essential to our wellbeing.
Marine protected areas (MPAs) are a critical tool not only to address many of the threats to marine and coastal ecosystems, but also to meet a wide range of human needs including education, fisheries management, recreation, income generation and research. MPAs are an important tool for fisheries management.
---