Sedgefield Beaches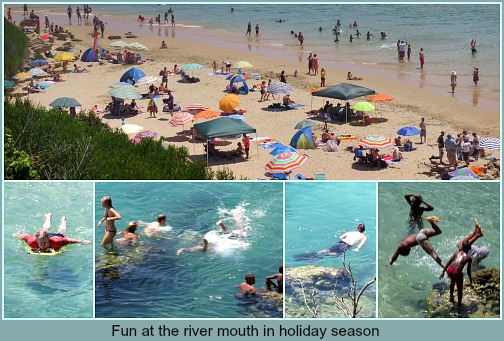 We are so lucky – we have 5 beautiful Sedgefield beaches and even in the height of our tourist season, they are never crowded. They run into each other, over a stretch of roughly 6 kilometers from Swartvlei in the west to Platbank in the east. Although it needs to be low tide to get past a few points it is possible to walk the whole distance along the beach.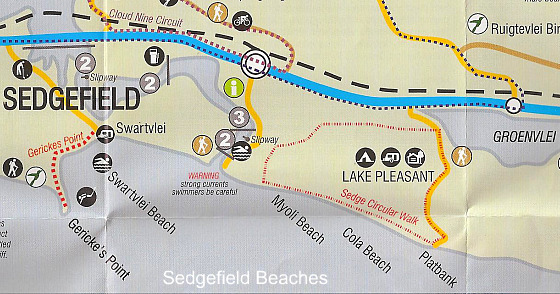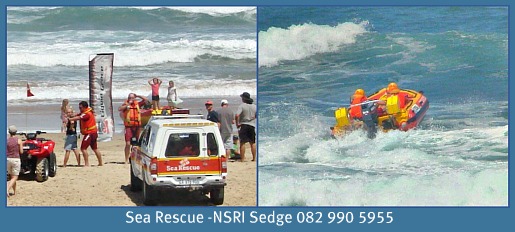 Swartvlei Beach at the western end of the Sedgefield beaches is closest to the Swartvlei Caravan Park (Cell: +27(0)83 530 7834) that is behind the dune on the shore of Swartvlei lagoon. There is a car park above the beach and a boardwalk down on to it.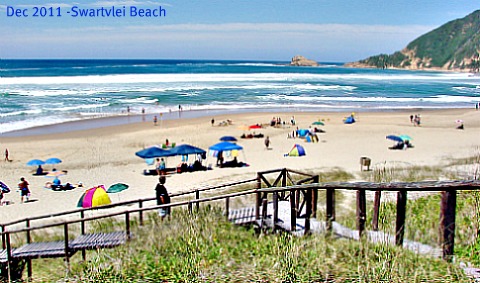 It is a spectacular beach in a panoramic bay that is almost deserted out of season. As a breeding ground for the endemic Africa Black Oystercatcher, it is a protected area and no dogs are allowed on it. There are safe swimming spots but one needs to be careful of riptides that are powerful and dangerous currents that can sweep you out to sea in the blink of an eye.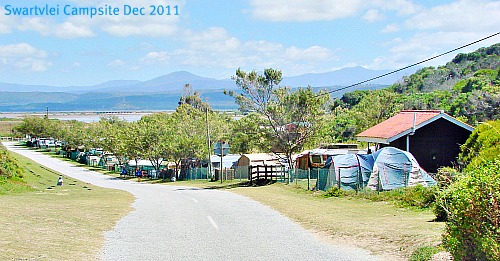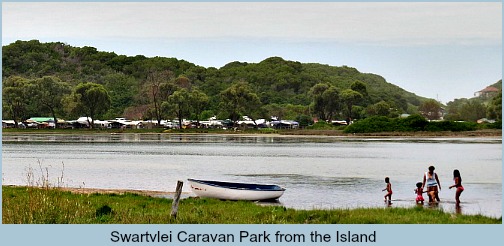 Sedgefield beaches are only allocated life guards at high season because, to tell the truth, most of the time our beaches are more enjoyed from the shore than our ocean is swum in! The lifeguards then demarcate safe bathing areas and monitor them. So if you visit when lifeguards are noticeably absent, be sure you know what you're doing if you decide to swim in the sea. Don't swim if you are alone and there is no one keeping an eye on you.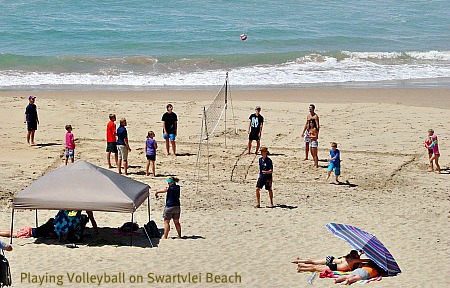 At the furthest end of Swartvlei beach is Gericke's Point jutting out into the ocean. It reveals some amazingly weathered sandstone cliffs which are in effect fossilised dunes! They deserve special mention here because they are a unique phenomenon in the area.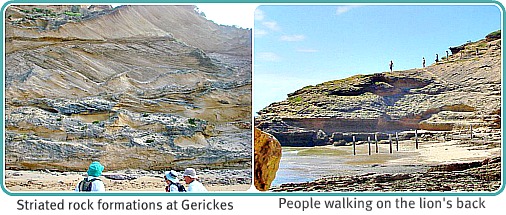 Extending from Kaaimans River in the east to Brenton-on-Sea in the west, they form borders on both sides of Sedgefield. In some places they look less like dunes and more like buttresses standing resolute and spectacular, This is where the young dune only 6 million years old - a blink of an eye in geological terms - with little soil development or shrub cover, exposes the much older calcified dune that is over 120 million years old, eroded now into steep cliffs by wind, water and sand erosion.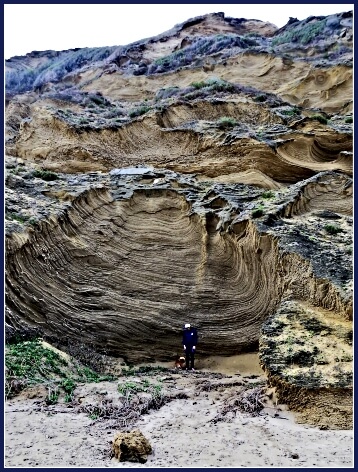 Myoli Fossilised Dune
They were originally formed over 2 million years ago and were central to the development of the coastal lakes of the Garden Route region. These dune cliffs along Sedgefield beaches are some of the highest on South Africa's coastline. At sunset their weathered forms offer some magnificent photographic opportunities as they change colour from golden yellow to deep rich ocre.
It's worth mentioning here that there are drowned fossilised dunes under the sea about 3.5kms off shore between Sedgefield and Buffalo Bay. Established on dry land, they fossilised over millennia like the ones we can currently see along our coastline until they were flooded and submerged by the rising sea. 
They can nonetheless be traced by boats with on-board echo sounding equipment. The best section is 12kms long and 2kms wide. At its highest point it is just 10 meters below the surface. It is an area regularly visited by fishermen.


As you walk eastwards towards the river mouth, there is the long protected sand dune that fronts Sedgefield, its natural vegetation enhances the character of the village. It is frequented by a small seldom seen troop of monkeys.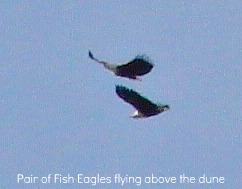 Nowadays, we often spot a pair of fish eagles perching on trees on the leeward side of the dune along the Sedgefield beaches. Their haunting cries alert us to their presence. They are clearly heard from the village. How lucky are we to wake to the quintessential bird call of Africa!
Smaller mammals, like Cape Grysbok and Bushbuck hide away in the shrubbery of Sedgefield beaches. There is a known fresh water spring that bubbles up amongst the fynbos on this dune. The dense nature of the vegetation makes it virtually inaccessible to humans except for around the perimeter so wildlife is undisturbed there, only threatened by the poor rainfall that could affect the quality of their food and their water supply.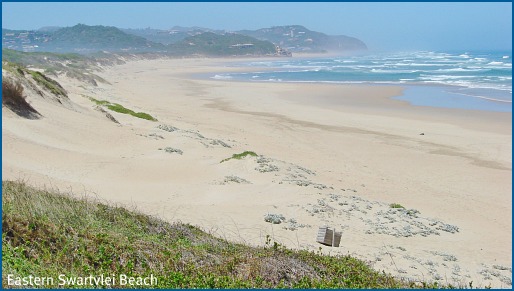 If you don't walk from Swartvlei beach, there is a boardwalk from the car park down to the Sedgefield beach at the river mouth. At the river mouth, you enjoy the best of both worlds, the sea and the lagoon, because the sandstone cliffs give you shelter from the prevailing wind. You can easily indulge in a whole day on the beach. Ablution facilities and showers are available. You can spread your towel and sunbathe, or lie under an umbrella and read a book. Have a picnic lunch, go for a walk or swim in the lagoon. Children can play safely on the beach and in the lagoon shallows.
When the river mouth is open to the sea, the locals participate in a fun activity called "surging". As the tide turns to come into the lagoon, water pours in through the river mouth, and you walk out into the channel, float and catch the surge finding yourself being propelled along without any effort for 200 metres and more, even further if you don't want to walk back and do it all over again – which you do! It's addictive! Children can do it, even young ones, with adult supervision. I've even seen dogs doing it (alongside their owners)!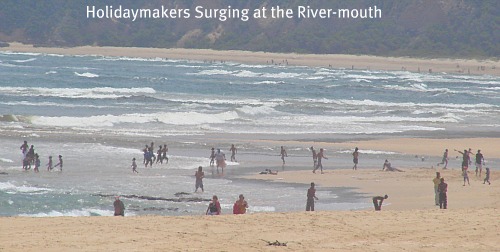 I am very careful of swimming in the sea on the Sedgefield Beaches. It is a perilous coastline in that it is subjected to some strong and dangerous currents - so be warned! Even strong swimmers can get into trouble in unfamiliar waters. Every high season, NSRI (National Sea Rescue Institute) can testify that they are called out to rescue people, and sadly a number have drowned off our coastline. Lifeguards are present on Myoli Beach and the River Mouth during high season.
The river mouth that splits 2 Sedgefield beaches usually is calmer and safer. Again, that all depends on the tides and how the river mouth opens to the sea because that changes all the time as well. My advice is to ask the locals and don't venture into deep water on your own if you're unfamiliar with the area – currents change like the weather and you risk not only your own life but that of the person who may have to rescue you. The sea is unpredictable so to enjoy your holiday, respect it and be careful!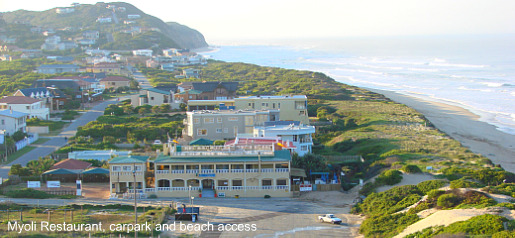 Myoli Beach and Cola Beach are adjacent to each other and named for the residential areas behind them. There are car parks behind the dunes that give you access to both Sedgefield beaches. There is PiliPili restaurant and beach bar at Myoli beach and ablutions.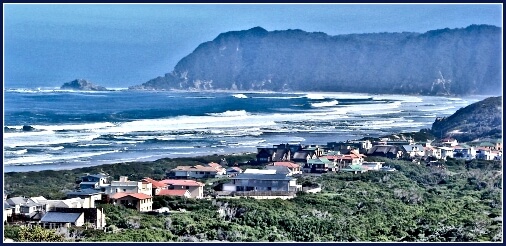 View of Myoli Beach Residential Area and Gerickes Point beyond
These two are the most frequented of the beaches being close to holiday accommodation and amenities. They are nonetheless, serene and uncrowded. There is a small observation platform on Myoli to whale-watch from.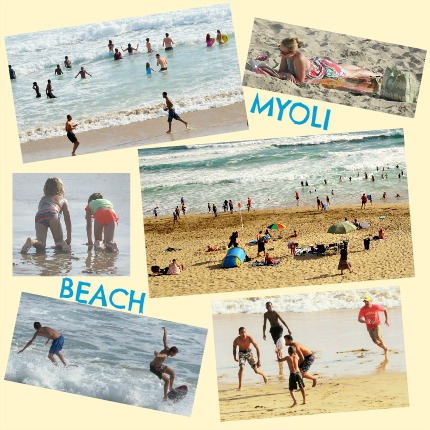 Kite Surfing on Sedgefield Beaches
Kite-surfing is becoming very popular and when the wind is up the kite-surfers turn out in force on our Sedgefield beaches. They practise on the beach first and then take to the waves. It is a great spectator sport and exciting to watch.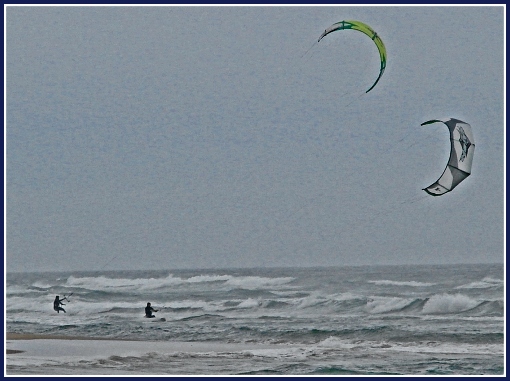 Kite surfing along the Myoli beach front
Their acrobatics as they leap above the waves and with great speed fly along the surface of the sea travelling the whole length of Cola and Myoli beaches to the river mouth and back is very entertaining. There is clearly a good deal of skill involved and strength required to hold onto the kite and manouvre at high speed through the surf.
The access to Cola Beach is from a high dune up and there is a long boardwalk down to the beach so it also has a good viewpoint at the top of the stairway where there is a bench to sit on. Cola beach is a popular beach to fish off and eastwards up to Platbank at Groenvlei, there are several rocky outcrops to fish from. Be careful of high waves that can sweep the unwary off the rocks in a flash – it has happened and more than once!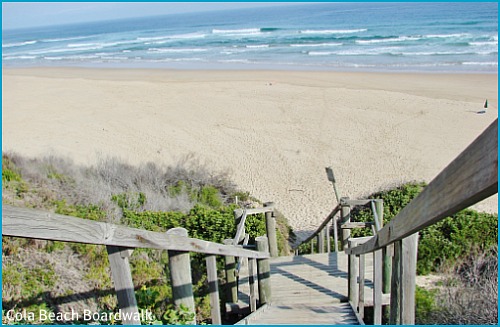 Wooden Staircase down to Cola Beach
If you don't walk to Platbank from Myoli, a distance of plus/minus 3kms, this one of Sedgefield beaches can be accessed by car by going along the N2 and turning right to Lake Pleasant. A winding dirt road leads you to the car park above the beach and a boardwalk takes you down to it.
On the verge of a marine protected area and the Goukamma Nature Reserve, it has a sense of wild untrammelled beauty about it. Several stunning walks can be done in this area.
You can be quite alone there and it is a beautiful place for contemplation, to sit peaceably, breathe deeply and observe the splendour of nature – the sea and the life it engenders around it.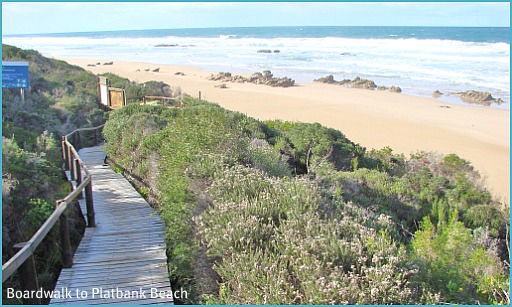 ---