Three Special Guided Walks
These 3 Garden Route guided walks, one of which is a trail deserve special mention because they provide an opportunity for you to add head knowledge and heart knowledge to your practical adventure so that you are enriched in all ways by the experience...........
because as Lawrence Anthony says in his soul stirring book The Elephant Whisperer animals have an intelligence and wisdom that is not unique to humans and they interact with each other and the world around them in ways that we could learn from.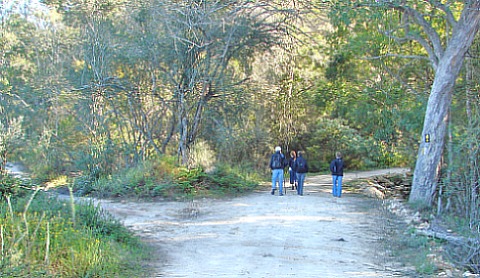 By stepping out of our familiar surroundings and regular routines, we open ourselves to new experiences that enable us to see our world with fresh eyes and from other perspectives which can be life changing. To be with leaders who have acquired intimate knowledge of our subliminal connection to everything else, has the power to change how we think about ourselves.We are made aware of a bigger picture than the world just existing for our purposes.
Everything is interdependent and it is much more complicated than most of us can grasp. There is a purpose in the bigger scheme of things that reveals a harmony and design that is counter to the big battle we so often seem to think life is. All our struggles occur because we are out of sync with this flow.
"It's not what you look at that matters. It's what you see." 
Henry David Thoreau
Moon Waltz
The relationship between Earth and its moon causes these two bodies to act as a single mass gravitationally. However, Earth experiences a slight wobble because the moon's influence pulls earth's centre of gravity "off centre". The result is that these partners weave about in orbit like a couple waltzing in a ballroom.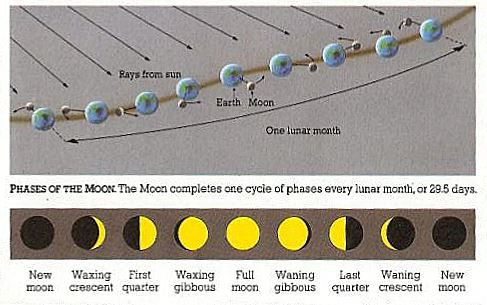 As shown above, the moon takes 29.5 days to circle the earth and this constitutes a lunar month incorporating the phases of the moon that we experience. It also explains why the phases don't coincide with the days of our calendar month.
Our Moon has no light of its own and only reflects light from other sources, mostly the Sun. As the illustration shows, the waxing and waning phases of the moon are created by its position around the earth in relation to the Sun. On the occasions when the moon is directly between Earth and the Sun, the moon's shadow falls on Earth and a solar eclipse is created. When Earth is between the Sun and the moon, the earth's shadow blots out the moon and a lunar eclipse is created. In both cases, not for long, because both Earth and moon are on the move locked in their waltz in interplanetary Space.
Weak as the moon's gravitational pull on Earth is however, it still has the strength to create a pull on the oceans which result in daily high and low tides. It is the dancing duo's position in relation to the Sun that determines the height of the tides. The summer solstice (longest day of the year) and winter equinox (shortest day of the year) further accentuates the highs and lows of spring tides when these events occur simultaneously.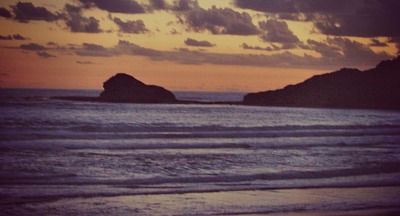 Judy Dixon is one special lady whose guided walks around the time of spring tide (new moon and full moon), when high tide is at its highest and low tide is at its lowest, enables people(limited to small groups) to discover the secrets of marine life in the inter-tidal zone. Under a bright moon, it is an eye-opening experience.
For plus/minus 3 hours you will be spell bound by the knowledge this lady imparts of living organisms you have never even noticed. She will tell you all kinds of fascinating information showing you samples. Under a moonlit sky your senses rachet up a notch and the beach is quite a different place from the beach you visit in daylight hours.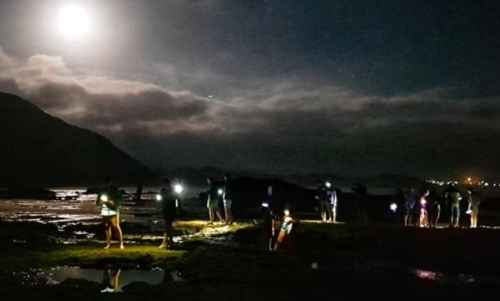 Moonlight Meander at Gerickes - Photo by Rose Greyling Bilbrough
Moonlight Meander is one of the guided walks that takes place along Swartvlei Beach to Gericke's Point where you get a chance to peek in at the nightlife of the rocky coastal pools.
So you need to take
comfortable walking shoes that can get wet
strong torch or even better, a hands-free head light
warm jacket, dry mac, and/or raincoat ( you can be briefly rained on but it won't stop the show)
A flask with something warm to drink at the end of the evening if you want to enjoy the beach for a while quietly afterwards or you can visit the Wimpy at the Engen Garage on the N2 on the way back into Sedgefield.
This guided walk is a magical and memorable evening and once you've experienced it you will want your friends and family to enjoy it too.
The Secret Elephants Forest Experience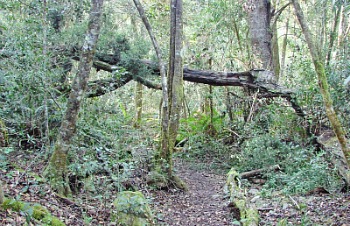 For those of you who know Gareth Patterson through his ground breaking book "To walk with Lions" you will not be disappointed with his latest book "The Secret Elephants" which is an insightful revelation of his 6 year study uncovering evidence of more than one elephant in the Knysna forests.
It is a heart warming tale of survival against all odds, something Gareth well understands after the hardship and heartbreak he has been through in his unstinting commitment to keep wild lions free.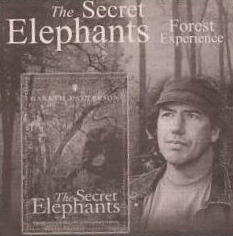 It is clear that he has brought that same dedication to his work investigating this remnant of mysterious pachyderms in this small patch of indigenous forest in the Garden Route National Park.
He is now doing guided walks in the forest 4 times a month so people can learn about the world of these secret elephants. He has never in his studies attempted to harass these creatures but has used evidence of them in the forest to prove their presence much like the contents of a home suggest that people live there.
Some of his findings seem scientifically irrefutable. He will amaze and impress with his knowledge of the forest as he guides you to see deeper than the obvious and sense the unseen. Expect an awesome experience!

Garden Route Trail
Mark Dixon's (Judy's son) guided 63km 5 day Garden Route Trail from Wilderness to Brenton-on-Sea is as unique as its unforgettable. For hikers unfamiliar with this area to have a knowledgeable guide with you on the trail enhances an already outstanding adventure. His emphasis is on providing relevant environmental information, birding and enjoying the whole encounter with the outdoors and it has the following advantages: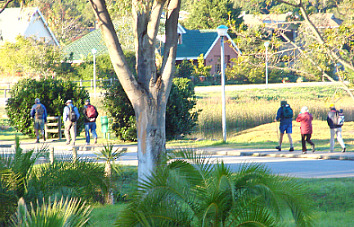 It is a slack pack trail meaning that your luggage is transported to each overnight venue leaving you free to walk with just a daypack.
No roughing it as accommodation is in chalets and cabanas
All meals are provided except for 1 evening meal.
It encompasses hiking and canoeing elements in diverse habitats such as forest, beach and dune fynbos and wetland.
Birders will be able to draw on Mark's knowledge of local birds.
The above guided trail taking a number of days, I felt was worth mentioning here but Mark has many other 1-day guided walks on offer such as around Robberg at Plettenberg Bay (whales - yay!) and the Dune Molerat Trail (fynbos flowers and birds). Both are completely different experiences and if you are unfamiliar with the area it is certainly worth having a guide with you to explain what you see (and to point out all the things you'll probably miss without him)!
Click here for more information and to book this trail

Links to other Guided Walks


Explore Eden is based in George, in the heart of the Garden Route of South Africa. We specialize in guided outdoor activities all over the Garden Route. Christiaan Viljoen leads these guided experiences and they are ideal for a family or a couple, or small group of friends (max 5 persons). 
Christiaan offers four types of exclusive guided experiences, namely Nature Walks, Waterfall Walks, Birding Walks and Birding Excursions. You can also organise a Personalized Experience; such as a guided walk along your favourite trail, or an excursion along a specific route.
Contact Christiaan by email: christiaan@exploreeden.co.za
or send him a whatsapp to +27 (0)83 703 9482.
Review: I can highly recommend a walk with Christiaan. He is a considerate and knowledgeable guide so the walk is fun and informative. The day he took a local bird club party into the forest, he was able to call up several special species like the Narina Trogon, the Yellow-throated Woodland Warbler, the Grey Cuckooshrike, Lemon Dove, the White-starred and Chorister Robins to name just a few (so we got to see them not just hear them). It was a fabulous birding morning.
---