Sedgefield Bird List
I think its a good idea to offer a Sedgefield Bird List as a basic guide for visitors and newbies to our town. Our village environment and surrounds is abundantly able to provide the keen birder with a great birding experience. Besides that, Birding can become a captivating hobby for retirees and new arrivals to the Garden Route. Sometimes one just needs a little help to get started.
I have categorised our local birds to make it easier to look for them in our area when you are out walking or cycling or perhaps just sitting in your garden. We have inland waterbirds/waders, seabirds,  raptors, night birds and a plethora of charming and interesting feathered flyers that pay regular visits to our garden.
I suggest a pair of binoculars is an essential investment to really get the most out of birding.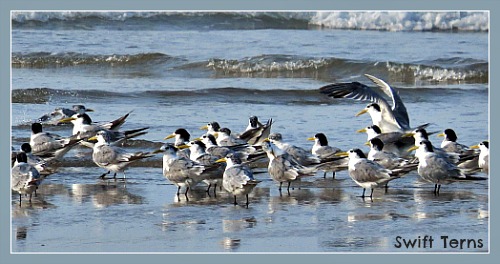 Inland Waterbirds

Bittern Little

Cormorant Reed
Coot Red-knobbed
Crake Black
Darter African
Duck Yellow-billed
Duck White-faced 

Cape Shoveler

Egret Little




Flamingo Greater

Goose Egyptian

Grebe Great Crested 

Grebe Little

Greenshank

Gull Kelp

Heron Black-headed

Heron Grey

Heron Purple

Giant Kingfisher-female

Ibis Glossy

Ibis Sacred

Kingfisher Giant 




Kingfisher Pied 

Kingfisher Malachite

Malachite Kingfisher

Lapwing Blacksmith




Moorhen common

Plover 3-banded

Shoveler Cape

Spoonbill African

Stilt Black-winged

Sunbird Malachite

Swamphen Purple

Seabirds

Kitlitz Plovers

Cormorants Cape
Cormorants White-breasted
 Gull 

Cape

 

African Black Oystercatchers

Nocturnal Birds




(active at night)

Fiery-necked Nightjar

Spotted Thick-knee
Nightjar Fiery-necked
Spotted Eagle Owl

Little Sparrowhawk that caught a dove in the drive-way, sitting on the perimeter wall at the side of our house.

Garden Birds




Cape Batis (female)

Apalis Bar-throated
Batis Cape
Bokmakierie
Boubou Southern
Burchell's Coucal
Bulbul Cape
Canary Brimstone

Emerald Cuckoo

Cuckoo Diderick 

Cuckoo Emerald

Cuckoo Klaas's

Fiscal Flycatcher & fledgling

Black-headed Oriole

Flycatcher Fiscal




Grassbird Cape

Greenbul Sombre

Guineafowl Helmeted

Hoopoe African

Ibis Hadeda

Cape Sugarbird

Kingfisher Brown-hooded




Mousebird Speckled

Oriole Black-headed

Prinia Karoo

Robin-Chat Cape

Greater Double-collared Sunbird (male) & Amethyst Sunbird (female)

Starling Red-winged




Sparrow Grey-headed

Sugarbird Cape

Sunbird Amethyst

Sunbird Greater Double-collared

Sunbird Southern  Double-collared 

Swallow Barn

Swallow Greater-striped

Swallow White-throated




Thrush Olive




White-throated Swallow

Turaco Knysna




Wagtail Cape

Waxbill Common

Weaver Cape

White-eye Cape

Woodpecker Knysna

Woodpecker Olive

Whydah Pin-tailed 

Raptors

Eagle African Fish
African Harrier-Hawk
Buzzard Forest
Buzzard 

Jackal

Sparrowhawk Little  

Jackal Buzzard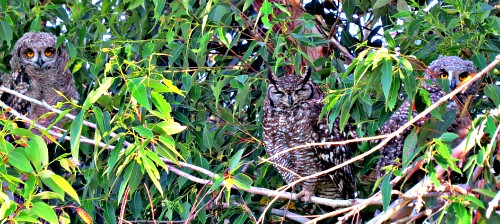 Spotted Eagle Owl Family
I trust you will have found this Sedgefield Bird list helpful. I do not claim that it is comprehensive but these are birds I have seen in the area as many of my photos will attest. I am never far from my camera! 
I am happy to add to this Sedgefield Bird List if anyone cares to send me a photo of a bird I haven't listed here. Please fill in the info on my "Contact Me" page. I shall credit you with any photo I post on my page.
This list is no substitute however for a good bird book or an on-line digital bird program such as "Roberts Multimedia Birds of Southern Africa" which I can highly recommend!

| | |
| --- | --- |
| Yellow-billed Stork - seen Dec 2013 on the bank of the Lagoon near the Swartvlei Caravan Park, a rare sighting as this bird is out of its range here. | African Fish Eagle |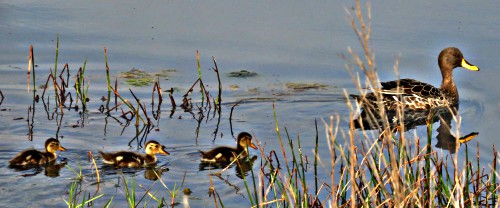 Family of Yellow-billed Ducks

Related Links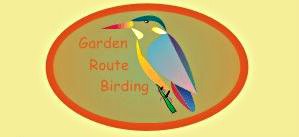 Garden Route Birding - South Africa's Garden Route offers unique Birding opportunities with 30 endemic species in 5 biomes.  This diverse range of habitats is home to approximately 300 species of birds.
---