Discover Birding 

around Sedgefield & the Garden Route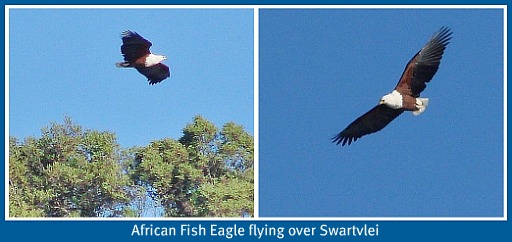 Birding in Sedgefield is birdwatchers' heaven! An indication of of how  prolific it is around us is that all the street names in the village are bird names.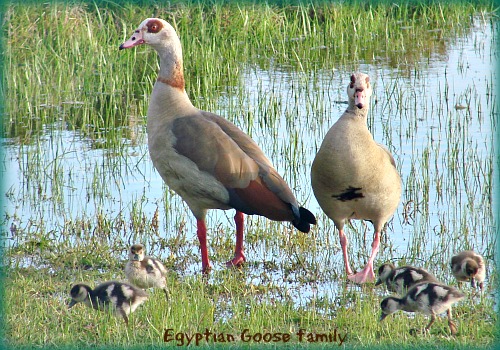 The cry of Africa, the African Fish Eagle summonses you to the estuary to wonder at the endless display of bird life that co-habits this outdoor space with walkers, bikers, photographers, artists, fishermen and cars, apparently unfazed by their proximity.
Although Egyptian Geese are common it is great to watch a family of young goslings growing up in front of you on the lagoon. It is a feat to see all of them make it to adulthood. Some times not all of them do.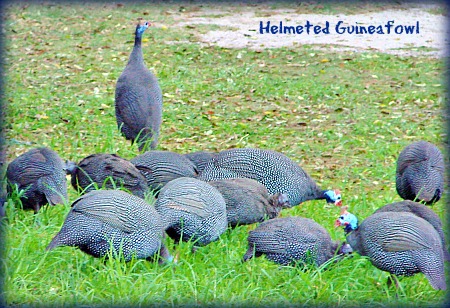 The resident flocks of guinea fowl are a common sight as they wander throughout Sedgefield's residential areas pecking at tasty morsels from the grassy sidewalks and enjoying sand-baths in its' bare patches.
They bed down for the night in the trees and grasses of silent holiday homes. I count seeing them living in the village among us, one of the reasons I enjoy living here.
Any morning in front of our house, out on the lagoon, we can see Yellow-billed Ducks, Little Egrets, and herons - three kinds – the Grey Heron, the Black-headed Heron and the Purple Heron.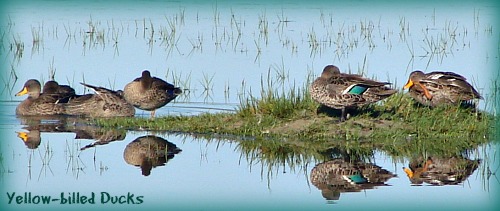 There are a few Purple Herons regularly on the lagoon., I've noticed an individual is often chased away by a larger territorial Black-headed Heron.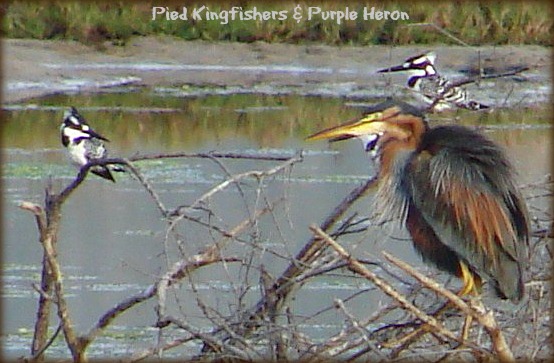 Whenever tree branches are washed down into the shallow waters of the estuary it is not long before a  couple of Pied Kingfishers arrive to use them as perches.
The Giant Kingfisher on the other hand, frequently sits silently on the telephone line at the causeway to the Island.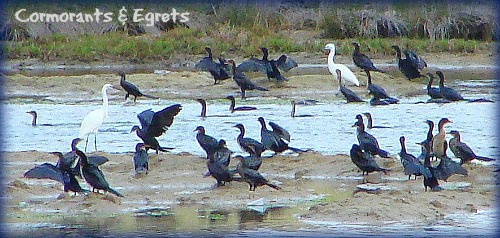 The White Breasted and Cape Cormorants appear in large numbers on the estuary in the morning after rough seas have pounded the beach and strong winds have swept along the coastline during the night. It seems the birds retreat to the calmer waters of the lagoon to fish and swim.
Black-winged Stilts are seen from time to time wading in the shallow water when the river-mouth is closed and the water level is low.  In times of good rainfall they've sought shallow water further away from us.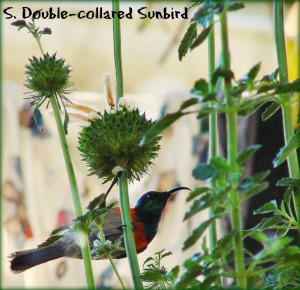 Little Grebes (Dab-Chicks) are regularly spotted around the boat launching area at the bottom of the hill along Kingfisher Drive.  Great Crested Grebes are rare but appear from time to time in the estuary. They are seen more often on Rondevlei. 
The Lesser Swamp Warbler is always present flitting energetically among the reeds at the water's edge.

Amethyst and Southern Double–collared Sunbirds can be seen daily dipping into flowering plants like Wild Dagga, various Protea species, Wild Fuschia and Cape Honeysuckle and other flowering garden plants.
Southern Boubous, Cape Robins, Speckled Mousebirds, Cape White Eyes, Bar-throated Apalis and countless others foraging in garden shrubbery, can be identified by simply taking a walk around the village and along the road to the beach.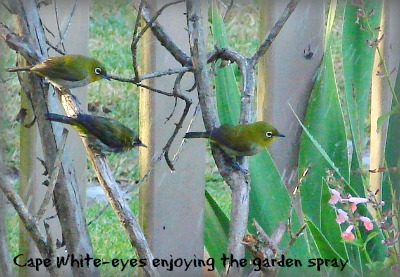 Cape Wagtails strut jerkily around gardens, on the streets and in car parks. Like the Red-winged Starlings, they incorrigibly beg for cheese from any willing supplier. Both species become very tame around people that feed them.
The distinctive call of African Black-headed Orioles can be heard in the trees. Cape Sugarbirds and Knysna Turacos are attracted to bird-tables and bird-feeders by residents among the indigenous vegetation of Myoli and Cola beaches and irregularly appear on the Island.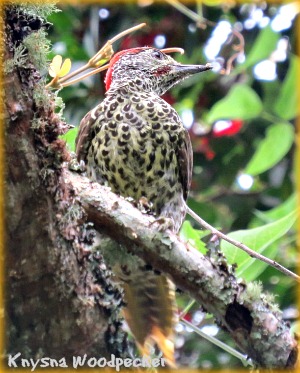 Difficult to see in the forest canopy, I surprised myself one Sunday morning when I caught a clear view of a Knysna Woodpecker, a very pretty and secretive bird - normally you hear it before you see it - as it silently slipped off a branch to investigate a morsel at the base of a tree on Kingfisher Drive just as I walked past.

Sedgefield has resident African Harrier Hawks (formerly known as Gymnogenes).  They are distinctive birds of prey, overall grey in colour with  small pointed heads and a bare patch of yellow on their faces. When the bird sweeps low over the houses and trees, a sudden hush of regular birdsong alerts a gardener to its presence.  Smaller birds fall silent hiding their whereabouts, knowing it's out hunting for food.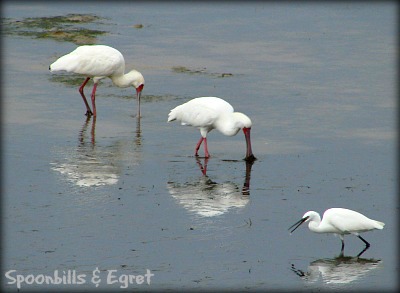 A good number of Spoonbills come and go wading around in shallow water, forever shaking their heads regretfully in their predictable sideways motion as they plumb the estuary for aquatic snacks.
Flocks of egrets are always present. Look out for large numbers of Sacred Ibis and smaller numbers of Glossy Ibis investigating the lagoon banks. When the mouth is closed, the Purple Swamphen moves into the reed beds alongside Kingfisher Drive and breeds there. One can catch glimpses of the adults and youngsters as they emerge during the course of the day. Normally quite secretive, they seem to be less so these days.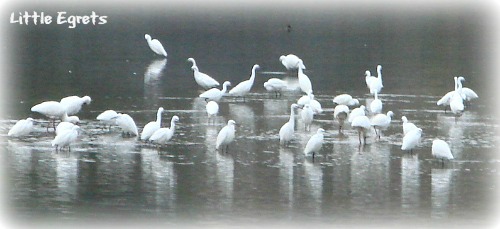 At night one can hear the Spotted Thick-Knees' penetrating calls as they race up and down the pavement catching insects attracted to streetlights and running across the road in a way that makes me think of the comic "Road Runner, Beep Beep". I inevitably get up to watch them as they run in that abrupt start/stop way they have.
I get concerned when I hear a car driving fast along Kingfisher Drive late at night, on its way home as the birds shriek and carry-on as though their homes have been burgled, their shrill calls fading as they fly off into the grasses at the water's edge.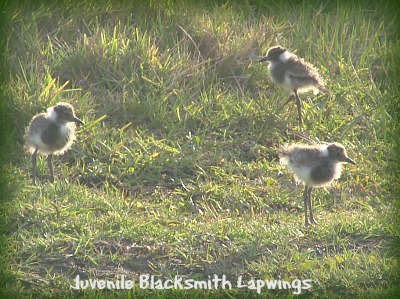 I haven't yet found a lifeless Thick-Knee on the road in the morning so they seem to make good their escape and don't try to mess with motor vehicles.
A pair of Blacksmith Lapwings have successfully raised several batches of chicks right next to busy Kingfisher Drive, the main road along the lagoon. They have survived winged predators like seagulls, crows and African Harrier-hawk (Gymnogenes) and even dogs walking their owners! The juveniles look like young ballerinas in tutus when their fine down is caught in sunlight.
Alerted by muffled sounds of their midnight dalliance, we have seen an impressive pair of Cape Eagle-Owls – one perching on the telegraph pole next to our house, the other on our boundary wall - in the late hours hooting in a gentle intimate manner to each other!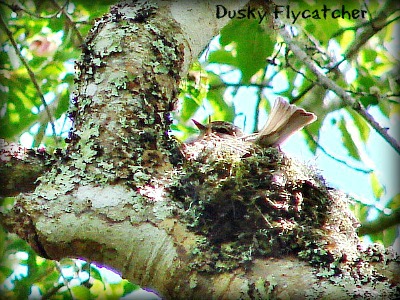 Four flycatchers are found in our area, the African Dusky flycatcher that swoops on insects returning to its same perch many times, the Fiscal flycatcher very similar in appearance to the Fiscal Shrike (now Common Fiscal) but it has a much finer bill, the Blue-mantled Crested flycatcher, an all-year-round forest resident, and the spectacular African Paradise flycatcher, a summer visitor in our part of South Africa that frequents treed areas and partial to mature wooded gardens.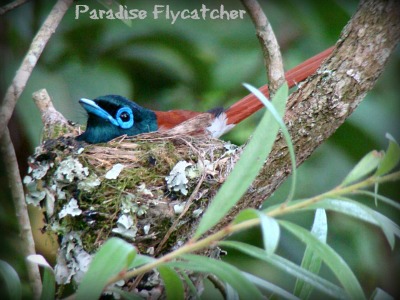 Burchell's Coucals live in the shrubbery of our neighbourhood and one morning I saw (for the first time) a pair of drab young birds (so different once they have their glorious chestnut, black and white adult plumage) clumsily manoeuvering themselves around in my lavender bushes (where I often see the adult). They are ungainly birds and the adults fly heavily and as little as possible preferring to hop along branches from one place to another. The are very useful in removing snails from the garden.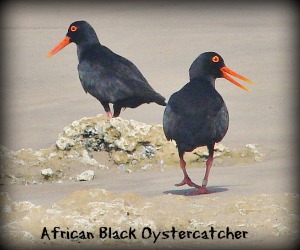 Then there are endemic African Black Oystercatchers that frequent our shoreline and nests there in protected areas.They often fly into the lagoon and settle on the sandbanks investigating the shallow water for food.
Their recovery from "near threatened" is a great success story for these beautiful black birds with their striking orange bills and legs and eye make-up. It is the icon of my website!
Due to climate change no doubt, and weather patterns that are affecting all of us, we have had a number of unusual sightings.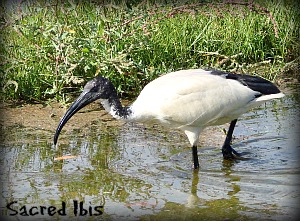 Open-billed storks, a secretary bird, long crested eagles – I have seen one of the latter on several occasions on a fence post, in the smallholdings area of Wilderness Heights and on a fence post at the top of Kaaimans Pass going in to George.
We've also been lucky to have a large flock of Greater Flamingos on the lagoon and at Rondevlei during March and some of April. About 6 spent several weeks on the beach at the river-mouth. These birds are irregular visitors so its always a special treat to have them around!
Birding Newbees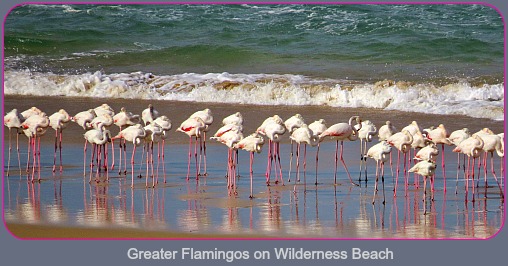 If you're just getting started, the great thing about birding is that it can be done virtually anywhere because birds are everywhere! You need a pair of binoculars and a good bird guide such as "Roberts Bird Guide" or the Sasol sponsored "Birds of Southern Africa" by Ian Sinclair and Peter Ryan, and you're "ready to go". Ideally the best time for birding is the early morning and then the few hours before sunset.
It's a good idea to join a local bird club (they're always happy to have new members) or find an experienced guide to show you the ropes.In Sedgefield we have the well run and attended Lakes Bird Club. Joining a club will speed up your learning curve considerably. In the end though it's up to you. As you take note of the feathered life around you, they begin to become familiar and you remember their names and you're on your way.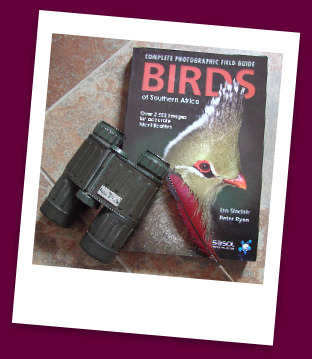 Furthermore, it broadens your knowledge of the outdoors enormously because all birds have ranges and are found in specific habitats. As you get to know this, you know where to look for them.
When you go into a game reserve, there are only so many animals that you can expect to see in a day but if you have an interest in birds, you can enjoy being out in nature for much longer. When it seems nothing is going on, birding can add another dimension to game-viewing.
It's worth knowing that summer birding is far different from winter birding because we attract a good many summer migrants, some from northern parts of Africa and some as far afield as Europe and Asia.
This adds a lot of pleasure and excitement to summer birding. Cuckoos, raptors, waders, sea-birds, and swallows are among those that fly south to spend summer in our part of the world.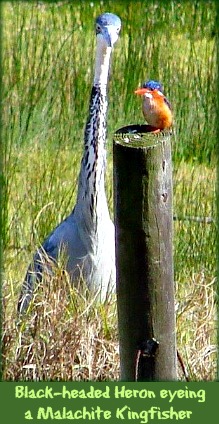 When you look at your bird guide, take note of the maps that indicate where the bird is present, if its not green (a resident), its indicating that the bird's presence is seasonal.
Blue - indicates its a non-breeding migrant and orange - that its a breeding migrant.
Red is the colour for rare and uncommon vagrants. The intensity of the colour indicates species density (how common it is) and the months below the map are the breeding bars that indicate the prevalent breeding times.
So birding is invariably rewarding and although birders almost always set aside time to bird, it is also true that one is always birding if you're a birder!
It's never too late to open your eyes to the bird life around you. It's like entering a magical world of colour and sound and beauty, a world you had never known existed before! 
Here is a short list of specific birding places I suggest you might visit.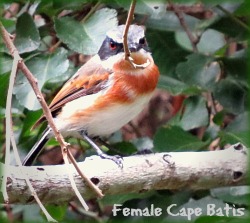 Rondevlei Bird Hide

 - a bird sanctuary excellent for a great variety of water birds, waders and raptors specially Fish Eagles. I've seen 5 African Snipes together here, Black Crake and African Rail. You might even glimpse a Cape Clawless Otter.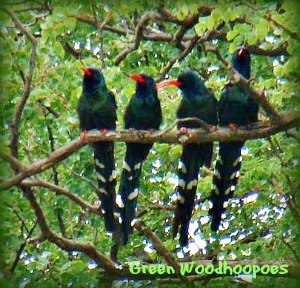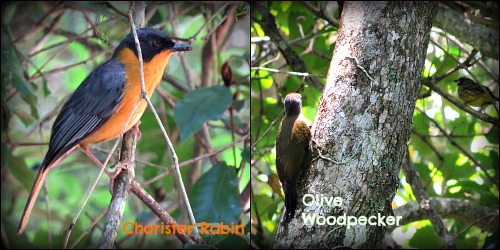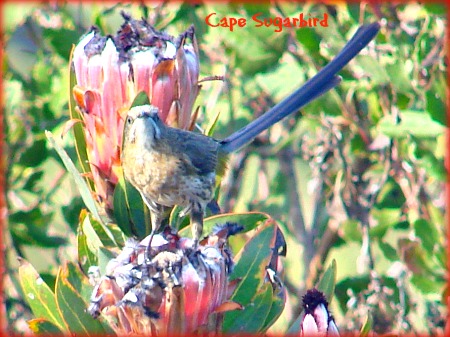 Links to Related Sites

The idea of the Birdwatcher website was born from the passion and love for God's creation. Beautiful creatures like birds and animals around us and the smell of fresh air was the inspiration behind showing others something of what photographers experience in nature through their camera lenses. We also publish interesting articles, birding trip reports for birding outings. 
We do Birding in:   Sedgefield, Wilderness, George, Mossel Bay Area, Knysna, Plettenberg Bay (Also other areas in South Africa)

We offer:
---