LAKES Bird Club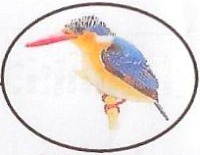 Malachite Kingfisher is LBC's Logo
The Lakes Bird Club is truly representative of the birding fraternity of the Garden Route. Its members range from George to Plettenberg Bay and all the towns in-between including Oudtshoorn and farming areas of Karatara and Rheenendal.
This enthusiastic club always welcomes new members so if you are new to the area and enjoy birding, a great way to get to know people with similar interests to yours is - join the club!
Chairperson: Pat Nurse Tel: 044 382 0638 email: jgn@lantic.net
Membership, Secretary and Treasurer: Steve Gettliffe Tel: 044 384 0289  email: stebar@barkly.co.za
Club address: P O Box 3576, Knysna. 6570 
email: lakes.bird.club@gmail.com
Newsletter contributions: Cecil & Else Hiscock Tel: 082 855 3309
email: kleinkoos@gmail.com

Beginnings
The Lakes Bird Club opened in Sedgefield with an inaugural meeting on 12th February 1988 with the following aims,
to stimulate interest in, and improve knowledge of birds
to protect birds and their environment
to promote sound bird conservation habits and practices among children
to encourage ornithological research and photography
to promote concern for the conservation habits of all forms of wildlife and the environment

36 members enrolled at the first meeting and the first committee was made up of Wally Bodmer (chairman), ardent conservationist, Julian Orford (secretary), Bob Kelly, Phyllis Salt and H. Wilhelmji. 4 members were granted honorary status.
When Wally had to withdraw from the chairmanship, Bob Kelly, took his place holding the position until March 1993. Besides being a specialised bird photographer, Bob was instrumental in having bag limits of game birds reduced in 1992. Some like Spurwing Geese were ridiculously high at 10 per person per day!

Julian, (who together with Kidger Hartley and Bob Kelly initiated the forming of the club) and his wife, Rhona also spearheaded many beach clean-ups that the bird club supported wholeheartedly even after the Orfords withdrew due to ill-health.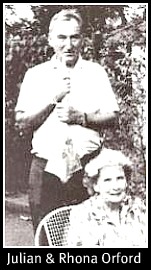 (Julian passed away 25 May 1993.)

The Lakes Bird Club made a valid suggestion to the Council that empty stands be cleared only of alien vegetation leaving indigenous vegetation interfered with as little as possible for the sake of local birdlife and tortoises. They also requested that homeowners leave some indigenous growth on their properties for the same reason. The club drew up a list of suitable trees and plants along with safe garden sprays, that was presented to the local nursery owners, Jean Wells and Joan Wright who as bird club members promoted such sales.
Knowledgeable members like Margaret Keily, Anne Brash, Vera Barclay, Maureen Beech, Lorna Watt and Joy van Korff contributed to the South African Bird Atlassing Project. Working with local conservation bodies, many of their officials presented informative talks and film shows to the club and a number of birders trained as honorary rangers. The late Neil Nattrass (died 06-09-2011) was the backbone of the club for many years and his fun-loving wife, Jenny was editor of the Newsletter. (Jenny passed away in 2012.)

The annual membership subscription payable was R5. Initially an affiliate of the Cape Bird Club, they donated R200 to enable the "fledgling to get airborne". In 2007, after being an affiliate of Birdlife South Africa, the Lakes Bird Club was ratified as a full Branch.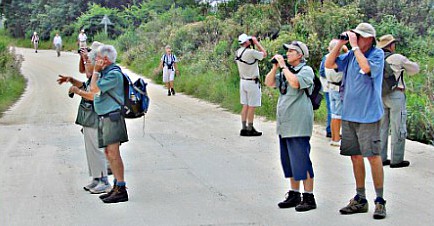 Birders birding
In 1990 a certain Mr. Peter Ginn debuted his authoritative bird knowledge in the area when he presented a memorable slide show in George. He was to become a great asset and meaningful contributor to the Lakes Bird Club in the years ahead.
Thanks to a proposal the committee put to the Sedgefield Town Council, a formal bird sanctuary was established of the wetlands running the length of President Steyn Street on the Island in 1992.
At the start most of the Lakes Bird Club members were from Sedgefield and only a few folk were from Knysna. As time went by membership included folks from out-lying areas and a number of George recruitments also joined the club. By 1993 there were 91 members.
In the minutes of 1995 it was mentioned with concern that members were too talkative on outings in the field (they still twitter more than the birds do!) For the most part though it doesn't seem to bother the birds that much!
Norman Elwell
A past chairman and one of our most experienced members with over 40 years involvement with birding, Norman Elwell, wrote bird descriptions for the famous AECI bird calendar for many years. He was on the committee of SAOS for seven years. (formerly South African Ornithological Society, one of the oldest ornithological societies in the world, it is now known as Birdlife South Africa)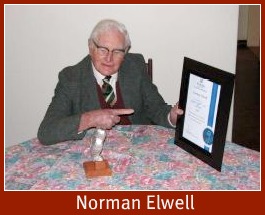 Norman was also responsible for extending the 1995/1996 Breeding Survey of the African Black Oystercatchers that had begun in the Cape Town vicinity to the Garden Route area for Dr Phil Hockey of the University of Cape Town. Initially the surveys were only conducted along Sedgefield Beaches but later expanded to Brenton-on-Sea and Knysna Lagoon.

In earlier years Norman had served in the role of Chairman and Vice Chairman for the Witwatersrand Bird Club. Highly regarded, members are always pleased to see him when at 92, he attends/participates in our bird club meetings. (2011)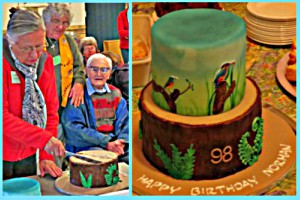 Pat with Norman watching Lorna cut his birthday cake.
The LBC committee nominated Norman for an OWL Award which he received in 2010 from Birdlife South Africa for his dedicated contribution to the Oystercatcher project for some 13 years from 1995-2008. Thanks in part, to the success of the project, the Oystercatcher is no longer listed as "near threatened" and it has been declared  the bird of the year for 2018.

At their 2017 AGM in May 2017, LBC celebrated the 98th birthday of it's venerated member, Norman Elwell. They presented him with a beautifully iced birthday cake specially made for him by Lilly Klopper. Sadly Norman passed away on 3 July 2017. In November after a Bird club outing, his ashes were interred in the Metelerkamps' family cemetery on Ganzvlei Farm, next to his late wife's, as this was their favourite birding venue. 
The Malachite Newsletter is the LBC's pretty special newsletter. This August 2017 Edition contains  a tribute to a beloved and devoted birder, Norman Elwell 25-05-1919 to 03-07-2107, and has many other interesting articles (and some amazing photos as well.) It also mentions that several stalwart LBC members were among those who lost their homes in the June 2017 Garden Route wildfires.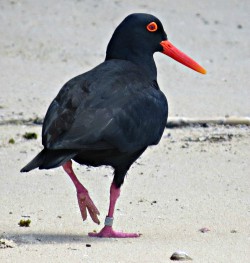 African Black Oystercatcher
The oldest bird on record was 1 month short of 29 years old when it died.
Females are larger than males and have longer, more pointed bills.
The longest recorded movement of a bird is 1515kms from Knysna to Swakopmund.
Oystercatchers don't really eat oysters. They eat mostly mussels and other bivalves, polychaetes, welks and crustaceans.
CWAC and CAR Counts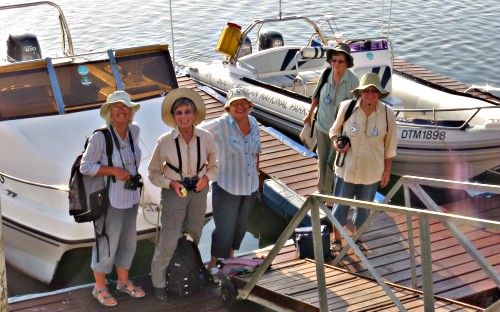 Some of the CWAC Team Jan 2014 at Thesen Isle jetty, about to do a count, with help of SANParks boats, on Knysna Lagoon.
Lakes Bird Club members help in bi-annual CWAC (Coordinated Waterbird Avifaunal Counts) on the Knysna Lagoon and Sewerage Ponds and in August 2009 the Club initiated what will be, an ongoing CWAC count at Voelvlei.
Since January 2006 an average of 6 members assist Cape Nature Rangers in CAR (Coordinated Avifaunal Road-counts) in the Uniondale precinct in January and July.
This is the count of the large terrestrial birds such as the cranes, herons, storks, korhaans, bustards and raptors. The CAR survey teams drive along 3 farm road routes for an average distance of 50 kms.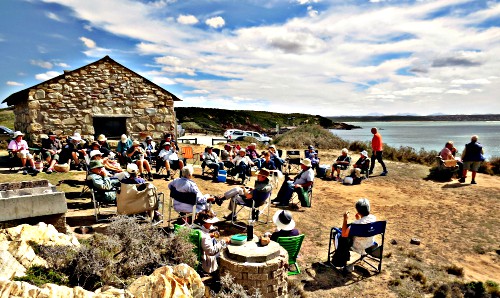 After a morning of roadside birding the birders settle down for a social lunch in the scenic Fransmanshoek Conservancy.
In 2012 members assisted Cape Nature with CWAC at Voëlvlei because Windfarms were being planned for the area and around Mosgas (now Petro SA.) and an EIA (Environmental Impact Assessment) was necessary.
Involvement with Conservation

The Lakes Bird Club is represented on the Knysna Environmental Forum and Estuary Forums for Knysna, Goukamma and Hartenbos and interacts with WESSA (The Wildlife and Environment Society of South Africa). They have registered as Interested & Affected Parties for developments in the area.
This encouraged them to take part in a march in 2005 against the Lakes Eco Golf Resort on the north western side of the Swartvlei Lake that was finally quashed by the Provincial authorities.
The Lakes Bird Club was instrumental in setting up the Garden Route and Klein Karoo Birding Route and contributed to the formation of the newly proclaimed Garden Route Biosphere Reserve.
Members have contributed to the SABAP2 (2nd Southern African Bird Atlas Project) and organized 2 training sessions for atlassers. 
 Lakes Bird Club Activities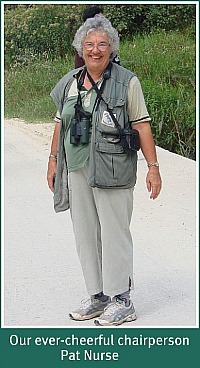 A lot of effort is put into finding new venues to visit and speakers for the Club meetings.
Today the Lakes Bird Club reflects a strong membership of 160 birders with a lively and dynamic committee led by an enthusiastic chairlady, Pat Nurse. It is active on many fronts and participates across a broad spectrum of concerns to do with our natural environment. The Club's regular newsletter has recently been found an appropriate name and been christened, "The Malachite"!
Nowadays, news is posted on the internet through the Lakes Bird Club Facebook page and members interact via their Yahoo Group on whatsapp.
A calendar of events is posted/emailed out to members approximately every 6 months. Activities alternate between informative indoor lectures (particularly in winter) and practical field outings.


Most indoor meetings are held at the St Francis Community Church in Swallow Street, Sedgefield and have included diverse renditions such as Sue's Swain's slide show and talk on Biomimicry, and Carol Walton's presentation of her life and current work at the South African Penguin Rehabilitation Centre. These worthwhile indoor events are always well attended.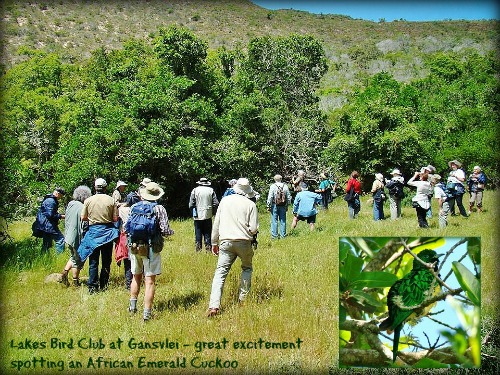 Field outings often give members an opportunity to bird in special places they wouldn't otherwise have access to, like private farms that have specific natural areas like Ganzvlei that is adjacent to Goukamma Nature Reserve and where it is quite possible, in summer, to be rewarded by seeing 5 of the Cuckoo species on one farm.
A Lakes Bird Club visit was also arranged to the military training area by keen birder, Wessel Rossouw, the then Military Chaplain(he has since retired) to the Infantry School outside Oudtshoorn, that is otherwise closed to the general public.
Outdoor meetings also give less knowledgeable birders an opportunity to learn from experienced birders. On a visit to Voëlvlei, west of Mossel Bay, Peter Ginn had gone ahead and carefully marked the well camouflaged nests of the Kittlitz Plovers on the edge of the causeway.

This was not only to stop the Lakes Bird Club members from walking on them or accidentally driving over them, but also to prevent us from alarming the birds by parking or standing close to their nests for long periods whilst we birded. I would never have realised they were there if it was not for Peter carefully pointing them out.
You can see by the size of his finger in the photo on the right, how insignificant the scrape of their nest is and how well disguised their tiny eggs are (in the centre of the photo) - they look like little pebbles! This blending in with their surroundings also protects them from predators. The adult flicks sand lightly over the eggs as she leaves the nest.
An annual mid-week outing (3 nights) for the Lakes Bird Club is organized at least once a year. "Away days" are planned to interesting places such as De Hoek Mountain Resort near the Cango Caves, or the Karoo Nature Reserve or Bushman's Valley Resort......
On occasions more exotic trips further a field are arranged..... Peter Ginn organized a tour that took a number of intrepid birders on an epic journey to the northern swamps of Zambia in the hopes of glimpsing the rare Shoebill. Happily, despite encountering bad roads and all types of delays and frustrations at border posts and having to slosh through marshy wetlands they achieved their sought-after goal that made all the difficulties worth while. They enjoyed some magnificent birding all along the route as well.
Lakes Bird Club celebrate their 25th Anniversary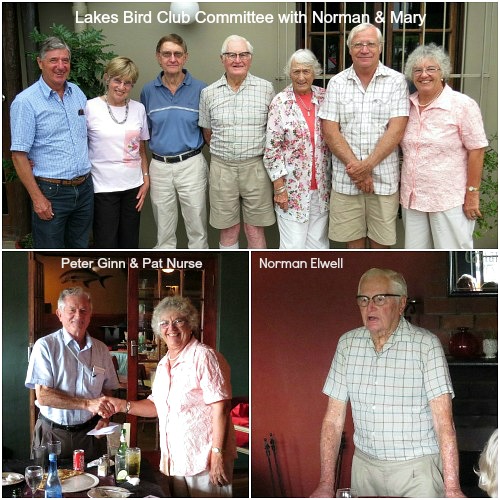 On Valentine's Day 2013, the Lakes Bird Club celebrated its 25th Anniversary with a delicious lunch at Montecello. On this auspicious occasion, our eldest and most esteemed member, Norman Elwell gave a short talk about the club saying that birders were among the most friendly and enthusiastic groups he knew and the importance of our links and interactions with other bird clubs was not to be underestimated.
The club's role in various projects like the CWAC and CAR counts were invaluable in gathering information not only about birds but indirectly, also their habitat, which gives conservation bodies an indication of where they should direct their conservation efforts.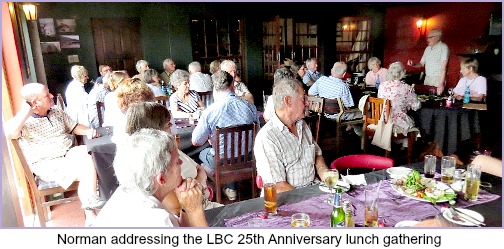 Our cheerful chairlady, followed up Norman's talk by giving a cheque to Peter Ginn for the planting of new proteas at the George Botanical Gardens. As Peter gratefully received the money, he said the existing proteas there had come to the end of their life span and it was necessary for new proteas to be planted to maintain the habitat of the Cape sugarbirds.
And as was expected, our lunch at Sedgefield's popular local restaurant, Montecello was excellent and enjoyed by all!
P

eter Ginn -

Ornithological Expert & Author 




Peter Ginn is well-known and much loved for his generous sharing of his broad knowledge of all things pertaining to the natural history of Southern Africa. With qualifications in Geology, Geography and Chemistry combined with the discipline of Athletics coach and referee, he is clearly a man who enjoys being in the outdoors.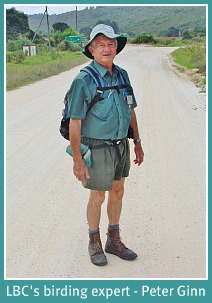 A teacher for many years at Peterhouse, Marondera, Zimbabwe, he has an easy and interesting way of imparting information along with a good smattering of humour to his fellow birders. We are so fortunate to have his expertise available to us in the Lakes Bird Club. He has contributed articles to many magazines and written several books including the perennial 1970's Zimbabwe Bundu Series and many other significant birding books.

The wonderful personalized Peter Ginn Bird Safaris were suspended due to the ill-health of his wife, Liz but she lost her battle with cancer in July 2012. During her illness Peter stayed close and held local Bird Identification courses on a regular basis in the Garden Route area. He continues to hold one day workshops from time to time.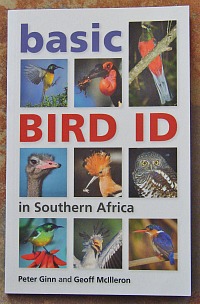 Peter's book "Basic Bird ID in Southern Africa" is co-authored with Geoff McIlleron. It offers a down-to-earth system for newcomers in the field of birding, using a proven formula that remains valid even among experienced birders. It helps readers master observation skills that will enable them to become proficient in the tricky task of identifying birds in the field. Clear and concise text is supported with full-colour photographs.
It is an excellent book for beginners of all ages.
Signed copies of "Basic Bird ID in Southern Africa" can be purchased directly from Peter for R140-00 (plus postage if it needs to be posted. See details below.)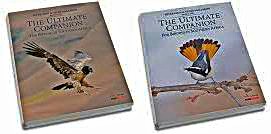 "The Ultimate Companion for Birding in Southern Africa" is a boxed set of two volumes with over 1400spectacular photographs of birds covering all 960 species recorded. Both volumes are packed with fascinating descriptions from 18 top bird authorities who reveal their personal observations and knowledge in an easy to read style. Brought to you by best-selling authors, Peter Ginn and Geoff McIlleron, this really is the ultimate companion for exploring southern Africa's abundant bird life.
Contact Peter at pgbs@cyberperk.co.za or Tel:044 874 6372 or Cell 072 279 7013 to purchase copies signed by the two text editors of the "Ultimate Companion" directly from him for R1200 (plus R150 for courier if sent within South Africa. Can also be couriered outside South Africa – subject to a quote for the courier fee)
References 
Notes from Pat Nurse - LBC Chairlady
Sedge News Special Issue - July 1993
Input from Peter Ginn

Links to other Related Sites



BirdLife South Africa strives to conserve birds and their habitats. We work with people to ensure the sustainable use of natural resources. We are a registered non-profit, public benefit environmental organization and the only dedicated bird-conservation organisation in South Africa. We have 6 100 members in 40 bird clubs throughout South Africa.
---

Western Cape Birding Routes is a website that has been created as a source of general and specific information to advise birders about the popular routes, important bird areas and places to go birding in the Western Cape.

---

WESSA (the Wildlife and Environment Society of South Africa) is a truly South African non-government organisation (NGO) with a proud history in our country. This year (2011) we are celebrating our 85th birthday – that is, 85 years of proactive engagement with the challenges and opportunities presented by South Africa's unique natural heritage and the social and economic systems that depend on it.
---