Garden Route Wildfires
 Sedgefield Community Volunteers Contribution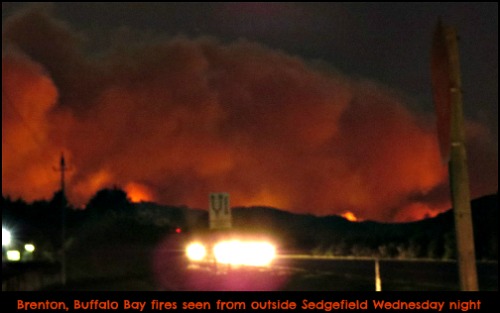 26 wide-ranging wildfires took hold of forest, plantations and fynbos in June 2017 when, struggling under drought conditions, the Garden Route environment was tinder dry.
 Expecting stormy weather with the chance of good rain for the first time in a long while, no-one along the Garden Route was prepared for the magnitude of the drama that was to unfold in the days to come.
While specialists in the front line would fight with their very lives on the line to save people, pets, homes, businesses, farms, livestock, plantations and countryside, a well-stream of ordinary people would swell and go to extraordinary lengths to provide back-up support and comfort for the action teams and the victims of the worst fires to occur in the area since 1869. 

The Community Support Forum REBUILD EDEN SEDGEFIELD has finally fulfilled its mandate to provide all the help it could to those affected by the wildfires and has closed its operation.

Wildfires begin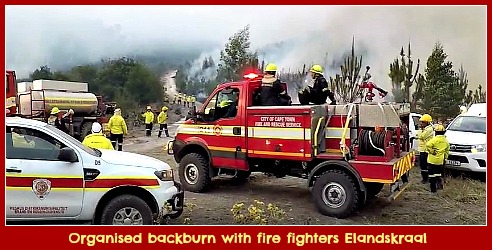 In the early hours of Wednesday morning 7 June, two wildfires galvanised by high speed, north westerly berg (hot) winds gathered momentum in outlying rural areas of Sedgefield and Knysna. They roared across the landscape jumping into tree canopies as merciless tsunamis creating a furnace beneath them that sucked the oxygen out the air and sent burning branches plunging into the underbrush below.
The speed and intensity of the wildfires made it extremely dangerous for fire fighters to get close enough to have any impact on the storm.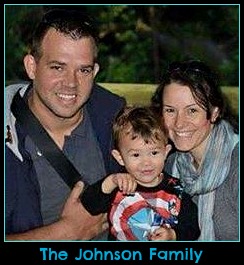 Deep in a forest a young engineer, Tony (an acknowledged expert in survival skills) along with his pregnant wife, Madre and young son, Michael were trapped by the blaze and became the first victims of this ferocious inferno.
Only a few months previously, Tony had given my sister valuable advice, saving her thousands of rands, with regard to renovations on the old house she had bought on the Island. 
This was a much loved family in the local community and will be sadly missed. Our consolation is they did not have to suffer the pain of separation; they are together now as they were in life.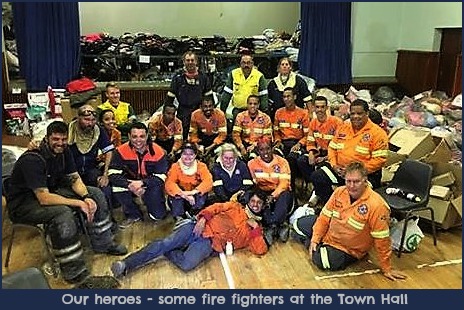 With wildfires burning from Groot Brak to Plettenberg Bay and beyond to Port Elizabeth, there was initially insufficient local manpower to attend to them all. Each town was trying to cope with fires closest to them. Knysna was in the thick of it and the most threatened town. It became the centre for the largest Incident Management Team ever assembled in South Africa.

Within a day they had called upon and assembled firefighters and support groups from all over the Cape Province to assist the local teams. This amounted to
over 1200 regular and volunteer fire fighters including Working on Fire teams.
350 vehicles.
6 SA Airforce Oryx helicopters.
4 Huey Working on Fire helicopters
2 fixed wing (water) bomber planes

2 spotter planes
 and emergency services crew members from all over the country. 
Sedgefield Community Volunteers Contribution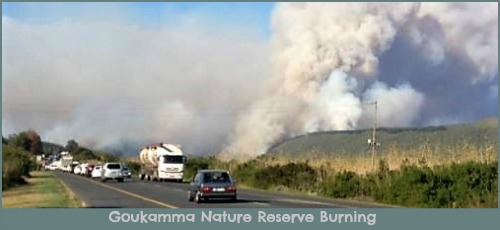 In Sedgefield, despite threats of fire looming on the horizon and the town being engulfed in claustrophobic choking smoke at times, a local support team emerged to provide all the necessary backup to those fighting the wildfires and those who were becoming the victims of them.
Facebook media a la "Sedgefield Locals" and "Knysna fires 7th June" came into its own informing people as to what was happening on the ground. This resulted in local volunteers arriving in droves offering - hot soups and places to stay, clothing, blankets, to fetch and carry anyone or food to where they/it was needed.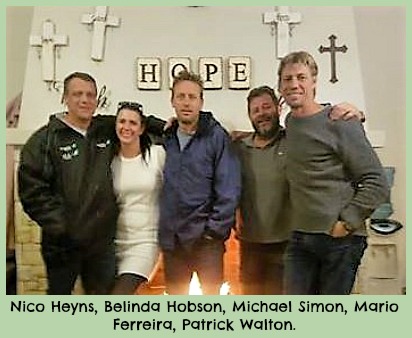 A number of people put their day jobs on the back burner to become the mainstays overseeing the different functions of disaster management and as leaders, arose to co-ordinate the efforts of the "worker bees" effectively.
Belinda Hobson of Sedgefield Tourism was first into the fray and the Community Town Hall became the centre for the disaster relief effort.
She drew upon the skills of Mike Hofhuis (the Ratepayers Safety and Security Representative) and Michael Simon (Community Policing leader) to co-ordinate efforts to support the fire crews and the evacuations of people from fire threatened areas.
Michael also became the reliable voice on social media as he liaised with those on the front lines and was able to keep the general grapevine updated.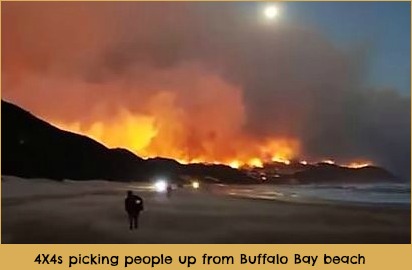 With the road closed between Sedgefield and Knysna as wildfires jumped from the north side of the N2 to the south side and flames speeding in leaps and bounds towards Belvidere and Brenton, Mario Ferreira in Sedgefield was called upon by Knysna Disaster Management to orchestrate an operation to rescue people, many of them elderly, that had been instructed to evacuate their homes but who had no other option at that point than to walk along the beach towards Buffalo Bay.
After managing to round up 30 4x4's Mario's group began to ferry some 400-500 people and their pets to Buffalo Bay restaurant and when the road between Knysna and Sedgefield was opened, they were eventually able to bring them to the safety of Sedgefield. This operation lasted many hours, from Wednesday mid-morning until 3am Thursday morning.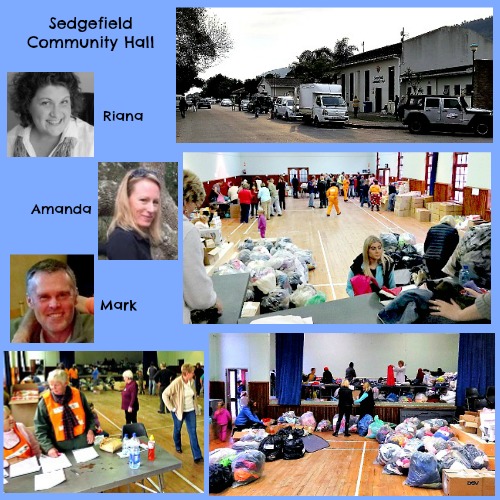 Temporary accommodation was provided for Elandskraal and Fairview evacuees at the Town Hall, Sedge Christian Church and the Sedgefield School Hall. For those arriving from Buffalo Bay, private homes and Pine Lake Marina opened their doors. A number of frail care people were accommodated at Masithandane's HUG House Respite Centre. Dr Venter assisted those who needed medical attention and numerous counselors offered their services to traumatised evacuees.Where families had been split up in the evacuation process volunteers assisted to reunite family members and to notify anxious family living elsewhere that their Knysna family were safe.
Almost immediately people started pouring in to the Town Hall Relief Centre, many now owning only the clothes they were wearing so they needed clothing, bedding and food. As sacks of relief aid had not been sorted yet, it was a bit chaotic at first. There was plenty of soup and sandwiches but limited containers to put it in!

A visitor, Patrick Walton with logistical skills provided help with planning storage and distribution and drove needed supplies and food to the front lines. Later Gary Atkinson came on board as a relief at the town hall, also manning  the fire station and assisted as a driver.
Riana Hanekom, Amanda and Mark Dixon monitored all aspects of the comings and goings in the town hall while using their own cell phones and airtime to phone far and wide to source needed supplies, accommodation, storage facilities and whatever else came up as an emergency.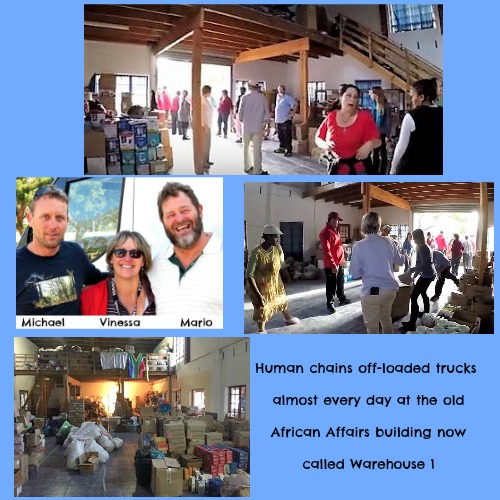 Massive truckloads of relief supplies were constantly arriving from generous-hearted individuals and companies from all over the country, even from as far afield as Namibia. Numerous back-up people relieved the mainstays to give them a break as the hall was a constant hive of activity from early morning until late into the night. 
As systems were established and refined, people slotted into places where they could alleviate the crisis brought about by these catastrophic wildfires. Fresh volunteers responded to calls for assistance to off-load tons of goods delivered by using economical chains of people to take them from the truck into the hall. This happened frequently at all times of the day and into the night.
Goods then needed to be sorted and stored in readiness for redistribution as required – another mammoth task. Eventually the quantities of donations increased to such an extent that different categories of goods such as clothing, bedding, groceries, toiletries, toys and books, bottled water, furniture, etc. were each placed in their own warehouses in the form of rooms, buildings or halls offered by local owners, while awaiting distribution.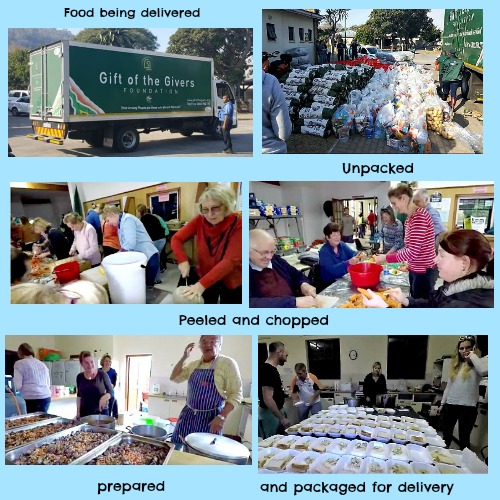 Other folk who made an enormous impact by supplying quality food to fire fighters, evacuees and day-long volunteers were Anita Van Rensberg from Montecello, Ian Perriman from Pelican Lodge and Colin Capon-retired International Celebrity Chef. Many coffee shops and private individuals also did their bit assisting the main chefs. Afternoon peel and chopathons brought local volunteers to the hall to chop up fresh vegetables to be cooked for up to 260 meals at a time and twice a day for some periods.
People offered space in their deep freezers to keep excess perishable vegetables and cooked foods and gave assistance with cooking meals. Meals were then plated in polystyrene containers by volunteers in the town hall kitchen and either collected or delivered by volunteer drivers to the fire fighters and evacuees wherever they happened to be. 
The Sedgefield townsfolk have been a vital part in the overall effort to alleviate the human anguish and upheaval suffered in the catastrophic wildfires along the Garden Route in June 2017. It was both humbling and heart-warming to witness first-hand the charitable response of the community to the crisis.
Across the spectrum of age, abilities, religion, colour and race, people united to contribute however they could.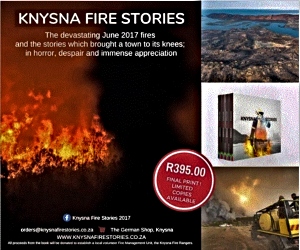 The above book is now available at Rebuild Eden Sedgefield with amazing stories across the spectrum of all the people whose lives were a part of the human drama created by the disasterous 2017 Garden Route wild fires.
It reminds me of these insightful words by Albert Einstein.

"Not everything that counts can be counted and not everything that can be counted counts."
Of the former – the qualities of kindness, compassion, love, understanding, patience, cheerfulness, determination and perseverance evidenced as people worked together, supported each other and those affected by the disaster is what I will remember beyond these calamitous days. The volunteers were assisted by an outpouring of generosity from organisations, companies and individuals from towns and cities throughout South Africa, other countries, and other continents that was overwhelming.
This page is to recognise and applaud the contribution of hundreds of Sedgefield Community Volunteers, the majority of which cannot all be named here, during this whole scary, challenging and unthinkable disaster of wildfires in our beautiful Eden we call the Garden Route.
Acknowledgements and grateful Thanks to:
Bomber, Editor of the Edge Community Newspaper Issue 515 & 516  who's always involved in the action and helping out where he can.  
Updates on October/November 2018 wildfires https://www.facebook.com/GardenRouteFireWatch/
Pocket Productions Youtube videos & many others on the Knysna Wildfires 
Knysna-Plett Herald dated 22 & 29 June 2017
Mario Ferreira and Vinessa Van Rensburg
---