Pelagic Bird Trip

out through Knysna Heads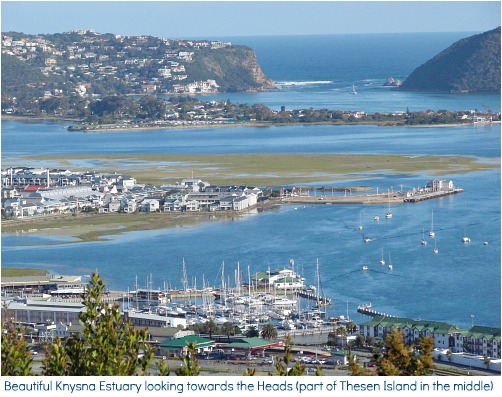 Tim Carr of Reflections Eco Reserve organised a Pelagic Bird trip for 11 enthusiastic birders on a perfect winter's day. It was a calm May morning when, all warmly wrapped up with scarves and beanies, we met Tim on Thesen's Island near the Turbine Hotel at 9am.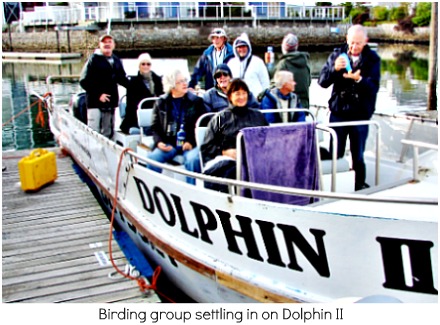 Thesen Island
Thesen Island was originally owned by the Thesen family who operated a profitable sawmill on it for 50 years from 1924 until 1974 when they sold it to Barlow Rand. By the mid 80's, Barlows realised that the sawmill had a poor visual impact on the natural beauty of the picturesque town and an adverse effect on the environmental health of the Knysna estuary.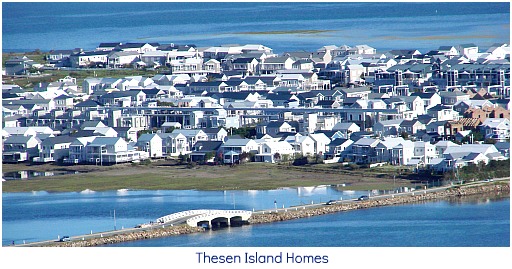 They discussed their issues with Dr Chris Mulder an urban designer and landscape architect who had some innovative solutions. He suggested they convert the island into an eco-environment by means of an upmarket housing estate that included a sensitively designed shopping centre incorporating hotels and restaurants.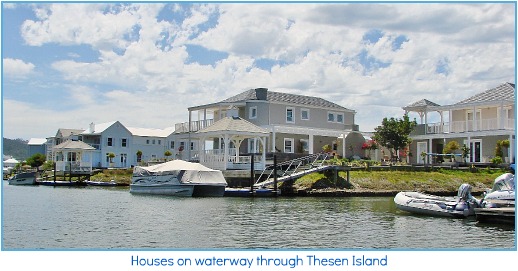 Barlows totally accepted this transformative concept for the island and went to great lengths to ensure that nature and the environment won the day. The poisoned soil was decontaminated and then over 20 000 trees were planted to line the roads and waterways and inhabit the gardens. A community vegetable garden was added and a bird sanctuary.
Reasonably quickly, health was restored to the mudflats as sand prawns and estuarine creatures began to thrive again. The sooty smoke-laden eyesore has been transformed into the serene and picturesque Thesen Harbour Town – a town within a town. It is an inspiring example of what can be achieved with mindful and attentive planning.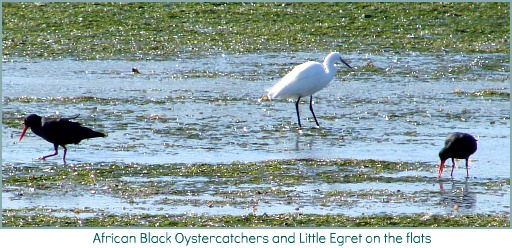 Our skipper, David Huisman, arrived from Plettenberg Bay a short while after 9 and in no time he had cast off from the pier and we were soon chugging slowly towards the Knysna Heads to begin our Pelagic Bird trip. It was the first time many of us had gone out to sea through the Heads and it was an exhilarating experience. 
It is a spectacular and majestic entrance into the Knysna Estuary from the ocean through two imposing fortress type cliffs of weathered rock that are equally impressive when one is going seawards. The difficulties of negotiating through the Knysna Heads however, are legendary.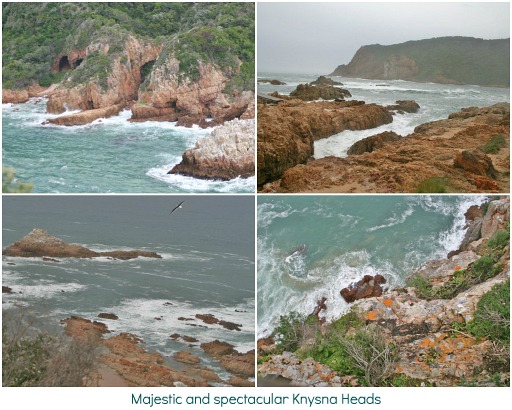 Knysna Heads
Many ocean-going ships and boats over the last 150 years have been shipwrecked sailing through this unpredictable passage. (The remains of a few still lie on the sandy bottom of the estuary providing interesting diving spots.) It became imperative to have pilots that knew its treacherous ways guiding ships into the estuarine harbour.
Four generations of Benns acted as pilots for ships entering the heads from 1868 to 1945. There was a lapse of some 20 years when other pilots filled the post. During the Benns' watch no captains who followed their instructions lost their ships when negotiating through the Heads.
The port was officially closed in 1954 and today recreational and small fishing boats only are found in the harbour.
Navigation through the Heads is still tricky and the locals treat it with great respect. Anyone who doesn't understand the intricacies of the currents, the swell, the wind and the moving sandbanks at the entrance to the Heads is seriously putting himself, his boat, crew and/or passengers, at risk!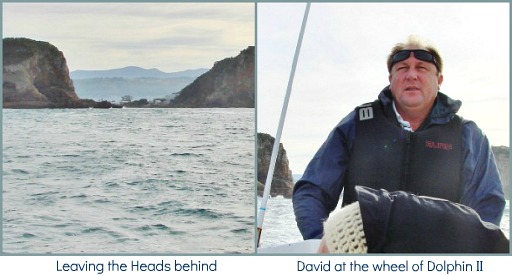 Our Skipper clearly understood what he was doing on this Pelagic Bird trip as he instructed us on the correct way to put on our life jackets, stash away our belongings under the seats in front of us and to stay seated whilst the boat was moving.
He guided the twin-engine craft speedily through the choppy waters of the Heads pointing out to Tim how to observe the foam lines on the water to assess the best route to take. Once David had navigated past the tricky bit we found the swell was minimal and a calm sea awaited us as we headed out towards the deep water.
Sighted Birds on the Pelagic Bird Trip
Pelagic birds, also called oceanic birds, are birds that mostly live out at sea spending relatively little time close to shore except when they are breeding. They feed on planktonic crustaceans, squid and fish. Sooty terns, petrels, skuas and albatrosses are some examples.


David explained how some of these birds have a strong sense of smell and are drawn to their food by the oil fish give off as they move through the water. Birds with blue eyes on the other hand, like Gannets, have extraordinary sight and can see for distances of many kilometers.


Our Pelagic Bird Trip quickly became absorbing as we spotted White-chinned Petrels, flying low over the water and a short while later saw a good few floating on the ocean surface. They are the most common of the petrels found in our waters but they are only found in sizeable numbers when they follow the sardine run up the east coast. This was the first time many of us had seen these birds.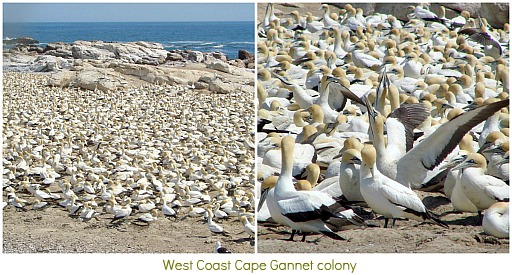 A number of Cape Gannets were next on our Pelagic Bird trip. They are birds with striking markings and beautiful blue eyes. They live in colonies (on islands along the west coast of southern Africa) and produce "guano" that is highly valued commercially and is harvested annually from their breeding sites.
Historically, fishermen identified their presence at sea with shoals of fish like pilchards, goby and hake. Gannets are very aggressive with their neighbours at their nesting sites but mating pairs are monogamous and remain faithful to each other. Juveniles stay away from land for 1-3 years roosting at sea once they have left their nests.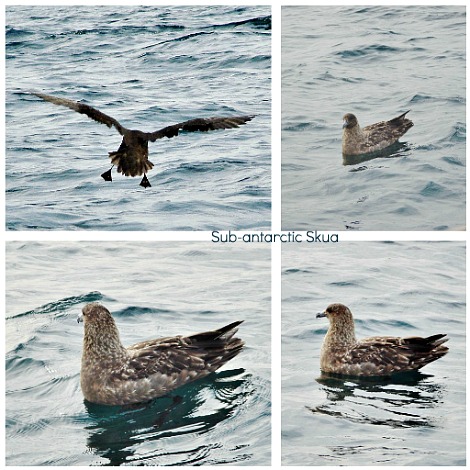 A Sub-Antarctic Skua flew in and landed inquisitively near our boat swimming around it hopeful of edible scraps for quite a while. In the end it was us who moved off!
This Skua is the largest and most predatory, sporting an evil looking hooked bill. It breeds on Antarctic and sub-Antarctic islands amongst penquins where it feeds on their eggs and chicks. These Skuas are the least gregarious of the species and winter off the Southern African coastline, New Zealand, Australia and South America.
We certainly didn't expect such a great sighting of this bird on our Pelagic Bird trip but as David pointed out many of these birds have so little interaction with man, they have no fear of him!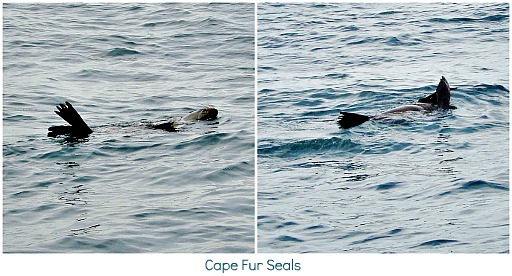 Although we were on a Pelagic bird trip we were pleased to observe any marine life and we regularly came across individual Cape Fur Seals lollying about in the water seeming to study their fins intently! They were also unfazed by the boat.
An Albatross was spotted in the distance but although we tried to chase it a couple of times to get closer, it vanished in the distance. It was thought to be the Black Browed Albatross, which is the most common, but we were unable to definitively identify it.
We saw a lone Antarctic Tern which is also a winter visitor to South Africa. It migrates from islands in the Southern Atlantic and Southern Indian Oceans. They roost along coasts nearest to their breeding grounds but spend their days feeding off shore.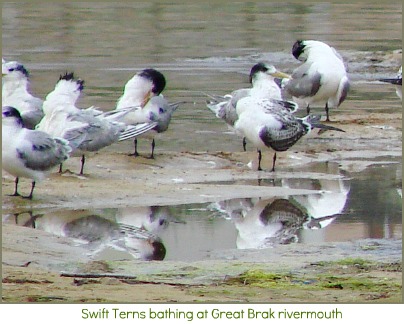 Our Pelagic Bird trip just kept getting better and better! We also saw a Swift Tern which is the most wide-spread and common of our terns. Islands off the South Western Cape support more than 50% of the Southern African breeding population of Swift Terns.
A Sooty Shearwater was also seen at a distance. It is the most abundant shearwater in Southern African waters. It can dive to considerable depths, flapping partially opened wings to pursue small fish. At times they congregate in large "rafts" on the surface of the sea fishing over the waters of the continental shelf.
We caught a mere glimpse of a Storm Petrel but it was not good enough to identify it. By now we were about 14 kms out to sea, nearly as far as our boat was allowed to go without radar and on-board GPS etc. (so David told us) and so we turned back towards land.
Other Marine Surprises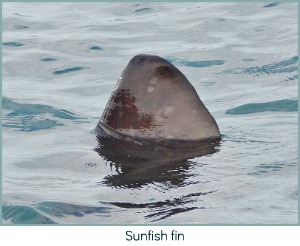 Then Wayne (my husband) saw a spray of water shoot into the air and we knew it was a whale. David steered the Dolphin II in that direction. A big fin in the water close to boat then distracted us. It turned out to be a Sunfish, which Tim said by the size of its fin was probably at least 2 metres high!

They can get to 4 metres and are almost as long as they are tall. The average weight of an adult is 1000kgs.
They are harmless to humans and Tim said it was a lovely experience to swim with one. Their main food is jellyfish. They are awkward swimmers seeming to swim on their side in a somewhat jerky movement but they also like to sun themselves near the surface of the water.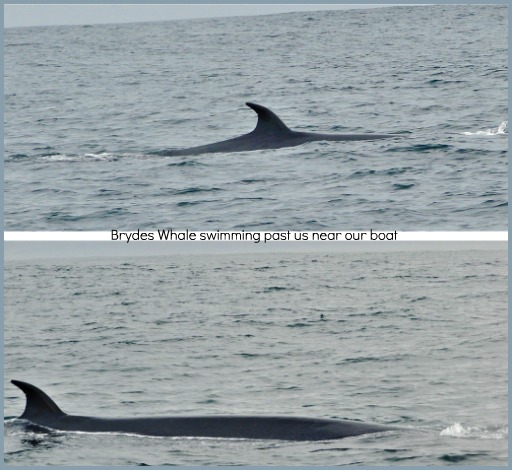 We started to look for signs of the whale again and the next moment there it was right close to us swimming past our boat.
What excitement as David identified it as a Brydes Whale, the first time many of us had seen one although they are resident along the South African coastline and often seen around Plettenberg Bay and the deeper waters offshore of Knysna.
I have to say it was an unexpected highlight of our Pelagic bird trip to see this splendid creature so close up!One 14 meters long was recently washed up on the rocks at Buffalo Bay.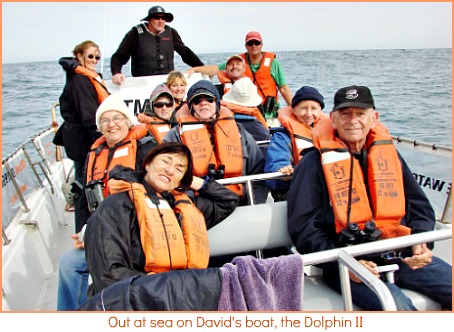 It was too large to be pulled off by a sizeable boat but the decaying smell attracted a number of sharks to the area and nobody was allowed into the water there until it had been chopped up, removed and buried - a very unpleasant business. It was thrilling to see this one cutting gracefully through the water, travelling at quite a pace, totally at home in the vast ocean.
As we headed back towards land we all felt that we had enjoyed a fantastically rewarding experience. Seeing other marine life was an added bonus for our Pelagic Bird trip. David was an excellent skipper and we felt totally safe with him. Both he and Tim were enthusiastic, patient and knowledgeable guides.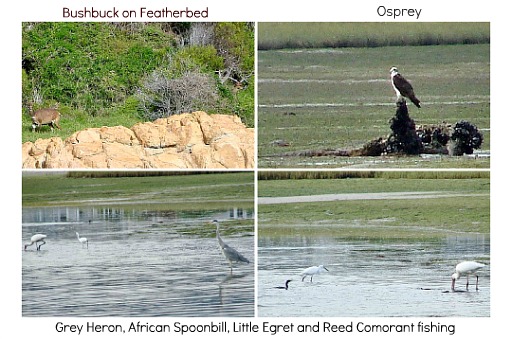 The tide was turning shore-Wards as we navigated the Heads without incident and saw to our delight, some bush buck grazing on a grassy ledge near the shoreline of Featherbed Nature Reserve. Further on in the lagoon we saw an Osprey and then an interesting co-operative fishing party of a Grey Heron, Little Egret, Spoonbill and over a dozen Reed Cormorants.
All too soon our Pelagic Bird trip had come to an end. We were back at the quay and the morning had flown by. It was already lunchtime. What a worthwhile morning it had been! The Pelagic Bird Trip had been a great success for everyone. Tim and David plan to do more of these trips. You can contact them about the their next Pelagic Bird trip and other activities they offer through their websites below.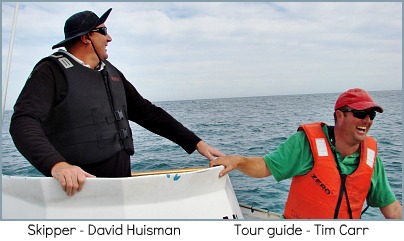 ---
Associated Links
---

Reflections Eco-reserve Set against the beautiful Rondevlei Lake, in the Lakes area of the Garden Route National Park, Reflections is a private nature reserve and bird watchers' paradise.
We are inspired to be as environmentally friendly as possible. All our power is derived from solar and wind as well as each house having its own solar geyser. All guests are encouraged to use natural and bio degradable shower and bath products to prevent contamination of ground water.
---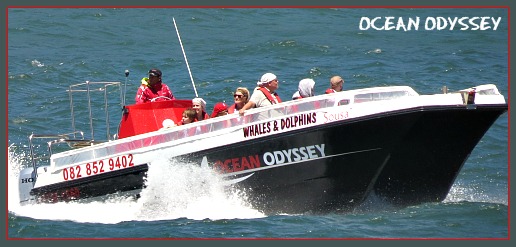 Ocean Odyssey-Boat-based whale watching and marine tours out through the magnificent Knysna Heads that are perfect activities to add to any itinerary in Knysna.
Ocean Odyssey offers unforgettable adventures in the way of frequent close encounters and sometimes surprising sightings of  a variety of marine life along our coastline.  We offer four daily departures and a fleet of ocean going vessels. This is the ideal experience for local visitors and international tourists.
---