Glass Roots Studio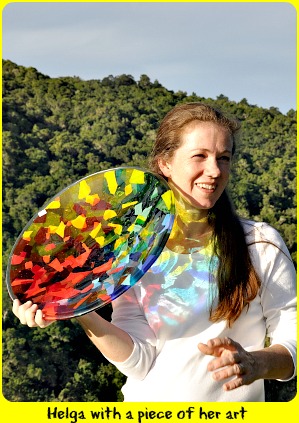 Helga has traveled an unusual and interesting road to get to the birth of her Glass Roots business. She is a young woman with as many fascinating facets as the beautiful glasswork she so imaginatively and meticulously crafts.
In 1997 she qualified as an architect. Bitten early by the travel bug, she enjoyed a year spent in the UK lecturing at Edinburgh University.

Her First Career
A few years into her working career back in South Africa Helga became involved with a major project designing a 4500 square meter modern day research station on remote Marion Island, 2000km south east of Cape Town in the southern Indian Ocean.
It is an inhospitable place constantly buffeted by gale force winds, the highest point permanently locked in snow and ice, the ground carved in rugged cliffs and sharp volcanic craters with rough areas of low-lying vegetation and swamps of freezing soil. 
Because of the extreme weather conditions the Island is subjected to, it took many years of staggered but exacting design requirements to successfully bring the project to completion.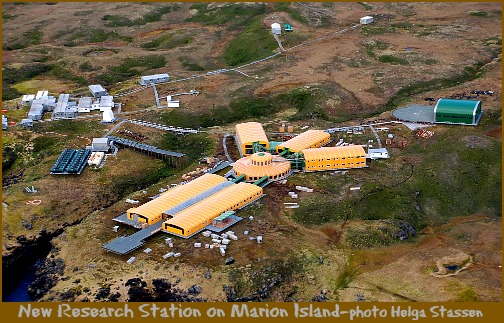 Every item down to the last washer and elbow joint had to be detailed and securely packed in methodical order as the items would be required. There could be no mistakes because the suppliers were an arduous sea journey, thousands of kilometers away. 
At Marion Island, a helicopter had to lift the materials from the ship and take them to land as the nature of the island does not allow any sizable boat to harbour there. A double heli-hanger built first, was used to store all the building materials.
It was during this contract begun in 2001 that Helga met her husband to be, Hennie Stassen. Hennie was the Chief Engineer who had been employed to construct the new research station because of his knowledge and expertise of such constructions. He had already achieved the far more daunting task of building South Africa's new generation base station in Antarctica between the years 1992-1995.
It necessitates a whole different level of construction expertise to withstand extreme weather conditions and provide all the necessary requirements for human habitation in such circumstances.
All countries that have stations on this frozen continent have emergency back-up bases. If anything goes wrong e.g. the main station burns down, the teams have to be able to live somewhere else as they cannot be rescued immediately by the outside world or in the depths of an antarctic winter.
As the project architect, Helga visited Marion Island several times and enjoyed close up experiences with the island's abundant wildlife. Four species of penguins nest there, the Rockhoppers, Gentoo, Macaronis and King penguins of which alone, there are 250 000 on one specific beach.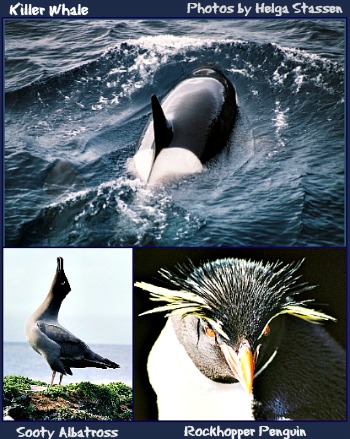 It is home to three species of Albatross, the sooty, grey-headed and largest, the Wanderer, that all nest there. Then there's also fur and elephant seals, which draw the attention of the Killer whales that are frequently sighted.

Needing to work closely with Hennie Helga discovered as time progressed, they had a lot in common. In 2007 they married.
Between 2006-2008 Helga taught construction part-time at Pretoria University.
Besides forming their own architecture and structural engineering consultancy, Hennie and Helga have travelled extensively. This has included exciting experiences such as dog-sledding in far eastern Russia on the Kamchatka Peninsula just south of the Bering Sea and a long 17 hour flight from Moscow.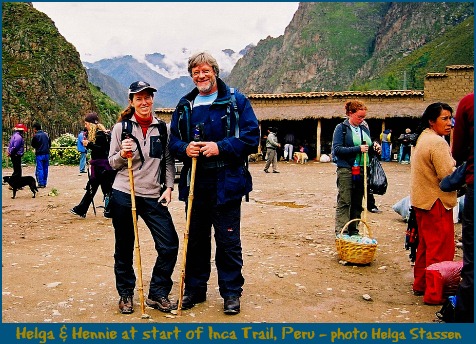 The couple have hiked the Inca Trail to Michu Pichu in Peru. Although Helga visited Marion Island several times, she also visited Antarctica with Hennie once when she was 7 months pregnant with their son, Daniel. "He has been to Antarctica as a stow-away!" she said!  Their daughter, Ida was born in 2012.
It was during her travels that Helga came across an unusual glass process that fascinated her. On further investigation, she became inspired by the opportunities presented when working with kiln formed glass and the seed of her Glass Roots business was planted.
She studied this little known medium first at Bullseye Glass in Portland, Oregon and later learned advanced techniques in Mornico Losana, Italy under Argentinian-born Miriam di Fiore who moved there in 1980.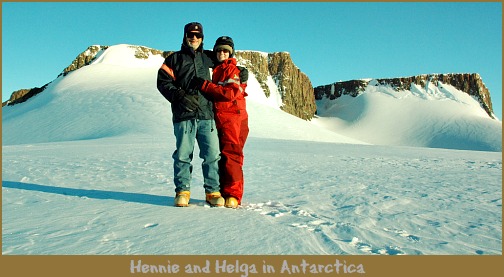 Meanwhile visiting wild and remote places created the yearning to move away from the busy city of Pretoria and after a holiday to Noah's Ark overlooking Swartvlei in May 2009 they knew where they needed to start looking.
Some months later they found their ideal spot a short distance out of Sedgefield and bought a heavily wooded indigenous forest farm with a suitable house that could almost immediately accommodate the young family as well as Helga's parents. 
Hennie is still partially involved in structural engineering but can do it from Sedgefield as some of his work continues to involve maintenance trips to Antarctica.
Glass Roots Beginnings
Meanwhile, Helga who received a distinction for art in Matric, is exploring her creative side! She was always arrested by magnificent Cathedral windows and drawn to the effect light has on coloured glass.
She had already begun working full time with the intriguing glass process in 2009. Using powders, rods, tubes, ingots, grains or sheet glass she now fashions a vast array of seamless light-reflecting items that are both ornamental and useful, and sometimes pure art.
The items are either fused, cast or slumped, all fired in a kiln, at least twice, at temperatures between 750°C-900°C for 13 to 17 hours at a time. 
She originally had two assistants working with her, Bruce, a joiner by trade who previously worked for the CSIR and Tariro, his wife who used to be a supermarket supervisor.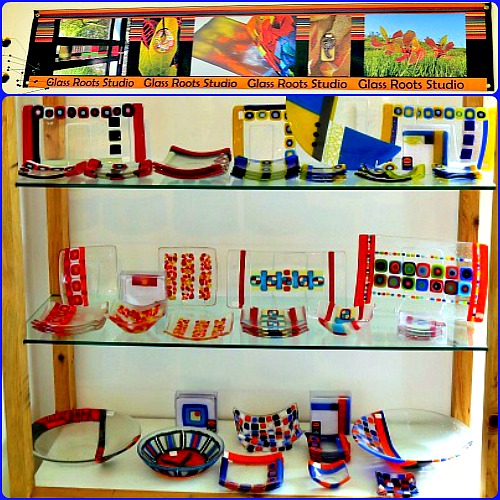 Looking after a house in Pretoria for the Stassens, Bruce started his glass journey in November 2011 and later the couple were made an offer to re-locate with their 2 young children to Sedgefield in January 2013, following Helga with her kiln glass business.
In March 2013 Helga opened her Glass Roots Studio in Sedgefield at Plumtree Trading Post but relocated in April 2014 to the beautifully renovated Mosaic market.
Bruce also made all the wooden display units for the shop and has learned the exacting skill of making many intricate glass items. He is the backbone of the production line says Helga.
Tariro joined the Glass Roots team in January 2014 and says that because of Helga's belief in her ability, she discovered her talent to design and make the beautiful pieces she contributes to the business.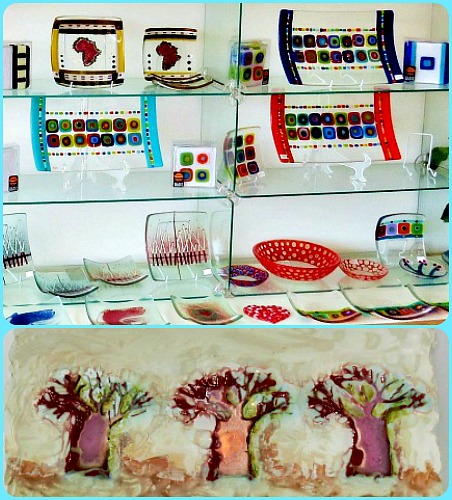 Inspired by nature and as adventurous with her glass as she is in life, Helga constantly experiments with products and methods to create different effects.
Her applications are as limitless as her imagination and she is willing to take on special commissions of a specific nature.
At Glass Roots Studio, the team's stunning kaleidoscope of artwork ranges from delicate earrings, neck pendants, picture frames, back splashes for kitchens, bars and bathrooms to insets for glass doors and windows.
There is a pervasive flow of creative activity that energises the people that work there.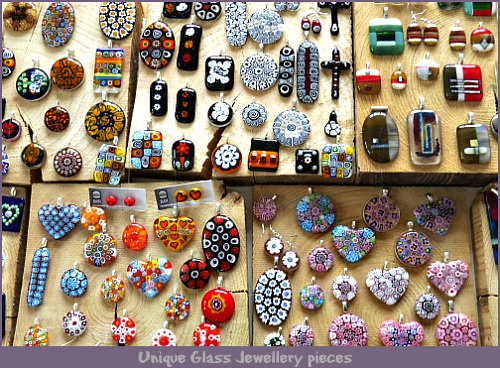 In 2015 Helga moved her studio to their secluded forested farm where she lives and from time to time holds workshops and open days there.   She also takes on special projects and commissions.

Bruce and Tariro stayed in Sedgefield and went on their own opening M-Link Glass Studio at the Scarab Market.
At the beginning of 2018 Helga came back to the Mosaic Market where she has a stall on Saturdays. Visitors are welcome to visit her there to experience the pure joy of radiating light and colour. You might find you are reluctant to leave without taking a glorious piece of some description with you!  
Her website (see below) offers an on-line catalogue and store where purchases can be made and delivered directly to your door.


Links to Related Pages


Here is Glass Roots, where Helga professionally showcases all her artful glass creations. Her current focus in the studio is to produce beautiful and unique art glass jewellery and contemporary glass artworks. She is inspired by the African continent she lives on, the magnificence of the ocean nearby, the timeless purity of the forest around the studio and the harmony of geometries found in the very essence of life itself.
---

Kalanderkloof is a modern zen-style self-catering holiday cottage designed by Helga that has been recently been built on their secluded forested farm. It will attract people that love tranquillity and the beauty of nature.
It's totally off the grid providing gas and solar power for heating and cooking, and water from storage rain tanks. It is an ideal honeymoon retreat or could suit a young family as it has a sleeper-couch in the lounge that could be shared by 2 children under the ages of 11. 
---