Holmes - Houghmordeen Jansen

A Smutsville Local Talent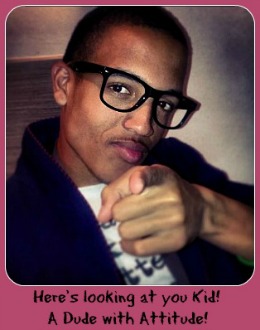 Young Houghmordeen Jansen better known as Holmes started life in a tough neighbourhood with what most people would acknowledge as the odds stacked against him. However, a special talent revealed itself to him in primary school. 
As time went by, this gave him the encouragement to strive for a better life and the self-belief to persevere in spite of hard times he experienced at home, and the poverty and joblessness he witnessed in his community. 
Intelligent and artistic, he is the second of four children. He has an older sister, Nifah and younger brother and sister, Maurice and Whitney.
Under trying circumstances both his mother – a single mom and his grandmother managed to keep the wolf from the door, putting food on the table and paying school fees. Both adult figures have instilled in Holmes a sense of faith and fortitude.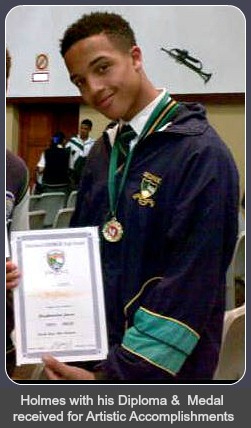 Early on he showed his resourcefulness when he drew sketches of people then badgered them to buy their own off him for a small fee.
In junior school, he raised funds to go on a school trip by drawing cartoons of clowns that people were willing to pay R 2-00 for. "They were popular and I did a lot of those." he said! 
He won prizes throughout his school-life for his art that culminated in winning a medal for "best artist" in the school. He also won 3rd prize in a Cape Schools' contest for his picture of AIDS sufferer, Nkosi Johnson.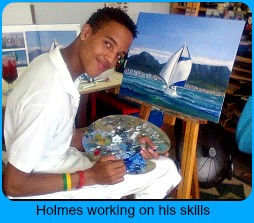 One day the teenager was walking to the beach when he noticed Sue Watson's Gallery on Kingfisher Drive was holding an exhibition. He changed direction to go take a look and spent some time viewing the exhibits and speaking to Sue. 
He then began to pester her to give him art classes. Eventually his persistence persuaded her to give him some paint and materials, and offer him some guidance. She also critiqued his artwork. Later, she held an exhibition of his work. 
My Connection
I met Holmes when he rang our house bell as a Census worker in October 2011. He was invited in and took immediate notice of some of our pictures. When he showed me some of his own paintings on his cell phone, I recognised that he was someone with a special talent. We have stayed in touch since then. 
After obtaining his matric, Holmes lacked funds to continue studying and struggled to find employment, ending up doing piece jobs in George. He despaired of his future at times and it was my role on a few occasions to encourage him to stay optimistic.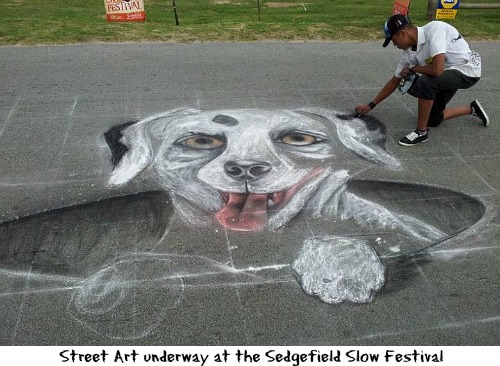 Holmes' art was always a source of emotional expression and self upliftment so this encouraged him to stay committed to developing his talent.
As his work matured, it revealed a unique identifiable style, the indication of a true artist.
In his own words "Throughout the years growing up with my people I am continually inspired by their stories and lifestyles.
I feel that there is much need for me to tell their stories through my art. At the same time I am able to expand my work to include different types and styles to cater to all art lovers."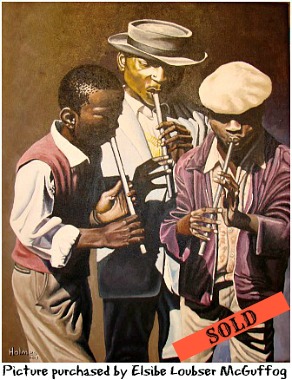 His street art, an exciting form of artwork now popular throughout the world, has been  on display at the Sedgefield Slow Festival and the KKNK  Festival in Oudtshoorn.
At the latter, Elsibe Loubser McGuffog a photographer from Cape Town spied his talent and engaged with the young man. Impressed with his work, she bought one of his paintings. 
For a short time Holmes was employed by Outeniqua Bottling Company in George as a sign writer where he used his creative flair in work he was getting paid for.  He was encouraged to obtain his driver's licence so he could drive himself to his sign-writing appointments.
He determined to study further and to qualify as a graphic designer. To this end he worked on several endeavours to earn money.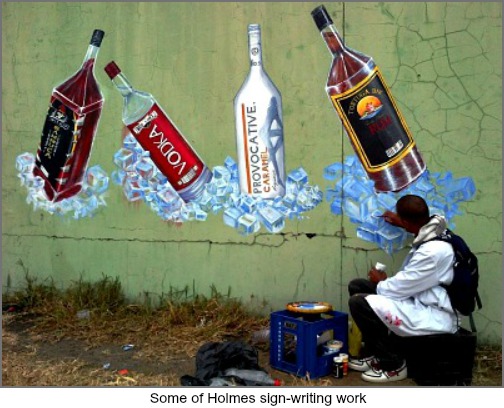 In his spare time he continued to paint, producing better and better work some of which I'll be showing in the right-hand column on this page. He can be contacted directly on 061-818 8672 if you're interested in commissioning him to do a piece of artwork for you.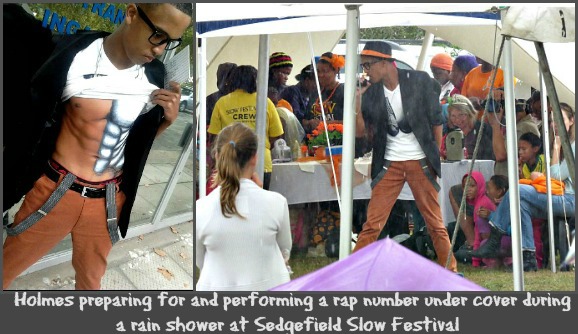 And…he is using his ability as a rapper of note to offer his services for special occasions like 21st birthdays and Matric farewells, etc.
Holmes at CPUT
(Cape Peninsula University of Technology) 
In 2013 Jacky Weaver from Masithandane encouraged Holmes to apply to do a Graphic Design course at CPUT. After completing a grueling multi-faceted portfolio in August 2013 that examined many aspects of his artistic capabilities, Holmes was accepted by the Cape Peninsula University of Technology to study Graphic Design in 2014. This 3 year diploma course was an opportunity for Holmes to earn a qualification that could change his life.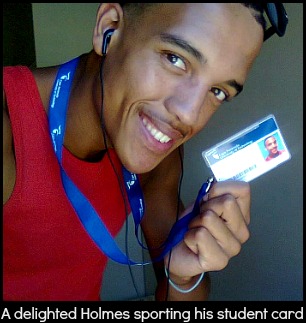 He received some sponsorship that got him started. He attended the welcoming address on Bellville Campus by the Deputy Vice Chancellor of the University which is compulsory for first year students.
Prof. Anthony Staak advised the students that there were 30,000 applications this year of which only 8,000 could be accepted. It' was clearly quite an achievement for Holmes to be accepted to study there.
The Prof said that all students should understand the privilege it was for them to get this opportunity and to apply themselves to their studies so that in due time, they can make a meaningful contribution to society.
The Orientation week that followed 27 – 31 January introduced new students to all the facilities and support services of the university so they could make the best of their academic year. The first term started on 3 February and  Holmes is loved every minute. 
The study costs for the first year at CPUT were R19000 for the 5 first year modules of the Graphic Design course, R19000 for residence (this did not include food), and R4950 for the graphic design kit of basic materials supplied by the department.
Only advised in January 2014 that his application had been accepted, it was too late to appeal for assistance through regular channels such as the Mayor's Bursary fund which closed in October the previous year. However, our great local NPO Masithandane managed a sponsorship fund for him and got him through financially and he passed his first year with flying colours.
SABC TV2 Mooi Loop Feature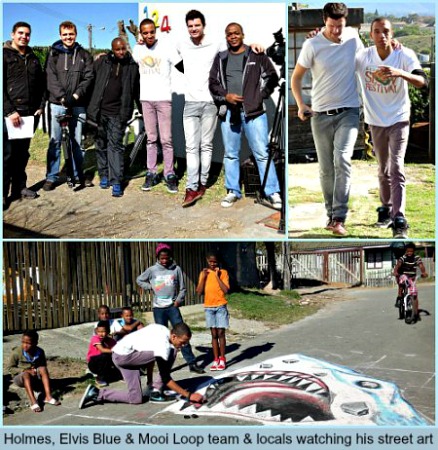 Another exciting event happened for Holmes in 2014 when he came home in the middle of the year. His break coincided with a film crews' visit to Sedgefield.
Show-casing interesting aspects of small town life in South Africa, the TV2 travel program, Mooi Loop chose Sedgefield as one of the small towns to be given an evening slot in program. Holmes was surprised and delighted when he was asked to feature in the schedule.
He created some street art of a shark's head coming out the sea for the occasion and was thrilled to meet the team and his idol, Elvis Blue who was co-host of the show on this occasion.

Elvis and the Mooi Loop crew were also invited into Holmes' Granny's house to see some of his art proudly displayed there.
The local programme about Sedgefield was subsequently aired in 2 parts in October (2014). Holmes' interview takes place at just over 17 minutes into part 1 of the programme. Watch it here.

Wall Murals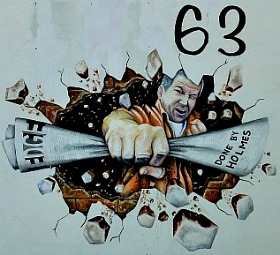 Mural for the Edge
He also did two wall graphics around town - one for Bomber at the Edge and another for Irenes, a local hairdresser. 
He arranged two Smutsville Rap evenings and held an Art Exhibition. This was to raise funds to pay for his 2nd year at university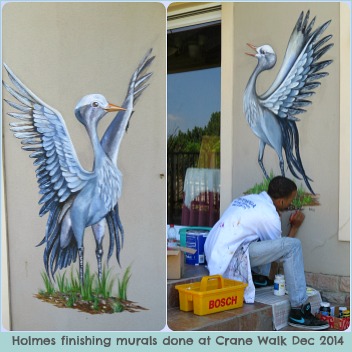 Over the 2014 Christmas holidays, Holmes was commissioned to do two wall murals, one a pair of Blue Cranes for Crane Walk Corner and sunset scene for Pelican Lodge.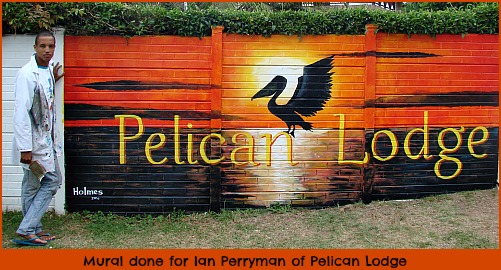 Having passed his 2nd year at CPUT, personal circumstances forced Holmes to take some gap years in 2016-2017. However he had made some good contacts in the art world while he was in Cape Town.

He had agreed to prepare a portfolio of 40 paintings for a pending Johannesburg exhibition mid-year, (he had met the owner of the Joburg gallery while he was visiting Cape Town). Once Holmes had completed the portfolio, he created some numbered prints and sold 3 of these prints at the Mosaic Market in Sedgefield.
Jandre from "Art It Is Gallery" in Woodstock, Cape Town liked Holmes' work and agreed to display whatever he produced. Jandre sold a good number of his paintings and also received a number of commissions for him.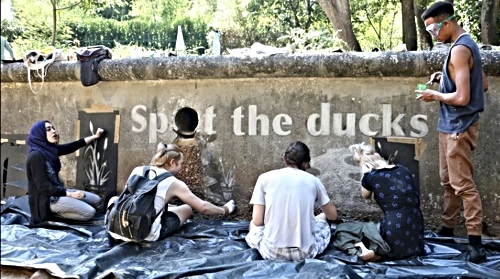 Holmes (standing) with 3rd Year class CPUT Graphic Design students working on The Watershed Project for an NGO at Paradise Park in Newlands.
Holmes met up with a Cape Town based fashion design company, Rhumaa founded by Daniel Beernink from the Netherlands, a company with a social conscience.
It's aim is to "unite art with sustainable fashion" and to use the works of emerging South African artists in their core business ideas of "sharing cultures around the world".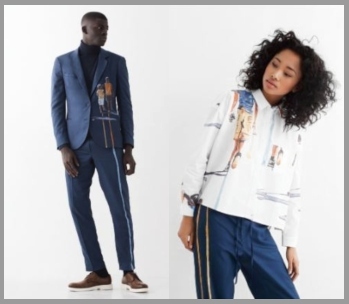 Township Soul - from Rhumaa's 2017/18 Winter Collection
Rhumaa decided to feature Holmes' work in their luxurious winter fashion range for 2017/18 inspired by some pieces from his Sedgefield Collection together with an article, unveiling his story and motivation for his art, on a dedicated page of their website.
So His work was gradually getting out into a wider arena, all hopeful signs of a promising future. Holmes encouraging to seek out freelance opportunities doing whatever comes to hand from street art to face painting to digital pictures on consignment.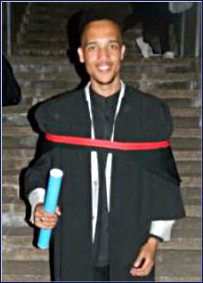 Holmes Graduation December 2018
Graduation Day

Holmes began his 3rd year of Graphic Design at CPUT  Cape Town in February 2018 and on 10 December he graduated from CPUT with a hard won Diploma in Graphic Design. His mother and sister, Whitney and friends in Cape Town attended his graduation ceremony. 
In January 2019 he was interviewed on Fine Music Radio at the Artscape Theatre to talk about his exhibition of 40 pictures called "The Sedgefield Collection" at Art It Is Gallery in Woodstock. These paintings reflected Smutsville people of all ages as they go about their daily life.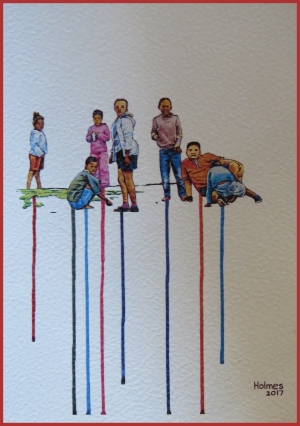 A Print of a Sedgefield Collection Piece
For a few months in 2019 he worked in Cape Town with Mark Hilltout, retired Art Director of Ogilvy, New York who was creating artwork using discarded corrugated iron  recovered from local townships.
Struggling to cope with the cost of living in Cape Town, he returned to Sedgefield to regroup and strategise a way forward. Holmes has consistently received a lot of support from the Sedgefield community and had an Art Exhibition titled "Holmes at Home" at Studio 42 running from 11 to 20 December from 4pm-8pm. The opening night included live music by Dawid and Jordan Dale, and dancing by the Smooth Butterfly Movers under the guidance of Bulelani Happyboy.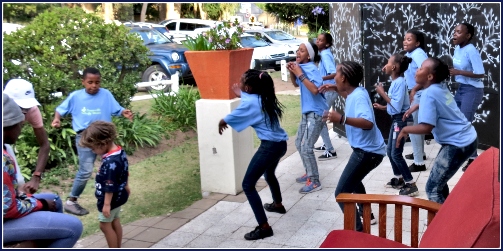 The Smoothe Butterfly Movers
2021 UPDATE
Holmes is continuing to go from strength to strength. He has been commissioned to do a number of murals and has received royalties from a Tiimberlake shop that put some of his artwork on tee-shirts they sell. He also received the highest bid for one of his paintings that went to auction at the EVOKING Art Experience event held there on Saturday 24 April,2021.
He's continually receiving commissions and has had a number of solo and joint exhibitions and now has a permanent stall at the popular Saturday Outdoor Mosaic market.
He's been commissioned by an author to create the cover for a South African book and during Covid-19 lockdown, he completed the building of his own art studio at his home in Smutsville. He also has some really exciting opportunities about to materialise in the near future. I am so happy for him!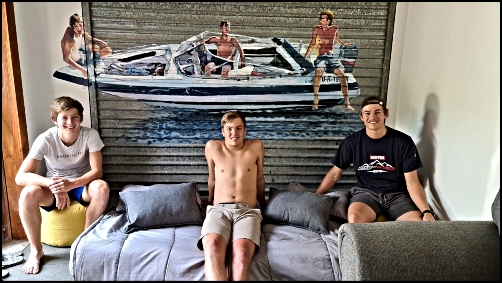 The guys in front of the garage door showing them on the boat in the painted wall mural.
---