Peter Cazalet -
A Man of International Acclaim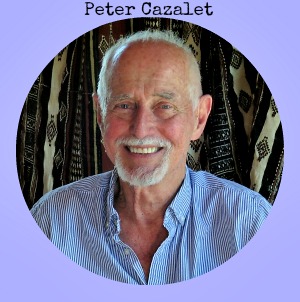 Peter Cazalet retired to Sedgefield in 2009 and nowadays can frequently be found upstairs in the Village Art Gallery or round and about the adjacent shop that's home to  Village Antiques and Collectables.
Few people know that a lifetime ago he was a principal dancer on an international stage and after that, a distinguished designer of stage sets and theatrical costumes.
Born in 1934 in a small Zambian mining town devoid of culture (when it was still Northern Rhodesia), Peter came late to the dynamic world of dance. It was while studying for a degree in Architecture at UCT that he was exposed to the graceful and strenuous discipline through the University Ballet School.

Ballet classes and a single experience on stage compelled him to abandon his hard earned qualification to follow his passion and pursue an uncertain future, a dance career in London. He determined it was the only place to be if one wanted to get known.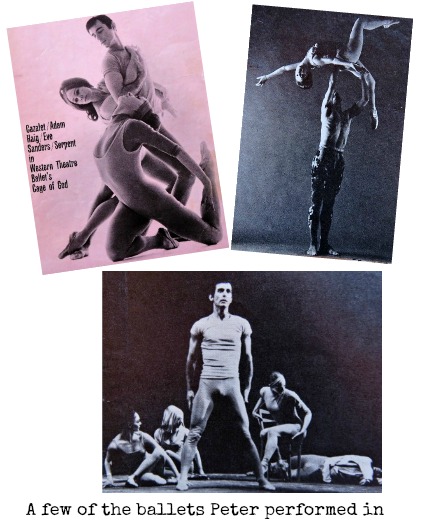 The Sadler Wells Ballet Company was the first of many dance companies he danced with until in 1960, at age 26, he found his niche in the Western Theatre Ballet based in Bristol.

It moved to Glasgow in 1969 and was renamed the Scottish Theatre Ballet changing its name again to Scottish Ballet in 1974. Combining great acting ability with diligently practiced dance technique, Peter Cazalet became one of the company's principle dancers.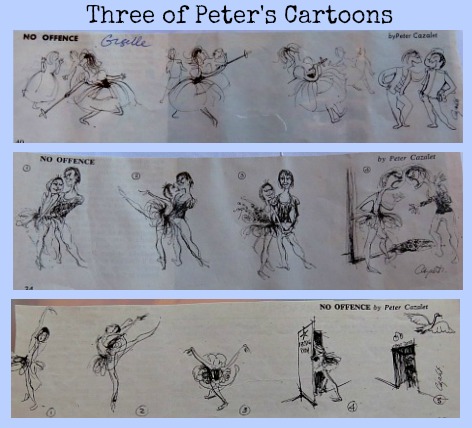 To supplement a meager pay in those days, Peter dabbled with designing ballet sets, unorthodox choreography and drawing cartoons for Dance and Dancers. However, on a tour to Scandanavia he was fortuitously asked to design some costumes and sets for a production back in the UK and this gave him opportunity to express his innate artistry in a new way.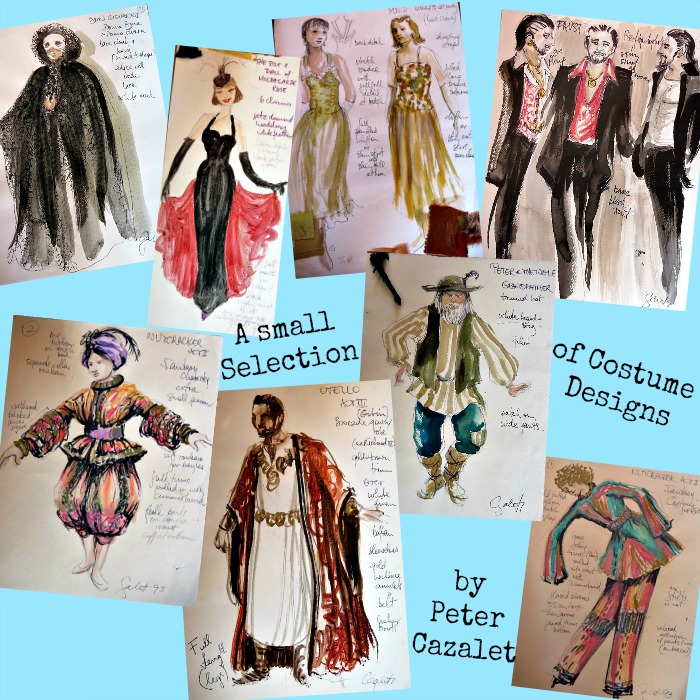 Peter Cazalet's Career takes off
His increasing confidence and creative flair along with ability to draw enabled him to fabricate practical costumes that showed off a dancer's body while also allowing freedom of movement.
Engrossed in this satisfying avenue of work, he conceived original sought-after sets for ballets across Europe while still dancing with the Scottish Theatre Ballet. He continued to expand his artistic repertoire with adventurous choreography and imaginative illustrations.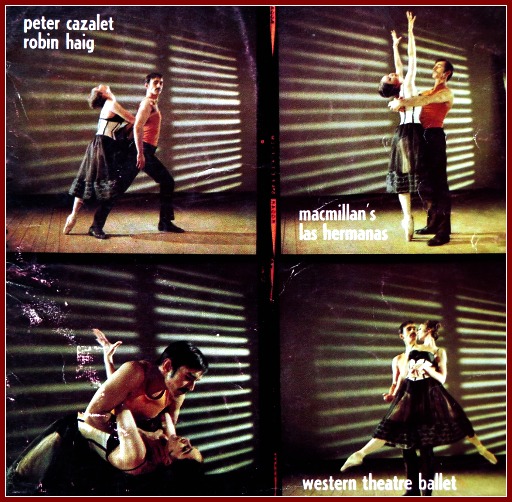 When a back injury put an end to his stage career, Peter Cazalet returned to South Africa in 1971 from where he continued to design sets and costumes on a freelance basis until he joined CAPAB. There his designs created in watercolours, extended to include lavish opera sets and costumes.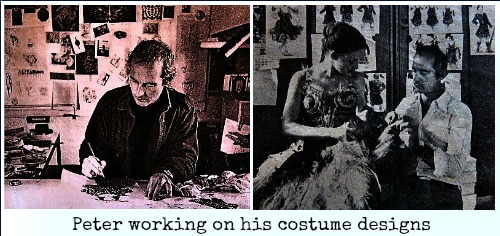 When appointed to Head of Design, the position came with his own staff and a full studio. He continued to produce work prolifically mostly for international companies as far afield as USA, Germany, Singapore, Hong Kong, Tokyo, New Zealand and of course the UK.  Many of his sets and costumes are still in use today, some are more than 40 years old.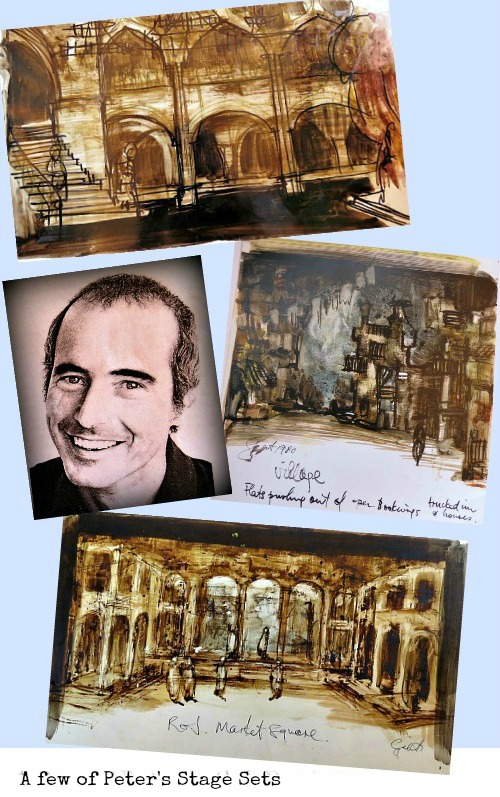 Now in his eighties and quietly happy to be living in Sedgefield with his partner, his unquenchable energy is still evident in his enthusiasm for painting seascapes and drawing figures and talking to folks who visit the premises.
The extension to the Antique shop has given Peter his ideal work space to create the Village Gallery upstairs displaying his own ongoing artwork and that of other locals. In the gallery, calls are received from far-flung theatre and dance companies requiring advice and ideas about stage-sets and costumes that he continues to ably illustrate and email off to grateful producers. 
Only a handful of Sedgefielders know that the friendly self-effacing man, Peter Cazalet at Village Antiques and Art Gallery is a world-renowned stage-set and costume designer whose extraordinary talent has spanned disciplines and continents for decades. He has been described as "one of the most distinguished theatrical designers in South Africa, London, the USA and the Far East."

The Knysna Fine Art Gallery has a portfolio of his work and holds many of his designs that are displayed from time to time many of which are up for sale. 
Update: In 2018 the antique shop was sold. Peter has a small gallery In the Edge Newspaper building on the other side of the N2. It's a part-time interest but if you need to contact him, there's number on the door.
References
Knysna Fine Art - Peter Cazalet bio (on-line)
Wikapedia - Scottish Ballet
South - Garden Route Magazine - Autumn 2016 
Peter Cazalet
Cape Times (on-line)/Perceiving-dance-on-new-wavelengths by Sheila Chisholm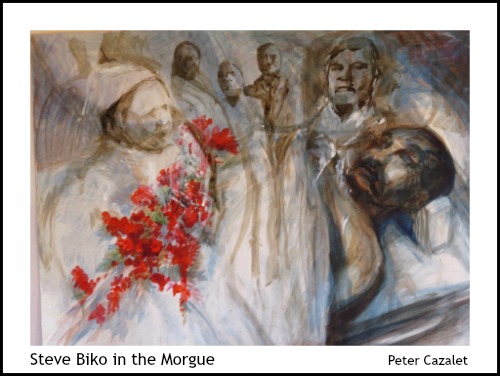 Links to Related Sites


The new organisation, Artscape, was launched on 27 March 1999 to replace CAPAB and the Nico Malan Theatre Complex was renamed the Artscape Theatre Centre.
CAPAB had programmed and managed the Nico Malan Theatre Centre as a production house with four arts companies - orchestra, opera, ballet and drama.
Today the 14000 square meter Artscape complex on the foreshore of Cape Town consists of a fully equipped Opera House, 2 theatres, a piazza, gardens, rehearsal rooms and adequate parking.
Together with a full range of technical services there is a top notch team of wardrobe experts consisting of designers, seamstresses, milliner, wig maker and costume artist. The hiring department has over 30 000 items of contemporary and period garments on offer.

---