Dalena Wolmarans

a Woodcutter's Daughter
Dalena Wolmarans runs two businesses in the Knysna area that were started by her father in 1958 – Adam Stander Houtverkoper and AJJ Stander Transport.
Up until May 2010, Dalena bought indigenous hardwood timber and blackwood, mainly at SANParks auctions, cut it into planks to dry in her kiln at their Knysna premises, before selling it on to customers.
On the transport side, Dalena Wolmarans runs two MAN trucks and hauls timber for local sawmills and harvesting contractors.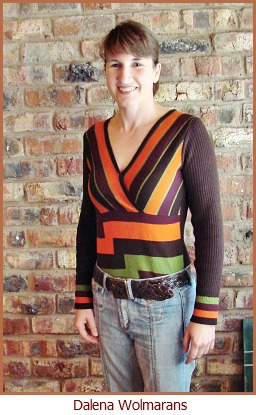 Adam Stander's Story
At a Sedgefield SAARP meeting in May 2012 third generation Dalena Wolmarans told us her story as the descendant of Knysna forest woodcutters. Both her father and grandfather were woodcutters born in the forest.....
Dalena's father Adam, was born in the forest in 1928 and given 2 birthdays, 22 November, the day his name was carved on a tree to note his birth and 28 November, the day his father travelled into town and registered his son's birth in Knysna.
Life was hard for the forest woodcutters. Children from a young age worked in their father's harvesting team and were taken out of school after Std 6 to assist full time.
Sometimes the team walked for days to cut down trees. Her father told Dalena many stories about his life as a young boy in the forest.

On one occasion potatoes were left in the cooling fire overnight. The elephants paid the camp a visit after dark, scratched out the potato treats and ate the men's breakfast!
Another time the bread was 5 days old and too hard to eat. The men made stones out of it and threw them at a few luckless doves managing to kill them. Fortuitously the men had meat that night for dinner.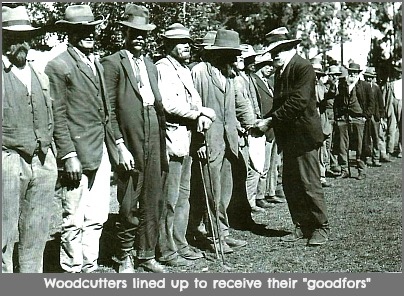 By 1913 a new Forest Act required woodcutters to register to practice their trade. The register of that time reflects 1260 woodcutters.
The trees to be harvested were numbered. The registered men then had to pull numbers out of a hat to obtain the trees they were allowed to harvest.
Often a man had to walk deep into the forest to get to his numbered tree to cut down. Frequently it was in a deep valley or on a steep slope from where it was difficult to pull out once it was felled. It was relentless back-breaking work.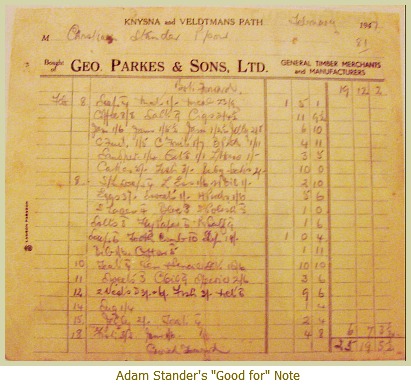 Dalena Wolmarans explained that her father, Adam Stander had his own oxen but never had money as such in his pockets.
The woodcutters were not given money as payment for their wood but tickets.
A "good for" which meant they had to exchange it for products sold in shops owned by the timber merchants.
Adam's Way out of Poverty
Adam was clearly an entrepreneurial spirit who was determined to work his way out of the forest. Impressed by the young man's resolve to better himself, the owner of Ford Amalgamated Garage did an unheard of thing in those days and loaned him the capital to buy a truck. Adam had to sell his oxen to pay for the D2 Caterpillar tractor he subsequently bought.

Some time later he decided he needed another caterpillar and went off to Port Elizabeth to buy one. After having acquired and paid for it, Adam was driving down the street when he saw a hydraulic crane and decided he needed that more than the caterpillar. He took it back to the unhappy dealer persuading him to give his insistent customer his money back. Jubilant, Adam rushed off and bought the desired crane!

For the best part of 30 years Adam Stander work 2nded for Thesens transporting pine for them. There was a time that he bought a new 2 axle Nissan truck. The day after it arrived in Knysna from Pretoria, Thesen's Timber yard burned down. Adam blindly drove into the forest not knowing how he was going to pay for the truck. Sitting behind the wheel, a newspaper clipping was blown against the windscreen. He started to read it and noticed an advertisement. Urbans were advertising for transporters. Back in town he contacted them and was given the job of transporting timber for them for the next 4 years.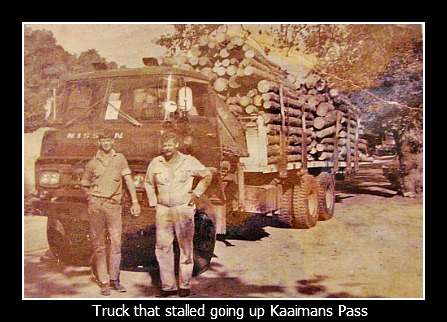 Adam's first load for Urbans brought his new truck to a dead halt up Kaaimans Pass. It took Urbans Transporters 4 truck loads to take his logs up Kaaimans Pass. It made Adam realise how unrealistic he had been to expect his truck to handle the load he'd put on it.
Dalena Womarans explained how weighbridges cause business owners sleepless nights. Getting the weight on a truck right is the difference between sleeping in the truck or sleeping in jail. The tonnage allowed resting on each axle must be within certain limits. A truck is penalised even if the overall load is within specification if it's overweight on just one axle. By moving one log 200 cm forwards or backwards the weight shifts enough so that the weight on the axle is correct.
The legal gross mass for their trucks is 56 tons. If they've loaded only 50 tons - they are not overweight on the legal gross mass, but if one axle unit weighs 19 tons instead of 18 (legal for a double axle unit), then they get fined. If this is the case, the overload has to be removed right there to another vehicle in order to adjust the load, but it's not allowed to touch the ground in the process! For economic reasons the owner has to get the load just right –the maximum he is allowed without going over the limit. It is very difficult to judge because wet wood is heavier than dry wood so it becomes an intuitive thing.
Whilst Adam was transporting pine, people were always asking for pieces of wood and so he started buying indigenous timber at auctions and cutting it up to supply to the furniture makers himself.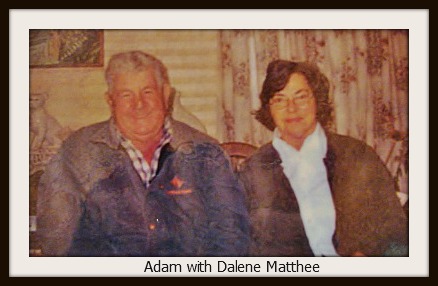 When Dalene Matthee wrote her first book "Kringe in 'n Bos" ("Circles in a Forest" in English) she paid a visit to Adam to check with him that the material she had gathered about the woodcutters and their forest life was correct.
Dalena Wolmarans said her father was very impressed that he could verify Dalene's information. She had in fact, done her research conscientiously and provided accurate background for the stories she wrote.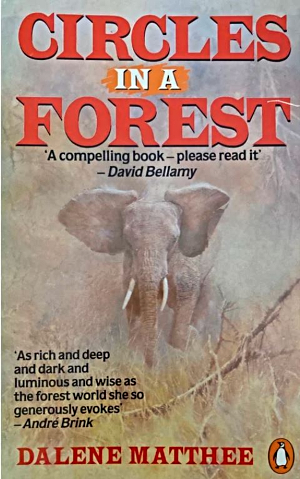 CIRCLES IN A FOREST - Saul Barnard is a man with a self-imposed mission - to halt the wanton destruction of the Knysna Forest, home of wild elephants and the fiercely independent families of woodcutters.
For years he has protected the forest from intruders, and has developed a mystical kinship with the spirit of Old Foot, the majestic and indomitable bull elephant. When word goes round that Old Foot is on the rampage, Saul is propelled towards a terrible confrontation that will change his future forever.

Dalena Wolmarans takes Over
In 1993, 16 months after Dalena Wolmarans finished a Diploma in Tourism her father had a stroke and she went home. Together with her brother she got involved in the family business. Unlike other young girls, for her 21st birthday, she studied for and received her heavy vehicle driving licence and started driving one of the company's trucks.
However their purchased indigenous timber needed to be cut and it was an expensive business to hire Peter Van Rheenen's timber mill so when an agent brought them a mobile one it seemed logical that Dalena should work it.
Dalena Wolmarans was given a 2 hour crash course in how to handle the blades. The difficulty was, that although she recognised the words as the techniques were explained to her, they didn't really make sense in her head. She was overwhelmed by the whole situation.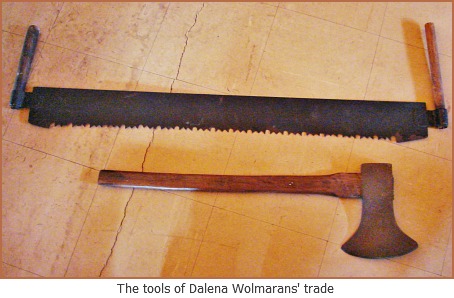 It was a major undertaking just to get the blade sharpened, never mind attempting to cut up the expensive logs of stinkwood, blackwood and yellowwood. Looking back now she can laugh at her beginnings when it took her 4 hours to try to sharpen a blade. Now Dalena Wolmarans is very hands-on and can sharpen 2 blades in 10 minutes and cut 4 cubic meters of wood in a day and of course, drive the trucks to deliver timber to customers, if necessary, as well.
It hasn't been an easy business for the young woman though. On 6 July 2000 Thesens closed their doors for good. In 2004 Dalena's father passed away. In 2005 her brother died at the age of 31 of Heart Arrhythmia.
In 2006 Kaaimans Pass collapsed as the result of floods and heavy rain. This meant the timber trucks had to do an 18 hour trip the long way around on the back roads. In 2009 her husband was diagnosed with cancer.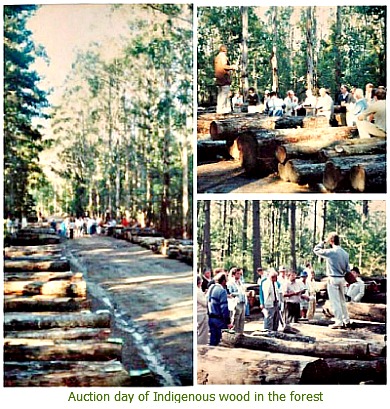 It has been a very turbulent decade for the courageous young Dalena Wolmarans and her fortitude, acceptance of "what is" and positive attitude must surely stem from the resilience of her tough woodcutters' heritage. Her 72 year-old mother is still alive. So is Dalena's husband. They have two young daughters.
Dalena Wolmarans pointed out that being a timber merchant and a timber transporter has its uncertainties. It is unpredictable working with small businesses. When the economy slows down they are the first to feel it and that has a knock-on effect.
To compound their difficulties, on 24 May 2010 without any prior warning, SANParks arbitrarily advised the timber merchants that they would no longer be auctioning indigenous wood and that it would in future be put out to tender.
Chairman of the Southern Cape Timber Buyers' Co-operative, Robin Clark of Touw Meubels, said the co-op currently has 14 members who represent around 80% of the buying volumes of indigenous hardwoods. The co-op had suggested to SANParks that the co-op be considered to run the harvesting operation as they understood what was required to maintain the integrity of the indigenous forest. They could then engage an independent organisation to handle the auctioning of timber.
Key considerations for SANParks regarding the restructuring are that
the harvesting be environmentally sustainable.

 is done according to the current timber yield regulation system that is in place.

that there is equitable access to the timber.
According to Koos Botha of Botha and Barnard, a prominent local furniture manufacturer and co-op member, the shortage of indigenous timber has resulted in him losing orders, and jobs are starting to be shed within the industry. He said that he is busy importing hardwood from the USA to replace local hardwoods.

Dalena Wolmarans says that the timber industry has played a significant role in the history and development of Knysna, but feels that currently there is not enough support for the small timber businesses in the southern Cape. She says that the suspension of timber harvesting by SANParks over the past year has left her short of raw materials, and has put her business under severe pressure.(information from SA Forestry Magazine)

The Co-op was subsequently notified at the beginning of 2012 that the tender had been awarded to a BEE company from Limpopo. Although they should have started harvesting wood in April there is no evidence that this has begun. (June 2012) 

READ MORE ABOUT THE EARLY DAYS OF THE KNYSNA FOREST WOODCUTTERS
References
Dalena Wolmarans -her story and family photos
The Knysna Forest and Tsitsikamma Forests -Their history, ecology and management - Chief Directorate Forestry - Department of Water Affairs and Forestry
www.saforestrymag.co.za
---