Knysna Timber Festival
Wood is at the heart of Knysna's heritage and the Knysna Timber Festival is the reminder of the town's early existence and continuing inspiration for its contribution to economic diversity and well-being.

Introduced in 2014, the Knysna Timber Festival was founded by a group of dedicated local industry leaders to reflect the many spin-off businesses resulting from the harvesting of timber - the indigenous woods and the plantations and to showcase  existing businesses and encourage further opportunities for growth and investment.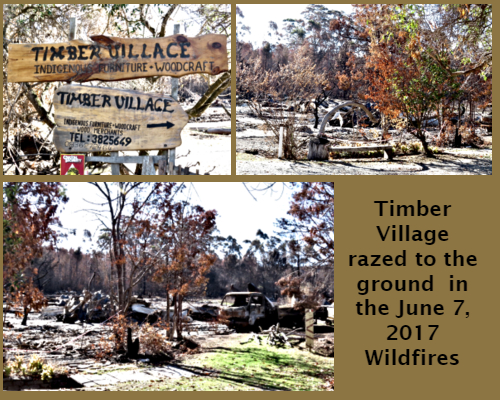 Because of the enthusiasm and determination of this forum to revive and uplift this precious industry from the doldrums and infuse it with new life and opportunities, local government has assisted the group, calling themselves the Knysna Timber Initiative, to bring the project to fruition. 
The Knysna Timber Festival has grown in strength each year and even after of the setbacks wrought by 7 June 2017 wildfires.
The fires had extensive and devastating effects on a vast area of the Garden Route, and most of all, on Knysna and its extended community.
They also razed to the ground, Timber Village, the site of the Knysna Timber Festival.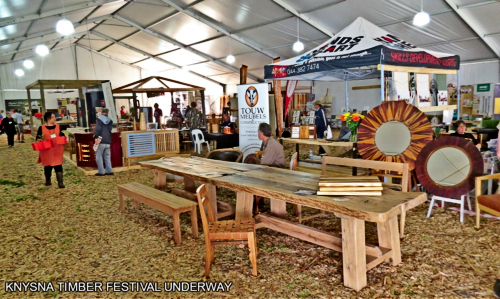 Giant Tent Pavilion with indoor displays
Nevertheless, in October, less than 5 months later, in the face of heart-breaking hardships and in spite of the loss of valuable and irreplaceable indigenous woods, the Knysna Festival was once again presented on the ruined site of Timber Village.
It epitomises the sentiment of the town emblem, #KnysnaRises as Picca De Bruin (festival manager) said, "It means both the physical act of rebuilding, and the restoration of ourselves as people through art and culture." 
Inside a giant tent structure the 2017 festival showcased many local businesses related to the timber industry.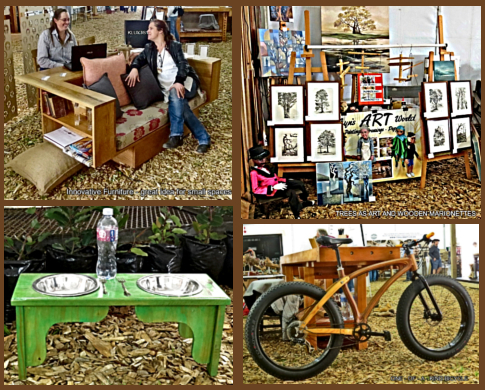 Clockwise - Kluyts' clever all-in-one design of desk, settee and bookcase, Lyn's Art World - Tree pictures and wooden puppets, Dog's diner and the Outeniqua Fatstix bicycle
A number of displays I noted were; local furniture manufacturer, Kleyts, had a super cool multipurpose piece on display ideal for small spaces - a desk, bookcase and settee all-in-one.
There were a number of beautifully crafted wooden puppets and artistic representations of different trees.
A handsome wooden bicycle also drew my attention - a stunning piece of craftsmanship but very heavy so I imagine it would be a challenge to ride.
Then I noticed a cute dining-table for pooches - good practical idea and there were wooden puppets and pictures of trees at another stall.


Knysna Timber Festival Talks
A smaller tent was set up for talks and digital presentations and  there was a bundle of very interesting ones over the 3 days including a wonderful video on the history of Knysna.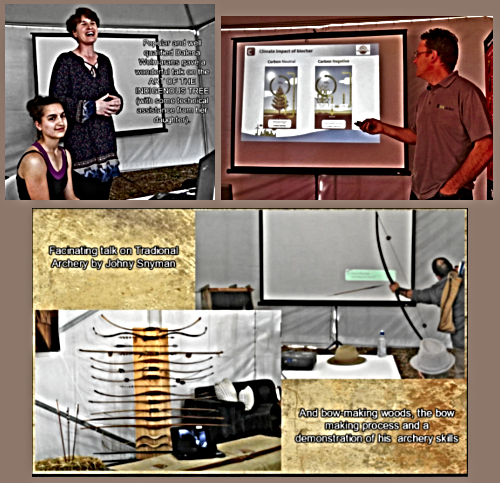 Here are just a few examples - Pam Booth an environmentalist scientist and Manager of Environmental Planning at Knysna Municipality spoke about several methods that she is using to rid catchment areas of the scourge of  alien species like Black Wattle. 
A slow process of kiln baking converts them into biological charcoal known as biochar. As such this becomes a premium soil enhancer, that increases retention of nutrients and water thereby improving soil quality and enhancing biodiversity.
Boer goats and Australian imports of weevils  and midges were also discussed as successful control mechanisms.
Barry Muller spoke on the various applications of wood fibres in today's world.
Dalena Wolmarans is descended from 2 generations of forest woodcutters. She gave a philosophical  and poetic  talk on "The Art of a Tree" likening various indigenous trees to the personalities of great artists saying, "Every single tree is a piece of art and every plank in the log is unique".
It must be handled with respect and care. It needs precision cutting to prevent cracks and a master craftsman must be patient and diligent, understanding of its qualities to reveal its innate beauty.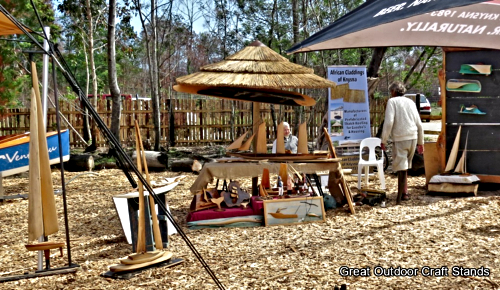 A great Outdoor Stand
EM Langenhoven gave a fascinating talk on bees and the numerous environmental issues that threaten their survival ranging from infectious diseases, fungi, invasive beetle larvae, wax moths, honey badgers, human vandalism and fires.
Johny Snyman gave a fascinating talk on traditional archery, the precision and detail required in bow making and a skillful demonstration of their use.
There were outdoor displays of crafts, different wood-working tools for DIY enthusiasts and artists, and larger machinery for serious players.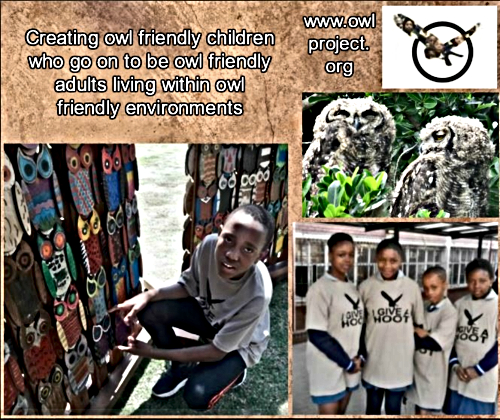 Another very interesting stand was the Owl Project that is focused on dispelling negative concepts and myths that township children have about owls.
The Project brought with them some wonderful artwork from 4 different schools in Alexandria, Gauteng.
To date this project has created over 108,000 owl ambassadors changing the way township children view owls.
When 2 children had died from ingesting rat poison, it was decided to initiate a project that proposed that owls could control rat populations naturally and without harm to people or the environment if their purpose was understood and the fear-induced myths could be rationalized and dismissed.  
Children's playground of crafted wooden animals
Food stalls, music and a playground for children ensured that the whole family could enjoy a pleasant outing at the Knysna Timber Festival.
It was easy to spend a day there investigating various stands and listening to knowledgeable speakers talk on a wide range of subjects all connected in some way to Knysna's timber heritage. I'm looking forward to the next one!
There's going to be factory tours introduced in future festivals.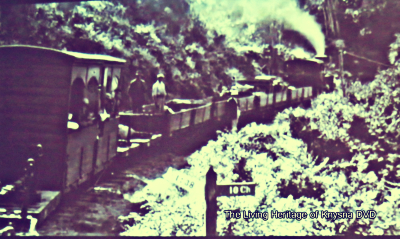 The early Coffee-pot train - the story is in
Millwood House Museum - Newsletter No.36, November 1990

---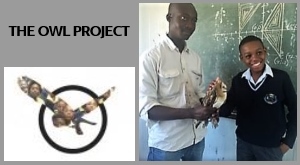 The Owl Project works in two parts. Part one is the educational aspect and the second is the owl release program.
Education is an important pillar of the project. Our teams go out to participating schools to give presentations on owls and their role in an ecosystem. These presentations are also used to address any remnant myths believed by the people in the township. The release program happens after school children have signed up and received permission from their parents to be involved with the project. 

---