Sedgefield Mosaic Market

The Mosaic Market, between Wild Oats and Scarab that formerly might best have been described as a hip flea market, an overflow of the other two and yet not quite fitting into the specific categories of either, has come of age! In the process, it has developed a character and eclectic charm of its own.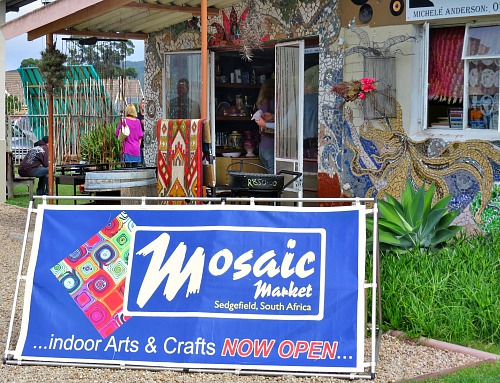 This happened when Cliff, a long standing local of some 25 years, and a estate agent in George, purchased the three erven alongside the N2 in Sedgefield, he had been trying to sell for some time. 
For the last 3 years, he and his wife, Carol have been living near Pine Lake Marina, on the outskirts of Sedgefield. 
In a fateful moment he decided to buy the unsaleable land himself, and although it wasn't his intention to take on the existing market, 1 August 2013 found him "Organiser in Charge" of this mosaic collection of colourful artisan-based entrepreneurial businesses.
Because he owned the land, Cliff was willing to invest time and money upgrading the stall facilities. At the same time he ensured he was compliant with the requirements of the local authorities.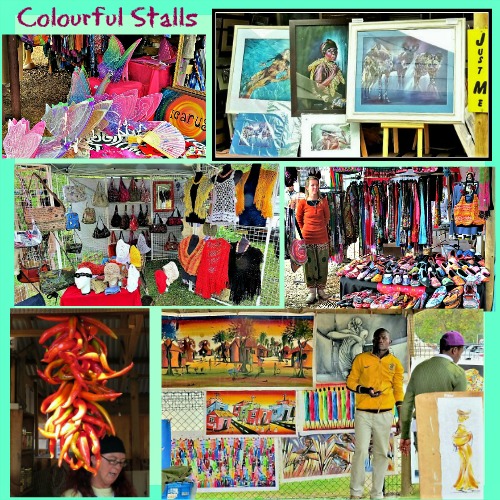 And, being an energetic entrepreneurial spirit himself, he is sympathetic towards those creative individuals attempting to make a living through their enterprising endeavors.
He and his wife, Carol who is also involved with running a coffee bar stall in the market, have settled in comfortably to the Slow Town rhythm and are thoroughly enjoying the challenge of helping others to succeed in this multifaceted micro-business environment. They have the skills and experience to do this.
"The first intention is to support and promote talented local artisans," Cliff said and "as/when vacancies arise this will be the main consideration."
There is already a waiting list for stalls and the existing ones showcase a vast array of goods edible, wearable, decorative and usable.
Cliff and Carol meanwhile, are delighted to surround themselves with all the vibey creative energy the resourceful folks of all ages bring to their weekend stalls as they deliver a great service to Garden Route tourists and the local community.
It is a tribute to them that they have allowed and enabled this market to develop into something special for local venders and visitors alike.
On the outskirts of the outdoor weekend stalls are a number of permanent and secure buildings that are open in daylight hours during the week.
Mosaic Table Bistro, Deli and Craft Bar
After Covid-19 Lockdown was downgraded to Level I, "Mosaic Table Bistro, Deli and Craft Bar" opened in the old Nibbles Space at the Mosaic Market. (next to the N3 highway, turn-off at the Engen Garage).
Russell runs the Deli and Craft Bar presenting a huge range of delicious savoury delights such as olive oils, artisanal mustards, sauces, pastas,  pâtés, dips, pesto, cheeses, viniagrettes, salad dressings, olives, home-baked packaged meals and more. Then there are the sweet treats including homemade double thick ice-cream, organic fruit juices, badger-friendly Karoo veld honey and a wide range of jams. Wine tastings can be arranged for small groups and 45 wines can be bought by the glass to accompany sit-down meals in the bistro. Remember to try one or more of the herbal infusion cordials.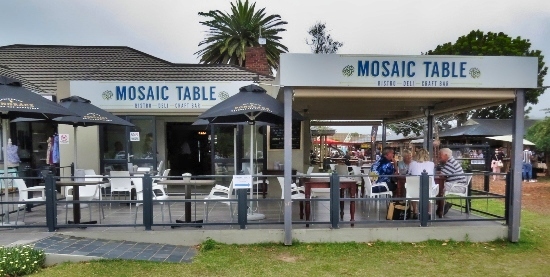 Open: Monday 8:30am - 4pm, Tuesday - Thursday, 8:30am - 5pm, Friday 8:30 - 6pm, Saturday  & Sunday 8am - 3pm. 
The Mosaic Table Bistro offers a range of widely different and delicious breakfasts. Pizzas, Tappas and dips, Turkish toasted flat breads, Nachos, salads and desserts.

Expedition Africa at the Mosaic Market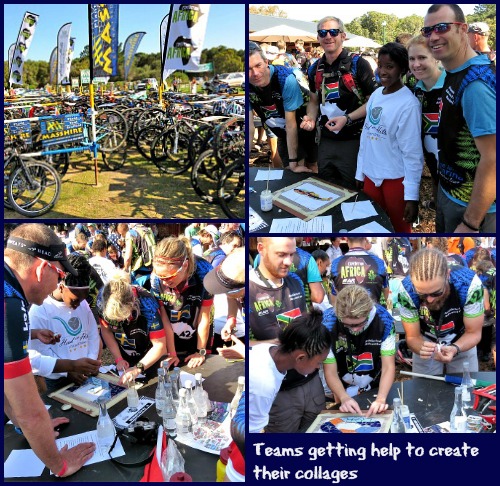 Before the 54 International teams of Expedition Africa began their arduous 5 day race around the Garden Route in May 2016, they collaborated with local NPO, Masithandane and their mosaickers that included children trained to help them for the event at the Mosaic Market.
Their aim was to create a beautiful mosaic, to commemorate all the teams and the countries they represented, who were participating in the event.
The project enabled them to interact with the locals, have fun creating various collages and in the process leave a memorable legacy of their adventure in our part of the world.
Then the local Masithandane team took over working to complete and consolidate the mosaic while the race took place over the next 5 days.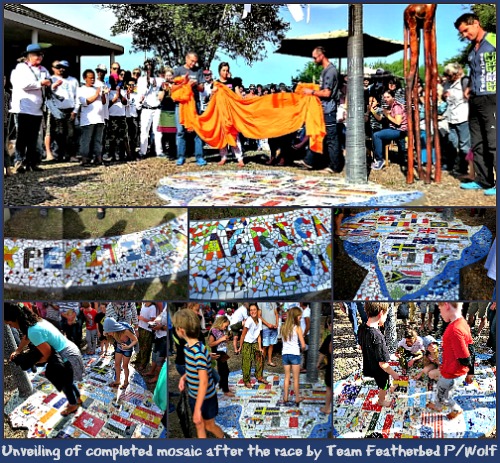 The fabulous finished project was unveiled the following weekend, after the race, by the winners (happily for us) a popular local team, Featherbed Painted Wolf, made up of John and Mark Collins, Darren Berry and Jeannie Dreyer.
The project also raised over R22000 for school bursaries that will assist children with transport to secondary schools in George or Knysna.
Sedgefield currently has only primary schools which has prevented many children from lower income homes from pursuing higher education since the bus service that used to transport them cancelled its service despite intense efforts to keep it running.
---