Tony Cox -
Guitar Maestro
His mother had no idea when she suggested that her son, Tony Cox take guitar lessons, that it would become his lifelong passion, that he would become a guitar maestro, a world acclaimed songwriter, performer and recording artist.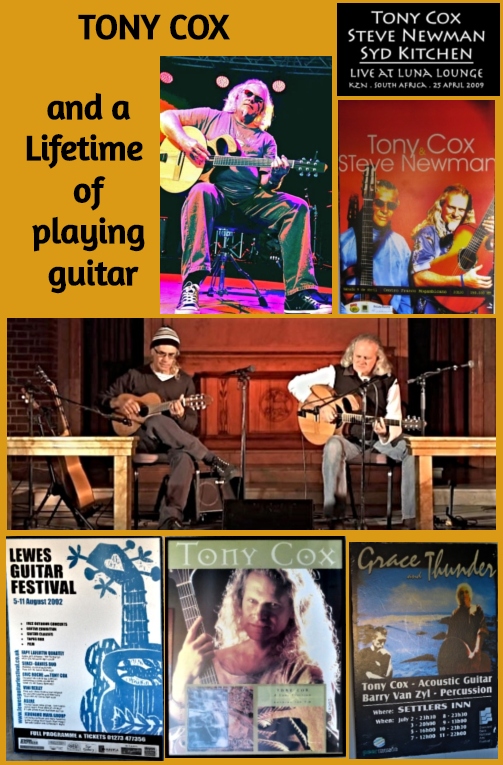 Early Days
Born in Redcliff, Rhodesia, he was 9 years old when he started hitch-hiking weekly to the nearby town, Que Que, a distance of 12kms, to take lessons from Archie Perreira using a Hawaiian guitar. The family then moved to Salisbury where a school friend introduced him to the conventional guitar and he learned chord shapes and strumming techniques.
In 1969, the family left Zimbabwe and moved to Cape Town where Tony attended Muizenberg High School. High School was a lost cause for Tony although he said he loved biology and scored a distinction because of the great teacher he had for that subject.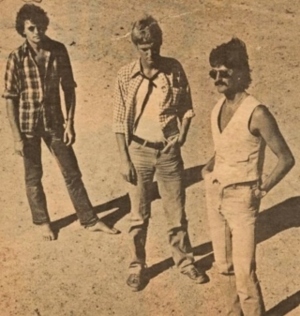 Tony & friends at a Stellenbosch Farm 1979
He started his work life as a clerk for the City of Cape Town. For 3 years he spent most of his wages studying for a Diploma in Art attending classes from 6-8 pm weekdays after his day job. At weekends he learned classical guitar with 2 different teachers, one at Froggy Pond, Simonstown and another in Tamboerskloof, on the flanks of Table Mountain.
A valuable opportunity came his way when one of the teachers, a Dutch lady had to return to Holland because her work permit had expired. As one of her best pupils, she asked Tony if he wouldn't like to take over her stable of 30-40 students. This opened Tony up to what was to become the bread and butter income he would depend on for life. He said that to begin with he was not a good teacher but he learned by teaching and his skills improved.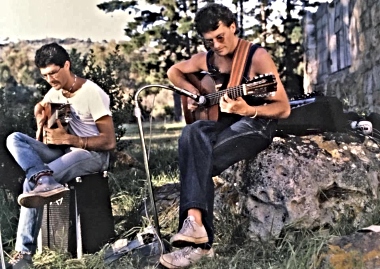 Steve and Tony practicing together in the 1980s
Meanwhile he started to play at restaurant and pub venues but most of all he enjoyed playing at folk clubs where people came to listen and he wasn't just background noise for food and conversation. He began to write his own music and developed his own original repertoire of compositions. 
He continued teaching at Melody Inn, Station Road in Claremont where there were 2 studios. There, in 1975, he fortuitously met Steve Newman when he came to take over one of the studios. After 2 years they had become firm friends and in 1981 they decided to play together.

Firm Friends form a fabulous Duo
They came from similar backgrounds - had fathers that died young, strong supportive mothers, they were both Aquarians - Steve's birthday was 25 January 1952 and Tony's was 24 January 1954; they both loved acoustic guitar and their families were always of great importance to each of them. They both mention that seeing the performance of Puerto Rican guitarist José Feliciano in the early 1970s instigated new ideas for their own guitar playing.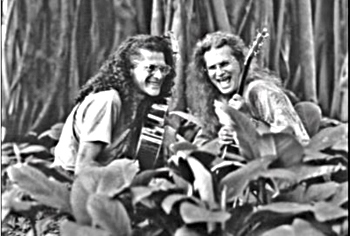 Young Duo always having fun playing together
They put together a short lunch time show in the People's Space Theatre in Long Street, Cape Town and gained some unexpected media publicity that resulted in capacity crowds attending those lunchtime forays. Encouraged by the overwhelming response to their music, they produced a show "A 101 Ways to use an Acoustic Guitar" that was a major success throughout the country. It was released as an LP in 1983.
It was an indicator of good things to come! Their forte was playing well-known classics and jamming them together, even over each other at times. A favourite was a Roger Moore/Peter Seller send-up, prefaced with a ridiculous story and a 007/Pink Panther compilation that ended with a circus march. Audiences loved it. Cassettes followed their journey as their popularity found a market to sell their product – "Planetarium Live" in 1989, "Alive at Le Plaza" in 1993 and "About Time" in 2002. 
After being a support artist to Geraldine Branaghan's tour of South Africa, Tony traveled overseas to the UK in 1982 and met up with Steve there. Combining their talents, they did a brief but successful tour of London and Oslo in Norway. They promised themselves they would do a repeat in the UK but little did they know it would take 23 years before they fulfilled that promise! 
The Duo pursue individual Projects
Steve continued to live in the UK from 1983 until 1987 returning home briefly for a few weeks each year. In 1987 after returning to South Africa Tony became a musician in Lesley Rae Dowling's band to cover a tour of 23 shows.
CD released in 2016
He then accepted the role of musical director for Amanda Strydom and David Kramer.
After that he worked with Wambali Mkandawire in Malawi as producer, arranger and guitarist for one of his albums. At the same time he composed the score for "The Sandgrass People" an international feature film. Another talent he has and enjoys doing – TV documentary scores. 
In 1991, with a show called "The Loneliness of the Long Distance Guitar" Tony Cox walked away with the prestigious 'Pick of the Fringe" Award at the Grahamstown National Arts Festival. The award epitomised his musical journey and his extraordinary, one-of-a-kind talent.

Together Again
Then Tony and Steve got together again to do some shows in Namibia in 1992. At the Warehouse Theatre the show was recorded live on cassette but it never saw the light of day. In 2016 with new technology available, it was doctored and released as a more professional CD, "The Bootleg Tapes from Windhoek". 

SABC TV Horror Story
The duo were also invited to perform their Peter and Roger compilation on national television (SABC) in 1992. However, they were a not allowed to explain the story beforehand because of its "risqué" overtones or perform their music as it was created, because certain sounds interfered with the studio's recording mechanisms and together with the limp inappropriate props in the background, an event they were so excited about, turned into a horror story! 
In 1996 Tony released the well-received album "Cool Friction". It was also the name of the band of which he was leader. They performed 3 shows at the Grahamstown Annual Arts Festival that year. They were sell-outs and the group was nominated for an FNB Award for Best Contemporary Jazz.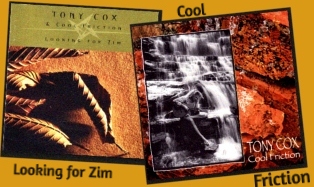 In 1998 Tony Cox returned to Zimbabwe to explore his roots and from it came another musical album called "Looking for Zim". It contained contributions diverse as vocalists, Wendy Oldfield and Wambali Mkandawire and instrumentals by trumpeter, Bruce Cassidy, trombonist, John Davies and harmonicist, Kenny Mataba. That same year, Tony started using a computer for the first time to advertise his workshops, guitar lessons and road tours. 
The Aquarian Quartet
For a relatively short period in 2002/2003 Tony and Steve joined up with Syd Kitchen – guitarist, singer, songwriter and poet (14-02-1951 to 22-03-2011) and Greg Georgiades (plays a wide variety of stringed instruments and has collaborated with many different kinds of musical artists).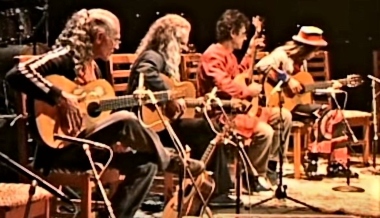 The Aquarian Quartet
 They called themselves The Aquarian Quartet presenting a show called "A World in a Guitar". They enjoyed every minute they played together. They were very popular and highly acclaimed - clearly one-of-a-kind group.  Each guitarist had their own style but they blended well.

Greg Georgiades & Syd Kitchen, Steve Newman and Tony Cox
Travel, Tours and Festivals
However, Steve and Tony would continue to play together successfully for 4 decades with breaks in-between when they pursued individual projects. This duo was a unique combination of originality, witty commentary and skillful weave of intricate and fascinating instrumentals.
Tony Cox-Award Winning Albums
They produced a number of albums together and separately, also performing and recording with other like-minded artists over the years. Tony Cox won South African Music Awards for his albums "China" in 2002, "Matabele Ants" in 2003 and "Blue Anthem" in 2008.
Steve Newman had his own band, the super-group, Tananas that also won their fair share of SA Music Awards.
In 2005 Tony Cox played at the Grahamstown National Arts Festival again before flying off to the UK towards the end of the year with Steve. 

They hired a six-berth campervan at a discounted winter rate and did an extensive tour that stretched from Cornwall in the west to Dartford in the east and Scotland in the north with many places in-between.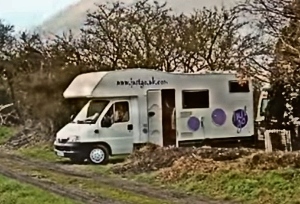 Home from Home -Campervan during 2005 UK Tour
The camper was the ideal home on wheels. It contained all they needed and took them where they wanted to go while they could thoroughly enjoy the journey through snowy landscapes and do their favourite thing in front of many appreciative audiences, in many beautiful places and venues, returning to their homely, cosy camper afterwards.
Tony returned to Grahamstown with Steve to play in Rhodes Chapel during the Arts Festival in 2009. This was filmed and translated into a successful DVD that can be bought on Tony's website. He also traveled overseas again as he was invited to perform at a Celtic Festival in Glasgow. 

Clockwise 1.Tony at the Harrison Arts Festival, Fraser Valley, Vancouver July 2010 2.DVD of Tony and Steve filmed live at Grahamstown Art Festival 2009 3.Celtic Festival Combo Project Glasgow 2009 4.Tony performing Midnight Sweeper at Grahamstown Arts Festival 2005
In 2010 Tony did a West Coast Tour of the USA that took in the Harrison Arts Festival in Fraser Valley, Vancouver and reunited with Steve Newman to do a road show called the Return of the Road Warriors.
Using their expertise of the digital age and internet, they independently produced a CD with the same name that they marketed through their own websites by-passing the big record companies which was a lucrative option for them. Continuing in South Africa they nightly played Moonshadow at the German Club in Durban. 
Return of the Road Warriors - a long awaited Reunion Tour by fans of Tony & Steve
Tony's year-long nationwide Padkos Tour in 2014 was described as "food for the road and food for the soul" It consisted of South African cover tunes, songs and melodies that have inspired and are loved by himself and his South African fans striking a deep chord in many hearts.
The initial 2 month journey began in Muizenberg and continued on to Durbanville, Knysna, Port Elizabeth, East London, Melville, Johannesburg and then ending off at the Ou Pastorie, Skeerpoort in the Magaliesberg. In May he set out again, this time to KZN. Everywhere he played at sold out venues and achieved record CD sales. 
Filmed at Die Ou Pastorie on Tony Cox's Padkos Tour in 2014  Here's a Youtube Link to a performance of "Jabulani".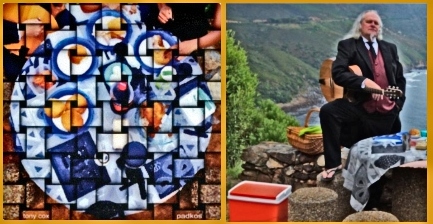 Padkos CD and Tony Cox on Tour
Private Guitar Lessons on the Internet
By 2016 Tony Cox was using the Skype facility of the internet to engage with guitar students around the world and teach lessons to individual students in India, UK, Sweden, Canada and South Africa. 
If you are interested you can contact Tony Here.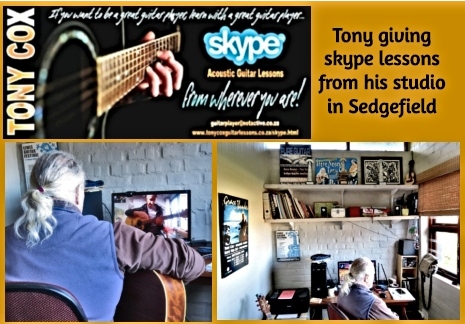 Teaching guitar has enabled him to spend more time with his family and live less out of a suitcase and on the road. He also produced a documentary called "Life, the Road, Guitar" chronicling his long-standing friendship and work with Steve Newman from the archival material he has in his possession. Currently Tony has 20 CDs that can be bought on line and downloaded from his website.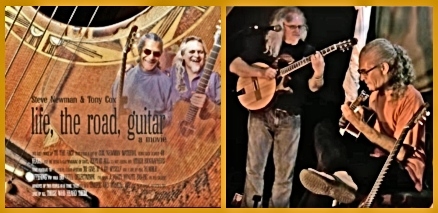 The Documentary DVD of Lifelong Friends, Tony Cox & Steve Newman
From early on, Tony Cox was never interested in becoming a rock star because he was deeply engaged in developing his personal recognisable style through revealing the full extent of the guitar's inner workings. His genuine commitment to hone his craft is evident in the wide variety of genres that he excels at – blues, folk, pop, classical, Celtic, bluegrass, rock, country, ragtime, indigenous African, jazz - and the inventive interpretation he brings to his music.
Innovative and cross - cultural, he has produced sounds from his guitar audiences have never heard before. His music cannot be categorised. He continues to this day to explore and experiment. Known for his instrumental masterpieces, his latest CD, "Enormous Flowers" released in 2017, is a first in that his guitar sounds are complimented with a vocal rendition of his own original songs using both words and music. The album has received enthusiastic responses in the media and Tony did a short tour in the Eastern Cape in September to promote it, giving performances in Cape St Francis, Port Elizabeth and East London.
Also in 2017 Tony Cox and his family moved to Knysna but the long term lease turned out to be a short term lease and after the Garden Route wildfires of Jun 2017, resulted in a shortage of accommodation, Tony looked further afield and happily found a perfect house in Sedgefield in May 2018. He says he immediately felt completely at home here and is more than happy to settle in with his wife Debra, daughter Thule and new baby, Tau.  We welcome him and his family. He's sure to be a great asset to our community.  
Workshops held by Tony Cox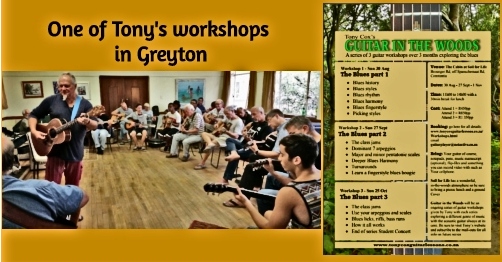 A few times a year, Tony runs a number of workshops. His "Guitar in the Woods" workshops were a series of Sunday workshops that continued for years. Each series investigates a different genre of music and different playing techniques with the acoustic guitar. He has taught literally thousands of people through these workshops.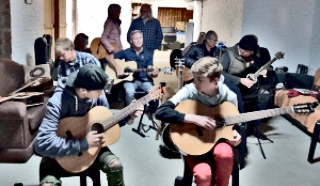 Tony's first Sedgefield Workshop
Thanks to Tony Cox for information from an interview, his photographs and on-line resources.

---