Colin Capon - RAF Career
Colin's RAF Postings
Born in Accrington Lancashire in September 1944 Colin Capon lived most of his life in England.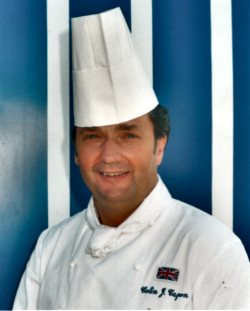 Chef Colin Capon
At the age of 65 he semi-retired and moved with his wife, Auriel to Sedgefield in sunny South Africa. 
In between he has spent over 58 years in the culinary industry first serving in the Royal Air Force for 24 years and then in 1984, he became a freelance culinary consultant, demonstration and presentation chef. 
His career choice has propelled him to the heights of success so that by the time he retired he had achieved the prestigious title of "International Celebrity Chef". 
Beginnings
Colin preparing a pigeon for the pot
As a young boy, Colin had taken apart his three-wheeler cycle but when he couldn't put it back together he decided he wanted to be a mechanical engineer to learn how to do such things.
That was his aim when he applied to join the R.A.F. However, he was told he didn't qualify and was given an alternative list to choose another career from; he chose "chef" and sealed his destiny! 

Colin Capon was just 15 years old when he joined the R.A.F. on 25th May 1960. His horrified mother was speechless when he returned home to tell her he had signed up for 12 years of service with the RAF. She barely managed a pale smile.

Colin Capon - RAF Career 1960 to 1984
16-year-old Colin at RAF Hereford.
Colin already had a liking and natural aptitude for cooking due to his experiences watching his mum, working as a cook at the Royal Sandbanks yacht club in Poole in Dorset. And, on several occasions he had shot pigeons, skinned and cooked them. Coupled with an inborn wanderlust he hoped to use his career choice as a means to see the world.

After 18 months of culinary training and square bashing at the school of catering RAF Herefordshire he passed out and was posted to RAF Stanbridge. With his urge to see the world he volunteered for a post in Australia but it took another year and several more attempts before his application was accepted.
He finally arrived at his destination on 8 May 1963. He spent a thrilling year in the remote outback of Maralinga, the atomic bomb base on the Nullarbor Plain in Southern Australia. Read more about his first experience of foreign travel to Australia here. 
Colin bush cooking at Maralinga - 1963
In June 1964, Colin Capon was posted to RAF Cardington in Bedford the home of the 101 airships that was later retained as the Royal Air Force Balloon unit. The amazing airship hangers are now listed buildings!  On its closure, he was posted to RAF Brampton, Huntingdon for an 8 month period working in the Officers' mess.  There he met the girl he thought he would marry. However, life doesn't always work the way one anticipates!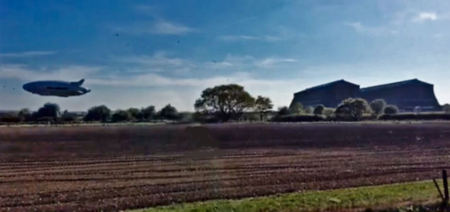 Cardington, Bedford - the home of 101 Airships
Early In 1967 Colin Capon was selected for VIP work and posted to Cyprus where he became the personal chef of a high-ranking officer, Air Vice Marshal, Micky Martin (ex dam buster pilot) by providing in-house specialised catering. Leaving his loved one (by now his fiancé) behind at RAF Brampton, he was now about to spend 4 years looking after various VIPs.
Colin met his wife-to-be, Auriel in Cyprus.
Being a chef, one thing that Colin noticed fascinating him, was how Cypriots used water-wheels in mountain streams to turn spits to barbeque some foods.
However, in December 1967, something or rather someone, captured his whole hearted attention when he met a WRAF medic in Cyprus, Auriel Bell. The magic between them was undeniable so he informed his fiancé in England that, regrettably, their engagement was over.
However, he was by no means sure whether his relationship with Auriel would amount to anything. Auriel was to be demobbed from the Air Force in May 1968 and would return to England to take up civilian training as a SRN in Southampton.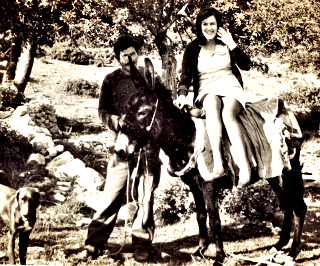 Auriel having a ride on a donkey in Cyprus
Arriving in the UK in December on leave, Colin phoned the nursing accommodation at 4am in the morning. The matron answered the phone and was not impressed when he asked to speak to Auriel. This  did not get him off to a good start! So, he checked into a local pub and met up with her on a few occasions after she had finished her shift.

He then went to see his father in Norwich for Christmas. It was a white Christmas that found him trudging 2 miles through the snow to speak to Auriel from the nearest phone box.
He then found himself spontaneously asking her if she fancied getting married in London the next weekend! Her reply was: "Well I'm not doing anything that weekend as I have worked Christmas!" 
Highly delighted, Colin Capon hot footed his way to London to meet up with his mother who was running a Public house in Herne Hill. He immediately set the wedding date for the 4th of January 1969.

With help and advice from his mother and his sister, Wendy, he somehow managed to register the marriage-to-be at Lambeth, Brixton office. Only one slot was left for 9am Saturday morning! Obtaining the obligatory wedding licence at a cost of £14.50p, his Mother meanwhile arranged for a jeweler to come from Hatton Garden two nights before the wedding to measure and fit the weddings rings. Auriel's mother was notified on the Friday and the reception lunch was organised through a friend of his mother's to be held at Lincoln Arms in Weighbridge.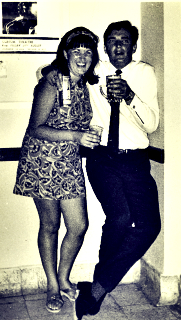 The happy couple enjoying a night out in Cyprus
Seven days after the proposal, the happy couple were married. The joyous occasion was attended by a small group of friends and family, John (best man) and Julie Mousdale, Colin's mum, Margaret, and Colin's Uncle Derrick and his partner. Colin's 14 year old sister, Wendy went to meet Auriel's mum, Cynthia, her brother, Jason and sister, Charmaine, for the first time, at Waterloo Station in the early hours on their wedding day.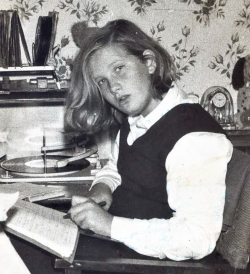 Young Wendy
Time was of the essence so young Wendy, without a blink, immediately taxied them to the Registry office. Convent Garden button-hole flowers were quickly pinned to lapels and it was first time greetings for Auriel's family, including the groom!
Harold Wilson had introduced a 3 day working week and daylight saving time. So the married couple stepped out onto the streets of Brixton into darkness at 9:30 in the morning.

They couldn't live together immediately because Auriel had to return to her nursing training in Southampton. She soon decided to hand in her notice and quit training so that by the latter part of March she was able to join her husband in Cyprus. Arriving in her new home, she could only find a case of beer and a tin of baked beans in the fridge! 
Wittering Catering supporting Harriers' exercises
Despite the hard work and long hours Colin worked in Cyprus they both agreed that it was the best and longest honeymoon they could have asked for.

Honeymoon over, in May 1971, Colin Capon was posted to RAF Wittering, No 1 Squadron Harriers. Nr. Stamford.
Life was full of more long hard working hours consisting of shift work, detachments to support the Harriers on exercises, catering for large numbers,  attending college to further his qualifications, i.e. 151 City and Guilds certification and his second love, competition work!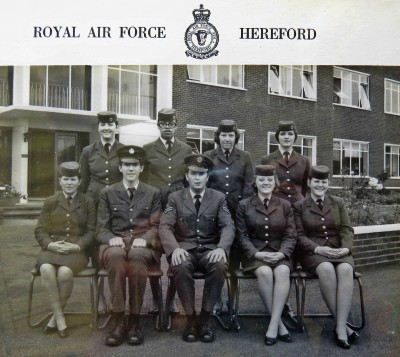 Colin's catering students (Colin's harem)
Auriel in the meantime returned to nursing training in Stamford, Rutland. 
By October 1972, Colin Capon had passed his instructor technique course with flying colours and was selected to teach at the RAF Hereford School of Catering as a Cpl Chef Instructor and so his first teaching/training began.
Here he also had opportunity to create specialised decorated cakes for Royalty and VIPs. 
His success at culinary festivals continued as part of a 4-man RAF Chefs team winning the Prix d'Honneur Trophy presented by Ross Frozen Foods  in January 1974 at the Hotel Olympia.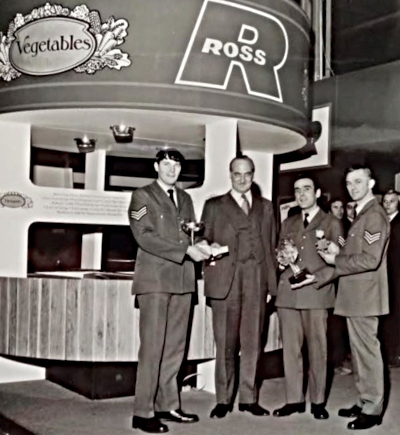 Chef Colin, CEO of Ross Frozen Foods & presenter of the Prix d'Honneur Trophy, Sgt David Walklate & Sgt Ken Whibley.
This resulted in Colin, WO Ervin Marshall, Sgt Ken Whibley and Sgt David Walklate being invited to join the Chefs and Cooks Circle of Great Britain. 
David and Colin both went on to meet up again and successfully represent Great Britain at the Culinary Olympics 1976 in Frankfurt, Germany. Continuing to study day and night he passed with credit his advanced cookery 152 City and Guilds in larder work.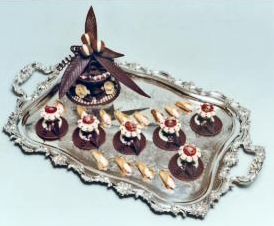 Competition Work
Passionately involved with his creative work and the rewards of passing on knowledge to the new trainees, Colin never gave much thought to moving on, until he was offered a promotion and a posting to Singapore. This was to change his outlook on cooking for life.
He eagerly grabbed the opportunity to go to Singapore in April 1975 where he was to be stationed at Woodlands Naval Base - HMS Terror (this was handed over to the British Army and renamed Terror barracks).
The combined British Services, along with the Australian and New Zealand services worked at withdrawing and handing over to the Singaporean services.
This took time and in 1975 Colin was to work with the British Army in taking charge of the messes in order to close them down as all the servicemen left for their home country.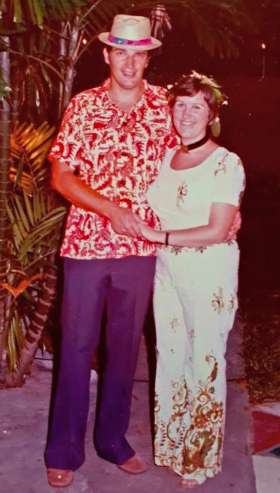 Colin and Auriel enjoying Singapore.

Fatties, a popular restaurant busy night and day with Singaporean street food.
After being trained in classic British cuisine Colin Capon was immediately drawn to the vastly different techniques of Asian cooking.
He enjoyed the open-air food stalls lining the streets where people could watch their food cooked in front of them offering a new experience in dining.
He was appreciative of the variety and high quality of fresh vegetables, lesser amounts of protein in most dishes, ingredients lightly stir-fried with simple sauces; liking how carrots, spring onions and radishes were used to add colour.

Colin and Auriel off for a day on their private island!
The food was arranged artistically and served immediately looking exotic and tasting delicious – Colin appreciated the Chinese methods of making simple healthy meals and added them to his culinary knowledge.

The Singapore posting was a magical time for Colin and Auriel. On days off, Colin would often organise a boat that would take them to a small island off shore where they would have time to themselves and be able to relax and enjoy a tropical paradise of sand, sea and sun! 

Colin & Auriel attending the Non-Commissioned Officers' Annual Summer Ball in Singapore in 1975.
Apart from the everyday running of the mess he and his staff catered for lavish official dining-in nights and sumptuous themed banquets for their annual Summer Balls that frequently included royalty and special invited guests.
Too short but very sweet, his oriental experience came to an end returning to the UK in 1976 to RAF Benson, home of the Queen's flight, where Colin Capon was appointed Sergeant in charge of the Officers' Mess.
Here he worked with a great team, with wonderful support from the Station Catering Officer, catering administration and personnel from the other messes so that he managed to take leave to participate in several international culinary competitions.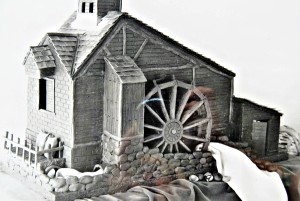 The English Country Mill Theme entry awarded a Silver Medal in Holland.
He had the opportunity to attend his first ever Culinary Olympics in October 1976, quickly followed a month later by competing in Vlissingen Flushing, Holland in the International Salon Culinaire de Zeeland.
He was elected as team captain and their English Country Mill theme for a buffet won Silver at the contest. They were pipped at the post by the Irish team who won the gold. With individual entries in different classes of the competition, team members came back to London with 2 gold and 5 silver medals of which Colin Capon added 2 silver to his collection. 
The 4-tier Silver Jubilee Cake for Queen Elizabeth II
Much in demand, in July 1977 Colin Capon was detached to RAF Hereford as part of a three man team with the task of creating a 4-tier rich fruit, marzipan and iced cake to be presented to Her Majesty, Queen Elizabeth II on her 25th Silver Jubilee Anniversary. All to be edible including the crown, (It took very special boiled sweets to carve out those precious crown jewels).
Colin also made time to further his qualifications passing with distinction his 152 City & Guilds in cooking and his 706 Advanced Patisserie taught by Professor John Huber.
November 1977 it was back to Holland to compete once again and a duplicate crown (of the Silver Jubilee cake) was created and a buffet themed as The Signing of the Magna Carta, resulted in Gold for the British team.
Cake for Queen Mother's Anniversary, Elephant for President Ronald Reagan, Wimbledon Wombles for Princess Ann's Charity Event and Royal National Lifeboat Institute 50 years Celebration Cake
In 1978 whilst still at Benson, Colin Capon was one of 300 applicants who applied for the position of Head Chef to the Chief of British Defense Staff in the British Embassy in Washington DC. As a result of his successful application and the numerous interviews that followed, he took up the post of Personal Chef to the Head of the Defense Staff, cooking for foreign dignitaries, royalty, presidents and celebrities.
The appointment threw a spanner in the works as he had just purchased his first ever house in Seaford, East Sussex. However, he could not pass up the opportunity this post presented, so he offered his home to his mother and sister for the duration of his stay in America. 
In spite of his busy working schedule at the embassy, Colin, in his spare time, qualified as an instructor and got involved with training young American chefs in the area.
Colin and Harry Simpson with the winning Buffet in Washington DC.
He teamed up with the British Ambassador's chef and competed in the Capital Chefs Association of Washington DC Culinary Exhibition under the auspices of the Culinary Institute of America. Colin Capon and Harry Simpson both walked away with the top awards.  However the following year he was asked to join the organising committee and this effectively prevented him from competing again.
Off duty, an opportunity arose to prepare food for photographic sessions with Time Life Books of America, showing step-by-step ways of completing a recipe in pictures. This led him realise his versatility and skills could be used in working for food manufacturers, advisory associations and in recipe development once he had retired from the air force.
The Air Chief Marshall's Household Staff departing from Washington DC to return to the UK at the end of their Tour of Duty there.
Last Years in the R.A.F - at Home
At the end of his USA posting in September 1981 it was time to go home. Auriel wanted to live in her new house. Colin's mother had met a very nice man and was about to get married and his sister was working for Freddie Laker as an Air Steward - so the timing was perfect.
Immediately Colin was promoted to Flight Sergeant and posted to RAF Uxbridge as Manager of the Junior Ranks Mess.
Living in the mess and not having too many family responsibilities until he went home on the weekends, he could dedicate himself to preparing for his future retirement. These  trips home also allowed him to submit plans to build an extension onto his existing kitchen that was to become his development kitchen.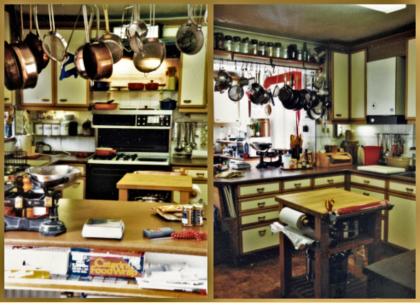 Colin's existing Kitchen
However Uxbridge turned out to be a fairly short posting as he was sent away on a course Q-CAT–C to qualify as a Catering Officer. On successfully passing his exams he was promoted to Warrant Officer Catering.

In March 1983 Warrant Officer Catering, Colin Capon moved to RAF Mountbatten, Plymouth.  Here he was in charge of 3 kitchens, the officers, the sergeants and the junior ranks messes. Each kitchen had its head chef and assistants that Colin managed daily, overseeing menus, checking inventory, invoices and expenditure. His busy day included chores as diverse as making sure there was ration food aboard the boats for men undergoing survival training, and planning appropriate menus for a regular stream of VIP visitors, special dinners and parties.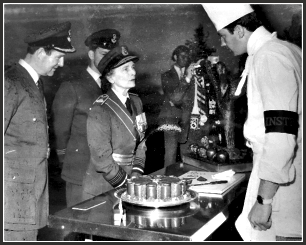 The Duchess of Gloucester meeting Colin
As he resumed his position as the Team Captain of the British Culinary Olympic team of Chefs in 1984 he was able to invite all his team of civilian chefs to undertake a test run of the 4 course meal for 100 members and VIP guests of the Sargeants' Mess RAF Mountbatten. The diners' subsequent creative feedback and tweets, helped to assure the team of a Gold Medal Award in Frankfurt, Germany.
In his new post, after a seven-hour drive home his weekend building work was taking its toll. Developing tennis elbow and laying only a few bricks each weekend extended his kitchen building to over two years.
In September, after 24 amazing years Colin Capon retired from the Royal Air Force as he was ready to take a shot at going it alone. On leaving he received a special award, a framed Air Office Commander's Commendation Certificate for "meritorious service". He also took with him many wonderful and unforgettable experiences of his time in the RAF.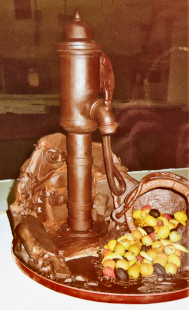 The chocolate Village Pump won a gold medal at the Culinary Olympics in Frankfurt.
Barely a month later, Colin Capon with his British team, attended the Culinary Olympics in Frankfurt, Germany. The team cooked 500 dishes in total competing against 32 other countries. They brought home 46 medals including 15 Golds coming 2nd after Canada overall in the medal count.  Colin Capon was the British Cooking Olympics Champion.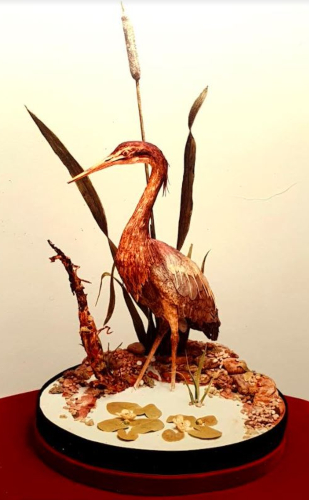 Icing Sugar Heron won Colin a Gold Medal at the Culinary Olympics in Germany.
He won 3 Gold Medals and 1 Silver. (Icing Sugar Heron and Chocolate Village Pump, Team Hot Kitchen took gold. Team Cold Buffet and Restaurant Platters took silver).
With such successful results at the Olympics Colin found himself involved in television appearances, radio interviews and live presentations in front of large audiences. All this helped to ready Colin Capon for his new future that lay ahead. Setting up his one-man company "Professionally Different" he prepared himself to take on the world.
Part 2. Colin Capon International Celebrity Chef, his retirement to Sedgefield & short spell as Slow Food Convivium Facilitator. 
---
Thanks to Colin for all photos and information for this page.