Search this Site
Gastronomic Sciences Students
Gastronomic Sciences Students

from Italy visit Sedgefield
A group of 2nd year Gastronomic Sciences students from the University in Bra, a small town in the north-western region of Piedmont, Italy visited the Garden Route over the weekend 15 February 2013. They were hosted by the Sedgefield Slow Food Convivium.  South Africa had been chosen as one of the destinations for field trips organised to distant places as part of their year's curriculum.
University of Gastronomic Sciences
The University of Gastronomic Sciences was established in 2004 by Carlo Patrini, founder of the Slow Food Movement with the main purpose of  studying the interwoven relationship  of food and cultures and the importance of this connection with biodiversity and sustainable farming methodology.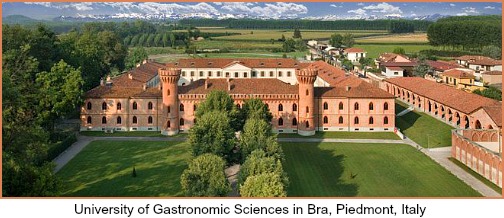 The 3-year undergraduate program is designed to equip students to understand all the intricacies of food from its production chain where they interact with the people who cultivate, produce and transform food to the distribution side done by food companies and organisations on to its promotion and how it is presented in its finished form to the consumer.

To mention just a few, subjects include biology, history of food and agriculture, food microbiology, history of cuisine and wine, geography and tourism, economics and food policy, regional and general sociology, nutrition and dietetics, cultural anthropology and food philosophy.
The Gastronomic Sciences students undertake 5 field trips a year, 15 in all. There are thematic study trips that focus on a specific production chain like animal production or coffee, olive oil, pasta, beer, fish, confectionery etc.
Then there are regional study trips to places like the USA, Mexico, Germany, Spain, France, Kenya, South Africa etc. to explore the food culture of a given location or country.
These trips enable students to discover first hand the value of bio-diversity, local expertise with traditional crops and methods of farming and the importance of locality specific livestock that have adapted to the constraints of their environment. 
Gastronomic Sciences Students on a Field Trip 
The local Convivium had offered to create a programme for the Gastronomic Sciences Students and we were delighted to have it accepted. Visits were planned to some local farms, food suppliers, & markets. Time constraints reduced the options because the students could spend only 2 nights in the Garden Route area out of their allocated 10 days in South Africa.
The group arrived at George airport from Durban on Friday morning,  five Italians - Michele, Davide, Cecilia, Stefania, Michela,  Maltase - Kurt,  Belgian - Tine ,  American - Stacey  and  Tajikistani - Nusratsho with organiser, Velia Lucidi and tutor,  Alice Noel Fabi.
They were introduced to the local contingeny, Rose Bilbrough, Manager of Sedgefield Tourism, Colin Capon, Facilitator of the Sedgefield Slow Food Convivium  and Giuseppe  ex Pucci's restaurant.  Then everyone boarded the bus, chauffeured by Warren who had driven up from the Cape that morning. It was his task to transport the party around the designated venues in the Sedgefield area for a couple of days before taking them for further visits to other places of interest en route to Cape Town.
Dario at La Laconda, George

Dario (of the Maestro Dario factory that produces real Italian cold meats) hosted the combined group at his restaurant La Laconda in George where they learned the advantages and disadvantages for an Italian family setting up a factory to produce traditional Italian meats and mozzarella.
Some of the meats are made from local game and ostrich which was of great interest to the students. We had opportunity to sample delightful, well presented antipasti washed down with a glass of South African wine. 
NB. La Loconda was bought out in 2015. It is now known as The Fat Fish.
Oysters R Us
The next destination for the Gastronomic Sciences students was just past Timberlake on the N2 where we ventured into what looked like a sand quarry guarded by large gates. Tucked away in a rustic building we met up with a wonderful lady Natasha de Freitas and her business partner, Natalie Oliver. They have set up the oyster outlet, Oysters R Us for both retail and wholesale trade alike.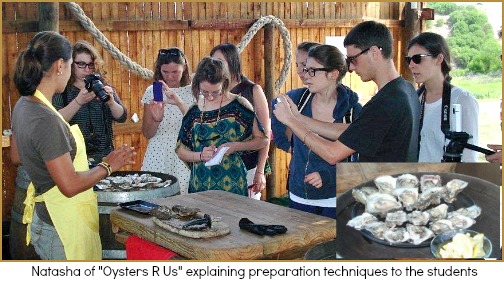 Oysters R Us has been in business for nearly two years and we learnt about the conservation measures of food sources around our shoreline and how oysters are harvested and graded. They are kept alive in specially built tanks of oxygenated water involving a complex filter system that ensures they stay clean and healthy for weeks.
We sampled and tasted medium and large oysters in the raw stage accompanied with lemon and Tobasco. A few were gently heated on the braai, drizzled with a little Teriyaki sauce and sushi ginger. This was a great experience for the Gastronomic Sciences students and we all learnt a lot about South African wild oysters.
With much to pack into the day it was time to say farewell and check into the Pelican Lodge in Sedgefield. Ian's Perryman's father, Chris cheerfully welcomed everyone and quickly allocated them their rooms. With 30 minutes to spare they freshened up and were ready for the road again.
Montessori Friday Night Market, Knysna
Warren was given guidelines to follow the scarecrows and travelling along a short scenic route we arrived at Knysna's Montessori Friday market. The air was full of wonderful cooking aromas with pleasant music playing in the background. Tables and chairs filled with happy families were enjoying themselves outdoors on a beautiful evening.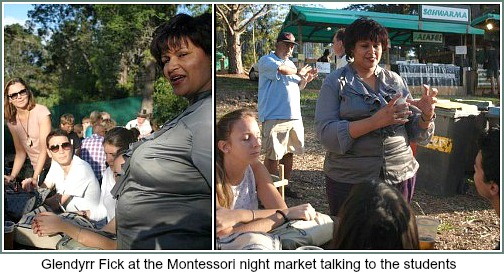 Rose introduced the Gastronomic Sciences students to Ms Glendyrr Fick, Development Manager at Knysna Tourism. Many topics were raised and discussed and then it was time to eat. With so many food stalls and so much to choose from it was hard to make a decision.
Some sampled food from the various different stalls, but what looked like the most popular choice from the empty plates was the bush pig goulash served with their special noodles, cooked expertly by Kilzers kitchen. 
Darkness soon started to creep in and the night fires were lit. The students' heavy schedule was clearly starting to take its toll, so we left the glowing fires and tranquil music and made our way back to the Pelican lodge for a good night's rest.  
Wild Oats Community Farmers Market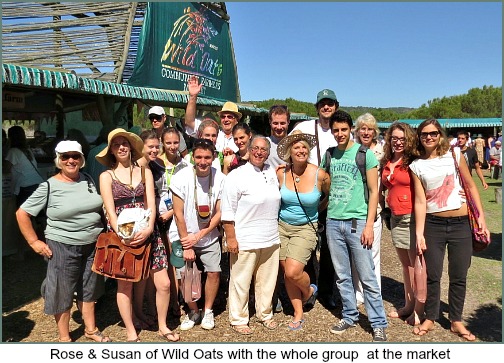 The Saturday morning schedule began with a visit to internationally acclaimed Wild Oats Community Farmers' Market in Sedgefield.  Here the group were able to relax and slow down to the speed of our tortoise town.
The Gastronomic Sciences students split up to saunter around taking in the sights, tastes and sounds of our local markets and enjoying the opportunity to talk to the local food stall holders about their products. The Eden Minstrels and Wild Lettuce impressed.
Later, leaving the market and driving the coastal road along the lagoon, we took the opportunity to show off the beautiful surroundings of Sedgefield.

The next appointment was with Owen and Megan of Honeychild just off the Rheenendal road. This is where raw honey is obtained, as near to organic as one can get. Owen first showed us into the temperature controlled production room, where the fully capped honeycomb is kept and demonstrated the honey extraction and bottling procedures. All this was a hive of interest for the Gastronomic Sciences students who asked many questions and of course, enjoyed sampling the honey.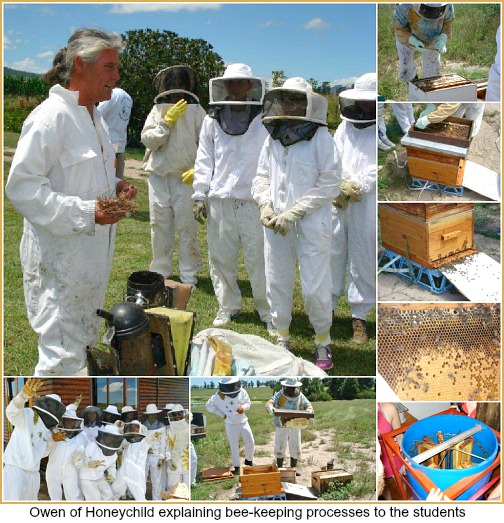 It was then time for Owen to introduce us to his "lovely ladies" as he calls his hardworking bee colonies.  Everyone was dressed in appropriate bee-keeping protective clothing as they were taken to visit the hives.
With a puff of smoke, a pull and a tug, out came the combs saturated with bees all working hard for their queen.
The intrigued Gastronomic Sciences students handled the bee-laden combs with confidence. Once the queen had been identified, Owen transferred his bees into a larger hive where they could move into a second storey to produce honey for harvesting.
When all the bees were tucked away safely in their hive it was back to the bottling room to sample the freshly strained honey that had been produced from the centrifugal barrel whilst we were attending the bees out in the hot fields.
Megan served up her refreshing honey tea followed with a sampling of honey oatcakes, the perfect end to an amazing visit. 
The Red Barn at Fern Gully
The next visit was to The Red Barn.  Robert and Michelle run this wonderful restaurant situated in beautiful grounds surrounded by two orchards of macadamia nut trees.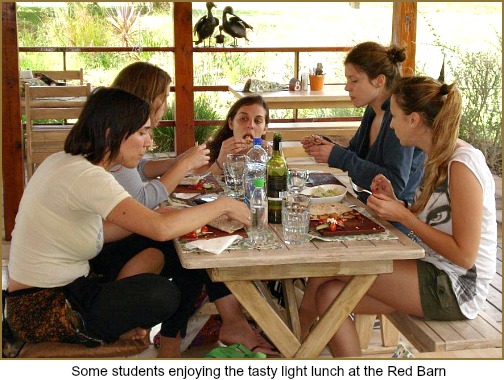 Although this is not the harvesting time, Rob was able to demonstrate how he removes the very hard shells from the nut after the drying period.

Rob explained to the Gastronomic Sciences students how the finished product could then be lightly smoked, salted, roasted, eaten plain or coated in chocolate.
We were able to sample them lightly roasted and in a delightful light lunch consisting of Macadamia nut salad and of course a dressing made with the nut's oil.
This was accompanied by flavoursome smoked chicken and cranberry wraps. The light lunch was an absolute treat. 
PiliPili Beach Bar
All to soon it was time to return to Pelican lodge for a relaxing hour followed by a farewell evening at PiliPili beach bar. The Gastronomic Sciences Students gathered at the beach bar after climbing the sand dune to paddle in the sea and walk along our wonderful beach.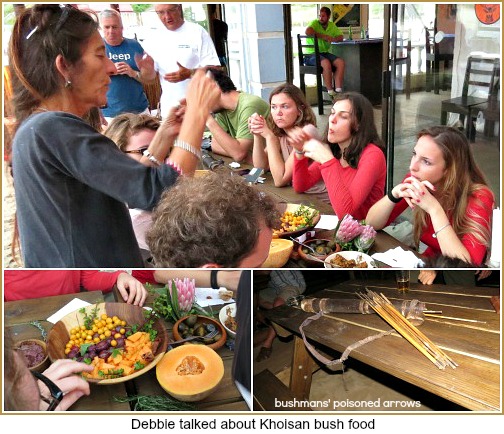 It was then the turn of Debbie of Venus Ear fame to present the group with Khoi-san bush food. She explained her delightful dishes made up of the hunter gathers' ingredients consisting of various indigenous plants like spekboom, herbs and flowers like sour fig and fruit such as tsamma melons that provide much needed moisture. Together with seeds these form part of Khoi-san's staple diet. 

She also showed us authentic arrows with poisoned tips that they hunt with that remain poisonous for years. Once an animal is hit by an arrow, the poison goes into the bloodstream and gradually kills it.
The resilient little hunter pursues it until it drops.  Debbie warned us to be careful as we handled the delicate looking lethal arrows. The poison can be fatal and no antidote is known for the bushmen's secret potion is made from plant species only they know of.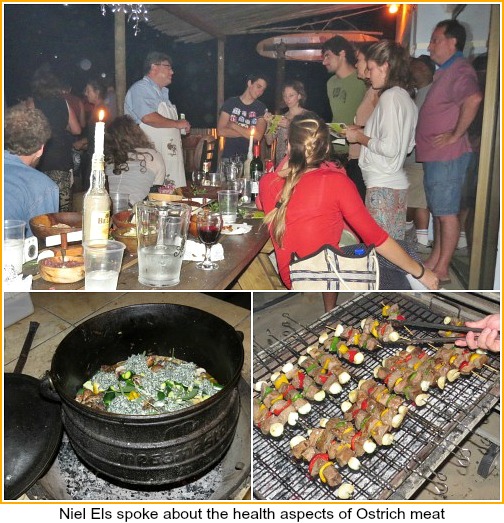 Meanwhile, in the background Niel Els, Manager at Turnberry Boutique Hotel, who had specially travelled from Oudtshoorn, prepared and cooked an Ostrich Potjiekos and Ostrich kebabs. Niel was a font of knowledge about the bird and the Gastronomic Sciences students learnt from him how versatile the ostrich is, how it can survive in very dry conditions and produce high quality healthy meat because,
it has a low fat content. 
the birds are not fed antibiotics.
the dark meat is a good source of biological iron. 
their pellets contain a mixture of lucerne and maize, maize that is not GM because it's not suited to the Karoo climate.
their wonderful feathers that were all the rage in Victorian times are now popular carnival attire and feather dusters.
and of course, the sought after leather from the skin is the most expensive you can buy.
Soon it was time to sample the fare. The flavourful Potjiekos was made with neck and tail meat, still on the bone, the eating of it similar to oxtail but less fatty. The ostrich kebabs were made from rump quickly cooked on the Braai. PiliPili served up bowls of tasty salads, with relishes and delicious pot bread cooked in their outdoor pizza ovens.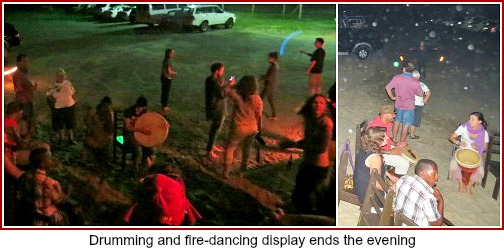 After everyone had partaken of the food along with some good South African wine and beer, Debbie brought out a large bowl of Koeksisters for dessert. She had also arranged for some local drummers to support a fire dancing display that brought a perfect evening to a satisfying close.
At breakfast the next morning at Pelican lodge, the Gastronomic Sciences students were full of praise for their memorable experiences - they call it their  "granaries of memories"! We are sure we will see some of their smiling faces back again due to the wonderful time they had in this beautiful and friendly part of South Africa! 
Our sincere thanks from the committee members of Sedgefield Slow food Convivium and all of those who took part in making the students' visit such a memorable one. 
References: Thanks to Colin Capon for details of the visits to different places that I was unable to cover and for most of the photos. Thanks to Rose Bilbrough for photos supplied via Facebook.
---