The Bistro at Lake Pleasant Living

The July 2011 Slow Food Workshop was hosted by The Bistro at Lake Pleasant Living.
Nearly 50 people attended the Spanish themed workshop and the beautiful Lake Pleasant glistened and rippled serenely in the background as Chef Colin Capon introduced the day with a talk about Tapas.
Tapas
Tapas are nothing more than snackettos, small savoury/salty (never sweet) pieces of finger-food like slithers of toasted bread with a simple topping. For example, olive oil with anchovies or roasted peppers, salt and garlic. Tapas can also be made using up left-overs like bits of chicken or savoury rice dipped in egg, rolled in flour and deep-fried.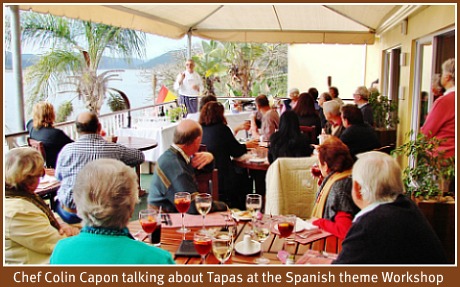 In Spain Tapas came about initially as something to cover the top of one's drink from flies or dust. Then it developed a more important purpose.
It's Spanish tradition now that bars always provide people with tapas to snack on while drinking which means that there are seldom instances of anyone getting drunk because people don't drink alcohol on an empty stomach.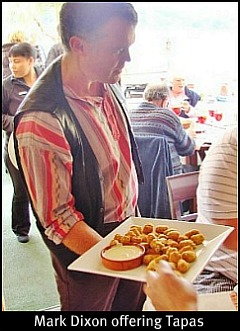 As the workshop began, we sipped our complimentary glasses of Sangria and ate our way through various tasty tapas that some ready volunteers were offering around the Bistro tables.
There were tapas of smoked ham, croquettes with garlic mayo dip (Aioli), springbok and pepperdew croquettes with Aioli dip, Croustades, peppers and salted anchovies, tomato and Black Forest ham, and tomato with extra virgin olive oil and sea salt.
Roots to Shoots -John Moll
Then it was John Moll's turn from "Roots to Shoots" to educate us on edible parts of indigenous plants. He said many of our indigenous shrubs and trees are not utilised enough.
He elaborated that whilst he was getting his Master's degree, out on a field trip with their professor all the students were starving hungry by the time they stopped for lunch in the mid afternoon.
Meanwhile the wily professor had been snacking away on bits and pieces that he grabbed off bushes and trees they'd passed along the way that kept him going past the normal lunchtime.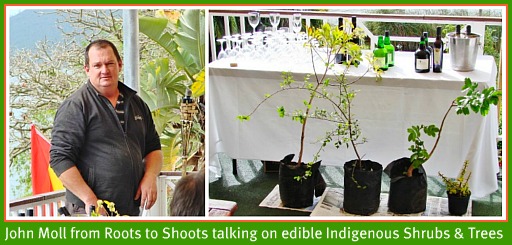 The Cross-berry Grewia accidentalis has sweet fruity berries that can be eaten straight off the tree. They draw fruit eating birds like Knysna Turacos, White-eyes, Starlings, Cape Bulbuls and Speckled Mousebirds. The fruits can be dried and boiled in milk for a delicious drink or added to yoghurt. There is even a beer made with them.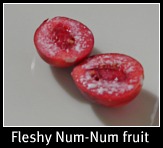 The Num-Num Carissa macrocarpa attracts butterflies and insects which in turn lure both insect-eating and fruit-eating birds. Monkeys and Baboons will also plunder the fruits. They are edible for humans too being sweet in taste and rich in Vitamin C, calcium, magnesium and phosphorus. They can be used to make delicious desserts and jam.
They can make an outstanding flavoured ice-cream. The fresh fruits can last 3-4 months in a cool dry place. Be warned they do dehydrate you because of their high latex content so if you pick them as you're hiking you must have water available to you to counteract that.
The Waterberry Syzygium cordatum fruit tastes like soothing eucalyptus throat lozenges and jelly can be made from it. The Wild Date Palm Phoenix reclinata produces small dates orangey-red in colour that make a good jelly to compliment a pork dish.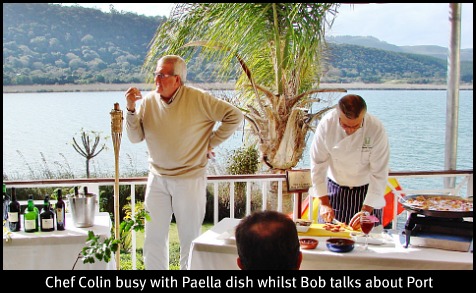 The Kei-Apple Dovyalis caffra has big dark yellow berries that when mixed with gThe fruit of the Wild Plum Harpephyllium caffrum can be either sweet or sour and contain citric and malic acid that is good for jam or jelly making. By adding water and sugar to the peeled fruit, a drink similar in taste to lemonade can be produced. Venison dressed with leaves from the Spekboom Portulacaria afra is very tasty and they also enhance any pork dish.
rapes to sweeten them and neutralise the acid, make delicious jelly or jam. A good quality jam can be made from the fruit of the Wild Fig Ficus thonningii but it is such a popular tree with wildlife, birds and insects that you may struggle to beat them to the ripe fruit.
Olives from the Wild Olive Olea europaea subsp. africana can be either bitter or savoury. They are edible and introduce a subtle flavour when added to a boboetie dish. The leaves soaked in water are used as a substitute for tea.
NLR Wines at the Bistro-Port tasting
Nell-Marie of NLR wines then introduced Bob Dudley to the Bistro crowd for some Port tasting. He told us that he had brought along some De Krans ports from Calitzdorp as they were virtually local (just around the corner from us) and De Krans Winery was passionate about their Port.
He encouraged the Bistro workshop not to think of Port as just an after-dinner drink saying that a Muscadel is wonderful when poured over a good Camenbert Cheese. Port can also be used as a marinade for lamb chops or a leg of pork.
Tinta Barroca,Touriga Nacional and Tempranillo are the grapes that are used in the Ruby Port we tasted first.
Bob told us that the grapes are picked and put in open fermentors where the crust is punched down up to three times a day, often for up to 10 days to get all the colour and flavour out. It is hard work.
When the sugars are right, the liquid is put into barrels holding between 3000-3500 litres, where the fermentation is completed.
Fortified spirit from KWV is added in to the final maturing process. It is described as a fruity port with youthful flavours.
He told Bistro guests that once a bottle of Port has been opened it should be drunk within 10 days. After that the complexity of the port deteriorates into a sweet wine.

The second port we tasted was a Tawny Port. This is made with Tinta Barroca, Tourigo Nacional and Tinto Roriz grapes. It has a coffee-toffee nutty character being a gorgeous coppery golden colour.
Bob also encouraged the Bistro workshop attendees to drink port in different ways, with ice, lemonade, sprite, or soda water. He said that equal parts of brandy and port help to settle an upset stomach.
Spanish Themed Lunch
It was then time for Chef Colin to explain what he had been doing in the background as he'd been busy preparing the Chicken and Seafood Paella.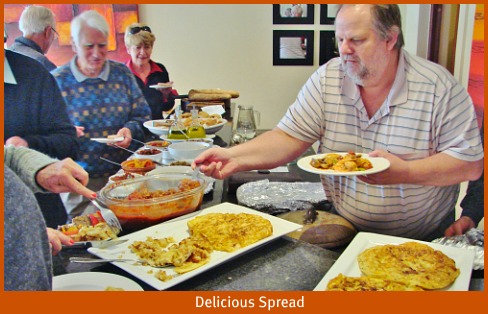 He had lightly fried some chicken in olive oil, added red and green peppers, onions and chopped garlic, binding it all together with Arborio rice as it absorbs liquid without becoming mushy.
He stressed that long-grained rice should not be used for this dish. Sliced Chorizo sausage and Seafood mix were then added.
A stock made from the chicken carcass and juices from the seafood is poured into the pan and all is left to simmer for a while.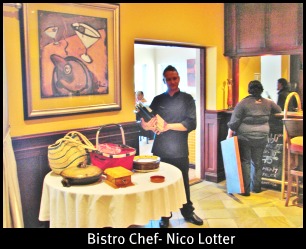 Tomatoes, saffron, coriander, lemon juice, herbs including cilantro, more garlic, sea salt, some sugar snap peas are added and finally as they cook very quickly, shortly before serving, some prawns.
Then all was ready and it was time for the Bistro slow food connoisseurs to sample the Spanish food that included dishes carefully prepared at home by keen amateur chefs and brought to the workshop.
Once again there was a splendid array of food including Spanish Omelettes (Tortilla Espanola), Tuna Empanados, Chickpea Chorizo and spinach stew, Chicken breast in paprika sauce, Spanish rice, Hot winter vegetables, Chicken in sherry with sultanas and almonds and Colin's wonderful demonstrated Chicken and Seafood Paella.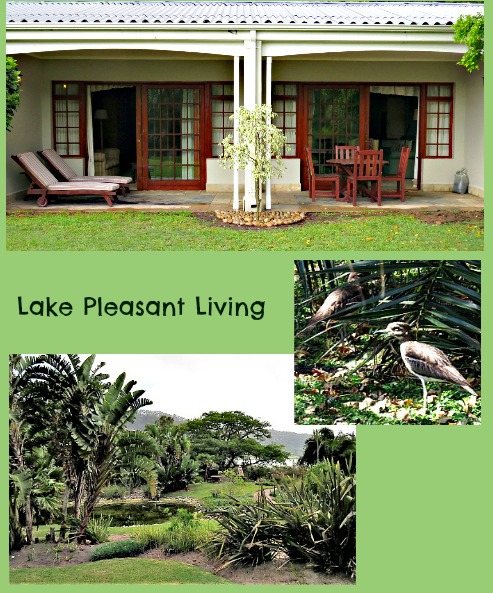 For dessert there was Mint cheesecake, Spanish type milk tart (Natilla) and finger apple tartlets (Empanada de Manzana). 
Once again a great informative workshop was presented at the Bistro on the Lake.
Sincere thanks to all who contributed to the workshop's success.
Special kudos to Chef Colin who works really hard on these occasions and to the Bistro's hosting chef, Nico Lotter who kept everything running smoothly in the background.
Not least, our thanks to Roy Stedman, manager of Lake Pleasant Living who allowed Sedgefield's Slow Food Convivium to hold their workshop at the Bistro.
NB. Lake Pleasant Living is now Traders Hotel Tel: 083 547 2066.


Links to Relevant Sites


Click here www.spain-recipes.com to find authentic recipes from Spain.
---
Food & Trees for Africa is the first South African social enterprise addressing sustainable development through climate change action, food security and greening, with a strong focus on environmental and global warming education and awareness. See programmes and projects for more info on how you can take action now!
---