Christmas in July

A number of Slow Food members enthusiastic to have a Christmas in July workshop approached Chef Colin Capon with this request. Consequently, Tuesday 24 July found the Sedgefield Slow Food Convivium participating in a festive Christmas workshop using the local Sedgefield Bowling Club as the venue.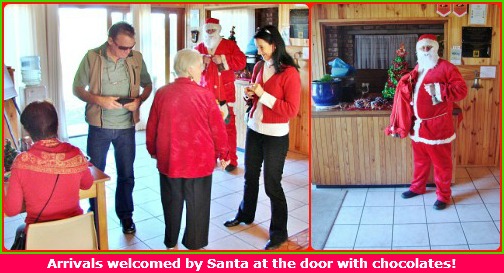 Our effervescent "retired" international celebrity chef Colin Capon produced a magnificent Christmas in July spread assisted in the kitchen on the day by staff members Russell and Gladys from Sedge Mobile Meals. Any profits from the workshop were to be awarded to the charity, Sedge Mobile Meals.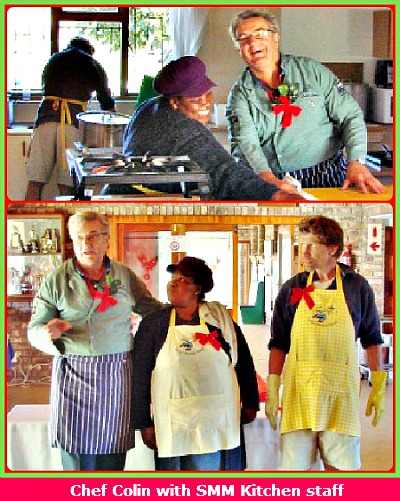 To create a festive atmosphere, attendees were asked to wear something green and/or red. Everyone made an effort to comply. Red was obviously the preferred and favourite colour.
Father Christmas welcomed everyone at the door in a cheery Father Christmas way with a hearty smile and handing out chocolates.
A group of members volunteeered to decorate the tables. They did a splendid job and their efforts really set the tone for the day - vases with red carnations and bits of greenery together with strings of stunning Christmas baubles and beads and alternating red and green serviettes adorned the tables.
On this decidedly cool winter's day the decor and the cheerful predominating red hot colour everywhere was enough to warm us up!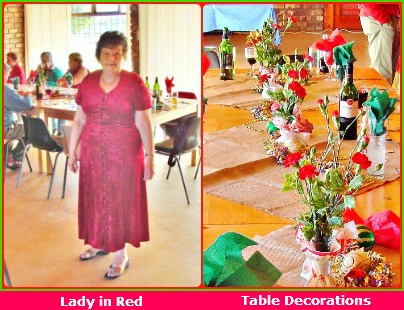 Delicious Mulled Wine for Christmas in July
Once everyone had arrived Colin began the Christmas in July workshop demonstrating how to make "mulled wine' which he said dated back to the 17th century when it used to be heated up by simply sticking a hot poker straight from the fire in it. Slightly caramelising the sugar, cinnamon and nutmeg were added to a mix of brandy, port and 3 bottles of wine so we could all have some.
A few oranges and lemons were quartered, squeezed and added. After testing it and fortifying himself declaring it good, Colin handed over the serving to another Colin as he had to head back to the kitchen. The wine didn't take long to warm on Colin's mobile gas cooker and we all agreed - it was warmly delicious!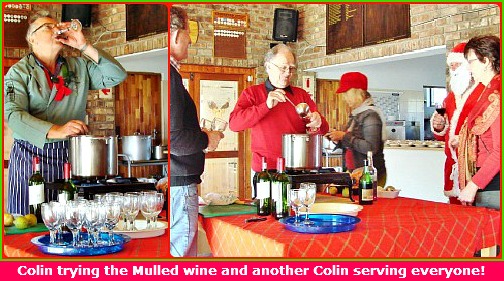 Our Christmas in July meal began with a cold starter of prawn cocktail with rosemary sauce, slices of lemon and baby tomatoes – smooth and succulent!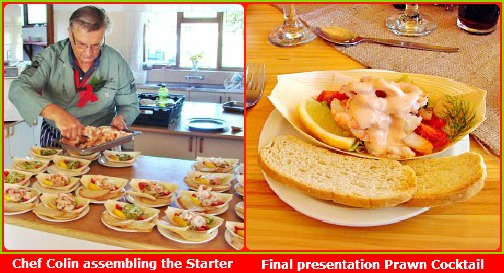 Between the starter and the main course Gilda was given the floor to tell the Slow Food Convivium how she got started with Sedge Mobile Meals.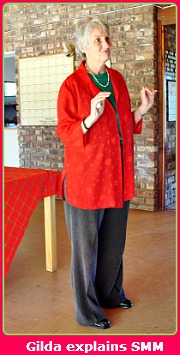 It all began in April 2007 and quickly went from strength to strength. Now in 2012, 1114 meals are served a month cooked in Sedgefield's Municipal kitchen on Mondays, Wednesdays and Fridays.
A plate of food currently costs Sedge Mobile Meals R25.00 to prepare. Most people cannot afford to pay and many are too proud to ask. Gilda says that in most cases it is a friend or someone in the know who advises her of another person's or family's need.
Most of the charity's finances come in through donations and fund raisers. Frequently, the public donate vegetables or tinned food that is on special in various supermarkets. All such gifts are gratefully received.

Find the whole story on the Sedge Mobile Meals page.
Soon Colin declared that our main meal was ready to be served. It comprised of roast turkey roll with gravy and cranberry sauce, fondant potatoes, a vegetable medley of brussel sprouts, red cabbage and carrots and Phyllo pastry baskets containing savoury stuffing, chipolata sausage and devils on horseback – all very tasty.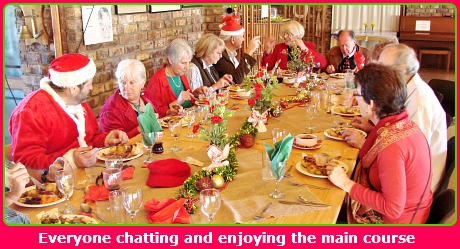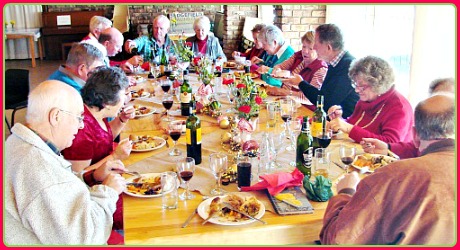 Divine Christmas pudding (from Annette's mother's recipe) flamed with brandy prior to serving, accompanied with brandy butter and Brandy Christmas ice cream and mince pies, all homemade by our members, made up our dessert – absolutely yummy!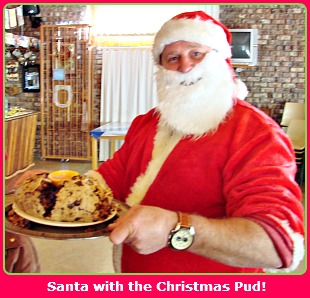 Finally, everyone had been encouraged to bring a homemade "food" gift along and Santa distributed these to the replete revellers. Raffle tickets had been sold at the entrance and there were plenty of prizes to go round.
Thanks to everyone – the Bowling Club for the venue, Colin and members who contributed to the delicious food and dressed the tables, our convivial Santa, Mario from Chas Everitt who did a great job, Gilda for her informative talk, Sedge Mobile Meals staff who worked hard in the kitchen from start to finish, Jeremy Hersch at SO-CA Dist. Knysna who provided the turkeys, Edwin Bartie from our local SPAR who donated a fabulous food hamper, Annette Van Wezel who donated an exquisite glass dish she had crafted herself and all who attended. Altogether yet another superb Slow Food Workshop!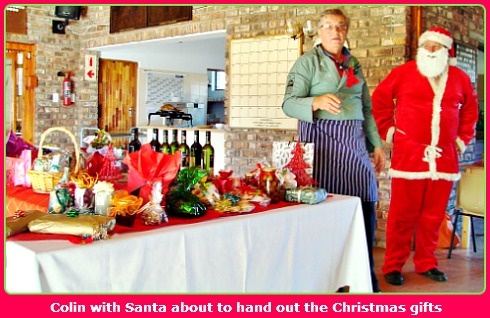 ---