Chef Colin Capon
 Part 2 - International Celebrity Chef

First read Colin Capon Part 1 - RAF Career 

Chef Colin's 1st Award -British Egg Marketing Board Challenge Trophy
Retiring from the RAF after 24 happy and fulfilling years, Chef Colin Capon was excited to launch his business, Professionally Different, freelancing as an independent demonstrator, development chef and consultant. He had already established his expertise and artistry exhibiting a winning edge in a wide variety of culinary competitions.
Turkey Galantine with cranberries and chestnut mousse won Colin a Gold Medal in Canada.
His wife, Auriel would be his partner assisting with the admin and as a 'Jill-of-all-trades' when needed because she had her own career working as a district nurse for the NHS in East Sussex.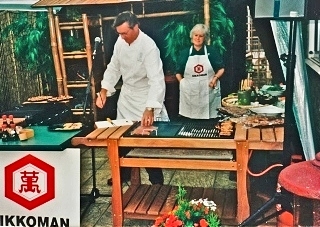 Auriel has Colin's back on the Kikkoman stand at the Garden Centre in East Sussex.
Chef Colin had gained a collection of many different cooking styles from the countries he had visited and was always eager to try out new ideas and to incorporate those he found useful into his own repertoire of creative cooking.
British Gas demo
Added to this, his ability to engage easily with people of all ages and societal levels he was confident he was well equipped to pursue the career he envisaged for himself. 
One of his first assignments was to present some of his favourite dishes at a convention in Wales for heads of the Leisure Industry on behalf of British Gas.

Juno Air-O-Steam training.
Chef Colin enjoyed every minute of demonstrating how to transform easy-to-make dishes into something special by using garnishes and good presentation. He said, "Some people might even have called it, showing off!"

Early on in his new career he was engaged by WM Still to lead the training for their prestigious new Juno Air-O-Steam multi-purpose oven for caterers.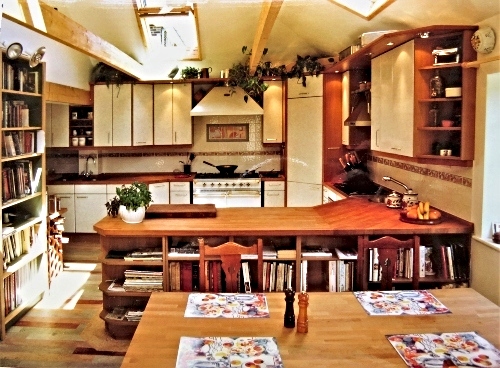 Colin's new Professional Kitchen
At his home in Seaford, separate from his existing domestic kitchen, Chef Colin had built another kitchen suitable for filming demonstrations and photographic sessions. This proved to be invaluable as the demand for his professional services grew.
In this auspicious kitchen the maestro performed his magic, creating new recipes, carrying out product development, food styling, food photography, video/DVD productions  and in-house training for many of his clients.
Chef Colin preparing his Sussex kitchen to do a Food Photography shoot.
Masterful at his craft, Chef Colin's enthusiasm was contagious and he could confidently engage viewers as he demonstrated a recipe explaining its' finer points, even handling the occasional mishaps that occurred without missing a beat.

This enabled him to freely share his passion for food with large audiences through popular live cooking lessons on TV,  film and videos.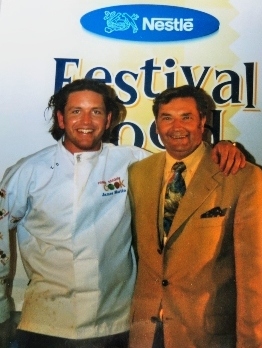 Colin Capon was compère with James Martin at the Nestle Food Festival in June 2002.
Companies he provided services for included: The Nestle Group - doing product launches and recipe demonstrations, for Marks and Spencer he did in-store chef presentations, Waitrose – product development, Sainsbury's - he did training on Cinders, Thermos and Calor makes of  gas BBQs, British Meat - product training at Pubs and road shows, Pritchitts Foods – product launches, President Foods – food styling and photography and for Burger King - development of pulled pork burgers.  
Colin Demonstrating Meat Preparation.
For the Union Pub Company he did a DVD training video, Lactalis Group – recipe development, for British and Scottish Meat - recipes and techniques for cutting and cooking various joints of meat.
Outside of the UK he did similar types of work for culinary entities such as Food from Britain at Foodex in Japan, Hong Kong and Singapore, Sial Trade Fair in Paris, Alimentaria Trade Show in Spain and Portugal, Anuga, the leading food fair in Germany and Food & Hotel in Lebanon to name a few.
Chef Colin Capon on Film Sets and Television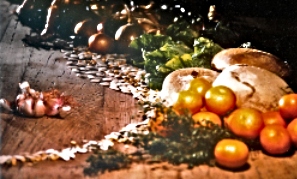 Spain on a Plate.
Chef Colin worked behind the scenes as a consultant for television and film companies producing contemporary and in-vision food; for programs such as 'Spain on a Plate', 'Jane Asher's Christmas Show', 'The Generation Game', BBC's 'Prime Time' with David Jacobs, 'The John Dunn Show', the Gloria Hunniford show 'UK Living', 'This Morning' with Richard and Judy, 'Time Off' with Gordon Burns, 'The Food Program' on Radio 4, Phone-in program on Sussex Radio for tips from Chef Colin for possible cooking problems, not forgetting overseas television and radio companies.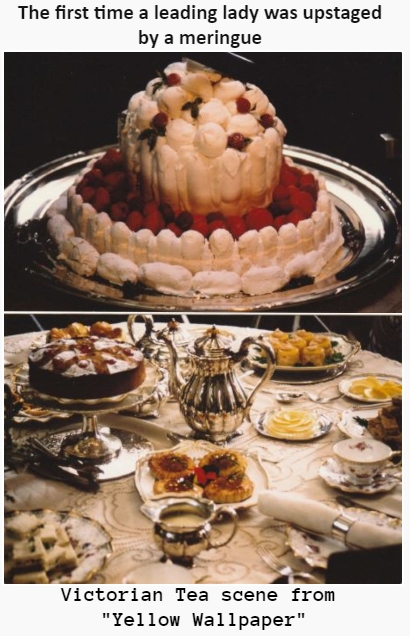 Chef Colin came into period food production by accident when asked if he could recommend someone for the job. Not being able to find anyone he decided to do some research and then intrigued by the challenge, offered to tackle the work himself.
Food is subliminally important because it instantly sets the period playing a key role in costume drama. However, it shouldn't detract attention from the actors. He remembers Dorothy Tutin's comment that it was the first time she found herself upstaged by a giant meringue!
Culinary aspects in movies are an art in themselves requiring ingenuity, imagination and a knowledge of the shelf-life of food and how best to preserve it. It is essential for the food displayed to be authentically portrayed for the period it represented and the table settings had to conform to the social conventions of the day.
Continuity was important so photos were taken of the table settings to make sure that everything was placed exactly as it had been the first time in case a scene had to be re-shot. Luckily, a scene in "Yellow Wallpaper" has the actress collapsing, pulling the cloth and the contents of the Victorian tea table all over herself. In this instance only one take was necessary which was a great relief to Colin, so there was no need for the food to be made again from scratch. 
Kitchen scene in the movie, "Ivanhoe" Filming took place in a Medieval castle outside Newcastle.
In "Ivanhoe" - the medieval dining scene required wild crane, peacock and swan so Chef Colin resorted to taxidermy as the birds were to be used as table decorations and not food.

However, when food was going to be eaten and some of the cast were vegetarian, he concocted a mixture of lentils and soya bean curd making it look like a leg of lamb.

In another instance, he buried his store-bought turnips, carrots and parsnips  in sand for a few weeks to make them sprout because that's how they were served in medieval times. 
Unblemished fruit and veg are a modern phenomenon so he would age them by leaving them outside, then brushing them with a mixture of mud and clay.
Dinner table setting for Pride and Prejudice.
He quickly discovered he had to make the same dish multiple times in case of retakes. In once instance he had 20 backup meals and that particular scene was re-filmed 19 times! 
Chef Colin also found he couldn't just go and buy the brown eggs in the supermarket for "Pride and Prejudice" because brown eggs weren't available in the UK in the early 19th century. They were introduced from France much later!
Sophie Dix draped with edibles in "The Hour of the Pig"!
Then there was the occasion when 4 hours were spent decorating the naked body of Sophie Dix with food and foliage as she was to be presented at a medieval banquet in "The Hour of the Pig." She was laid on a plinth and presented at the table for people to help themselves to whatever delicacy they chose.
The actress was draped with everything from pomegranates to hand-made gingerbread filled with fruit and nuts. Ivy leaves were draped in strategic places but they had to be removed and replaced with other leaves when Sophie broke out in a rash. 
For all Chef Colin's innovative and adept ways to make food work for film-makers, he won credits for films such as 'The Importance of being Earnest', 'Gladiators', 'Wives and Daughters', 'Student Prince', 'Ivanhoe', 'Pride and Prejudice', 'Prince and the Pauper', 'Middlemarch', 'The Green Man', 'Clarissa', 'Blue Ice', ' The Way We Live Now' and many more. 
Judging in the UK–At home, Chef Colin was frequently called upon to judge many topics and forms of Culinary competitions in the UK - for British Meat, local catering colleges, Schools, Junior Master cooks, and sometimes with children who were chosen to assist him when he judged school meals. The 1984 Chef of the Year at hotel Olympia, along with various pub competitions, Nestle Torque d'Or, and The Joint Services Culinary competitions.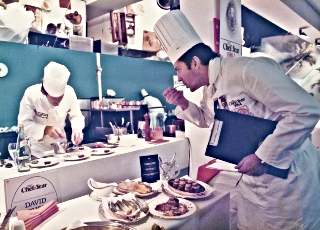 Colin judging a culinary competition.
Abroad-He travelled far and wide, judging in Singapore, Hong Kong, Vietnam, Lebanon, Maldives, and Luxemburg to name a few. He was part of a panel of International Judges for Expo Gast 1998 and Salon Advisor and Chairman of Judges for the Moscow Equip Hotel International Salon Culinaire. Two years running. Colin carried out Hotel and restaurant grading in Jersey and Barbados. In 2005 he was Judge at the Excellence in Food and Drinks and Excellence in Catering Equipment & Supplies Awards in South Africa.

Some Highlights for the International Celebrity Chef 
Colin iced the Wedding Cake and did the braai for the South African Family Wedding.
Auriel had an uncle and his family living and working in Johannesburg. In 1988, their son was getting married.
Colin's role was to ice the wedding cake, help out with the spit roast buffet and adapt himself to the various varieties of alcohol and South African hospitality.
The Capons had allocated a whole month for this overseas visit and thus seeds were sown for them to grow a love for South Africa.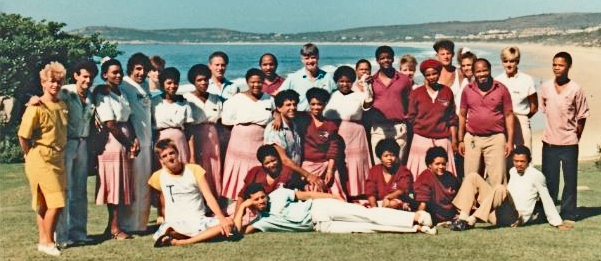 Beacon Isle Staff.
It coincided with other events that Chef Colin was involved in. Southern Sun Hotels together with his friend, Billy Gallagher, who was one of the highest qualified chefs in the country and then President of SA Chefs' Association, organised a promotion titled "Great Chefs of the World".
Twenty top chefs from around the world came to South Africa to present their country's food at the company's various hotels. Chefs were allocated to  different hotels through out the country and Chef Colin and Auriel, ended up at Beacon Isle, Plettenberg Bay.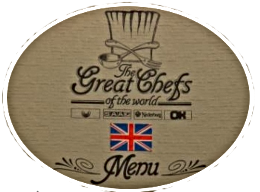 It was their first introduction to the Garden Route. During their stay, it was Auriel's birthday and the hotel gave the couple a car for the day to explore the area so they went on a road trip that included a visit to an Ostrich farm in Oudtshoorn.

Auriel feeding an Ostrich at an Oudtshoorn Ostrich Farm
On their return, Auriel was surprised with a wonderful birthday dinner. The couple's shared experiences of their time in the Garden Route found them well on their way to falling in love with the area.
Straight after 'The Great Chefs' promotion, the '23rd International Congress of the World Association of Cooks' Societies' took place, to celebrate the Association's Diamond Jubilee (60th anniversary). More than 550 culinary giants flew into Johannesburg for the momentous event.
These two events took Billy and his team 6 years of planning to bring to fruition. It proved to be the biggest and best congress the Association had held to date. This was in spite of opposition from some quarters as it was still the apartheid era.
However, South African Chefs had earned themselves great reputations and the Association's strict philosophy and regulations insisting on "No politics in the Kitchen" enabled the congress to go ahead. It was highly successful in showcasing South Africa's natural beauty and showing the friendliness of its' people in a very positive light to the visitors from countries as diverse and distant as Yugoslavia, Singapore, Rumania, Egypt, Japan, Holland, Israel, Monaco, Saudi Arabia, Australia and dozens more.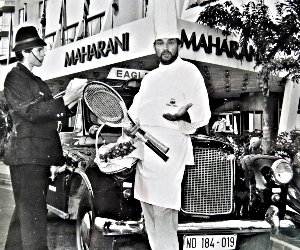 Colin outside the Maharani Hotel in Durban promoting Wimbledon Week, holding tennis racquets with a British Bobby admonishing him for the car behind him.
In the late 1980s, Chef Colin was invited to Barbados to grade their hotels and to conduct seminars on how to cook imaginatively with local produce, the final presentation of a dish being a vital element of the process.
He was also invited to Epcot, Disney World as consultant for the British Village catering project. It was a 3 day whirlwind of meetings and tours and fabulous meals at different venues each time – everything was executed in a highly organised and professional manner that Colin found very impressive.
His 3rd visit to South Africa (1989) on behalf of Southern Sun was part of the 'Chefs Finest Cut' promotion where he demonstrated his expertise at their Maharani Hotel in Durban. It was a two-way benefit because he said he always learned something new when he participated international events.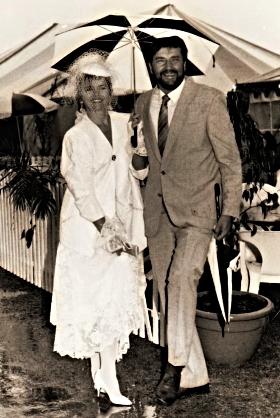 Colin taking time out to enjoy some glamorous moments with Maharani's PR lady.
He was also invited to accompany the Hotel PR to the popular Durban July Derby and the pair were nominated as one of the 20 best dressed couples who were each allotted a horse in the main race. The couple that had the lucky winning horse won a brand new car. Although they didn't win, Colin said it didn't detract one bit from the exciting and glamorous day.

In the 1990s, Chef Colin undertook the mammoth task of cooking a dinner banquet for 'The Standing Conference of Local and Regional Authorities of Europe' (400 delegates) at the Council of Europe in Strasbourg, France to be hosted by the British Government. This involved the shipping of all the foods, English wines and Front of House Promotions.
This proved to be a big headache as Chef John Armstrong, working alongside Colin was delayed by traffic and missed the Gatwick flight. However, Colin was over-delighted when John, undaunted, loaded everything in his car and drove through the night to arrive in time to have breakfast with him prior to the big challenges awaiting them.

He also set up and ran a Spanish Restaurant at the Royal Agricultural Show at Stoneleigh on behalf of the Spanish Government in honour of Her Majesty, the Queen of Spain.
Colin battled to work with antiquated kitchen equipment in Kiev. (a newspaper clipping)
In 1994, Chef Colin was commissioned to carry out a British Week, in Ukraine at the Red Fort Restaurant based in Kiev, to introduce Western style cooking to the Ukrainians. It was a great success in spite of the outdated and dilapidated kitchen he had to work in.

Afterwards he was asked by the Excom Group who owned a stream of restaurants if he would use his expertise to turn an old cellar in the Radomski Dome into a restaurant. He had to plan, cost and design a kitchen with all the necessary appliances and equipment in a matter of weeks and then organise for everything to be shipped from Hansons in the UK.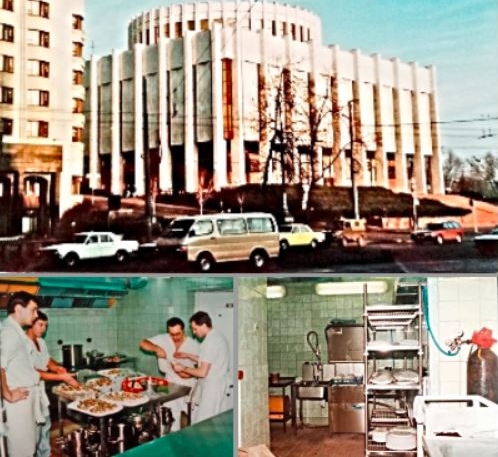 Staff working in the new kitchen in the Radomski Dome, Kiev.
Three months later, he was invited back to open the new exclusive restaurant. The group was keen for him to stay on as a chef but on reflection, Colin tactfully declined the offer.
Chef Colin Capon serving Royalty
Colin meeting the Duke of Kent.
For intermittent periods between 1995-1996, Chef Colin was employed to cater for King Hussein and Queen Noor of Jordan and their children when they were in residence at their palace in London.

In November 1996, working in conjunction with "Food from Britain" he was invited to the British Embassy in Japan to cook a buffet of British food enhanced with oriental flavours for the visit of HRH, the Duke of Kent.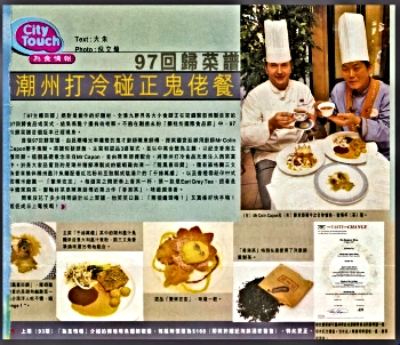 'A Taste of Change Menu' in Chinese.
The next year, he teamed up with  leading Hong Kong Chef, Chang Tung to produce 'A Taste of Change' Press Lunch at the Lang Kwai Fong Food Festival to commemorate the handover of Hong Kong from British sovereignty to China.
BBQ Competitions - Chef Colin developed a passion for BBQs. He reveled in the camaraderie of fire, food, friendship and fun and all the different categories encapsulated in these competitions that involved different meats, rubs, sauces, etc. It remains his favourite method of cooking.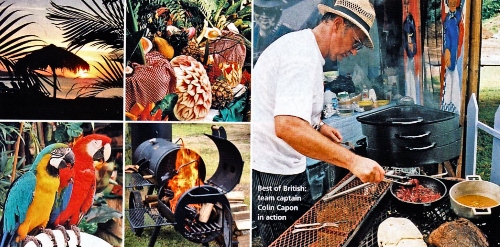 World BBQ Championships Competition in Jamaica Sep 2003.
2003 – In September Colin's 2-man team competed in the World BBQ Championships in Jamaica coming 6th overall and 2nd in the Ribs category against 23 teams from other countries.
2004 – In June, a 5–man team competed in Germany in the BBQ World Championships coming 29th out of 66 teams. 
Colin's team was then able to attend an event that is "by invitation only",  the Jack Daniel's BBQ Championships in Lynchburg, Tennessee in October. There they became the Grill Masters Grand Champions.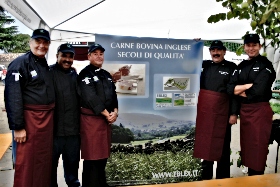 The British Team that attended the World BBQ Championships held in Italy in 2006.
2005 - Chef Colin was Captain of the British BBQ Team that took 1st place in the International category and came 10th in the Jack Daniels World BBQ Championships later that year. 
The British BBQ team had a Halloween Happy Hollow themed stand and entered the four main compulsory categories. Whole Hog, BBQ Chicken, BBQ Pork Ribs and Beef Brisket. In addition they entered three additional classes, Best BBQ sauce, Dishes from the Your Homeland, and the Happy Hollow. 
British BBQ Championships.

Jody Scheckter, a former successful Formula 1 South African Racing Driver turned farmer, had bought a 1000 ha Laverstoke Park farm near Overton in Hampshire, 40 miles from London. He traveled the world to research food and its health properties. He then resolved to emulate nature by focusing on its wealth of biodiversity using organic material, and cultivating a wide range of plants. His Italian Mediterranean Water buffalo, farmed for their meat and milk, feed on over 32 different wild grasses and clovers. With their milk Jody makes a unique brand of ice-cream and mozzarella cheese.
Chef Colin, along with an agency, set up the First British BBQ Competition in the UK to be held in Ilminster Somerset. With the responsibility of arranging sponsorship of good quality meat products, Jody Scheckter was approached and he offered to sponsor all the meat products for the event. His chef also Spit-roasted a whole Buffalo in the town square the night prior to the event. Colin persuaded a local school to agree to allow their grounds to be used to hold the competition. Teams from around Britain came to compete, which resulted in a fabulous weekend for one and all. Jody went on to hold the 2nd BBQ championship at his grounds in Hampshire the following year.
More Work for Chef Colin Capon in South Africa
In 2001, Chef Colin was introduced to the The Christina Martin Cookery Schools by Billy Gallagher. Christina wanted a Celebrity Chef to do some demonstrations using Spar produce in the CM cookery theatre in the supermarket opening in the Gateway Mall in Durban.
Colin also did some cooking classes with the students at Christina's Cookery School just around the corner.


Christina then took Colin and Auriel with her to spend a long weekend at Milimani Private Game Reserve in Pongola. Chef Colin would continue to do more training at her schools in future years.
Chef Colin with Milimani Staff
Milimani was not open yet but Colin had agreed to provide the owners, Ken and Lois Kuhle, advice regarding their kitchen operation and to do some staff training. 
Colin and Auriel then accepted an invitation from Lois to visit a Zulu village near the reserve with Colin being more than happy to cook a vegetable potje, with assistance from a group of village women, for some 200 resident families.
On their arrival, Auriel was deeply touched when one little albino girl rushed to her, wrapping her arms around her, as she seemed to identify with her.
Potbrood
Preparations for the village feast were soon underway and a potbrood (bread baked in a pot buried in the hot ashes of the fire) was added for the elders. there was chocolate brownies with pecan nuts, for afterwards, to the great delight of the children.
The Capons' Zulu village visit was a very rewarding experience for them and considered one of the highlights of their trip to South Africa.

Colin and Auriel visiting a Zulu Village near Milimani.
Some months later Lois contacted Colin to tell him that the son of a British couple he knew well was having his wedding at Milimani. It turned out to be the son of the CEO of Pritchitts Foods, a company Chef Colin had long been culinary advisor to and done many cookery presentations for.
As their development chef, for over 4 years, Colin also took part annually in catering and hospitality on the CEO's 8 foot, 3-mast yacht, Jubilee Sovereign during the week of the Cowes Festival Yacht Races. The races were conducted from the town of Cowes on the Isle of Wight and involved up to 1000 boats in different classes with around 8000 competitors.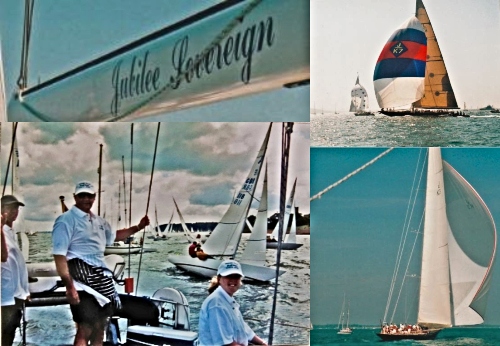 Chef Colin enjoying the Cowes Festival Yacht Races
The festival annually attracted around 100,000 visitors to enjoy numerous events on and off shore. Up to 12 visitors were hosted on board the Jubilee Sovereign to enjoy the boat races from the water. Traditionally the week-long event closes with a spectacular fireworks display. 
In 2003 Chef Colin finished the year with another trip to South Africa. The Capon couple flew into Cape Town to stay at the Prison (now known as the Protea Breakwater Lodge) on Christmas Day. Early in the new year they flew up to PE.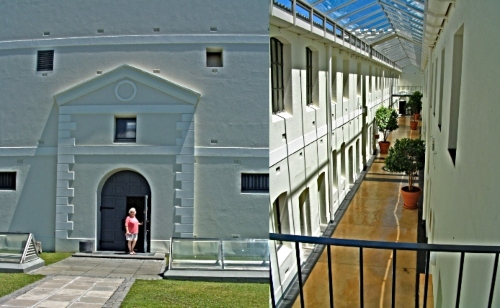 Entrance and corridor to rooms in the Old Prison, now known as the Protea Breakwater Lodge.
They were met at the airport by  Danie Malan, the Managing Director of the Mantis Group and later introduced to the owner and CEO, Adrian Gardiner.
They travelled together to Eagles Crag, the top establishment in Shamwari Private Game Reserve, to discuss more fully the work the Mantis Group envisaged Colin doing for them.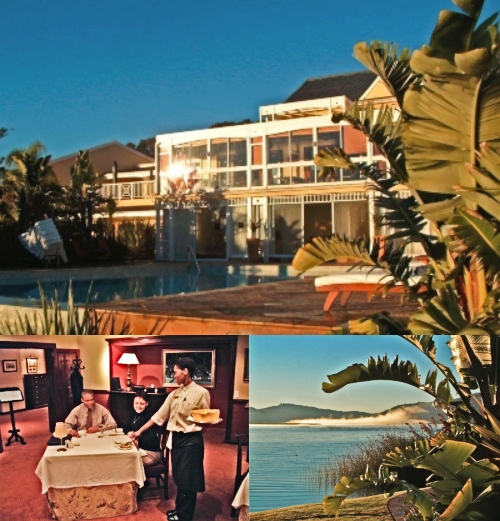 Lake Pleasant Living in 2004 and staff being trained in the Feathers Restaurant to serve diners.
Chef Colin returned some months later (with Auriel) to do consultancy work and training at all the Mantis Group Hotels and Game Lodges beginning at Lake Pleasant Hotel.
Adrian had bought the Garden Route establishment from the previous owners, the Clintons in 2000.
At the time it was a popular family hotel reclining in an idyllic setting overlooking the peaceful Groenvlei (also called Lake Pleasant). This was how Colin and Auriel discovered Sedgefield.
Adrian up-graded the lakeside resort to 5-star status and changed its' name to Lake Pleasant Living. The Feathers Restaurant in the hotel was one of the Capon couple's favourite eateries.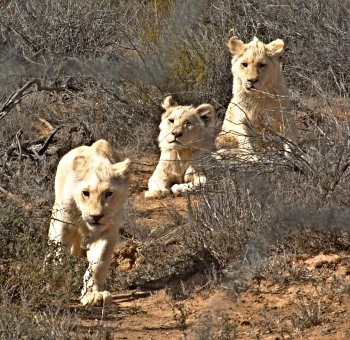 White Lions introduced to Sanbona Private Reserve.
(Unfortunately the Lake Pleasant Hotel as such, closed its doors in May 2016.)
After Chef Colin had completed the training, Gavin, the assistant manager, invited the couple to visit Sanbona to see the white lions that had been newly introduced there.

It was a Private Reserve between Barrydale and Montagu in a magnificent setting at the foot of the Warmwaterberg Mountains in the middle of the Little Karoo.
It was another memorable excursion for them both.


Chef Colin an International Celebrity Chef
Chef Colin's Professionally Different business had thrived with him loving the challenges and diversity of the work he was asked to do. From the extremes of cooking for royalty to revising British pub grub cooking methods and presentation.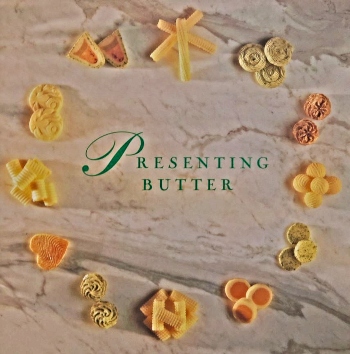 Creative Food Styling for the Cover of a booklet containing recipes with Butter.
Nothing was too difficult or simple for him to tackle. He is chef for all seasons, at home in any country and comfortable in any culture. He took on board the insights he gained into different aspects of world cuisine while working in Australia, America, Barbados, Canada, France, Fiji, Finland, Grenada, Holland, Hong Kong, Italy, Jamaica, Japan, Lebanon, Luxembourg, Malta, Malaysia, Moscow, Portugal, South Africa, Singapore, Spain, Thailand and Ukraine.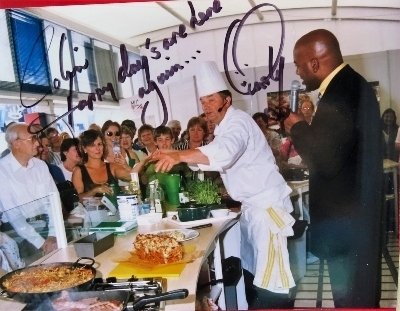 Chef Colin with Chef Ainsley presenting dishes on the British Meat Stand at the Stoneleigh Agriculture Show.
It is not an exaggeration to say that Chef Colin Capon's passion for food and culinary endeavors have encompassed the globe, working on every continent (except Antarctica). His awards are too numerous to mention. His travels enhanced his prodigious skills and he truly deserves his title, International Celebrity Chef.

Demo of Micro-convector Steam Oven.
His trademark of excellence in all matters pertaining to his vocation was evident every time he made presentations to industry and the public, promoting manufacturers' products, new equipment and utensils, giving valuations and endorsements; and providing specialist catering for parties, charity events and receptions.
Chef Colin made countless appearances on TV with hosts of different food shows and doing radio talks with live chat lines often presenting his own recipes and delivering them with his own quips and unfazed brand of humour when on occasion things didn't work out perfectly.
He also had fun times cooking with young kids and visited numerous schools to enjoy interactive cooking and baking lessons with them.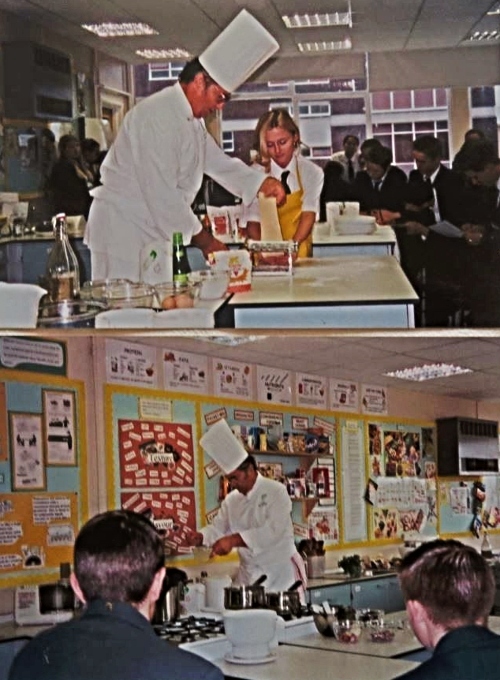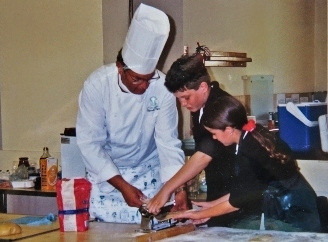 Colin cooking with school children of all ages.
Colin's enthusiasm for life, his talent and engaging personality has enabled him to mix with kings and commoners with equal ease presenting his craft with confidence and aplomb.
His professional freelance business opened doors to many exciting adventures that, he would be the first to say, with his wife by his side, enabled him to have an extraordinarily productive and satisfying life doing something he loved.

Chef Colin Capon retires to Sedgefield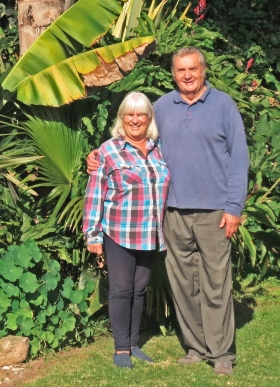 Colin and Auriel in their Sedgefield garden.
Happy and memorable times in South Africa had been stacking up and in 2005 Colin and Auriel decided to buy a house in Sedgefield. They viewed it as a retirement proposition. For a few years they rented it out until retirement beckoned. 
In 2010 the couple retired to the little seaside village. However, within a year  of settling in, Colin was approached by Andre Gauche, a local businessman to set up the Slow Food Convivium to empathetically synchronise with Slow Town principles and enhance the brand, as the two entities were united in Italy by the same founder, Carlo Patrini. In October 2010, Andre had supplied the motivation for Sedgefield to be registered as Africa's first Slow Town.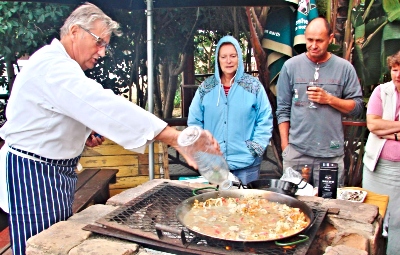 Colin cooking up a storm at the inaugural Slow Food lunch at the La Piazza - April 2011.
The initial meeting at La Piazza hosted by owners, Gary Atkinson and wife, Rene was a great success and Chef Colin ran with it from there persuading different restaurants to provide the venue for theme-related 3-course lunches.
He arranged various talks, prepared a signature dish himself and at most meetings he demonstrated practically some key element of the food being cooked that day.

His organisational and culinary skills were the backbone of every luncheon. He whole heartedly took on this challenge aligning the local chapter with the Slow Food philosophy and completing all the administration to make us a legal Slow Food Convivium of the International Network. All these aspects of themselves were no mean feat and would have been difficult for a lesser man to achieve.
The final Slow Food wonderful Christmas lunch was hosted by Peter and Viv Vadis at their Pembreys restaurant. They had been strong supporters of the Slow Food meetings attending whenever they could. Bob and Elaine Dudley sponsored the wine.
Final Slow Food Lunch Christmas at Pembreys/ Auriel and Colin - Dec 2013
The monthly Slow Food lunches had just begun when in the June of 2011, Chef Colin was asked to be part of the British team who were participating in the "Bidvest World Chefs' Tour against Hunger" taking place in South Africa.
260 chefs making up at least 50 teams from 40 countries participated at venues around South Africa providing demonstrations and cooking up a storm for a good cause. Their aim was to raise R5 million to feed needy African children for the next 5 years.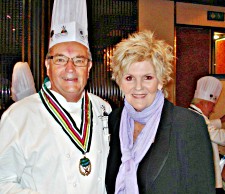 Colin with PJ Powers
Well known South African singer and songwriter, PJ Powers supported the campaign with her emotionally moving song "Sing Children Sing". A record of R8 million was the final sum raised by this event for three worthy organisations, 
1. African Children's Feeding scheme - 23000 children in 7 townships in Gauteng receive food daily from this scheme which now includes hot meals in some instances where it can be practically supplied.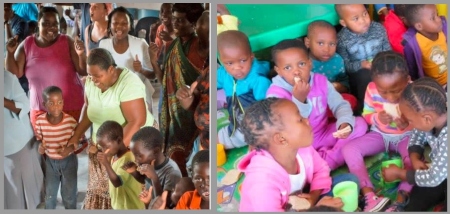 Hands at Work & African Children's Feeding Scheme
2. Akani Diepsloot Foundation - it provides a much needed pre-school and crèche facility as well as an after-school "home" for 750 children on school days and 500 on Saturdays, from the Diepsloot community just north of Johannesburg. 

3. Hands at Work in Africa - assist  more than 80 community- based organisations across sub-Saharan – Africa and Nigeria with resources and people, to find solutions to the crises of the orphans of the HIV/AIDS epidemic that is an overwhelming issue for hospitals and orphanages in such communities.
 The Slow Food Convivium meetings continued to be held monthly for almost 3 years but it was demanding and hard work for Chef Colin. When he decided it was time to step down at the end of 2013, no-one was able to step into his shoes and the wonderful, lively, informative and tasty, themed lunches came to an end. There was just no-one of his calibre or knowledge to replace him.
In February 2013, he had organised a comprehensive program of several days for students of the University of Gastronomic Sciences, a branch of Slow Food International, who asked if they could visit the local Convivium as field trips to other countries were part of their curriculum. Colin took it upon himself to arrange a fabulous and diverse itinerary for them.

Colin also single-handedly produced a 3-course dinner for 200 people at a charity driven quiz show at the town hall.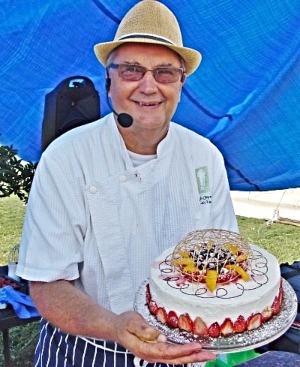 Colin's Gateau Demo at 2012 Easter Slow Festival
The major part of the meal he had to prepare at home because the town hall kitchen was inadequately equipped to provide hot food for that many people. It was an eye-opener for me to discover that it can take at least 45 minutes just to plate a course for that many people even with a good number of helpers.
He also contributed cookery and baking demonstrations at the Slow Festival held at Easter and helped out cooking food to be distributed from the town hall when the wildfires ravaged the countryside and Knysna town in June 2017. In so many ways, Sedgefield's International Celebrity Chef has made a valuable contribution to this community.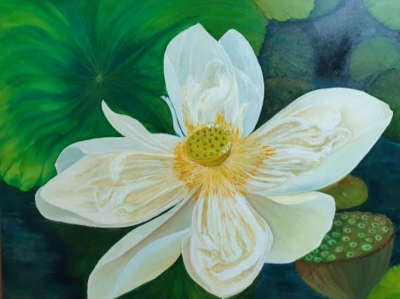 Colin's Lotus painting.
Finally Chef Colin has been allowed to retire although he continues to work his magic for his friends on special occasions. His love for cooking is firmly fixed in his DNA. He grows many edible plants in his garden to use in his kitchen.
However, he has joined the local art society and can be found attending classes, paint-brush in hand doing justice to the chosen subject of the day. The artistry is evident in his work although in this instance, it's not edible! 

---
Thanks to Colin for all the notes, photos, newspaper clippings, and brochures he unearthed (causing a state of chaos in their home as he sifted through them) to provide me with a veritable treasure chest of information to create this page.
See also Colin Capon Part 1 - RAF Career