Slow Food Topics
Many great informative slow food topics were introduced, discussed and demonstrated at the Slow Food Workshops that were orchestrated and organised with flair and deceptive ease by International Celebrity Chef, Colin Capon who had retired to Sedgefield.
Between April 2011 to December 2012, each month, Colin persuaded different restaurants along the Garden Route, to host themed workshops where he contributed his own expertise, invited Slow Food members to contribute their own dishes and restaurants to add a main dish of their own choosing to a themed lunch.
These lunchtime outings provided local foodies with a wealth of culinary experience that included wine tasting opportunities from many top South African wineries and inspired and encouraged attendees to try new dishes and ways of cooking local foods. 
Colin also organised talks on a wide range of subjects that tied in with Slow Food ethics and philosophy.
So here for easy access to this information is a detailed listing of some of the best Slow Food Topics.
NB. All photos on this page are of Pembrey's Slow Food Christmas lunch.
Chef Alma- Theme: Asian and Far Eastern flavours, traditional and fusion
Venus Ear Secret Tea Garden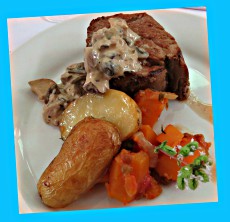 The Bistro at Lake Pleasant - Theme: Spanish food
Timberlake - Theme: African food 

Puccis - Theme: Italian Food
Riverdeck - Al Fresco Dining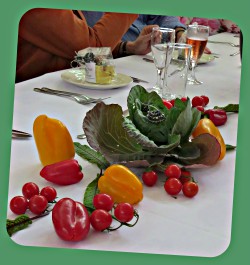 EAT - Theme: South East Asian Food

Pilipili Beach Bar - Theme: Carribean
Cutty Sark Restaurant-Pine Lake Marina-Theme: Moroccan
Kilzers Kitchen - Theme: Best of Local Produce
The Red Barn - Theme: Australian
Sedgefield Bowling Club- Theme: Christmas in July

Sedgefield Arms - Theme: Best of British
Blackwaters River Lodge - Theme: Flavours of France
Windmill Cafe Timberlake -Theme: Pies,Pasties & Pastries
Montecello Seafood,Pub and Grill - Theme: Hot and Spicy
Sylvia with Auriel and Colin at the final fabulous Christmas lunch at Pembreys
Far Hills Country Hotel - Theme: Fusion Food
Die Gieter, Knysna-Theme: Winter Warmer
Sadly when the time came for Colin to step down from the leading role he played so that he could genuinely relax into his retirement, no-one felt capable of taking over the reins from him and the wonderful monthly workshops came to an end.
These pages remain to testify of the good times we had eating wonderful food and quaffing great wine, listening to some excellent information on slow food topics and enjoying the camaraderie of like minded foodies. 

---