Venus Ear Secret Tea Garden

Venus Ear owned and run by Debbie Bosch was the eclectic venue for our 3rd Slow Food Workshop. The interior and colourful semi-covered back tea garden of the shop was full of the artistic creations of some 60 crafters that market their products through Debbie's shop. It creates a funky bohemian dining space that is relaxing and visually stimulating at the same time.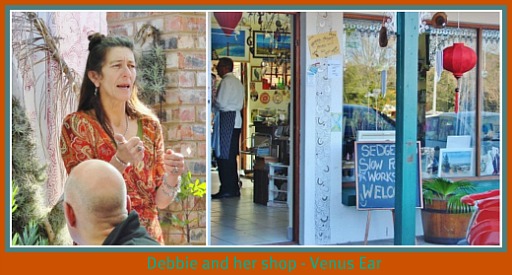 Anyone is welcome to come and relax in the Tea Garden with a book or newspaper or sit and paint, knit, crochet, do some bead-work or simply drink a cup of tea. There's a bookcase with books (you can bring your own to swop) and magazines to read and comfy chairs to read them in.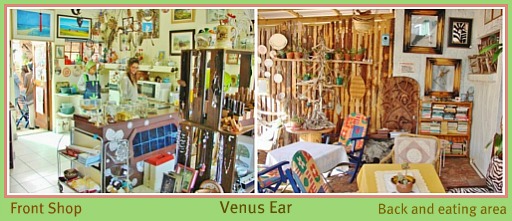 On Fridays Debbie sells produce in a shady spot outside Venus Ear for a couple of local farmers. It is fresh and organic and there's sourdough bread, milktart, jams and honey on sale too. 
Venus Ear serves a range of teas such as Jasmin Green Tea, organic Agulhas Honeybush tea, Rooibos Chai, organic Olive leaf tea and Gunpowder Green Tea (this is the whole leaf not crushed), freshly made juices and simple snacks like fresh garden salad with hummus and sourdough bread and sweet delicacies such as "ladu" that are Indian sweetmeats made of chickpea flour, butter and sugar that taste like fudge – really delicious, and yummy health bites that are made of coconut, cranberries, dates, raisins, naartjie-peel, goji berries and oats etc.(I lost count after that!)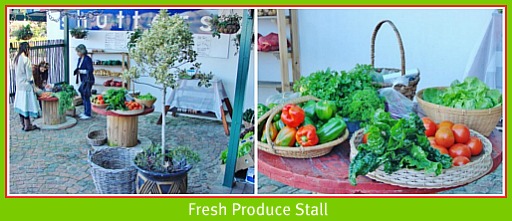 After a short introduction by Colin as to how they discovered Venus Ear soon after coming to Sedgefield and met so many people through it, he handed over the workshop to the first speaker, Chrizelle Gill from Nurtured by Nature – the shop next door to Venus Ear.
Alkaline Grains
Chrizelle chose to speak about the use of grains less well known by most of us, as an alternative to rice and wheat for those who are gluten-intolerant and that play a role in lowering cholesterol. They are also alkalising in the body which is good for sufferers of gout and other acid causing discomforts. She prefers that people use food instead of medication to attain health. Her maxim is "Let food be your medicine."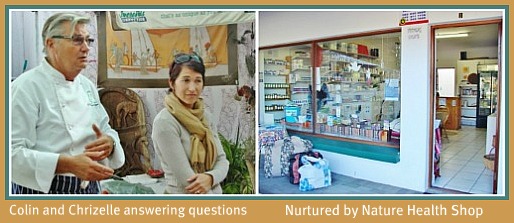 Millet is a grain grown in India and China and is an extremely important staple of Africa where it is thought to have originated in Ethiopia. The Indian bread, roti is made from ground millet. It has an ancient history and was one of the first grains used domestically. It is mentioned in the bible as an ingredient of unleavened bread.
It is a warming grain that can be put into stews. It is 15% protein, has good fibre for the digestive system, lots of B Vitamins to sooth the nervous system and essential amino acids that reduce our bad cholesterol and improve our good cholesterol. It takes a similar time to cook as rice. It can also be popped and eaten like pop-corn.
To cook, first rinse thoroughly then add one part millet to two and a half parts boiling water. Return the liquid the boil, then turn down the heat, cover and simmer for about 25 minutes. The texture will be fluffy like rice. If you want the millet to have a more creamy consistency, stir it frequently adding a little water every now and then. This can then be a substitute for mashed potatoes.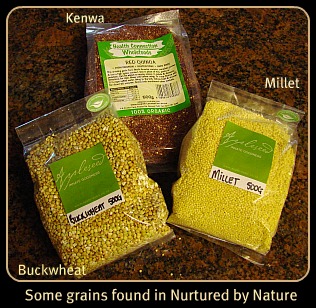 For a nuttier flavor roast the grains first before boiling. Do this by placing the grains in a dry skillet over medium heat and stir them frequently until they turn golden in colour. Then boil the millet as described above.
Buckwheat is native to Northern Europe and Asia and is widely used in Russia and Europe too. It is actually a fruit seed related to rhubarb and sorrel. It contains flavonoids (particularly rutin) which are phytonutrients that strengthen the immune system.
It can be ground into flour and contains very high levels of magnesium - 86 mgs in a serving - a mineral that acts as a co-factor for more than 300 enzymes, including enzymes involved in the body's use of glucose and insulin secretion. This makes it an excellent food for diabetics. It assists with the ups and downs of perimenopausal women who are beset with hot flushes, heightened cholesterol and sugar problems caused by hormonal changes.
It relaxes the blood vessels and increases blood flow so is good for our cardiovascular system. To cook – Rinse thoroughly then add one part buckwheat to two parts boiling water. Return liquid to a boil, then turn down the heat, cover and simmer for about 30 minutes. Eat as porridge or add to soups or stews.
Kenwa (Quinoa) is related to Spinach and Swiss chard but its seed was an ancient South American grain dating back to the times of the Incas and Mayans. Considered a sacred grain, the first seeds of the season were traditionally planted with golden implements by the Incan Emperor.
Spanish conquistadors prohibited them from growing it because it was used in some of their religious ceremonies that intimidated their persecutors.
As a complete protein, it contains all 9 amino acids and lysine which strengthens the immune system. Also containing good quantities of calcium, phosphorous and iron, it was given to pregnant mothers because it assisted them to produce nutritious milk. It can be made as porridge and has a nice nutty flavour – try soaking it in fruit juice overnight before cooking it. It can also be popped as popcorn.
Because Chrizelle mentioned that these grains can be used to thicken soups and stews, Colin commented that arrowroot was also a good alternative to cornflour. Only a pinch is needed and it thickens at a lower temperature than cornstarch. It should not be added too early as it then loses its thickening properties. I found out that it was introduced to the Europeans by the Arowak people of the Caribbean. They however, used it to draw out poison from poisoned arrow wounds.
These products can be obtained at Nurtured by Nature next door to Venus Ear.
Goat's Cheese, Chloe Shiraz & Wild Mushrooms
An interesting young man is JonnO Lermer, a frequent visitor to Venus Ear, who talked knowledgeably on several topics. Firstly he spoke about the benefits of Goats Cheese and we all had the opportunity to sample some that had been produced by the goat farm, Kleinfontein, at Swellendam.
As it is unpasteurised it has several advantages over regular cheese one being its bio-organic sodium that helps to keep our joints lubricated as it does the nimble footed goats that produce the milk for the cheese. Some of the Gouda cheese is matured for 2 months and some for 6 months. The skin on the cheese can be grated and substituted for regular Parmesan cheese. Another product made from goats' milk sold at Venus Ear is Soft Cheese Balls in Olive Oil.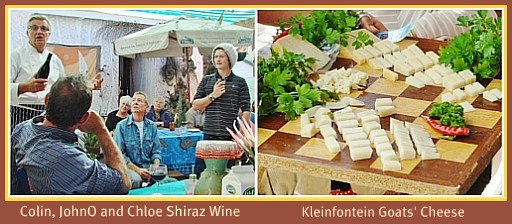 JonnO had brought along a few cases of Chloe Shiraz (named after his sister) to Venus Ear. The wine is made from the grapes grown on his father, David's boutique wine farm, "La Verdure" (the Green Place). We were able to have a wine tasting of the 2006 (berry flavours) and 2008 (coffee and mocha flavours) vintages. These bottles can be kept for 3-5 years. They are organic wines, low in sulfur giving them a smooth after-taste. They are quite high in alcohol 14-15%. No pesticides are used on the vines so vanishing creatures like chameleons that are indicators of environmental health and biodiversity are present on the farm.
JonnO is also an expert on Wild Mushrooms and brought a variety of fresh and dried along to show us. He warned us that it is almost impossible to detect the edible ones from the poisonous ones and to the unpracticed eye, they look identical. It is inadvisable to eat wild mushrooms unless one really knows they're safe to eat. 20 gms of a poisonous mushroom is enough to cause liver and/or kidney damage and 30 gms can kill one!If you come across a wild mushroom and want it identified, you can leave it at Venus Ear with your name and telephone number and JonnO will be able to tell you what it is and whether it is edible.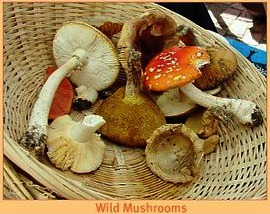 We saw a number of different wild mushrooms with names such as Boletes that have tubes not gills under the cap and Pine Rings which are a little bit blue on the side and hollow in the middle that are named because they are found under Pine Trees and Cork Oaks.
They do this because fungi such as mushrooms have mycelium that establish a symbiotic relationship with the roots of specific trees and the spores we see above the ground are the fruit bodies. Copper Trumpets look similar to Pine Rings but are poisonous. They lack the hollow in the middle.
Fly Agarics have a frill or skirt as it is called and a round bulb at the bottom. They look like the toadstools seen in fairy tales. The Druids and Celts used them in religious ceremonies when they were eaten dried and caused hallucinations. Sometimes the dried mushroom was mixed with other herbs and smoked. Crushed and mixed with milk they are used to attract and kill flies.
The edible Noble mushroom is found near cow dung or animal dung on lawns but a poisonous version looks the same. Purple-stemmed russulas are very peppery and not tasty to eat. Chicken of the Woods is a bracket fungi that grows to a large size and can weigh up to 45 kgs. It is found on Eucalyptus and Oaks. It is orange on top and white underneath growing in a semi circular shape around tree trunks. It tastes like chicken when eaten.
JonnO used words like "ring", "margin" and "cap" as aspects to assess when judging whether a mushroom was edible or poisonous.
 Smoked Meat by Chef Colin at Venus Ear
It was then time at Venus Ear for Colin Capon to explain the process of "smoking " meat for a number of hours to extract maximum flavour and tenderness.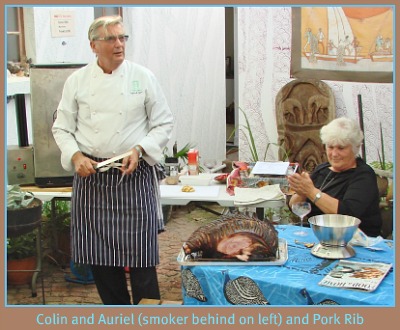 A rib of Pork and some chickens were already smoking so he showed us on a raw sample how to prepare a rub prior to putting the meat in the smoker.
He explained that salt and sugar protects the meat from bacteria and should be included in the rub recipe. After that you can make up your own concoction using almost every spice in your cupboard. e.g. coriander, paprika, barbeque spice, celery salt, cumin,lemon pepper, cayenne pepper,ground garlic flakes, ground bay leaves, etc.
Once the meat is being smoked and slowly cooking you can spray it lightly from time to time with apple juice or pineapple juice to keep it moist and also to tenderise it.
For most of us, a Weber Braai would do the trick but Colin had a smoker that he brought with him from the UK. He said it is possible to make a simple version of one, yourself. If you're keen, google "homemade barbeque smokers" and you'll find an amazing display of inventions!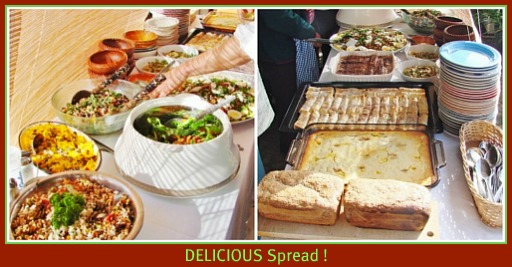 Then it was time for the hungry diners of Venus Ear to tuck in to the wonderful array of salads that willing slow foodies had brought to the workshop. Together with Colin's superbly smoked Pork rib and chickens it was food for the Gods. The desserts were no less impressive and a splendid convivial feast was enjoyed by everyone.
A great vote of thanks to our enthusiastic host, Debbie of Venus Ear, all the informative speakers, the cooks who produced the delicious fare and our wonderful chef, Colin who provided the heart of the meal with his divinely smoked meats, goat's milk cheddar and haloumi that he also gave a slight smoking to and also coordinated the program for the day.
DECEMBER 2012 - UNFORTUNATELY VENUS EAR IS NOW CLOSED - DEBBIE HAS MOVED ON TO OTHER THINGS!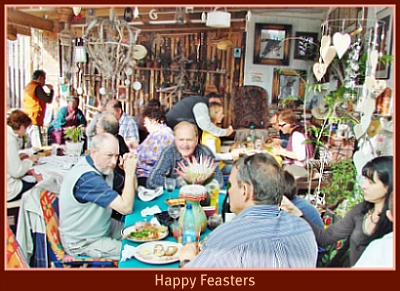 Links to Related Sites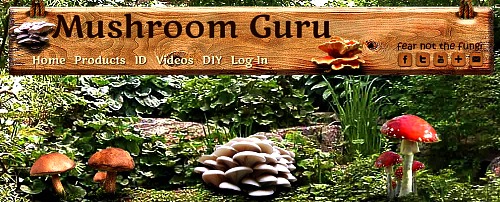 Mushroom Guru is designed to give you accurate information about South African mushrooms that you can eat and those you should avoid. Whether it is a wild mushroom you want identified before you feed it to your family or to learn to grow these mystifying specimens yourself... we may be able to help you.
---

Goats, Goat, Goats will tell you all about goats and goat breeds, from meat goats such as Boer goats to dairy goats and all about goat farming.
---