Slow Food Workshop

at Chef Alma
The second Sedgefield Slow Food Workshop was hosted by Chef Alma @ Groenvlei and we were welcomed with a healthy fire crackling in a corner of the dining-room on an overcast Tuesday afternoon 24 May. The theme for the workshop was Asian and Far Eastern flavours, traditional and fusion.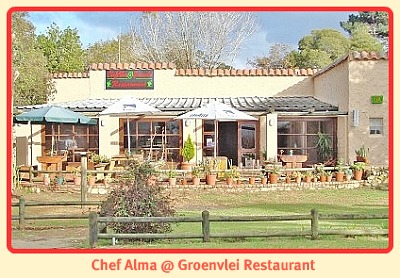 Essential Indian Spices - Sunita Jordan
Around lunchtime the skies darkened and the mellow autumn day was transformed when the heavens opened but Sunita Jordan from the Indian Cookery School in Knysna held our attention with her hot topic and fascinating talk on essential Indian spices.
Sunita hales from Gujarat in Western India, a completely vegetarian area. "People," she says "are restricted for the most part by what's available in their region." 
She explained to the Slow Food Workshop that Indian food and curry in particular is not just about "chilli" but the subtle use of spices. Curry is the perfect slow food and its always best cooked a few days before it is needed so the spices can blend and infuse into the ingredients.
She further elaborated to the Slow Food Workshop, that knowledge of just a few basic spices is sufficient for anyone to make a delicious Indian curry and she proceeded to explain.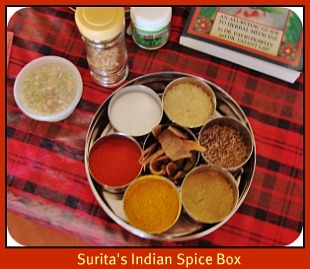 Cumin seeds are essential for their curry taste and aroma and are regularly mixed with aromatic Coriander seeds because they compliment each other well. You can buy the seeds and grind them or buy the powder where that's already done for you. However, the whole of the Coriander plant is aromatic and delicious. 
Cassia bark is the cheaper version of a cinnamon stick. It is sweet and tastes like dentyne when chewed. It is a digestive. As a powder sprinkled on many desserts such as apples, peaches, tarts and in a hot chocolate drink it adds a delicious subtle flavour.
Curry leaves come from an indigenous Indian plant and can sometimes be difficult to get. Curry powders are made from a mixture of different spices one being a mixture such as coriander, cardamon, ginger, turmeric and cayenne pepper.
Ginger has a wide spectrum of flavouring being used in sweet and savoury dishes. It's an excellent tonic stimulating and aiding digestion.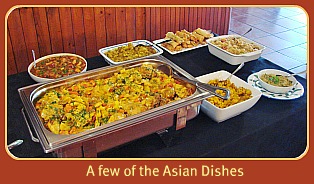 Chilli – fresh green chillies are the mildest and orange and red the hottest. Crushed – the seeds make the mixture hot, or you can buy powdered chilli. Cashmeri Chilli powder is considered mild. Use chilli carefully you can add it but not remove it!
Turmeric is an antibacterial and healing spice. It adds a nice colour to curry but has a bitter taste so be careful how much you use.
Asafetida is a substitute for garlic and onion. It is considered a gas releaser so a pinch of the powder is good when used in lentil and bean dishes.
Finally as in most cooking, sugar and salt are also important ingredients.

Heat these spices in the pan first with some oil to release the flavours and then add your vegetables, fish or meat and stock, cooking it slowly to infuse all the flavours into the food. Surita advised that yoghurt and cucumber are used to cool the palate as is the Indian drink Lassi that can be either sweet or salty.
Deetlef's Wine Estate - Belinda De Kock
At the beginning of the Slow Food Workshop, Belinda De Kock, the representative of the South and East Cape region for Deetlef's Wine Estate presented us with some wines to taste and intermittently through-out the afternoon paired the wine with the food we were eating. We were offered some special prices on certain bottles of wine for the day.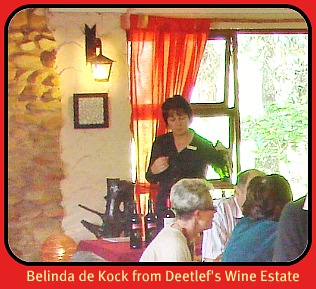 Deetlef's has been owned by the same family in South Africa since 1922. Situated in Rawsonville at the foot of the Du Toits Kloof Mountain, in the Breede River Valley region, the estate's current owner is Kobus Deetlef (6th generation) who is a qualified winemaker. Currently Ferdie Visser is acting winemaker.

They have won numerous prizes with their Estate and Family label wines. The Estate Chenin Blanc 2008 won gold last year at Veritas, Michaelangelo and at the Terior Awards.(Best Chenin Blanc in Breede River Valley)
Their Estate Merlot 2008 won gold last year at the Michaelangelo Awards and was sold out nationally the next day. SAA bought all the stock for their first class passengers.
Their Stonecross wines, the Stonecross Chenin/ Chardonnay as well as the Pinotage Rosê was rated best value for money wine in the Ultra Liquers Wine Magazine and the Chenin/Chardonnay gets served on First Class SAA and Kulula airways.
Colin Capon - making Murtaba at the Slow Food Workshop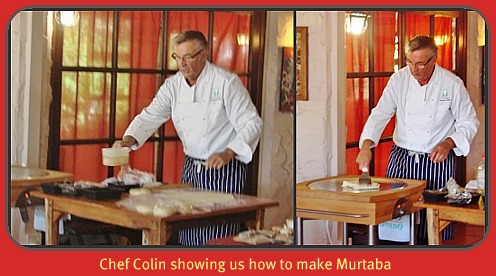 As the Slow Food Workshop continued, our great Slow Food Chef extraordinaire, Colin Capon took to the floor and ably demonstrated how to create Murtaba – a parchment thin roti filled with a savory curry filling.
He made one rolling the dough out thinly and flinging it about in the air to stretch it thinner before placing it on a hot flat griddle where it quickly cooked.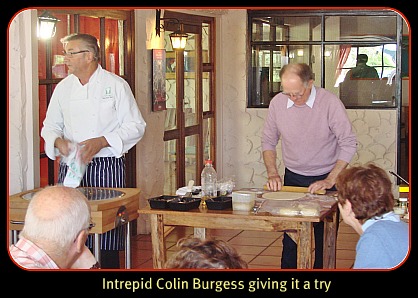 He then covered it with a savory filling and folded it over on all sides like an envelope, sealing it with egg.
It was flattened and cooked on all sides, then chopped up and a curry sauce spooned over it.
We all got to taste some. It was a definite winner.
Then two fearless men took to the floor when Colin offered us all a chance to make the next Murtaba.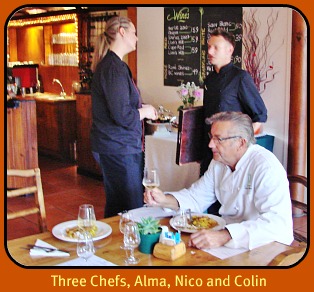 Both Colin Burgess and Mark Dixon proved to be up to the task and the end result was equally pleasing. 
Three of our local chefs attended and contributed to the Slow Food Workshop – Nico Lotter from Lake Pleasant Bistro made Aloo Gogi – a tasty Caulifower Curry and rotis.
Ken Hampson from La Piazza made a sweet desert Mango Pizza with Chilli syrup and host, Chef Alma presented us with an appetizing Malay Chicken and Vegetable Curry. 
The YumYum Hot Box

Before tucking in to the attractive aromatic fare, the Yum Yum Hot box was demonstrated to the Slow Food Workshop. It is one of Masithandane's job creation projects - Tel: 044 343 2110.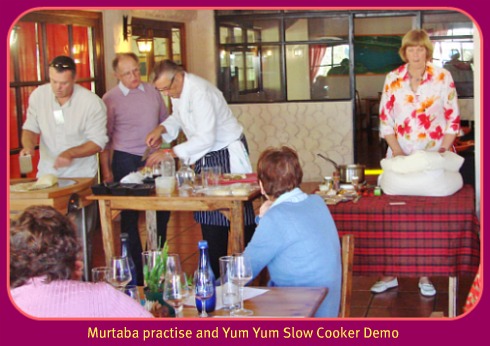 It enables people to cook slow foods like soups, stews and even potjies without electricity or other forms of costly energy.
Once the food is hot in the pot it can be placed in the Yum Yum and left to slowly cook for the next number of hours.
It does not overcook, or burn or spill.
A handy cookery book comes with it containing some sample recipes besides a few necessary do's and don'ts to prevent food spoilage.

Asian Flavours - traditional and fusion at Chef Alma
All the dishes that had been made by Slow food contributers were then laid out by Chef Alma and so a delicious spread was assembled. It was great fun having a bit of everything and tasting the various dishes that had been conscientiously prepared for the occasion. Everything was scrumptious.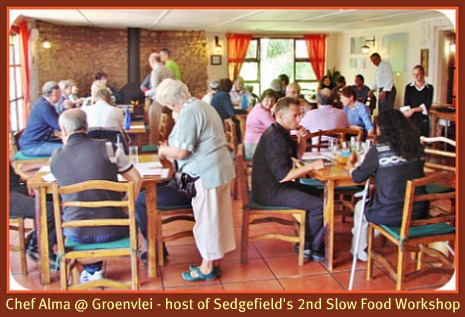 Other dishes included Hamish Ledingham's Potato Curry, Sylvia Ferguson's Coconut, Sweet Potato and Spinach Soup, Roy Phillip's Shrimp/Prawn Fried Rice, Eve Bowen's Spicy Hummus, Russell Young's Vegetable Spring Rolls, Andre Gauche's Thai Chicken Curry, Ronel Gauche's Royal Rajastan Rice and delectable Brandy and Chilli Chocolate Tart.

What a feast it was! Thanks to Chef Colin Capon for organising the day. It was a great slow food workshop and thanks to Chef Alma for the venue and all those who contributed and attended!
N.B. Chef Almer's restaurant in Sedgefield has closed so to see what she's doing now find her on Facebook and at the Outeniqua Farmers Market every Saturday 8am-2pm. 'Against the Grain' is currently the restaurant that's taken over that space.

Links to Related Sites



Discover the secrets of how to use Pickles and Spices in traditional and unconventional dishes right here at your fingertips. Guided by a Malaysian Cook experience a unique outlook of recipes, tips, anecdotes and hard facts involving exotic spices.
---