Far Hills Country Hotel

hosts a South African Food Fusion Workshop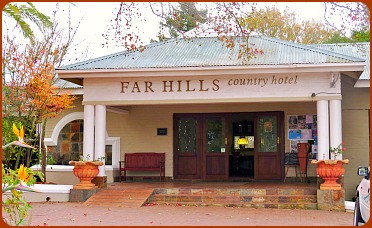 The South African Fusion Food themed Slow Food Workshop held at Far Hills Country Hotel outside George at the end of June was a diverse and interesting workshop.
Tucked out of sight of the busy N2 highway at the end of a curved driveway, the sense of country is immediate as one enters the gracious reception area where a young kitten is chasing a crunched-up paper ball with joyous abandon.
Our workshop was held in the spacious Settlers Wine Room and once everyone had arrived the workshop kicked off with a talk about yoga by Chantelle Myburgh who holds weekly classes at the hotel.
Yoga with Chantelle Myburgh
Chantelle told us that the practice of Yoga originated in India some 7000 years ago where it was an integral part of the life of Hindus and Buddhists. 
She described it as a series of postures based on sacred geometry and nature – a journey not a destination, intrinsically impacting on the way we breathe. Often times the way we breathe is shallow and fragmented which results in cluttered and confused thinking.
The deep and rhythmical slow breathing the practice of yoga teaches, creates space within our being. It facilitates a mind shift that resonates with peacefulness. This in turn opens the spirit to inspiration and to intuitively let solutions surface.
It gives us opportunities to refuel ourselves, fill our tanks and radiate our energy outwards. This energy cannot be created or destroyed. It is only ever transferred or transformed.  Yoga then, is a lifetime discipline involving and uniting body, mind and spirit that delivers the master keys to peace, joy and freedom.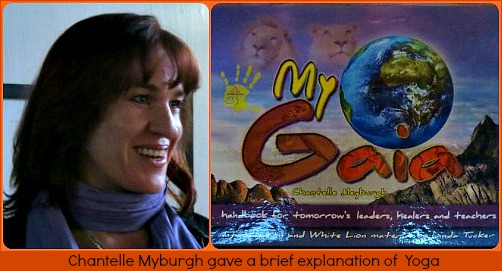 Chantelle regularly runs workshops and retreats incorporating many different elements like crystals, Tibetan Singing bowls and other instruments, colours, charkas, meditation and symbols to bring about self-healing and transformation. She also holds workshops for children from 5 years old upwards and another on animal communication.
Chantelle has recently published a book, "My Gaia a handbook for tomorrow's leaders, healers and teachers." It can be purchased  from a number of on-line stores like Amazon.com and Loot.co.za. As a labour of love, she developed the book over 6 years. By means of the topics it covers, it explores ways of returning to loving and nurturing ourselves, Mother Earth and all the creatures that share her with us. Morne Venter provided the illustrations and Linda Tucker wrote the chapter on the white lions.
Chantelle graciously donated a book to our lucky draw that takes place at the end of the workshop.
Molecular Gastronomy with Adrian Louw
It was then the turn of Adrian Louw from Margot Swiss to explain Molecular Gastronomy (many chefs don't like this term).  It is just a fancy name though for using simple laboratory tools and chemicals available in the food industry to change the shape and taste of foods.
Interested persons can purchase complete kits with all the instructions from Margot Swiss in George. Many recipes and ideas relating to this type of cuisine can be found on the internet.
Adrian then gave us a demonstration. For example, mix a juice with a small amount of sodium alginate. In another bowl dissolve calcium lactate in 3 cups of water. With a syringe squeeze juice droplets into the water bowl. Place the flavoured bubbles that result into champagne or any fizzy mixture that you fancy for bursts of colour and taste.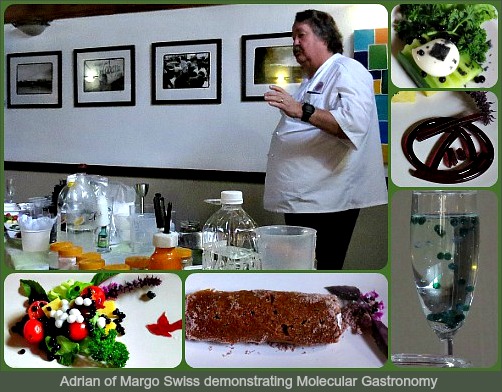 Cook up some red wine adding all your flavours. Add a small amount of agar agar and bring to the boil.  Fit a silicon tube to a cooking syringe and suck the mixture into the tube. Cool the tube in ice cold water for a few minutes. Release the syringe and then reattach. Push the flavoured spaghetti out onto a dish of your choice like a steak or lamb chops instead of conventional gravy.
Cool a glass of olive oil in the freezer for a short time. Cook up some balsamic vinegar and reduce by half. Add a small quantity of agar agar. Pour into a syringe and squeeze drops into the cold oil. Scoop out with a spoon and rinse in cold water. Place the caviar droplets on any desired salad dish.
Maltodextrin is a kind of glucose used as a food additive. It also absorbs fat so adding some spoonfuls to something like nutella turns the nutella into a powder that can be sprinkled on a cake or stuffed into a brandy snap. It can also create powdered olive oil!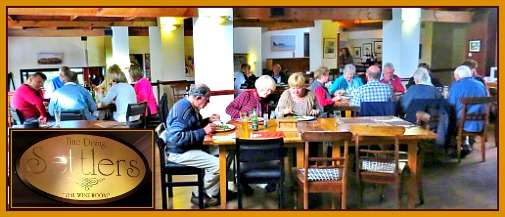 Dissolve sodium alginate in 2 cups of water and refrigerate for 10 minutes.  Infuse double cream yoghurt with garlic, salt and black pepper. Drop small amounts into the alginate bath for a few minutes to allow a skin to form on the outside. Take out gently and rinse in a cup of water to prevent complete jellification. The inside will then be liquid in the mouth when the skin is pierced.  Set the "ravioli" down on slices of cucumber to present as Tzatziki. Garnish as desired.
A similar process can be followed with coconut milk to create cream pearls for a curry or dessert. Set your imagination free to play with these techniques! 
This was a fascinating demonstration and something most of us had never experienced before.
Our thanks go to Adrian for the trouble he went to bringing all the paraphernalia and ingredients necessary to Far Hills Country Hotel for our workshop.
South African Food Fusion Lunch at Far Hills

It was time for some fine dining in the Settlers Wine Room at Far Hills Country Hotel.
 Sam from Bee Juice provided wine tasting with a range of Stellenbosch Hills wines.
They proved to be popular with the workshop attendees.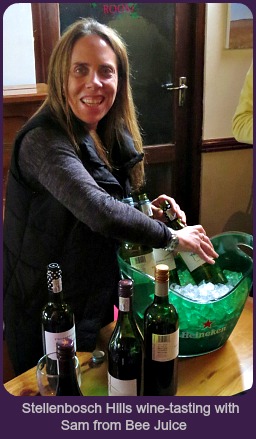 Andre, the chef at Far Hills Country Hotel is reputed to be an expert on venison and proved he was by providing the South African Fusion food workshop with a most delicious Venison potjie that had a Moroccan twist and savoury couscous to accompany it.

Chef Colin did a take on the normal Beef Wellington but used Ostrich boerewors and incorporated chicken and sourdough wrapped in pastry and sprinkled with pumpkin seeds to produce a Wellington with an altogether different connotation and fusion of tastes.
Other foodies supplied wonderful Thai and vegetarian boboties and rice and dishes of mixed green veggies of asparagus, green beans, broccoli and leeks.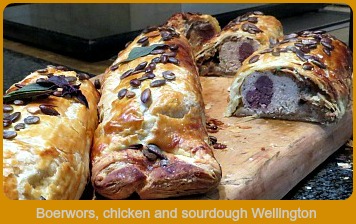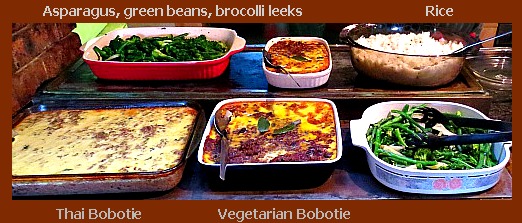 After two divine desserts of Orange cake and cream, and a Van Der Hum and coconut cheesecake another successful workshop was brought to a close.

Our thanks go to Far Hills Country Hotel for the venue and Chef Andre and his staff for their contribution to the success of the day.


Thanks to all the others who assisted so ably to make it a memorable workshop.

Thanks to Chef Colin the facilitator and organiser of the event who always does it so well!

---