Kilzers Kitchen

 The best of Local Produce Workshop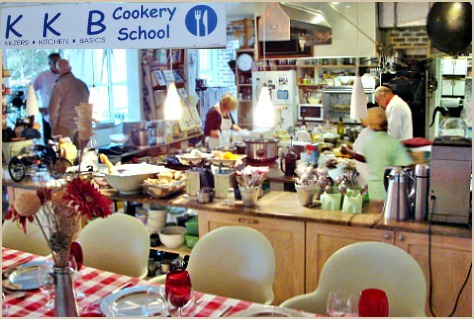 Kilzers Kitchen turned out to be a real treat for Sedgefield's Slow Food Convivium travelling through to the Knysna venue for their May workshop.
There was a good fire warming the large dining room and with cheerful pizzaz, Jenny and Albin Kilzer quickly make everyone feel at home.
This well-known cooking school holds a number of courses and events throughout the year.
A regular weekly dinner is held on a Wednesday evening when as Albin says "You book, we cook, you look and then you eat."
Up to 70 people can be accommodated on these occasions.They are not licensed so you can bring your own wine.
Guadeloupe Self-catering Accommodation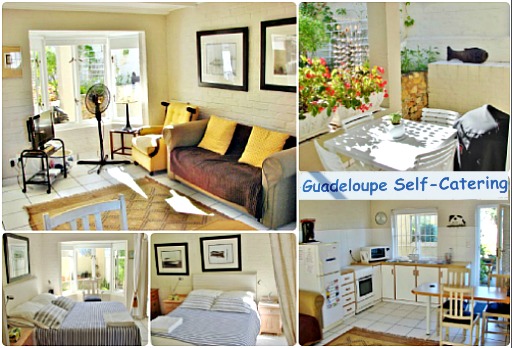 However, Albin and Jenny first started off in Knysna running Guadeloupe Self-catering Accommodation and in 1999 began the Kilzers Kitchen Cooking School to tide them over and give them something to do in the off season winter months.
Now South African and overseas visitors come and stay at Guadeloupe to attend the school although it is not a pre-requisite that you book at Kilzers Kitchen to stay in the apartments. Rather consider it a bonus to be able to conveniently walk down a few stairs to partake of a delicious meal in excellent company.
There are 7 well-appointed units in total, all sea facing except one. There is also a sheltered swimming pool where one can relax, swim and soak up the sun. To find out more go to the website below.
Kilzers Kitchen Veggie Garden & Wormery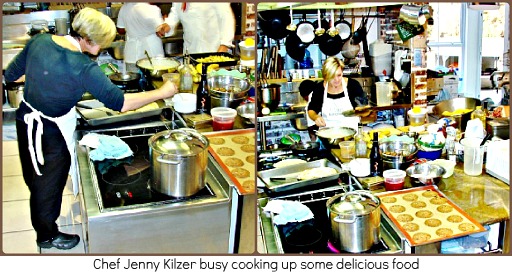 While people were still arriving at Kilzers Kitchen, Albin left Jenny working busily away at the hearth and walked me up the steps of their hillside garden to his organic vegetable garden.
He says they never use dried herbs and they grow a fair amount of their own seasonal vegetables.
On his way to pick fresh herbs to be used in the lunchtime meal he showed me his wormery and the chickens in their igloo style hock that is moved to a new area every two months or so. Then they plant new greens where the chickens have been.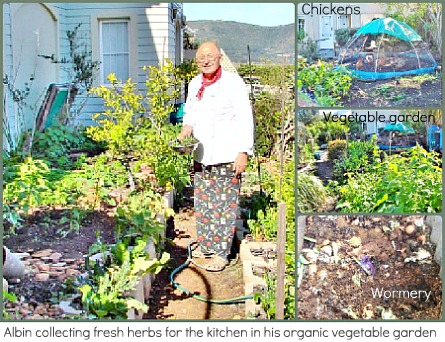 Jane Simons - Wine Ambassador
When I returned the workshop has started with Wine Ambassador, Jane Simon from Sedgefield presenting a wine tasting with a number of different wines that she suggested would go well with the day's lunch.
The first tasting was Capaia Sauvignon Blanc 2011 that has flavours of green pepper, asparagus and delicate flowers.

Next was the Boschendal 1685 Shiraz 2008 which conveys a ripe blackberry and blue fruit concentration. Weighty ripe tannins are supported against a spicy white pepper background.

Jane said that the old vineyard consistently provides 7 tons of grapes per hectare and this wine is kept in French oak for 14-15 months. Once bottled it could keep for 8-10 years but you wouldn't want to do that!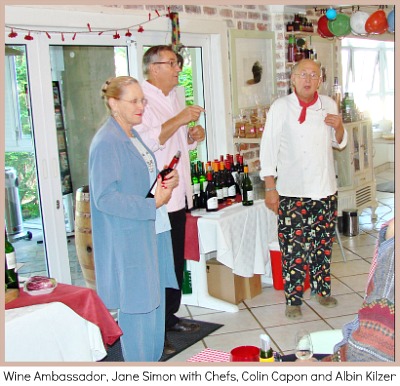 The third wine was Karusa Muscat Blanc 2012, a highly aromatic semi-sweet wine with flavours of litchi, white pear and fresh apple – crisp and refreshing. It was a gold winner at the S. Cape Wine Show.
The Boschendal Pavillion Shiraz Carbernet Sauvignon 2010 is a medium bodied red blend with warm berry concentrations.
She told us that there had been uneven ripening of the 2012 harvest, which means the green grapes have to be removed from the ripe bunches, but the flavour was judged to be good nonetheless.
Finally we tried a Karusa Cap White Liquer (port) from Oudtshoorn with lemon/lime citrus flavours, barrel matured the Portuguese way.
Kilzers Kitchen Cook, we Look & Eat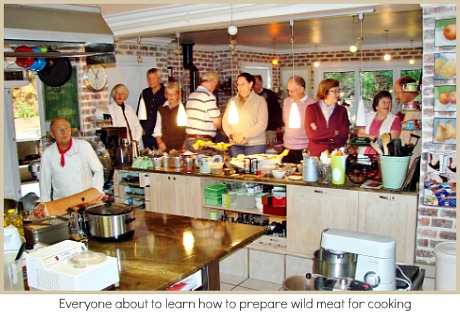 We were then called to stand around Kilzers Kitchen as Albin explained to us about the wild meat, in this instance, the bushpig that was on the day's lunch menu.
He told us that he was trained in Austria in the late 50's and learned to cook everything from Springbok to Kudu.
The bush pig is hung for 2-3 weeks in the cold room and when the skin gets sticky, the skin is removed and the animal cut up. We were having some rump and sirloin seasoned with chilli, garlic, coriander, caraway seeds and cumin.
Some of it was being slow roasted and the rest was being casseroled with dried fruit, cinnamon, and red wine.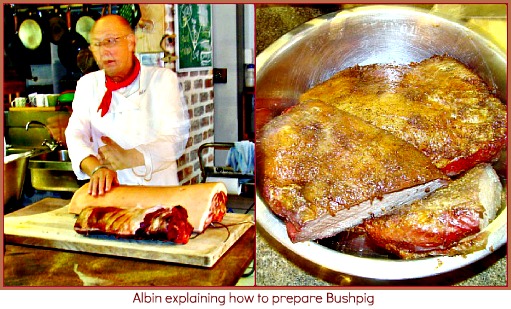 It was then Colin's turn to talk about some unusual fruits and veggies he had brought to Kilzers Kitchen for the workshop.
He showed us how to lop off the top of a cocoanut and break through its protective membrane to get to the cocoanut milk inside.
He said it was possible to take some of it out and then put in a small amount of filling, couscous, mixed with meat or vegetables and seasoning.
One should then put the top back on and cook it for 5-6 hours in a steamer pan or 3-4 hours in a pressure cooker. A savoury filling can be as delicious as a sweet one.
He then showed us that when persimmons are ripe they are gooey enough to be eaten with a spoon like a dessert so one mustn't think they're off or bad.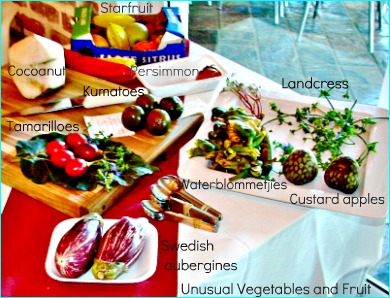 When bought green it helps to put them with apples as that encourages them to ripen up. Custard apples taste just like that, apples and custard - a delicious pudding in a single fruit!
Star fruit are sweet and juicy tropical fruits grown in Thailand and throughout East Asia. They are rich in Vitamin C and high in fibre – good fruit to consume in winter. Kamatoes are a specially developed Spanish tomato – it ripens from the inside.
Tamarillos are tree tomatoes native to South America. They have a bitter skin so it is best to remove it. Swedish aubergines are exotic looking egg-plants with a similar taste to the regular purple skinned ones we know.
Waterblommetjies are the flowers of the Cape pondweed and were a traditional food source of the indigenous Khoikhoi people. It found its way as a nutritional vegetable into Cape Dutch cuisine and has become an ingredient of a popular South African dish called Waterblommetjie Bredie (stew) which is cooked with lamb, onions, potatoes and seasoning.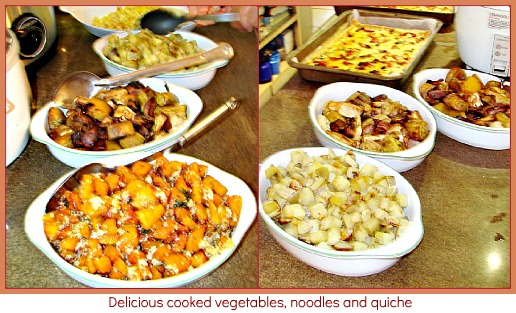 Landcress is similar to watercress and has a similar taste. The plant is finer leaved and more straggly in appearance but its very tasty in salads.
It was time for lunch at Kilzers Kitchen and what a lunch! The vegetables included roasted butternut with couscous and parsley, Maroggo (African spinach) in a béchamel sauce, Spätzle (a type of egg noodle), roasted garlic, onion, sweet potatoes and parsnips. Evie had cooked two large sundried tomato and herbs quiches.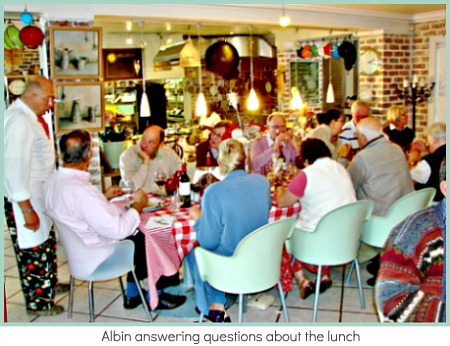 The meat was slow roasted bushpig, Klein Karoo Bushpig casserole and Colin's Waterblommetjie Bredie all washed down of course with some of the excellent wines that had been tasted a while earlier.
The finale was dessert! Jenny had sauteed banana in butter with vanilla, chilli and sugar. It was then wrapped in a pancake and served with a yoghurt ice-cream that had just a touch of chilli in it – quite special! Then enthusiastic foodies had contributed a Fruit compote, Malva Pudding, a baked Lemon Meringue Pie and a Winter orange and raspberry bread pudding. Yum!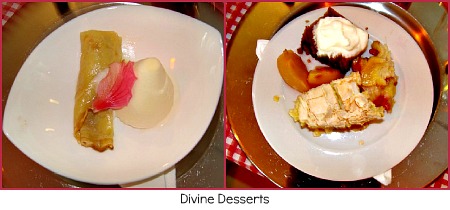 So our fabulous lunch drew to a close. Thanks to Albin and Jenny of Kilzers Kitchen for hosting the day, Jane for the wine tasting and our resilient Chef Colin for arranging it all.
Thanks to everyone who contributed in some way and attended. I think our Slow Food Convivium is awesome! 

Related Links


At Kilzers Kitchen Albin and Jenny Kilzer both have a passion for cooking and people and they are prepared to share their knowledge with them. It's this healthy combination - love of food, pleasure in sharing knowledge and love for people, that has lead them to create their special and unique school in the beautful seaside town of Knysna.
---

Centrally located, a mere 2.5 km from the town centre, Guadeloupe Self Catering Apartments are situated on a hilltop overlooking the famed Knysna Lagoon. Each apartment has been individually styled and fully equipped with all you could possibly need to make your vacation in Knysna a memorable one.
The ideal location gives the visitor the feeling of being in the countryside and the surrounding meticulously kept permaculture garden adds to the tranquil ambiance of this beautiful establishment.
---