The Red Barn

Australian Themed Workshop
Our June Australian themed Slow Food Workshop was held at the Red Barn Restaurant and Country Store with owners, Robert and Michelle as our hosts.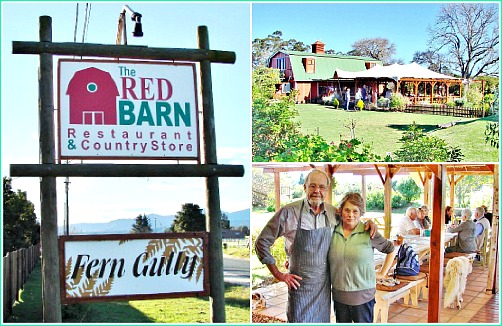 Nestled amongst Macadamia orchards and a tranquil duck pond with a children's playground near by, it is perfect for weekend family alfresco dining.
Adults can relax outdoors in gorgeous scenery and children can play to their heart's content with the watchful eyes of their parents upon them.
NB. Since this workshop The Red Barn now has new owners, Jacques & Theri Rossouw. Their details are at the bottom of this page.
Honeychild
The workshop at the Red Barn began with Owen Williams from Honeychild telling us of his love for bees. Having left the corporate world in Cape Town, he and his partner, Megan Vermaas decided to pursue their already existing interest in bee-keeping.
Calling them "his girls" because all the workers are female, he commented on how extraordinarily hard-working they are. A single bee travels 25000 kms visiting 2 million flowers to produce 1 kg of honey!
As his admiration for bees has grown along with his knowledge and experience with them, he has become dismayed with the disrespectful way many of their keepers treat their apiaries.
Owen treats the frames and colony gently and calmly when he's visiting a hive. He is careful in all his handling to avoid killing any bees and to be hygienic by cleaning his hands between hives thereby preventing disease by transmission. He hardly ever is stung.
He doesn't remove a frame until it is 100% full, the honey is ripe and the bees have "capped" it sealing the honey in the honeycomb.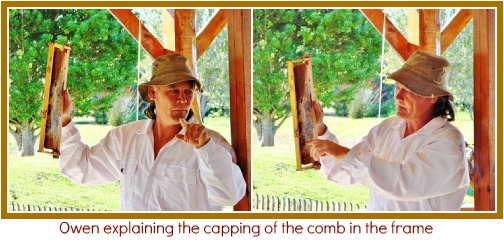 It's important not to harvest unripe honey, he says, something that many beekeepers are not bothered about because the demand outstrips the supply.
Almost half of South Africa's honey is imported and has to be irradiated to prevent disease that could wipe out the local bee population. The down side is that it also interferes with the nutritional qualities of the honey.
On that note, honey should never be microwaved if it has crystalised. Rather put it in the sun for a few hours and it will melt down to become runny again.
Owen also doesn't move his hives around as, he says, this stresses the bees enormously and can diminish a colony's strength by up to 60%. Bees have the truest democracy doing an intricate waggle-waggle dance to measure distance and the size of an entrance when they all go to a potential hive site and jointly decide on whether it is a suitable home or not.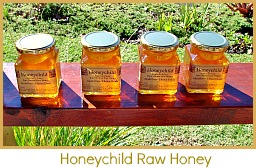 He leaves honey in the hive in winter for the bees to "uncap" to eat when their food in the field is scarce. This is their natural option and healthier for them than being fed a man-made concoction of sugar water mixed with syrup! Pollen, on the other hand, is the most perfect food and if there was enough of it, humans could live on it.
Only Owen decides when frames should be harvested. The frames are placed in a drum and the honey is spun out by centrifugal force. It passes through a sieve and is left to settle for 3 days. The raw honey is then poured into glass bottles as glass can be recycled and does not contaminate the contents.
There is no comparison between this and supermarket honey, either in taste or nutritional value, he says. Owen's hives produce 14-15kgs of honey per hive a year. In Australia, a hive produces close to 100kgs a year. We still have a lot to learn, he concluded.
Contact Owen Williams Tel: 078 724 6425 or at honeychildhoney@gmail.com

Colin Capon in Australia
To carry the Australian theme at the Red Barn workshop Colin Capon told us that as a young man, keen to pursue his love of cooking, he joined the RAF as a cook and after 18 months training he was eventually shipped to his desired destination, Australia on 29 April 1963.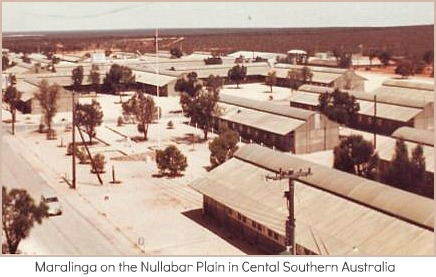 He had applied for a post there several times. Flying a circuitous route, via Istanbul, Bombay, Singapore, Darwin, Sydney and Adelaide, finally on 8 May, ten days after leaving the UK, Colin arrived at Maralinga on the Nullabar Plain of Central Southern Australia – in the middle of nowhere!
In the 50's Great Britain had tested a number of atom bombs in the region detonating them underground and Commonwealth police were still patrolling a controlled area to keep nomadic Aborigines first of all and other visitors, etc. out of a possible radioactive environment!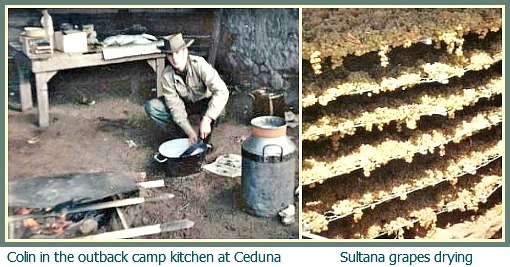 Colin spent a year there in dusty desert conditions, plagued by flies, but he had many enjoyable experiences – meeting and interacting with aboriginal tribes, visiting the Opal mines not too far away at Coober Pedy, visiting a sultana grape farm, shark fishing and catching marron, a giant freshwater crayfish found in mud ponds.
He said they are delicious to eat and were easily caught by simply putting a few pieces of meat in a hat and sticking it under water - a marron would quickly crawl in for the snack.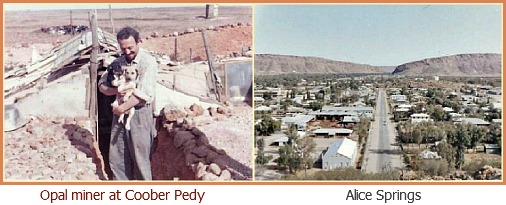 Colin got to see many of the lesser known parts of the outback as well as some famous ones - Alice Springs publicized by Neville Shute's novel, A Town like Alice" and Ayers Rock –a sacred place of cultural significance for the Anangu tribe of Aborigines.
However, he's visited the country several times since as an international chef and said that today, Australia has some of the finest chefs in the world. 

The food in Chinatown in Sydney he reckoned, is better than Hong Kong and Singapore because of the excellent quality of the raw produce grown in Australia.
Queensland farmers grow every kind of Chinese vegetable, supplying not only the local market but also exporting to China.
Colin mentioned that it's worth catching a water taxi to Doyles Fish Restaurant in Watson Bay, Sydney Harbour when one is visiting Sydney because Doyles are renowned for their seafood.
Macadamia Orchards
Macadamias are indigenous to Australia but are now grown and harvested in a number of other countries including South Africa. When Robert and Michelle moved from Cape Town and bought 15 acres of land in Rheenendal on the Garden Route the farm was not immediately called the Red Barn. Robert had however, identified 2 trees in the garden that were Macadamia nut trees.
When a neighbouring nurseryman passed away who had enough young Macadamia trees for an orchard, Robert bought them. Now some 7 years later he has a 3 ha orchard and a separate 4 ha one.
Macadamias are of the same family as proteas. Robert's Beaumont cultivar has a thinner shell than other cultivars and nuts that remain on the tree when ripe, requiring handpicking.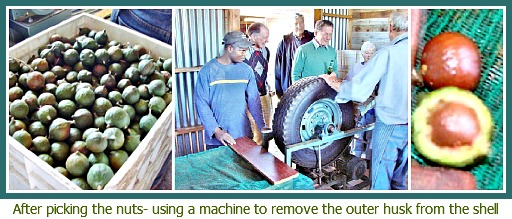 The trees bud 3 to 4 times a year and go from bud to ripe fruit in 9 months. From time to time baboons and bush pigs can be pests when the trees are fruiting.
Robert has devised a machine that separates the husks from the shells. The shells then have to be dried before another machine removes them from the kernals/fruits that are also dried before they are packaged.
These nuts have a delicious flavour. They have a high oil content and can go rancid quickly, (within 2 weeks). They ought to be stored in a container in the fridge to keep them fresh.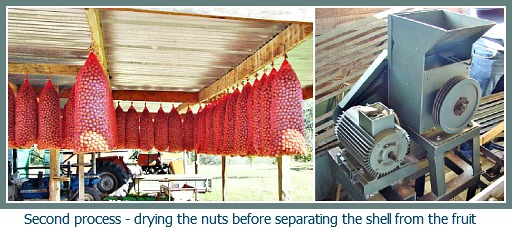 Robert sells the nuts in 3 forms, dark roasted and lightly salted, lightly roasted and salted, and raw. We tasted all three and they were all delicious.
This brings me to the Red Barn Restaurant that was created when Robert converted his big red brick workshop into a country kitchen restaurant. A number of his dishes include macadamia nuts.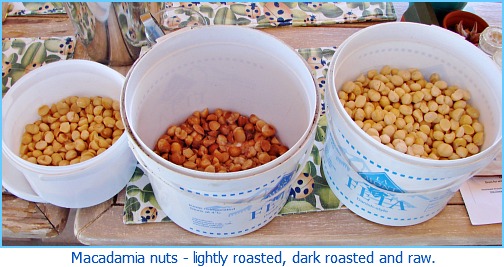 The Red Barn Restaurant

Robert hastens to say that he's not a chef but he's always had an interest in food and it's a hobby he's pursued in his retirement – did I say retirement - I don't think that word is in his vocabulary!
Michelle says that for their Red Barn Restaurant, they have sourced ethically reared and slaughtered lamb and free-range chickens and the best vegetables they can lay their hands on.
They support local if its quality produce wherever they can, purchasing preserves and chutneys, etc. for their country store. 
To fit in their other farming activities, the Red Barn is only open at weekends and public holidays from 9am to 3pm for breakfast, tea and lunch. They also provide picnic baskets for collection if they are notified the day before.

Too soon it was lunchtime and once again we were not disappointed. The Red Barn presented the Sedgefield Slow Food gathering with slow Roasted mutton and gravy, broccoli and cauliflower cheese bake, seafood bake with macadamia creamed potato mash, roasted broccoli and pasta with macadamia nut crust, and a butternut, mushroom and macadamia nut bake. It was undeniably real winter comfort food.
Before we had dessert, Robert passed around chocolate-coated macadamia nut clusters – yummy! Dessert was Lamingtons – which are squares of sponge cake coated in a chocolate sauce then dipped in coconut. 
There was also Edith's pudding - which was a sponge pudding with dates and macadamia nuts in and a caramel sauce poured over it before being baked in the oven. The top is crunchy and the bottom full of sauce – served with ice-cream/cream it finished off the winter meal perfectly.
Once again, a perfect day! It was great to be out in the country at the Red Barn enjoying the warm winter sunshine, learning about ethical beekeeping and how macadamia nuts are grown and eating delicious country style food. Thank you to our hosts, Robert and Michelle, Owen and Colin and to everyone who contributed and attended.
Fern Gully self-catering forest cabins.
Theri also runs Fern Gully self-catering forest cabins. These wooden cabins are set in a peaceful treed area of their farm. The farm is on the Rheenendal Road that goes to Goudveld indigenous forest Reserve. Once there visitors can do the Circles in the Forest Walk from Dalene Matthee's gravesite or another walk from the beautiful Jubilee Creek Picnic site or arrange a visit to see one of the old Millwood Gold mines. There is Mother Holly's tearoom nearby that incorporates a small but valuable museum about the 1880's Millwood Gold rush. Maps are available from the office at the entrance where day permits should be purchased.

Enquiries: Fern Gully Forest Cabins  Tel: 044 388 4757 Cell: 082 386 4513

email: fernvalley@telkomsa.net   web: https://www.fern-gully.com/