Garden Route Day Walks
& Hiking Trails
One of the day walks or hiking trails is a must, to appreciate what this area has to offer, if you are spending some time in Sedgefield or on the Garden Route.
It is a unique experience in South Africa to walk in indigenous forest or fynbos or along kilometers of beautiful beaches, often being able to experience two or three habitats in one walk.
I have given a cross section of day walks and hiking trails available to wet your appetite for more and here are a list of items as a guideline of What to take with You.
From  Victoria Bay to Wilderness
Type of Walk - Rocky coast line with magnificent sea views
Unfortunately It is recommended that only groups of people should walk this route as there have been sporadic attacks on people walking alone or just as couples. A good contingent of men is advisable.
Since the damage to the railway line in 2006 that saw the sad end to the popular Outeniqua Choo Tjoe, this walk that used to be done from Wilderness is better done from Victoria Bay. This is because of the deterioration of the bridge over the Kaaimans River so you may not get all the way to Wilderness but its still worth the walk for the magnificent coastal views and the chance of seeing dolphins, and whales between May and November.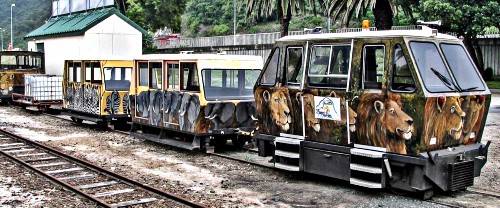 the Grotto Restaurant Railcars that would take diners from Wilderness Station to the Grotto Restaurant and back. Photo: Piet Conradie http://steam-locomotives-south-africa.blogspot.co.za/2011/04/voorbaai-loco-shed-hartenbos-february.html
Take the turning off the N2 down to Victoria Bay just outside of George and park your car in the parking lot. Walk down towards the beach and climb the stairs to your left up to the camping site and walk until you see the railway-line.

Get onto it and follow it, through two tunnels, as far as you can, until you come to the bridge across the Kaaimans River where there will possibly be a sign forbidding you to walk across it.
On the other side of the bridge you may notice a big cave. It used to be a restaurant. You could only get to it by a special train cart that would deliver passengers to the restaurant and return them afterwards, to Wilderness station. Functions were specially arranged because you couldn't come and go as you pleased. Everyone arrived and left at the same time, on the train cart. That is history now!!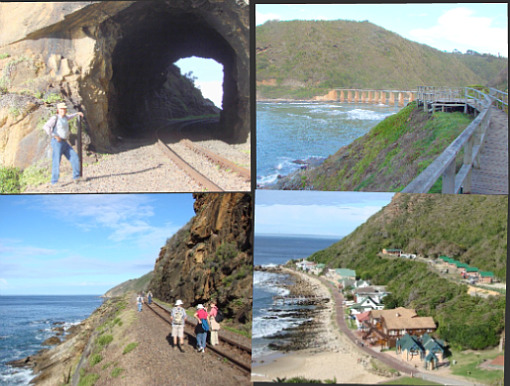 Walking through the tunnel along the railway track back to Victoria Bay
As you return the way you came, around the last bend Victoria Bay is spread out before you. The small holiday resort has a number of B&B's and self-catering accommodation right on the rocky shoreline, so close that you'll get drenched if standing outside when there's rough seas.

There have been times, that high seas and strong currents have removed all the bay's beach sand and then at other times, the sea has given it all back again! It's a favourite spot for surfing and when there's beach, for swimming. I have found it a great beach for body surfing!
The caravan park and camping grounds are high above the bay, overlooking it. It is a magnificent place for a summer holiday and George is a mere 3kms away.
You can walk down to the bay and along the road that gives people access to their accommodation, and leads to a small picnic spot at the end of it.
There is a restaurant at the entrance to the bay where one can get all the regular quick snacks and refreshments. There are also public ablutions. If the weather's good, you can enjoy a swim and a light lunch before you leave.
Circles in the Forest
Type of Walk - Beautiful Indigenous Forest 
For this day walk drive in the direction of Knysna and turn left to Rheenendal. (If you descend to Knynsa bridge you've gone too far.) Follow this picturesque road for quite some distance and you will come to a signpost "Millwood/Jubillee Creek" indicating to the right along a dirt road. Before you enter the forest you will reach a boom where you will have to stop and pay to be issued with a permit for your walk that should include a map of various forest walks. Continue on until you reach the sign on your left to the (King Edward VII) Big Tree. You can park here.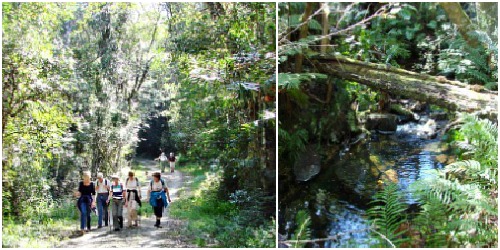 Walking on a logging track and then alongside a stream
There are 2 versions of this circular day walk that has been renamed to commemorate one of South Africa's well-known authors, Dalene Matthee whose novels involving the Knysna forest, have made the area famous.
Originally she wrote in Afrikaans but such was her success that all her books have been translated into English."Fiela se Kind", "Fiela's Child" and  "Kringe in die Bosse" – "Circles in the Forest" are among her best known titles.
Dalene's remains now lie buried here next to a giant Yellowwood tree in the forest she roamed freely, knew extensively and loved so dearly. She was reputed to be a shy and private person, but her writing exposed her heart and a depth of understanding and feeling for the hardships ordinary people suffered and her unstinting love of nature.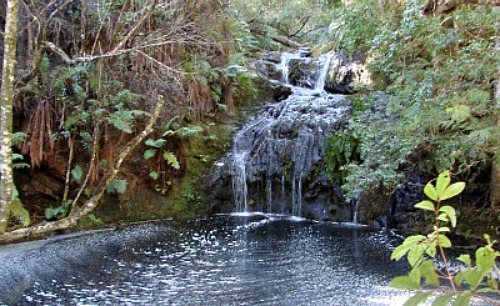 A natural swimming pool in the forest
There is a short 3.1km walk or a longer 9km trail – depending on the time available to you and your fitness, you will still do the longer trail in a morning. It has a few slopes but nothing terribly strenuous.
It is a beautiful walk with lots of interesting things on to observe. On one of our walks we saw recent elephant droppings and many fascinating fungi.
You will be accompanied by birdsong that keeps you looking for these elusive forest dwellers, much like the elephant.
top left-Dalene Matthee's Grave, top right-elephant dung bottom left-forest fungi, bottom right-refreshment break at the pool
There are cool streams to stop at and where you can refresh yourself with a drink and snack. It's good to take a breather and just listen to the forest. You hear its undertones. Unlike a plantation, an indigenous forest hums with life.
Its full of hidden sounds and unfamiliar smells enticingly mysterious as small mammals like monkeys, caracal, blue duiker, porcupine and honey badger traverse the forest, and larger ones like bush pig, bush buck, baboons, leopard and of course elephant all of which you're 95% unlikely to see.
Once you have completed this walk, you can make a day of it by continuing on to Jubilee Creek which has a very picturesque picnic spot where you can braai and splash in the stream enjoying the ambiance of the forest.
You may even catch the flash of red wings as the beautiful Knysna Turaco flies across the clearing. 
 Goukamma Bush Pig Trail 
Type of Walk - Dune Fynbos, Coastal forest and great Sea views 
To do this 8km day walk, drive in the direction of Knysna, turning right to Buffalo Bay at the bottom of the winding Goukamma River valley. You follow this road until, in view of the sea, you see the Goukamma Nature Reserve entrance on your right. There are braai facilities and picnic spots and canoes for hire.
You need to obtain a permit at the office and a map for this trail. It will take you over the river on the pont, which you will do yourself but its easy and fun. You then turn right on the other side and walk inland along the river for a short distance and then you wind your way up the sand dune back in the direction of Sedgefield.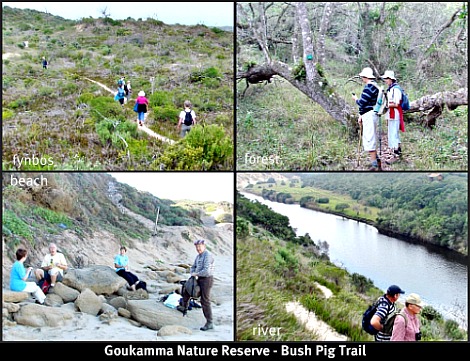 You will meander along the dune gaining height and experiencing wonderful vistas of the river, the ocean and the fynbos through which you're walking. The path descends into a valley and you find yourself walking through some coastal forest before reaching the sea. This can be your halfway refreshment stop.
The coast is wild and beautiful here, a marine reserve. You may catch sight of the endemic African Black Oyster Catcher on the rocks or see a pod of dolphins or a whale breaching. If the mouth is closed (you can check and see this when you arrive at the reserve) and its low tide, you can, at this point, walk back along the beach or you can backtrack from the beach and complete the trail that takes you inland along the dune and river once again back to the pont.

If you don't stop to braai or picnic here at the river's edge you can go on into Buffalo Bay which has a beautiful swimming and surfing beach, with a restaurant close by overlooking the sea.
Half-Collared Kingfisher Trail
Type of Walk - Indigenous Forest and Touw River views
For this day walk, drive in the direction of George and before you enter Wilderness villlage, you will see a sign to the right indicating Wilderness National Park. Follow the road and park at the offices where you will need to obtain your permit and map.
This trail takes you over a wooden bridge through indigenous forest and next to the Touw River that before too long is just a stream. Keep left until you ascend a steep ridge until you reach a high point and a dead end. If you go back and cross over  the river at the punt, the walk becomes the Giant Kingfisher Trail.  Both walks can be done on the same day. The Half-collared trail is shorter than the Giant.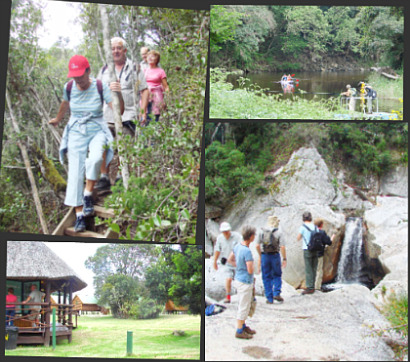 Half-collared Kingfisher Trail
You return the same way so at whatever stage you feel you don't want to continue, you can turn around and retrace your steps. It's a very pretty walk and back at the start you can picnic on the grass, enjoy the bird life, hire a canoe to paddle up the Touw River into the forest or down towards the sea.
There are camping facilities and self-catering bungalows in the park and numerous other day walks in the vincinity.
If you decide to drive into Wilderness Village, it always has a holiday atmosphere and there are a number of restaurants within shouting distance of each other where you can sit outdoors and enjoy a good meal and watch the world go by.
An easy stroll on the beautiful Wilderness beach afterwards, to work off those lunchtime calories would be a rewarding way to end your day walk.
This is merely an introduction to some day walks and hiking trails outside of Sedgefield to give you an idea of what's available. 
More Day Walk Information
SANParks – www.sanparks.org
Tourism offices in George, Wilderness, Sedgefield and Knysna (in the official Knysna guide is a good overall map of walks in the Knysna forests – its free!).
CNA or Wordsworth Book Shops have books on day walks and more strenuous hiking trails.
Best Walks of the Garden Route by Colin Patterson-Jones 
And if you live in the area or visit it regularly I would recommend this book. It describes in detail, with maps, a broad spectrum of 29 walks of varying length and difficulty in the magnificent outdoor environment of the Garden Route.
Here is my own list of day walks and hiking trails I can recommend. You will be able to obtain details from the sources I've mentioned above.

George – at Saasveld the Groeneweide Forest Walk, Witfontein Walk, George Dam    walk.

Wilderness - Pied, Giant, Brown hooded, Kingfisher Trails, Wilderness Heights, Map of Africa and Whites Road Circular Walk.
Rheenendal – Jubilee Creek to Millwood Tea Garden and back.
Knysna - Diepwalle Forest Elephant Day Walks 3 of them 7.5kms, 8kms, 9kms.
Harkerville Forest walks.
Plettenberg Bay – Robberg Nature Reserve, Piesang Valley and beach walk.
Nature's Valley – beach and forest/fynbos walks.
Storms River – Tsitsikamma – coastal and forest walks.
Overnight Hiking Trails
The Garden Route also has some famously popular and memorable overnight hiking trails of varying distances and number of days. Details can be obtained here....
Otter Trail
5 Days. You need to time your daily walk to accommodate the tides on this one. 
click here for some good advice
for this trail.
Tsitsikamma Trails  -

Several Options options
Dolphin Trail
is a 2 day trail but includes 4 nights,1st night before the start and 4th night at end of trail.
Outeniqua Trail
7 days - a tough but unforgettably magnificent one that's well worth the effort if you're fit!
---