Pies, Pasties and Pastries


at Windmill Cafe

Sedgefield's October Slow Food Workshop was held at Windmill Cafe, Timberlake. The Zucchini Restaurant at Timberlake had been one of our early workshop venues and we know this is an appropriate place to hold our conviviums. This time the theme was Pies, Pasties and Pastries.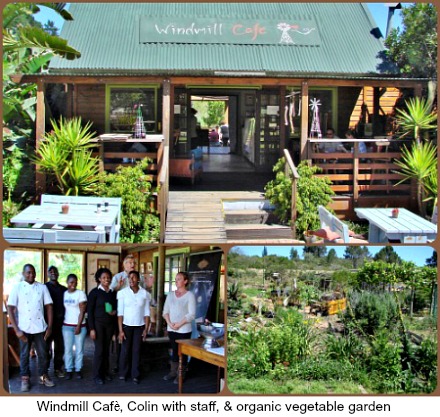 The covered back verandah of Windmill Cafe with an extended shaded area was ideal for this workshop. After everyone had arrived and been served their first drinks, Colin welcomed us all and introduced the first speaker, Johann Duplooy.
The Unplugged Cucina - Johann Du Plooy

Johann says "Culinary arts and entrepreneurship have both been life long passions for me. In between business and academic careers.
I have always been involved in some restaurant or food retail venture, from a health shop in Hatfield, Pretoria to a biltong shop in Centurion to La Vie Cafe & Bar in Sea Point, Cape Town. "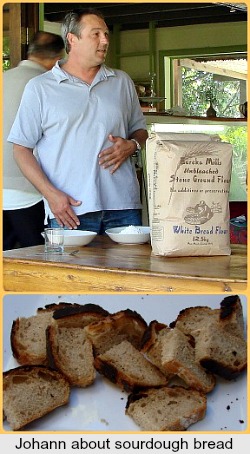 MAKING SOURDOUGH BREAD
He said there is unquestionable nutritional value in making sourdough bread with unbleached stone ground flour, honey and water allowing the ingredients to interact over 48 hours to become the activator for the making of the bread. This was how bread was originally made. Salt must only be added at the very end as this is the catalyst causing the crust to form.
The loaf should be placed in a very hot oven (220°C), with a saucer of water at the bottom. If there's a lack of moisture the crust will tear. It takes 10 minutes for the crust to form and then the water can be removed. A loaf should be baked for 20-25minutes for each 500gs of flour used in its making. Johann mentioned that bread made this way rarely causes glutin intolerance.

This is the reason that Italian cuisine appeals to him as it integrates family and community with simple, honest, good food in a celebration of life. We had a chance to try his sourdough bread – it tasted as good as it looked!
His sentiments echo the Slow Food ethics that encourage people to preserve their traditional food recipes and to support local producers. As a vendor at the award winning Wild Oats Community Farmers' Market in Sedgefield every Saturday morning, Johann has found the right space and opportunity to transform a lifelong ideal into reality. Using his own cheeses and breads he makes a variety of classic Italian style sandwiches with local/fresh ingredients.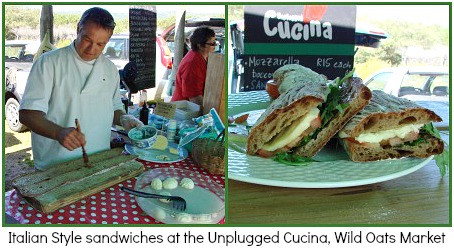 "The Unplugged Cucina" (Italian for kitchen) was born in his mother's kitchen a year ago. Having no formal culinary training, he invested much time and effort into product knowledge and processes. The results speak for themselves. Every product they make has his personal "fingerprint" on it. He says, "We bake specialist Italian breads and make artisan cheeses such as mozzarella, taleggio, stracchino, provolone, fontina, ricotta and mascarpone, mostly supplied to top local restaurants."

He has recently opened Soetmelksvlei Cheese in the Old Cheese Factory on the Karatara Road to extend his range of cheeses and can also be found on Facebook under The Unplugged Cucina for general information, tips, photographs and recipes.

Tevon, owner of the Timberlake Complex then welcomed us to the Windmill Cafe venue and reminded us of their aim to bring people together in a way that benefits everyone. They pursue the practice of fair trade initiatives and believe in supporting local farmers who consider sustainable practices in their agricultural methods.
Find out more about their various projects at http://timberlakeorganic.co.za/
Nikki's Oak Barrel Wine Boutique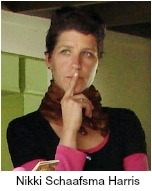 Nikki Schaafsma Harris owns the Oak Barrel Wine Boutique next door to the Windmill Cafe at Timberlake.

Although Bonnievale Wines were being showcased at our workshop she has a wide range of other wines available in her shop and prides herself on giivng personalised service to customers.
To reinforce this claim the Oak Barrel has a special licence to be open 7 days a week.
You can contact Nikki at - Oak Barrel Tel: 044 882 1201 Cell: 082 924 5196 Email: nikki@silver.co.za

Alida took over from Nikki to tell us about the company she represents. Bonnievale Cellar comprises a Co-op in the Klein Karoo that has been in existence since 1962.
On the Robertson Wine Route, in the valley of wine and roses within view of the Langeberg Mountains and the perennial Breede River, it produces 14 fine wines and two grape juices, one red, one white.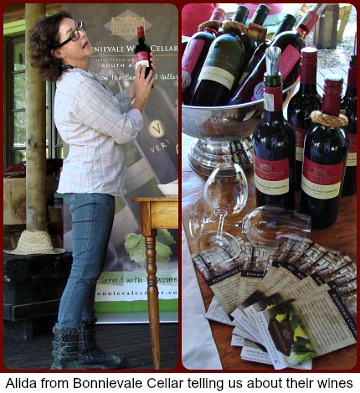 Besides being a winner of many prestigious awards, Bonnievale Cellar's Chardonnay 2011 is SAA's on-board First and Business Class wine.
Alida had brought 3 wines for us to taste. The CCC White Wine, a mix of Chenin Blanc, Colombar and Chardonnay that goes well with summer days–a lighter lunchtime wine well suited to our event and an equally fine CCC Red, a blend of Cabernet Savignon, Cinsaut and Cabernet Franc, ideal for a picnic in dappled shade and a lazy afternoon down by the river. The 3rd Wine called Dusk was a light fruity sparkling wine, sweet, which I enjoyed.
As people quaffed their wine and enjoyed the prospects of good food in pleasant company, Colin announced it was time for lunch.
Our chef had been busy in the background organising the food. There was a great choice of pie dishes to try.
Workshop Lunch at the Windmill Cafe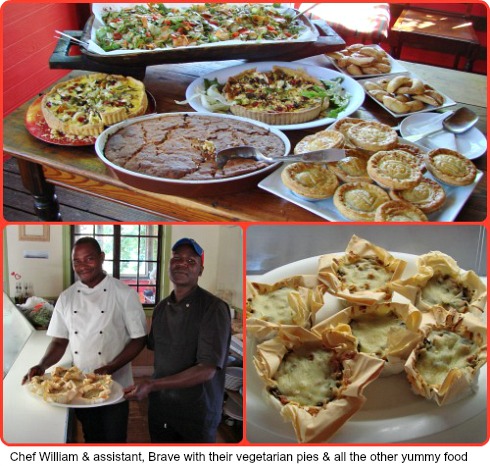 Dirk Woest of Fancy That Pie Company was winner of the Savoury Pie Competition at the Spring Fair staged by Sedgefield Lions at Timberlake last weekend. At Colin's request, he made some of his tasty pies for our workshop, Steak and Kidney, and Thai Chicken.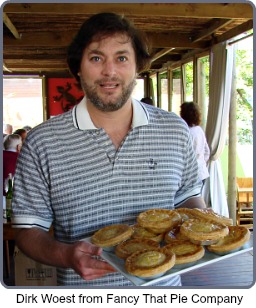 The signature dish of Windmill Cafe was a delicious vegetarian concoction in Filo pastry.
Then there was a filling Mince and Corn bread, some great quiches, delicate Cornish pasties and a giant salad platter.
Later some delicious desserts followed. They were the award winning sweet pies from the same competition.
Heidi from Fresh Bean Internet Cafe in Sedgefield, delighted the taste buds with her Apple Crumble recipe.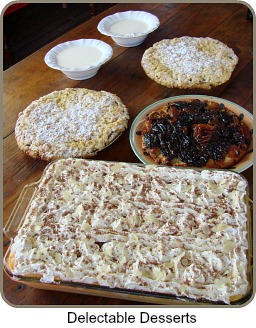 Added to that were a classical French Prune and Apricot Tart Tin and a decadent Fridge tart conglomeration of biscuits, pineapple, caramel, condensed milk, lemon, cream cheese, cream, chocolate and cocoanut flakes.
Mellowed by good food and fine wine, people lingered on into the afternoon at the Windmill Cafe.
The laid back country atmosphere made us reluctant to leave.
Thanks as always to all who participated, our informative speakers, the hardworking staff and Chef Colin in particular, without whose concentrated efforts, let's face it, there would be no Sedgefield Slow Food Convivium!
NB. Since our workshop here, Windmill Cafe is under new management, and is now called Pause Coffee Roastery.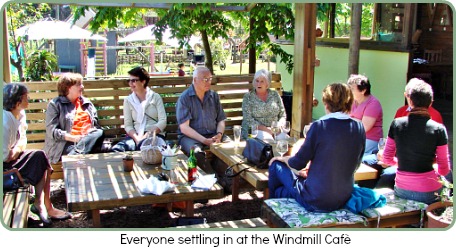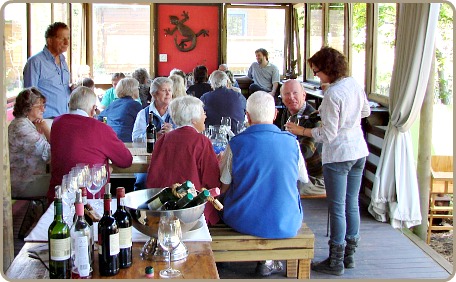 Related Links

---

Bonnievale Wines one of the largest South African Wineries, is a must visit destination. The stylish wine tasting facility, is situated in breath-taking surroundings which invite you into Bonnievale to meet the people who pride themselves on their warmth and unpretentious hospitality.
---