Montecello 
Seafood, Pub and Grill
Hot

and

Spicy

Slow

Food

Workshop
Our popular local restaurant, Seafood, Pub and Grill, Montecello hosted the November 2012 Slow Food Workshop, our last one for the year! Owner run and managed by Anita in the restaurant and Craig in the kitchen, it has recently celebrated its 25th birthday.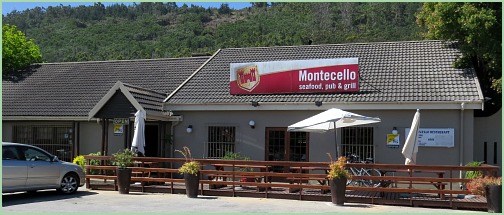 Montecello was originally owned by the Jablonski Family. At that time it was called "Africa South". Its' restaurant and cottages provided  the only accommodation in Sedgefield for international travelers.
As newly-weds the Van Rensburgs started a Take-away in 1987, in a building owned by Anita's Dad, Jan Kombrink. Before the year was out they decided to convert an area into a 30 seat restaurant…..they never looked back.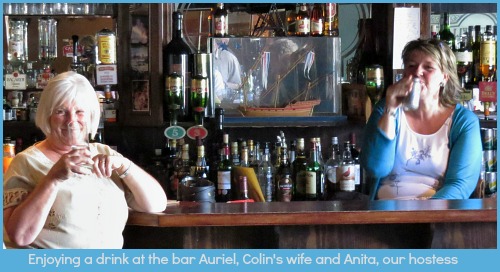 For 16 years Montecello served a legendary Sunday lunch until they realised, with four children growing up, they needed a break and some family time. Now, except for special functions, they are open evenings only. Well known and widely supported by both locals and visitors, you will always sense you are among friends when dining out at Montecello.

Our Slow Food facilitator Chef Colin Capon welcomed everyone to the Hot and Spicy occasion at Montecello mentioning that the words inferred bright colours as in flowers and vegetables, in taste and relationships and also standing next to a fire.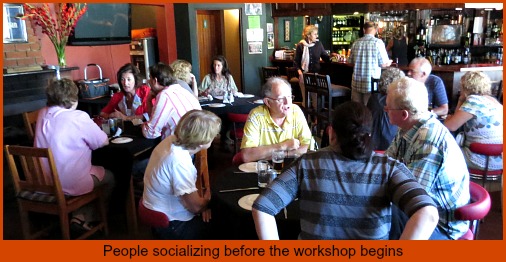 Dr. Brett Lederle Talk at Montecello

Colin then handed the meeting over to Dr Brett Lederle a Knysna Chiropractic who challenged us to consider the choices we make that influence our health – emotionally, mentally and physically saying that 99% of our health is determined by our choices and only 1% is related to genetics.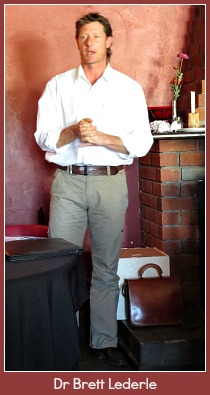 Our first line of defence physically is our immune system and this is compromised by the health of our colon. 'Death', he said 'begins in the colon.' Physiologically, our bodies are not able to deal with either refined foods or highly processed foods and foods containing ingredients such colorants, preservatives and flavorants. Toxic waste builds up, slows down elimination, weakens our immune system and that is how illness is created.
Cancer does not happen overnight. It takes years of toxic onslaught to the cells of our bodies before eventually they become too weak to fight disease and chronic illness presents itself. We don't like to think "we are what we eat" but as far as our physical bodies are concerned, there is no escaping that fact.
Whole foods like bread made from stone-ground flour, nuts and seeds, fresh fruit and vegetables organically grown where possible, raw honey, water, and of course fresh air and regular exercise contribute hugely not only to our health but a sense of well-being also.
Brett's philosophy is expressed on his business card… BE MORE!
Do more than Touch – FEEL! Do more than See – LOOK! Do more than Read – LEARN! Do more than Listen – HEAR! Do more than Taste – SAVOUR! Do more than Think – CONTEMPLATE! Do more than Breathe – INSPIRE! Do more than Exist – LIVE! Do more than Survive – THRIVE!
Dr. Brett Lederle & Dr Vicci Deverneuil. 28 Fichat Street, Knysna. 044-382 3888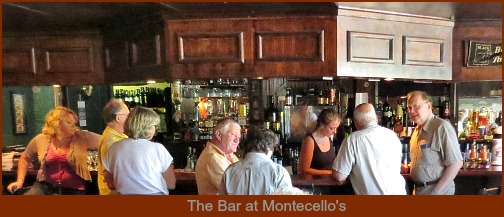 Simon McDonald on Meat Smoking
Next it was the turn of Simon McDonald hailing from an illustrious Smokehouse business of 25 years in the tiny village of Glenuig (with a population of 23 – it has more dogs than people) in the Highlands of Scotland and yet he had the privilege of supplying his smoked meats for the Concorde (until it stopped flying) Airforce 1, and members of the Royal family including the late King Hussein of Jordan who visited his shop on more than one occasion. "He was a very nice chap and had a great sense of humour." Simon recalls. On one occasion he had a turn at cutting the meat – a job he successfully accomplished!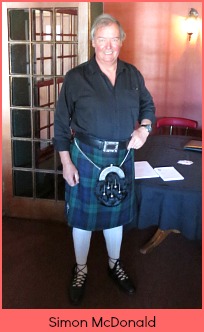 Then with a new love in his life, Simon decided on a major life-style change and for the last 5 months has been living in Knysna. Here, he operates the Old Cape Smoke House at Mo's on Rex, George Rex Drive. Cell: 072 252 3381

After meeting Colin Capon at an International Food Exhibition in 1994 where they ended up doing a live television broadcast together on the News at 10 from Earls Court, London (which somehow went awry) they bumped into each other again in town recently. Colin wasted no time inviting him to be a speaker at one of our Slow Food workshops. He introduced him with a quip "Please buy his smoked offerings so he can afford to buy some trousers!"

"Exchanging South African sunshine for icy winters and 302 consecutive rainy days in Scotland was not too difficult!" Simon says. Their loss is our gain because Simon comes with a wealth of experience and expertise it would be hard to equal in his business.
"Meat smoking," he began with tongue in cheek "is arguably one of the oldest professions dating back to caveman times." Fires lit as protection against wild animals would inevitably permeate meat stores hung in the cave. Cavemen discovered that smoke not only acted as a preservative but enhanced the flavour of their meat.
Today, meat is more subtlely smoked and Simon does not use modern computerised kilns but his smoking is done the old-fashioned way using wood chips cut from wine barrels made from oak, beech and chestnut and where the master who knows his craft judges when the smoked product is ready! He endlessly experiments with different foods and has managed to successfully smoke all kinds of meat (including alligator/crocodile) and fish, various types of cheese, olives, olive oil, sundried tomatoes, paprika, sea salt and even butter!
Rose Bilbrough on Local Food

The next person to make a presentation at our Montecello Hot and Spicy Workshop was our fiesty but friendly people person and manager of Sedgefield Tourism Office, Rose Bilbrough.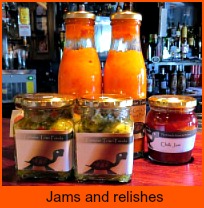 Passionate about Sedgefield and about supporting local business and products, she has started a "Local Food on the Garden Route" Group on her Facebook page and is investigating creating a Local Food Route to showcase local farmers and producers whose aims are to diligently supply quality food products to the Garden Route.
"Food" Rose says "is all about our culture, friends and family getting together and is part of people's development.
Relax and enjoy it for what it is and don't be afraid to experiment" she encourages.
NLR Wines at Montecello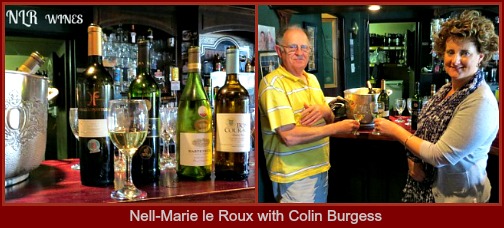 As we headed towards a late lunch Nell-Marie le Roux of NLR Wines told us of some wines she felt would go down well with the day's Hot and Spicy Theme at Montecello.
She brought along a Hartenberg Stellenbosch Reisling 2010 that hints of Turkish Delight and rose petals. There was a fruity slightly sweet Viogneier 2011 Carpe Diem with a marmalade aftertaste and a Gewurztraminer Special Late Harvest 2012 with citrus aromas and sweet honey flavours.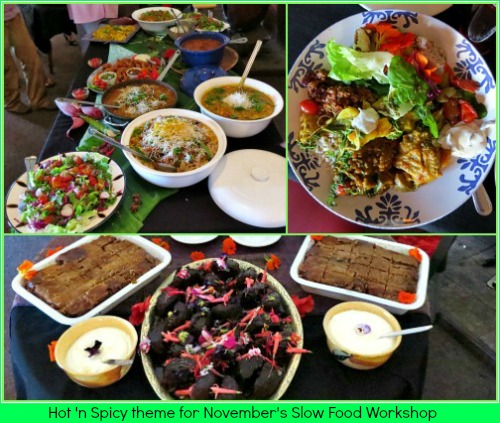 As some wine tasting was offered, it was time for lunch. Montecello had prepared Lamb Curry and stir-fried cabbage dishes and other foodies supplied Crumbed Chicken bites with relishes, vegetarian chilli con carne, Lentil and aubergine curry, Prawn rice with garlic, ginger and stir-fry vegetables, and colourful salad dishes.
For dessert there was upside-down chilli-pineapple pudding and the same without the chilli. Hostess, Anita provided chocolate and beetroot cupcakes with spicy chocolate sauce.
There was also loads of whipped cream. This workshop had a great turnout of 40 +/- people and concluded our Slow Food workshops for the year. Thanks to our hosts Montecello and to all who attended and participated.