RiverDeck Al Fresco Dining
Heritage Day found the Sedgefield Slow Food Convivium dining Al Fresco at the RiverDeck. Situated on the Goukamma River a short distance along the turn-off to Buffalo Bay, the restaurant offers far more than just a place to have a coffee-break or lunch.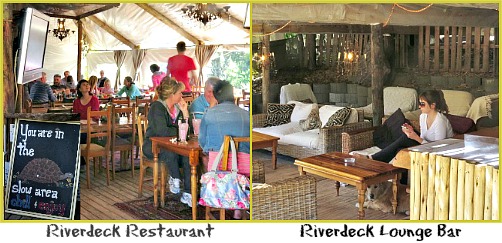 There's a comfortable lounge bar downstairs shaded under the restaurant and open to the river where you can chill out with a book or a Sudoku puzzle or just relax in the profound presence of nature enjoying the background sounds of happy children playing and contented diners enjoying their food.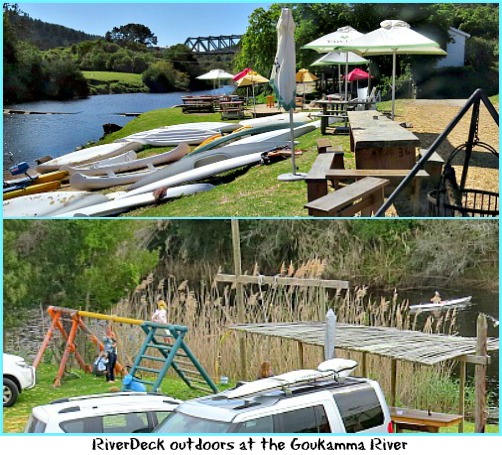 There are canoes, paddle-boats and hydro-bikes to hire, a small campsite, horse rides and miniature ponies near by and a well-stocked farm stall.  The Goukamma Nature Reserve is a short distance further along the road towards the sea with many stunning trails among the dunes and along the beach to be investigated.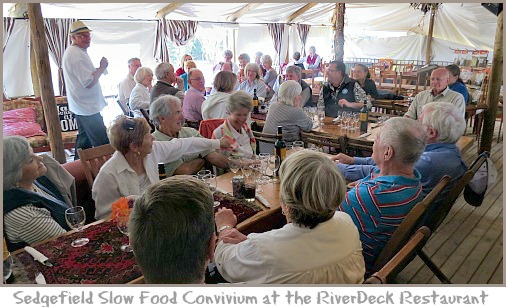 Heidi from Biltong Blitz
After Colin had welcomed everyone to the Slow Food workshop at RiverDeck, Heidi formerly of the Fresh Bean Café but now owner of the Biltong Blitz, spoke to us about the delights of a good curry. She passed around her Marsala Dabba which is a container of classic Indian spices used in everyday cooking.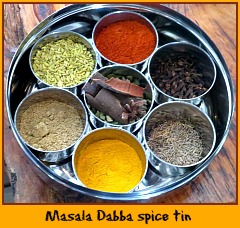 She has a wide variety of spices for curries and advised that they should be bought in small batches so they retain their flavours which can fade with time.
She impressed upon us the importance of roasting the seeds of a garam masala first to release the flavours before grinding them to a powder. The powder is then best added to the dish close to the end of the cooking time.
She sells a spice for basmati rice and also has a Durban curry box. On the other hand Heidi is willing to mix up a variety of spices according to an individual requirement.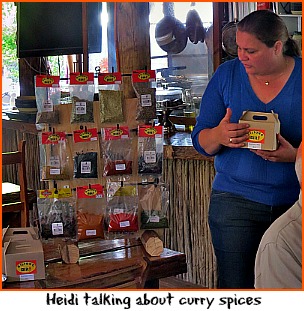 All these delicious curry spices are available at her newly acquired shop the Biltong Blitz across on the north side of the N2 in Sedgefield where you can also purchase a vast array of biltong. The most popular item she says is the biltong chillistix.
It was then the turn of Lindy of Arabella Wines which are already a feature of RiverDeck dining to provide some wine tasting to the slow food convivium. 
She told us that Arabella Wines come from the Robertson Valley where Stephen De Wet bought a farm, part of which belonged to a descendant in earlier times, a certain Jacobus Stephanus De Wet who was given it by his father.
Wendy from Arabella Wines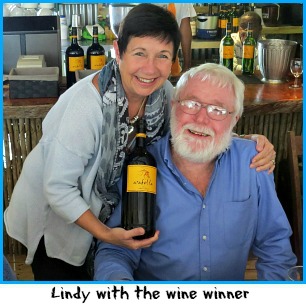 His father had achieved achieved notoriety by running off from the family farm at Brandvlei near Worcester with his older brother's fiancé. He settled with his new wife on a remote farm called Retreat in the Robertson area.
Some generations later, the latest Stephen and his son, Jamie are both keen endurance riders and the name Arabella is word play on the beautiful Arabian horses which graze on the verdant pastures of their farm.
After getting the go ahead from the Department of Agriculture, Stephen built his first wine cellar in 2006 along with a bottling hall and tasting room. In 2007 the first vintage was produced.
At the Michelangelo International Wine Challenge a 2007 Arabella Shiraz won double gold which was an auspicious start for the brand.
Lindy donated a 1½ litre Arabella Shiraz Merlot Magnum as a prize to our end-of–the-event raffle.
Megan Vermas -PR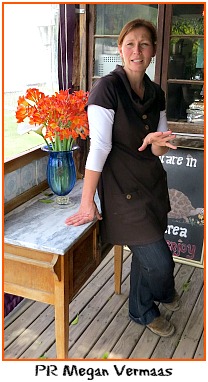 I then had a chat to Megan Vermaas an enterprising young woman who besides conducting forest guided tours is  the PR Assistant to Cynthia and husband, Bennie Terblanche, the owners of RiverDeck.
She explained that the RiverDeck restaurant is all about unhurried eating, Slow Food in fact - lingering over your meal and immersing yourself in all the aspects of where you are – the company you're with, sights, sounds and  scents of your surroundings. The Afrikaners have a perfect word for it "Kuierkos". 
All vegetables and salad ingredients are fresh out the garden and Cynthia makes all the salad dressings herself. The rustic country kitchen turns out traditional food like braaivleis, papen sous, roosterkoek and bobotie. Then there's pizzas, pastas, home baked pies and quiches, milk tarts and divine cakes. 
On the opposite side of the road there is a farm stall, country style holiday accommodation and a venue for weddings, conferences and events like birthdays and anniversaries.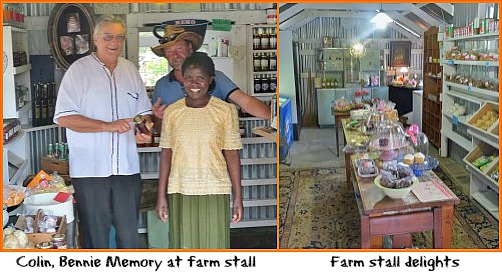 RiverDeck Lunch
It was then time for the Slow Food Convivium's lunch. The Al fresco menu consisted of Satay chicken with peanut and coconut sauce, a sirloin of beef cooked to perfection with horseradish sauce, and Riverdeck produced spicy chicken pieces with roosterkoek and a fresh garden salad. What a treat! It was all so delicious!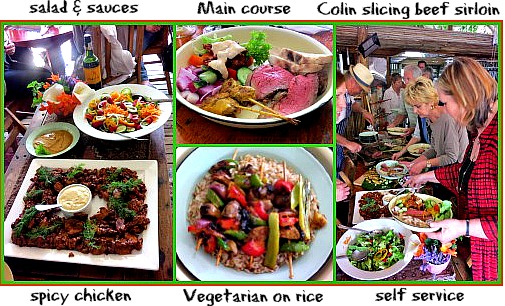 Later, a good while later, dessert was a wonderful lemon tart, equally divine strawberry pavlova and a spicy meringue and strawberry tart concoction that quite defies description!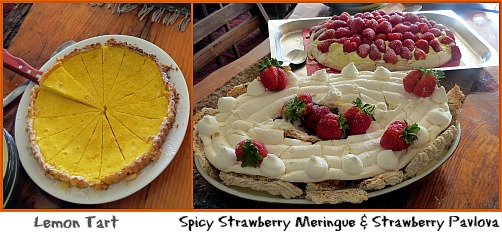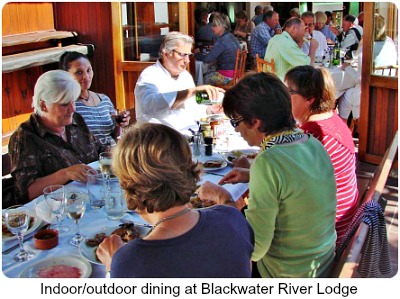 It was a fabulous Slow Food workshop in an idyllic outdoor location, on a beautiful African summer's day with good company, great food and fine wine!
What could have been a better way to spend Heritage Day?
Our heartfelt thanks to RiverDeck for providing the excellent venue and to RiverDeck staff, Colin Capon and Slow Food members who gave us the great food and Lindy for the Arabella wines.

Links to Related Sites


RiverDeck is a hidden gem standing high alongside the water's edge overlooking the Picturesque Goukamma River and its lush emerald banks lined with numerous indigenous forest trees.
It offers a total outdoor experience in an relaxing environment for the whole family. You can dine Al fresco on tradional foods at the restaurant overlooking the river or chill in the Bar lounge below while children enjoy water activities and a playground. Come while away a day....
---

At Arabella we have a very simple objective: we endeavour to make the best wine possible. Achieving this goal is our passion.
Stephen heads up the viticulture, stud and wine making departments. Son -Jamie heads up logistic, bottling, labeling, sales, administration, marketing, distribution, advertising and the brand.
Arabella is thus a complete family business in which every family member is passionately involved. 
---