A Farm Visit to Herold Wines

Wine is bottled poetry - Erin Morgenstein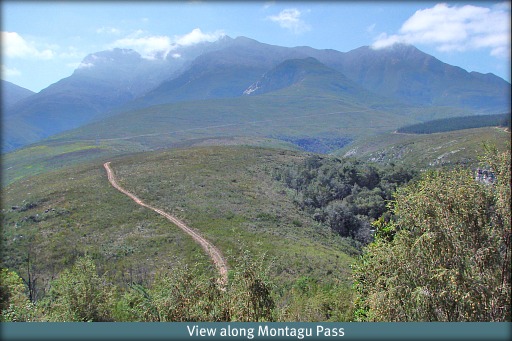 A visit to Herold Wines at the end of October 2011, was arranged by our group leaders, Anne and Murray Douglas for the Walkie Talkies Walking Group.
The farm was established some 22 years ago when a brother and sister teamed up to grow a vineyard in the shadow of the mighty Cradock Peak of the Cape Fold Outeniqua mountains.
Twenty-two people in five vehicles travelled from Sedgefield Station to George from where we drove over the damaged Outeniqua Moutain Pass and along the N9 route to Uniondale until we reached the dirt road turn-off to Montagu Pass.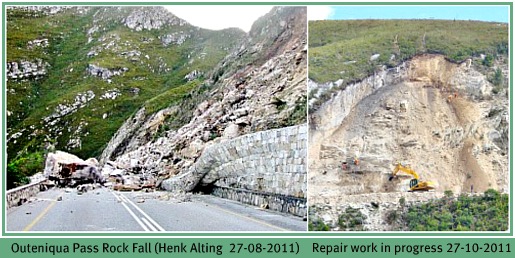 We then proceeded a further 5kms to the farm's turn-off and along 2.2kms of private road to get to the farm, Herold Wines.
Enthusiastic and friendly ex-owner, Vivien Harpur and the keen new owners of the farm, Nico and Maureen Fourie met us on arrival.
While some travel snacks and juices were handed out Vivien began to tell us how Herold Wines evolved.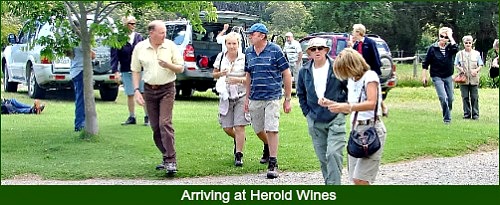 She explained that her brother, Mark Chandler, a nature lover, had hiked the area in earlier years and in 1997, found a piece of land in a valley off the Montagu Pass road he wanted to purchase to establish a boutique vineyard.

He challenged his sister, Vivien who lived 16kms away in nearby George, to help him make his dream a reality.
As a wine lover, he had visions of a vineyard similar to ones he'd seen in France but he didn't understand that the terrain and climate were quite different!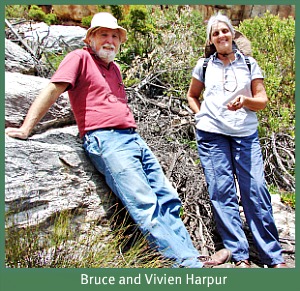 Wine growing is an exacting science and for these inexperienced winemakers it entailed a steep learning curve.
In 1999, they planted the first rows of "Pinot noir" too close together and the cultivars too close to each other in the row.

In 2000 they did a better job when they planted more Pinot noir and then other cultivars such as Sauvignon blanc, Merlot, Shiraz and Cabernet Sauvignon followed.
Through trial and error their perseverance eventually rewarded them and in 2001 they reaped their first harvest of the "pinos" they had planted.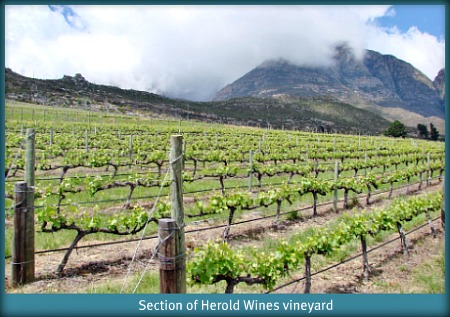 Vivien was the most hands on and in 2005 was joined by her husband, Bruce whilst Mark, working in Gauteng kept interested and involved from a distance.

The farm covers an area of 324 ha and diversity was a key to making a success of it.
Bruce bought some Bonsmara cows and from them, built up a herd of beef cattle.
They requested and received funding to assist with the eradication of alien species and set about clearing some 121 ha of the troublesome vegetation.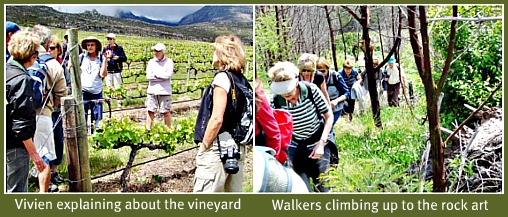 However, it requires vigilant ongoing management.
I admire their determination to utilise environmentally friendly methods of farming taking cognisance of the fact that some areas of the farm contain a unique flora and fauna that depend on it.
The same team that cares for the vineyards picks and ferments the grapes, presses them and stores them in barrels in the farm's own cellar.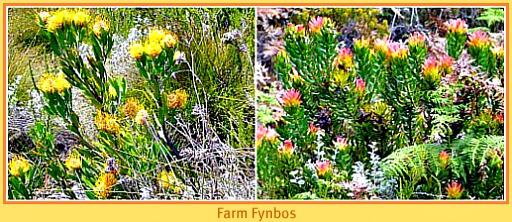 Minimal additives are used in the process.
Eventually the wine is bottled and labelled on the premises.
This Boutique Winery offers a selection of fine Herold wines both red and white and a few special blends besides.

Herold Wines Holiday Self-catering Accommodation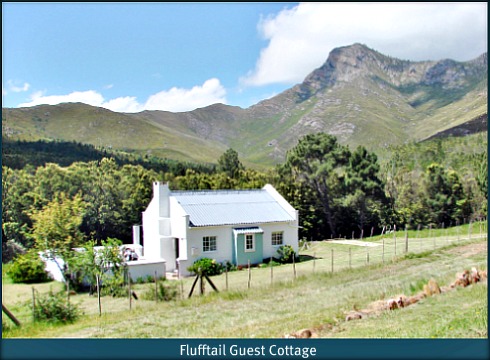 Bruce and Vivien converted two old labourers' huts into basic farm style accommodation for visitors wanting to "escape to the country".
Together with "Over-the-Mountain" Guest farm that could sleep 18 people, they have organised a number of localised activities.
These include guided bird-watching weekends, day hikes into the mountains, treks to cave painting sites and specialised outings on their farm.
Khoi-san Paintings 2500 years old
One of our club's reasons for visiting Herold Wines farm was to see some Khoi-san rock paintings that were only discovered on the property in 2005 during the clearing of alien vegetation.The paintings are estimated to be around 2500 years old.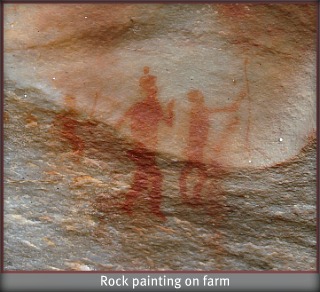 It was a beautiful day to hike up through the vineyards where Vivien showed us with different grape vines how each cultivar is identifiable by its unique leaf.
Along with Bruce, she explained how incorrect pruning or feeding of the young vines can lead to problems years later.
We then continued over tracts of fynbos vegetation to the sheer rock face where the paintings could be viewed.
It is a small but delicately beautiful piece of Khoi-san artwork. There were a few other examples positioned in places that would have been very difficult for us to get to so we decided it was wiser to leave well alone.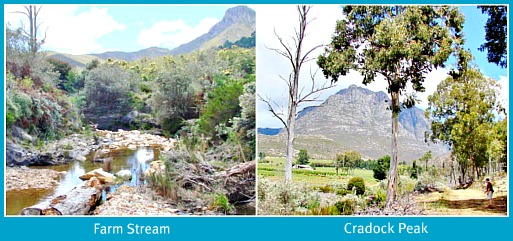 Above the sheer face of rock are the remnants of an old house and goldmine presumed to have dated back to the Millwood gold rush where there is a possibility that stragglers might have found gold in the area but nothing much more is known about it.
Panoramic views made the walk back thoroughly enjoyable and a bit easier being downhill most of the way. In the newly built restaurant area, those who wanted to, could enjoy some Herold Wines wine tasting.
Herold Wines Cellar & Restaurant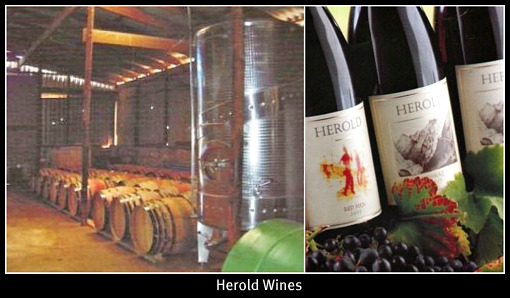 It was followed afterwards by a delicious 3 soup lunch accompanied with various home-made breads, strawberries, jams, biscuits and cheeses.
Then some sweet desserts of mini lemon meringues and milk tartlets materialised with offers of teas and coffees to complete the fabulous lunch.
Before we all headed back to our cars, Vivien took us to see the upgraded Flufftail Cottage that has just been finished by Nico and Maureen, and Piet-my-vrou, the second one they are still busy with.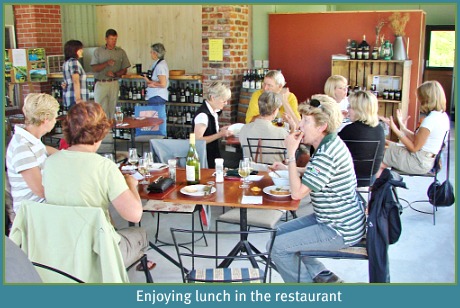 There is certainly plenty to see and do in this peaceful and beautiful natural area.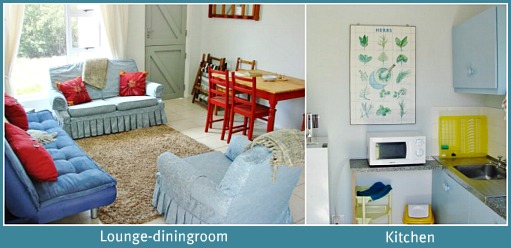 A few days away at the well-appointed cottages in the majestic setting of Herold Wines farm would be a balm for the work-weary and pure delight for nature lovers.

Renovated Flufftail Cottage
As time went by, Mark's focus changed direction and Vivien bought out his share of Herold Wines.
Vivien and Bruce decided earlier this year that it was time for them to retire in order to pursue more personal interests.
They subsequently put their wine farm on the market and were delighted to find,  quite quickly, a young couple keen to buy the farm.
Nico and Maureen Fourie have the knowledge and enthusiasm to develop the brand and tackle the farm itself with fresh ideas.
The Harpurs have gladly handed over the reigns to this youthful couple who they are delighted to see, that in a short three months, are already stamping their mark on the place. 


It has a new restaurant and the cottages have been renovated.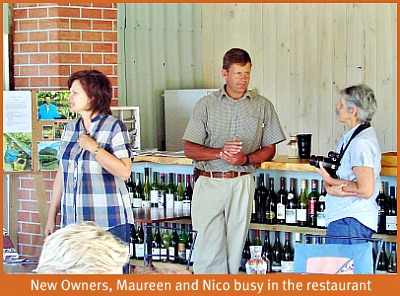 Our walking club is sure to return to this friendly farm with its magnificent scenery to walk its trails and to enjoy its fine wine and delicious food.
A few folks mentioned that to spend a few days in the cottages would be a treat!
The day finished with us returning to Sedgefield via the historic and magnificent Montagu Pass. 
The views are breathtaking and the old pass itself is a wonderful example of 19th century engineering.
The winding road hugs the mountains and the dry stone-wall is worth examining.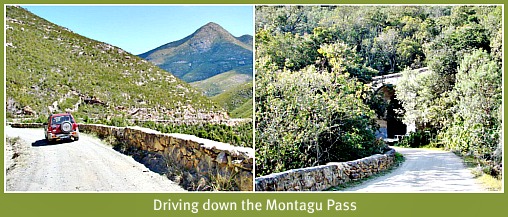 It was used to prevent the ox wagons from going over the edge dragging the oxen to their deaths in the valley below and taking the heavily laden wagons with them.

The hard earned goods would have been smashed beyond saving on the rocks below.

Related Links

Herold Wines offers many activities besides a cellar tour, wine tasting and delicious lunches. You can cycle farm roads, the passes and trails, picnic, swim, hike in magnificent mountain scenery, bird watch, and more.
It's worth considering staying a few nights in one of the tastefully furnished farm cottages to soak up the peace and tranquility of this special farm set in the valleys among the high hills of the Outeniqua Mountains.
---