Downunder Protea Farm

Paul and Jeanette's Retirement Retreat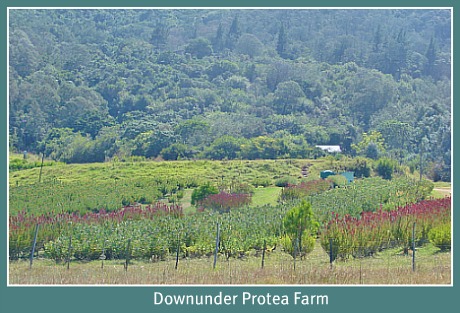 Paul and Jeanette's Protea farm, Downunder is like a picture postcard as I drive through the gates on a calm and serene autumn morning. The narrow road frontage is its low point from where the ground rises gently and is traversed by neat rows of Proteas and specially planted fynbos for fillers.
It's 7:30am and I have arranged to meet Jeanette in the lands as she and her assistant begin to harvest the proteas that are ready for picking. Jeanette explains to me how to cut the blooms leaving enough stem with leaves for it to shoot and produce a flower next year.
She also shows me how to identify the fat buds that are ready for picking, cutting them from the branches before they open and birds climb in and damage the flowers.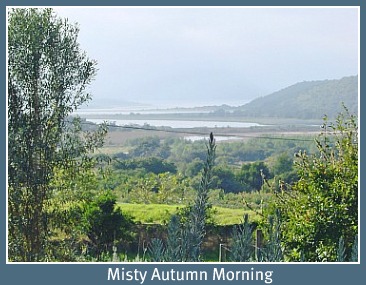 Learning how to harvest the Proteas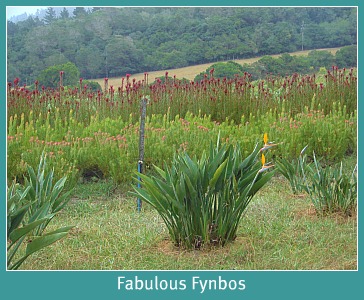 The Swartvlei is still shrouded in early morning autumn mist as we begin to walk down the row on opposite sides of the same trees on the Protea farm, cutting the blooms and laying them down in the tractor ways for collection at the end.
With the fresh scent of fynbos in the air, I could think of a lot worse ways of spending a morning or making a living as I methodically examine the buds and cut the blooms asking Jeanette when I feel uncertain.
She reminds me that the situation on a Protea farm is not always so idyllic. There are freezing cold winter mornings when it would be far nicer to sleep in, rainy days when one has to slosh through mud carrying heavy wet flowers or hot and humid mornings when the sun beats down and a shady seat with a long cold drink dominates one's thoughts!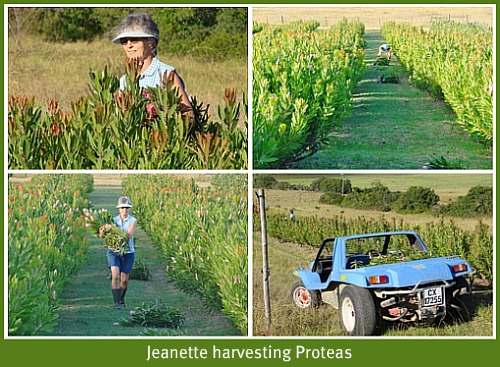 Regardless of the weather the flowers must be picked and picked they are, every day except Saturday as Jeanette and Paul drive early to the Wild Oats Farmers' Market to be unpacked and have the displays arranged when it opens at 7:30am.

All the vendors must be in place by then! Furthermore, during the export harvest period, February through to May, two days is virtually the longest period they can be away from the farm together.
Once all the flowers for the day have been harvested they are collected, placed in the buggy and driven up to the shed. The road winds upwards on the Protea farm curving in a lazy S past the deep dam Paul built in 1994 – sadly dry now since the 2009 drought - and levels out briefly on a contour where the shed has been built. Here Proteas are sorted and cut to specific sizes and boxed for export.
Preparing the Proteas for Export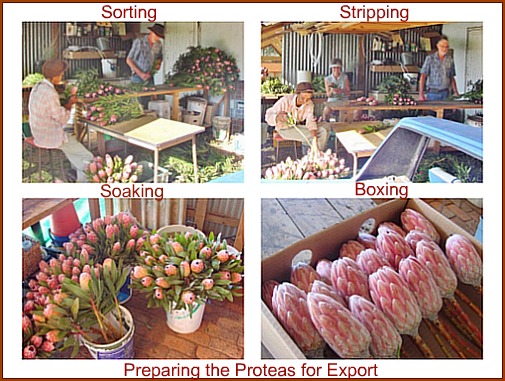 They are sorted into 3 standard lengths (70cms and 60cms) and stripped of a large portion of their leaves. The curvature of the stem also has to be within stipulated parameters. The price paid is linked to the stem length.
Some that are ordered by a Cape Town florist for the British bouquet industry (50cm lengths) are stripped of their leaves altogether. Jeanette calls them "skinned chickens"! They are then left standing in buckets of water until it is time to box them.
On Mondays, Wednesday and Fridays the flowers are boxed for export. Dependant on the variety and stem length up to 110 blooms are placed in a box. The boxes are loaded into a bakkie and taken to Sedgefield where at 5pm, a refrigerated truck picks them up from the Shell Garage and delivers them to Cape Town airport from where they are flown to Amsterdam's great flower market, Alsmeer. Jeanette says that doing all this themselves, to date, they have never had any comebacks.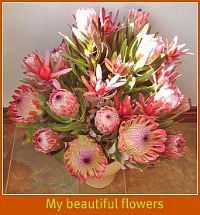 I go home with an armful of beautiful proteas that did not meet the strict export criteria!

Downunder Farmhouse
Leaving the Proteas soaking as they'll be boxed later, I'm invited up to the house. The Protea farm road continues to climb more steeply and curves in the opposite direction until it slopes gently down to a parking area where a double storey brick-house sits comfortably among established indigenous trees.
From the front deck is an expansive view of the Wolwe River as it flows into the Swartvlei Lake.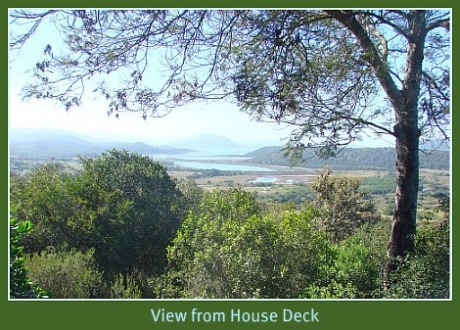 It is a tranquil and beautiful picture that epitomises Sedgefield and this most glorious part of South Africa known as the Garden Route.

Set well back on the Protea farm the house is camouflaged by the greenery of mature trees. The spacious airy living rooms leading out on to the deck overlooking the farm and beyond to Swartvlei Lake, are invisible from the road and only a small portion of the roof can be seen.
Peace and nature surround the dwelling as birds appear and disappear flying to the sugar-water bottle strategically placed at one corner of the wooden deck.

How Paul and Jeanette found Sedgefield
As we relax over a late breakfast up at the house, I ask the question that I'm always interested in discovering the answer to. How did this couple find Sedgefield?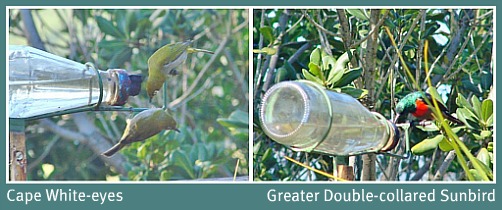 It was 1975 when Paul and Jeanette and their young family travelled down to Sedgefield for the first time. They were towing a caravan full of household goods for some friends who were coming down to the beach house Paul has designed for them on The Island, a residential area of Sedgefield.

It wasn't long before the Engels family were smitten with the natural beauty of the place and in 1978 they bought their own piece of property on The Island and in 1981 built a family home on it.
In 1992 when visiting his neighbour of boyhood years in Pretoria, Paul found the property adjoining hers on the Northern shore of the Swartvlei Lake to be on the market and immediately purchased it. Paul started coming down once a month gradually taming the wilderness.
He built an irrigation dam as the property had no water and then added water tanks to catch the rain. He built a shed and together with their caravan this became a temporary home when he started building their house.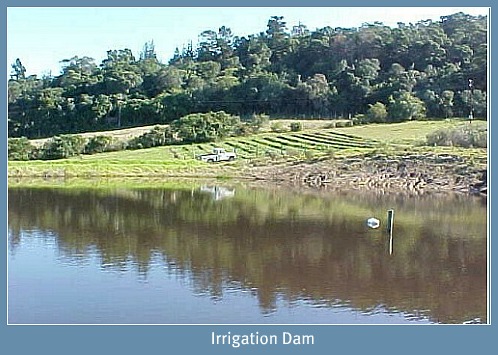 Growing the Proteas
In 1996 they planted their first Pincushion plants on the Protea farm. They were 4 different species of the Leucospermum variety -1200 trees of each – 4800 altogether.
To water them regularly in the important early stages, Paul introduced irrigation and after two years (1998) they were able to start picking the flowers.
At this time Paul and Jeanette set out their Protea plants (Proteaceae). The varieties they chose were 1400 Pink Ice, 400 Susara, and around 500 of Sylvia and Cardinel. Over the first two years the Proteas had to be pruned back for the purposes of correctly shaping the bushes.
This process ensures straight and good length stems and flowers in time to come. Later small quantities of other fynbos like Nerifolia and Leucadendrons such as Safari Sunset, Long Tom, Inca Gold and Jubilee Crown were also established.
Paul and Jeanette were the first South African farmers to export their flowers, (their pincushions) to the flower market in Miami. The embargo against South African exports had been lifted at that stage, SAA flew there twice a week and dollar prices were good. They managed to export the Pincushions successfully for 3 years.
However, the clay soil of the Protea farm did not suit Leucospermums and they developed root rot (phytophthora) and started dying. Fortunately by then the Protea flowers were ready to be harvested and were able to replace them. These trees proved successful and are the bushes they harvest from today.
Flowers for the Local Market
Wild Oats Community Farmers' Market near the Swartvlei Lagoon just outside Sedgefield became a lucrative outlet and certainly is a very appropriate shop window for Paul and Jeanette's Protea farm, Downunder.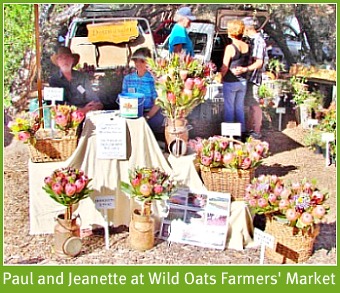 For the market Jeanette places the Proteas in arrangements, the smallest being posies and the largest being substantial bouquets.
She also supplies a number of B&B's in Sedgefield and Wilderness with flowers and then there are the occasional requests for special events like weddings, birthdays, etc.

The Move to the Protea Farm
At the beginning of 1999 as Paul was winding down his architectural practice he moved to the Protea farm outside Sedgefield permanently. Jeanette followed later towards the end of the same year.
For the next year he had to return to Pretoria every 2 weeks to chair projects under construction. The second year he travelled every three weeks to Pretoria and in the third year he was able to reduce it to once a month.
They don't regret their move to the Protea Farm, Downunder at Sedgefield but as farmers suffer hard times for a great many number of reasons, unequivocally at the mercy of the weather, and problems with soil, disease and pests, Paul and Jeanette have not been exempted.
At different times, floods, then drought and then ill-health, have tested them. The loss of old friends and beloved family has been tempered by the joys of grandchildren and new found friends.
How Paul and Jeanette met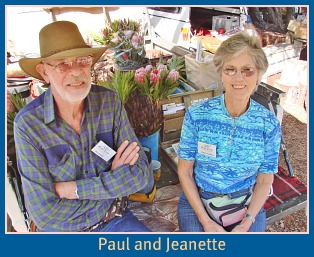 In 1966, the practice in which Paul was a partner was commissioned for the then new Jan Smuts airport. For this reason he visited various airports in Europe including the new Leonardo Da Vinci airport in Rome.
It was while he was in that romantic city that he met the daughter of a sheep and grain farmer in New Zealand. Jeanette was on a 3-year trip around the world. Their chance meeting changed both their lives forever.
The day after meeting, Paul proposed and bravely the young New Zealander left the land of her birth for a new love, a new family and and a new land. In June 1967 they were married. With only two girlfriends from New Zealand attending the wedding on behalf of Jeanette's family, Paul's father gave the bride away - to his son.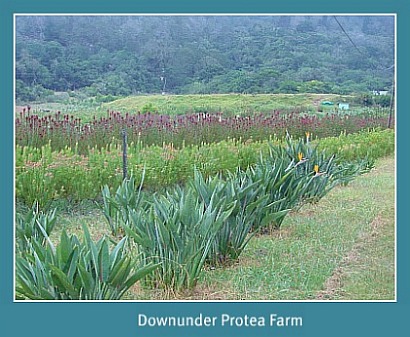 Through good times and bad, I sense that this couple have forged strong bonds within their community of family and friends and have a deep love and respect for each other.
In these days of sham and superficiality and quick opt-outs, it is heart-warming to find unpretentious genuine people who are examples of fortitude and composure, that have let their trials temper and strengthen them and are aware that they have lived satisfying and meaningful lives.
In their sunset years there is still much they can contribute whilst looking back with contentment at all they have achieved.
The Protea farm is aptly named "Downunder" because it is down under from Pretoria and Jeanette hailed from Downunder! Downunder is now well established and new Protea bushes continue to be planted but as happens with working farms there is always and will always be, more to do. They now rent out their island home as holiday accommodation.

Links to Related Sites



Charles and Julie Oertel are trustees of the Fijnbosch Farme Trust - an organization that seeks to preserve nature and fynbos. Their beautiful farm is found on the slopes of Table Mountain on 1000 hectares of rock and pristine fynbos where all of its fauna and flora are treasured.
---

The Botanical Society of South Africa is committed to the conservation of South Africa's unique wild flower heritage. It is their mission to win the hearts and minds and material support of individuals and organisations wherever they may be for the conservation, cultivation, study and wise use of the indigenous flora and vegetation of southern Africa.
---
Discover Sedgefield Homepage >Slow Town > Protea Farm