Cycling Sedgefield & the Garden Route
Cycling is a popular pursuit in Sedgefield. It is a serious sport for some and a hobby for others. In our little village many people cycle to town to buy their daily groceries, collect their mail or  pay their monthly bills.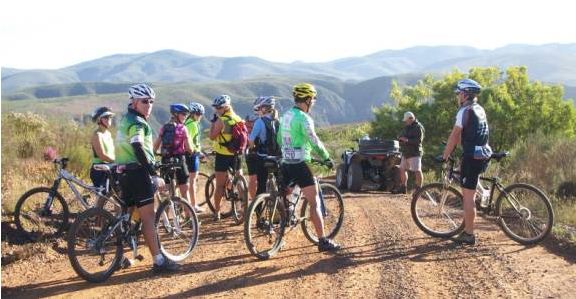 We get a good feeling when we see families of tourists riding bicycles around Sedgefield. It's that kind of place – it's a fun way to slow down to the speed of nature and get some healthy exercise in Sedgefield's scenic outdoors whilst easing off the treadmill of hectic city life.

Bikes for the whole family including one or two seater kiddies' trailers can be hired at the local cycle shop "Cycleworx" between Parrot and Sysie Streets on the Main Road on the south side of the N2.
Freedom on two wheels is the ultimate experience - Henry Cole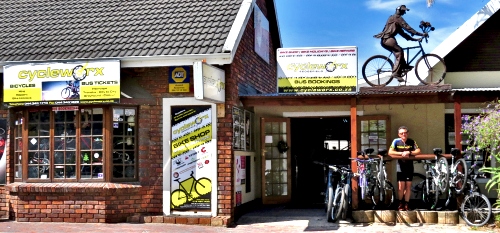 Cycleworx, Sandpiper Centre, Main Road south side, Sedgefield.
Sedgefield is fortunate to have living here, Eugene Roux, a man of knowledge and experience who is recognised throughout South Africa as an expert in his field. Eugene assisted by his wife, Stephanie, owns and runs the local up-beat  shop  which caters comprehensively for this sport.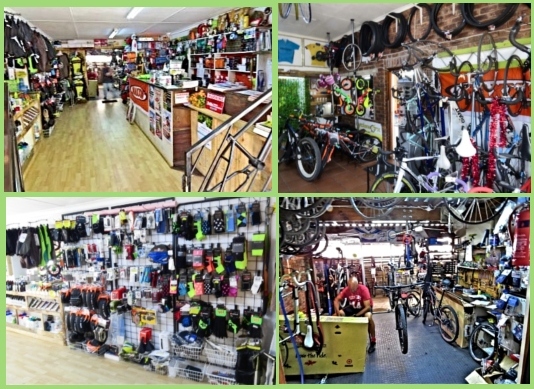 Cycleworx Shop and Workshop
He has a club, organises bike tours, and hires out bikes on a daily/hourly basis. It also has a list of Eden Riders' rides and Eden Eezy Riders' rides.
If you've left something behind, Eugene's shop will have it.
If you need your bike repaired, Eugene's maintenance crew will  fix it.
If you need some cycling advice about the area, Eugene will be able to provide it. It's the one-stop bicycle shop – no question!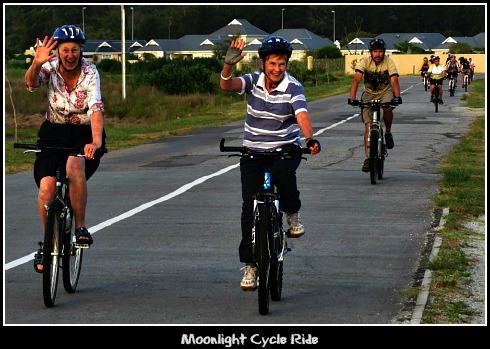 If you're just visiting for a short time you are welcome to join the club for a social ride every Sunday morning (unless they have all gone away for the weekend) which they sometimes do.
From time to time at full moon,  there is a fun social moonlight ride around the Island starting from Sedgefield Arms.
 It's about 10 kilometers and anyone can come along. There is an optional meal at The Arms afterwards.
Customised Cycling Day Rides or Tours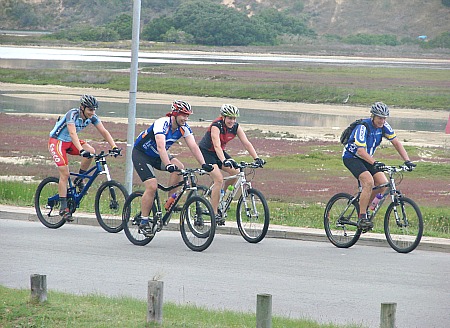 Morning cyclists riding alongside the lagoon
Eugene is able to tailor-make tours factoring in all the necessary elements for an enjoyable experience.
You will be surprised and delighted by the wonderful rides you can enjoy around the Garden Route and beyond. 
There are on-road outings and mountain bike trails that include mountain, beach, forest and fynbos experiences. It all depends on what you'd like to do.
Up-coming events social or otherwise are noted on the website.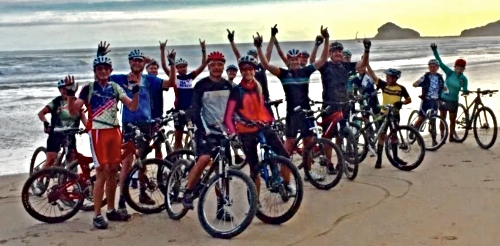 Cycleworx Beach Ride
Various excursions are planned through-out the year including a popular 600km one from Hermanus to Mossel Bay for "seniors" who are known as the "Eden Eezy Riders".
Eugene is very helpful and always willing to advise visitors on various cycle/MTB routes so if you need some assistance from a very knowledgeable local biker call in at the shop to speak to him.
To find out about when the next ride is happening go to Cycleworx Sedgefield or contact Eugene directly on 044 343 1710.

Links to Related Sites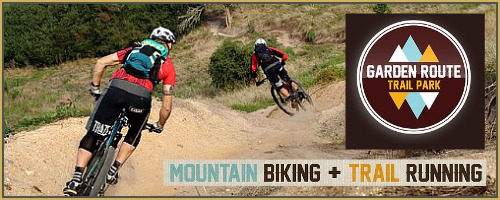 The Garden Route Trail Park is nestled at the very foot of the Outeniqua Mountains and the Karatara River Gorge, midway between George and Knysna, in the heart of the Garden Route. Bring the whole family to experience the magic.
Carefully designed routes provide riders of all levels with an oversupply of adrenalin, excitement, scenery and amazing views. Over 20km of hand built single track in the infamous farmer tradition, with flowing turns, burms, rollers and river crossings.
Runners will discover a flowing forest trail and have the chance to enjoy massive rock pools, waterfalls and boulders in the upper reaches of the Karatara River.
---